The Gadgeteer is supported by readers like you! If you buy something through links on our site, we may earn an affiliate commission at no cost to you. Thank you! Learn more.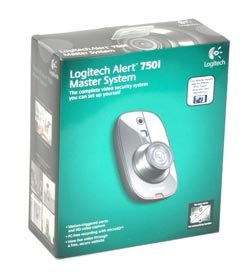 Even though, we live only fifteen miles from downtown Seattle, my family and I live (in some peoples' opinions) out in the sticks. We live at the end of a long gravel road. We can not see our neighbors or the county road we live on. My wife and I worry about security and have used ADT security monitoring for years. At least for our situation, I find their protection and service mediocre at best. So, I have been looking for (high-tech) alternatives to better monitor our property and house ourselves. There are many options to stream video to the internet. But few are designed to be more of a DIY home, web-feed monitoring system than just a pet-cam type of setup (although in recent months more have been coming to the market). Considering how integrated and capable it is, Logitech Alert 750i Master system seemed to be the best option for my application.
The key features that drew me to the Logitech Alert system:
high resolution camera (960 x 720 @15fps)
ability to set motion sectors (up to 16 motion detection zones within the frame)
system can email photos after motion sensor is tripped
ability to view live video stream via computer, tablet and/or smartphone
ability to record video independent of a computer system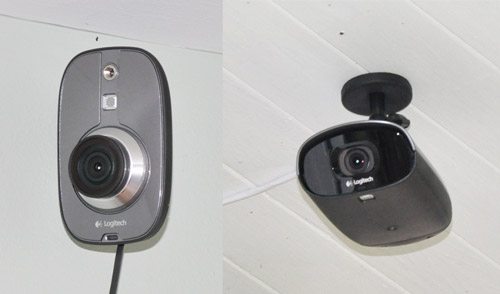 Both of the 750 series systems offer the features listed above, but the 750i (I was sent by Logitech) is the indoor model and the (add-on) 700e is the waterproof and night vision enabled outdoor version (I purchased myself, but more about that later).  Both the 750i and 750e are 'master' cameras and serve as the core component to the security system and are capable of adding (up to) five additional cameras (700i or 700e) to the network with them. The only differences I have been able to find is that the 750's include the setup/control software and second power supply that connects your Alert system to your network.

Logitech includes everything you need to install the 750i Master Alert System within your indoor space, down to the suction cup or molly-bolts to mount/place the camera depending on your needs.
Package Contents:
Logitech Alert camera
Camera power supply
Network adapter: 2 x 10-ft (3-meter)
Ethernet cables
Software CD
Window, desktop, and wall mounts with installation hardware
2 GB microSD card (expandable up to 32 GB)
User documentation
System Requirements:
Windows XP SP3, Windows Vista, or Windows 7
2 GHz or faster processor
At least 1 GB RAM
Available Ethernet port on your home network.
Setup requires a high-speed Internet connection.
Remote viewing requires a PC or Intel-based Mac with Adobe Flash Player 10 or later (free download).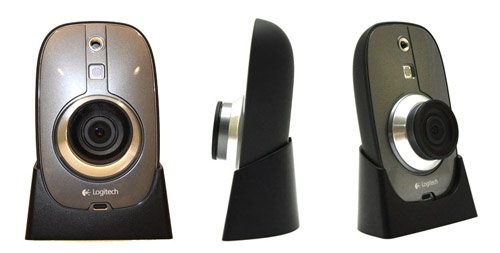 The camera itself is a well-made piece of hardware, definitely rugged enough for indoor use. Logitech has engineered a connection, hard points on the front and back, allowing you to mount the camera in a multitude of different ways. They also include a cradle for the camera to sit in if you want to set it on a flat surface or a suction cup to attach it to a mirror or piece of glass.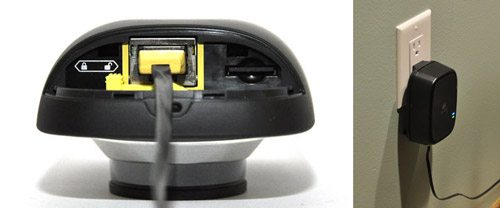 The 750 series of cameras connect to your network through the HomePlug PowerLine system. This (as with many things) comes with its positive and negative sides. All of your cameras need to be plugged into an electrical outlet for power and network connectivity. Depending on your individual needs/situation this might be somewhat of a hassle (it was a bit for me). Along with the ethernet port, this picture also shows the microSD card slot. The microSD card enables the Alert system to independently (aka without needing to be tied to a computer) record video if the motion sensor is tripped.

I chose to mount the 750i camera to a wall in our kitchen eating area looking towards our entryway. Instead of using the molly-bolts Logitech included, I used my (handy-dandy) studfinder and drove several two inch screws into a 2×4 (much more secure). Once the mounting hardware is secured to the wall, the 750i easily screws onto its threaded end.
Along with being able to email picture notifications, stream live and record video, the Alert system cameras can also include audio as well. Both the indoor and outdoor cameras have a built in microphones to stream and/or record audio.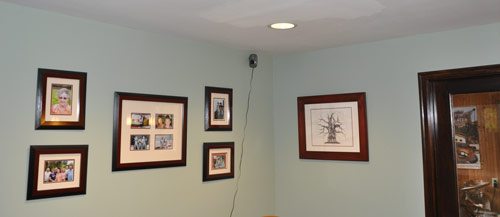 The ethernet cable stretching from the camera to the electrical plug did not look very good at all. Soooo, a construction buddy and I crawled around our attic to install a couple electrical outlets. Due to the distance, I had to use standard ethernet cables to connect the cameras to the plugs….thankfully the system allows for this (vs having to use the cables provided by Logitech).

As you can see, having the cabling going up into the ceiling/attic definitely made the Alert system look more ascetically pleasing. It worked well for both the 750i and 700e camera setup.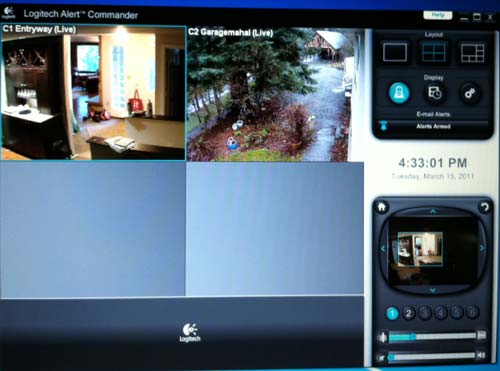 Once connected to our home network via the HomePlug PowerLine, the next step was to install the Logitech Alert Commander software onto your PC. Yes, I said PC. If you are a Mac user, you are not totally out of luck. Since this setup only needs to be accomplished once, you have a couple of options: 1) borrow somebody's PC (laptop preferably since you need to do this within your network) or 2) setup BootCamp or other application which allows you to run Windows on your Mac (I know, ick….). Anyhow, long story short, even when running Windows 7 in BootCamp, setting up the system was quick and easy.
The Logitech Alert Commander software enables you to zoom in or out of the cameras field of view, position where the camera lens looks, setup motion zones and email alerts, and watch/download video that each of the cameras has recorded.
Email notifications
The pictures below are thumbnails of the actual photos the Logitech Alert system sent me when it detects motion in its field of view. You can click on images to see the high resolution in their original quality.
The three pictures above were emailed to my iPhone from the 750i that I have monitoring my entryway. Both the 750i and 700e email 640×480 pictures.
Here are several pictures the 700e emailed me. The center one shows how well the 700e's night vision works. The last photo is letting me know someone is checking out my new polebarn without my consent :-I. I need to tweak the sensitivity of the 700e's motion sensor. When the wind blows the branches of our Sequoya tree, I receive email alerts due to just that (vs anyone on our property). Not a big deal though, I would rather get (to within reason) more notifications than not enough.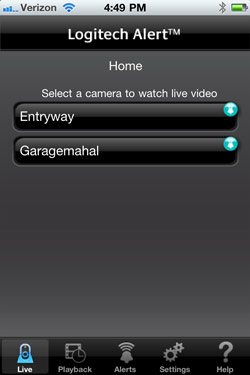 Once I receive a notification email, I can log into my system via my smartphone or laptop to see live video feed from my Alert system. The video quality to my iPhone or Droid X are both excellent on either WiFi or 3G connections. Depending on your connection quality, logging into your system through your smartphone is an issue at times. When you have a good/great connection logging in is relatively dependable. When in poor coverage, connecting to your Alert system rarely worked. But that really is not a function of the system itself but a reality of life.
The Logitech Alert Web Viewer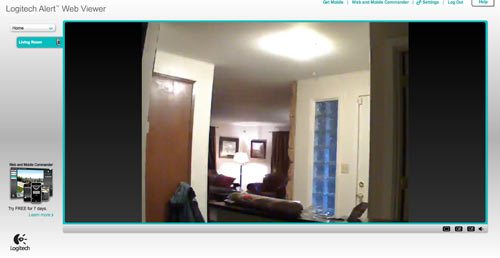 The Logitech Alert Web Viewer enables you to view your system from any computer or tablet connected to the Net; Mac, PC, iOS or Android device alike (Logitech is working on a web viewer for the Blackberry). Due to the larger screen size/resolution, the video does not look as good as it does on a smartphone but does enable you to see what is going on.
The Logitech Alert Web Commander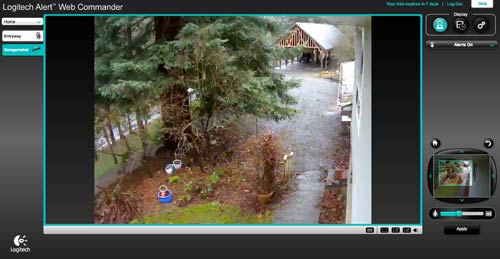 Logitech Alert Web Commander enables you to control your security system remotely via your web browser or smartphone apps as if you were using the Alert Commander software from within your network. Viewing your Alert system is a free service Logitech provides out of the box; the Web Commander is an upgrade service that costs $80 per year. To be honest, I am still debating on whether I want to subscribe to the Web Commander service….not sure if it is worth it for me. I do not believe I would use the added feature much, if at all.
Logitech Alert 700e Outdoor Add-On Camera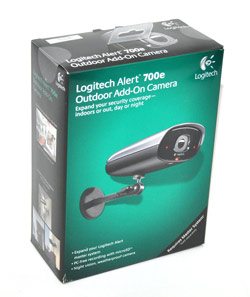 I liked the Logitech Alert 750i Master System so much, I decided to use it as our primary security system for our home. But that meant greater video coverage. So (as I stated above), I purchased the Logitech Alert 700e outdoor add-on camera to augment our overall system. Like the 750i, setting up and integrating the 700e camera into the system was quick and easy as well (it took me much longer to pull the ethernet cable through our attic than it did to get the camera operational).

The add-on cameras include everything you need to mount and connect them to a Alert Master system.
My ultimate plan is to purchase at least one, if not two, additional cameras to fully monitor our property. Installing the Logitech Alert system just the way I wanted, was a fair amount of work but I am very pleased with the results. That said, there have been a few minor glitches along the way but none major enough to make me second guess going down this path for home security. The master systems cost $300 for the 750i  and $350 for the 750e. Additional add-on cameras cost $230 for the 700i and $280 for the 700e. For me at least, my ultimate setup will cost approximately $1000 when all is said and done. But I paid more than that for the ADT system we used for years that was prone to feline-caused, false alarms.
I will end this review with funny commentary from the Gadgeteer Kid. He was in the backseat with a couple of his buddies and they were discussing who's parents were tougher on them. The first two told their stories and the GK ended the conversation emphatically stating he will never be able to get away with anything, 'MY Dad has me under video surveillance' ;). Parents, just think of the potential 😀
Product Information
Price:
$299.99
Manufacturer:
Logitech
Pros:

- Quick & Easy Setup
- Intuitive/Useful software
- Web viewing via multiple platforms/OS's
- PC-free recording
- Expandable
- Motion-Triggered Alerts and Recording

Cons:

- Windows-only
- Not wireless
- Requires an accessible outlet
- Cameras occasionally need to be reset (only happened to me once so far)