We use affiliate links. If you buy something through the links on this page, we may earn a commission at no cost to you. Learn more.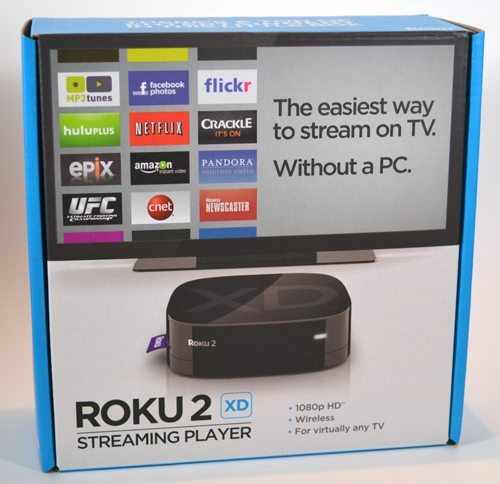 Roku recently updated their line of streaming media players, and they sent Julie their high-end Roku 2 XS with gaming remote to review.  I had been in the market for a Roku for my living room TV so I could watch Hulu Plus on my big screen TV, so I bought myself a Roku 2.  I only wanted the ability to stream in full 1080p HD, so I opted for the Roku 2 XD model.  When I mentioned my new Roku 2 to Julie, she suggested we do another tag-team review so you can compare and contrast the two models to make your shopping easier.  My comments will be in black; Julie's will be in blue italics.
Note: Click the images in this review to see a larger view.
Janet wanted the Roku to watch Hulu Plus on her TV. I wanted the Roku XS to play Angry Birds on my big screen TV and to see if it was a viable alternative to the Boxee Box, which I mainly use to stream video that I've obtained and saved to a flash drive.
Technical specification of both devices
Networking
802.11n Wi-Fi (b/g/n compatible) with WEP, WPA and WPA2 support
10/100 Base-T Ethernet (XS model only)
Bluetooth version 3.0 (currently enabled for use with Roku game remote only)
Video Outputs
480i (over composite video)
480p (over HDMI)
720p (over HDMI)
1080p (over HDMI)
Video Modes
1080p High Definition (HD)
720p High Definition (HD)
16:9 anamorphic / 4:3 standard
Audio Output
Analog stereo (mini-jack to left/right/composite video RCA)
Digital over HDMI (5.1 surround sound pass-through)
Storage Expansion
microSD card slot for additional game and channel storage
USB slot (XS model only)
Remote Control
Roku Bluetooth game remote (with motion sensing for playing games) with XS model only.  Standard Roku infrared remote with XD model.
Streaming player includes IR. Compatible with various universal remotes
Power
5.2V – 1.5A power adapter for XS; 5.2V – 1.0A power adapter for XD model.
Consumes less than 2W (typical) when streaming HD video
USB Media Formats (for Roku 2 XS only)
Video: MP4 (H.264)
Audio: AAC, MP3
Image: JPG, PNG
Size
3.3 x 3.3 x 0.9 inches; weighs 3 oz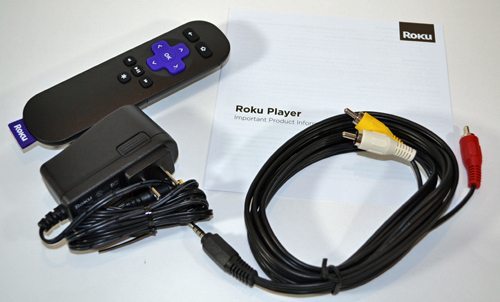 The XD comes with an AC power supply, the standard IR Roku 2 remote (non-gaming), a proprietary A/V composite cable, and a booklet.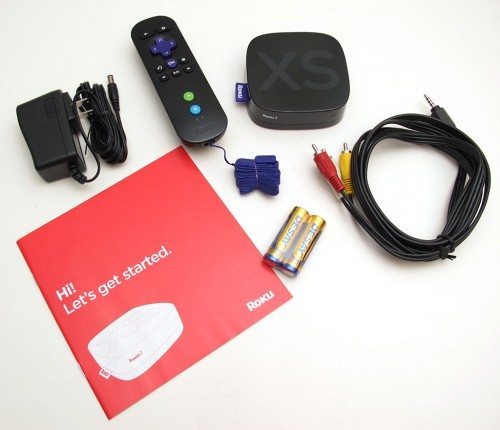 The XS comes with the power supply, Roku 2 gaming remote, batteries, A/V composite cable, and a quick start guide.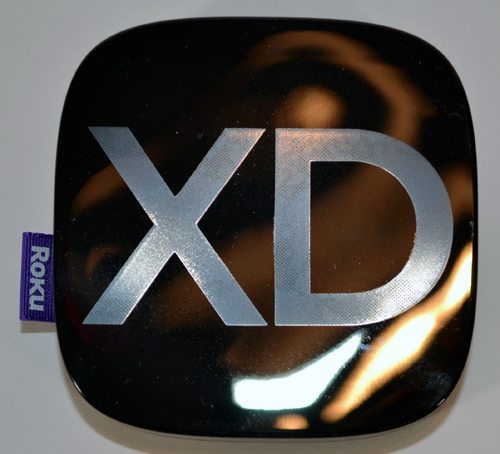 The Roku 2 boxes are much smaller than previous models.  In fact, they are smaller than the 2nd gen Apple TV.  The boxes are shiny black, with a matte model ID embossed on the top.  Again, Roku has used the grosgrain ribbon labels on these models.  I don't mind these labels on the boxes themselves, but I don't like having them on the remote because they are scratchy.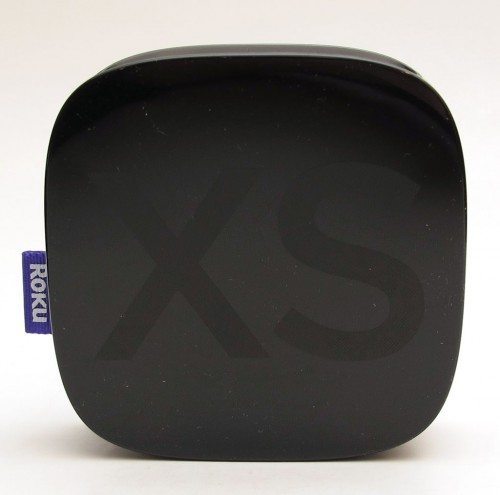 Janet, does your XD have shiny letters on top or is that just the way it photographed? The XS embossed on the top of mine is barely noticeable.
The XS is the same size as the XD, which is perfect because it doesn't need much room at all in your entertainment setup. The XS is almost identical to the XD except for two extra ports.
The box is shiny, but the XD letters aren't shiny; it just caught the light from the fixture over my kitchen table in a funny way.  I decided to use that photo because you could see the branding so well, but my XD actually looks more like your XS.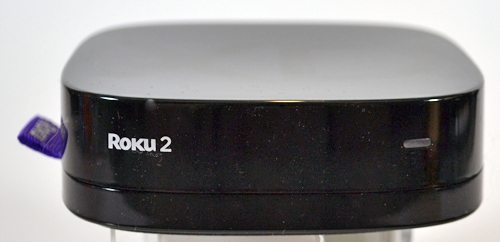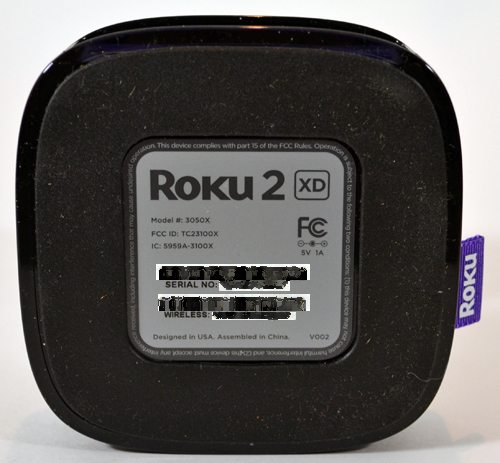 The front has the Roku 2 designation and an LED indicator light.  There's no power switch for the Roku 2; it's always on and connected to the internet so that you can start streaming videos instantly.  The LED goes off when the Roku 2 is in standby mode.  The bottom has a big rubber pad to prevent scratches on your furniture.  You'll notice it's also a handy dust magnet.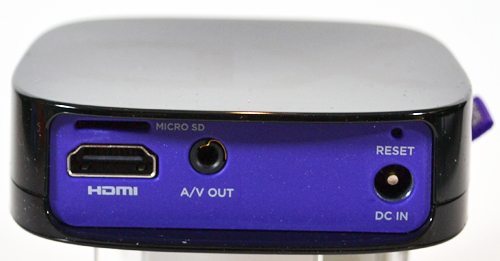 The back panels for the XS and the XD models are different.  My XD has the power connector and a reset button.  There are HDMI and a single-plug A/V outputs; the proprietary A/V cable is included, but you'll have to supply your own HDMI cable.  There's also a microSD card slot to expand storage for games and channels.  If you have installed a lot of channels and games, older ones will be deleted from internal memory to make room for new ones.  Adding a microSD card (not included) will prevent channels being deleted from memory, so all your channels and games will launch without needing to be re-downloaded.
You'll notice there is no Ethernet connector on the XD model.  You must connect wirelessly to your network with the XD.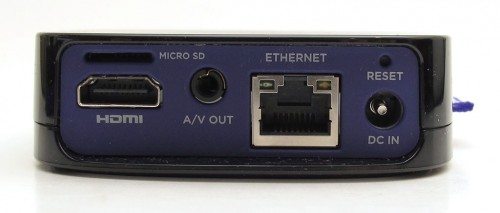 Here we see the back of the XS, with the included Ethernet jack. It seems interesting that an Ethernet jack is included on the high end model but not the low end. You would think that the wireless connectivity option would be the premium feature, not the wired option.

Can I take a sec to complain about the lack of an included HDMI cable? What's up with that? I don't understand why almost every HDMI enabled video device on the market pretty much never comes with one. I'd much rather have the included cable instead of included batteries for the remote.
I agree about the lack of an HDMI cable. I could understand supplying only the composite cable with the lowest level Roku boxes.  But if you buy a higher level box because it has 1080p capabilities, you should get the HDMI cable necessary to best get that signal to your TV.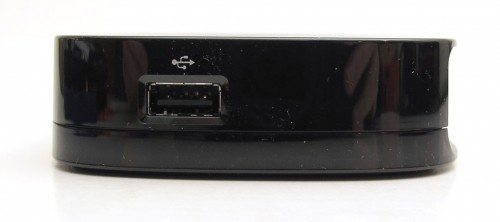 The XS model also has a USB slot so that you can stream video from a USB flash drive or hard drive. The only caveat is that the supported video formats are limited to MP4 (H.264), JPG, PNG, MP3, AAC. It does not recognize .AVI or .MOV files (from the iPhone).


The standard IR remote comes with the XD.  It has the standard media playback buttons, the 5-way navigation buttons to maneuver around menus and on-screen keyboards, a home button, a back button, and a special options button marked with an asterisk.  (Special options let you leave ratings and see channel descriptions.)  You cannot play games on the Roku 2 XD with this standard remote.  However, the Roku 2 XD and even the Roku 2 HD are equipped with Bluetooth, so they can be paired with the RF gaming remote.  I could purchase the gaming remote with a 2GB microSD card for $30 from Roku and pair it with my XD box if I decide I want to play games in the future.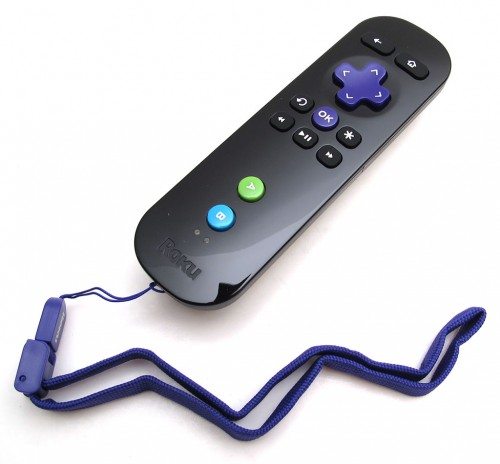 This is the special gaming remote that comes with the XS model. It's made of the same shiny Black plastic as the main device and has several extra buttons and a lanyard strap so that you won't throw the remote across the room when you're trying to kill pigs while playing Angry Birds. The main gee whiz feature of the remote is that it's similar to a Wii remote because you can wave it around to move a cursor and interact with characters in games. Since it's Bluetooth, you don't have to worry about line of sight like regular IR remotes.
That's a long wrist strap!  It looks too long to keep it on your wrist while you're flinging your hands around.  Can you cinch it tight on your wrist?
Yes, if you notice in the picture above, there is a hard plastic piece at the end of the thin thread that holds the lanyard to the remote. There are actually two pieces there. The larger one has a little lift up latch that allows it slide down the strap and then lock in place.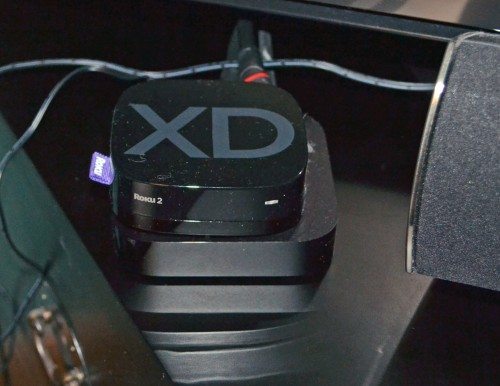 To get started with setup, you must create a Roku account if you don't already have one.  The account itself is free, but you'll have to enter credit card or Paypal information so that you can be charged for any optional channels you may purchase.  The account also stores information about your device(s) and how they are set up.  I already had an older Roku with my 2nd TV, so I already had a Roku account.
This was my first Roku device, so I had to create an account. It was painless though and only took a minute.
I connected my Roku 2 to my living room TV using an HDMI cable I already had.  You can see how small the Roku 2 is compared to the 2nd gen Apple TV it's sitting on.
I also used an HDMI cable to connect to my Samsung LED TV. Instead of connecting via Ethernet, I opted for Wifi.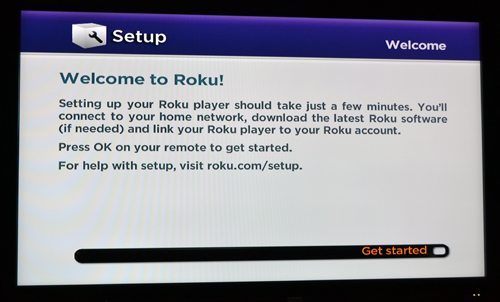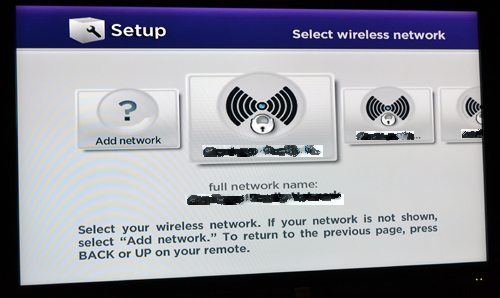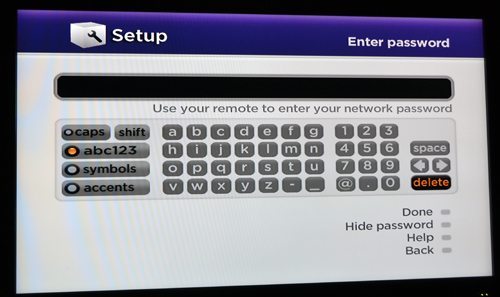 As soon as the Roku 2 was powered up, it found several networks.  (My setup screen photos were taken at an angle, but they are readable.)  I selected mine, entered my password, and I was connected in seconds.  You can see that you have to use one of those on-screen alphanumeric matrices that you navigate with the remote.  It took a while to get my long password entered, but I could unhide the password to be sure that I had typed it correctly before I entered it.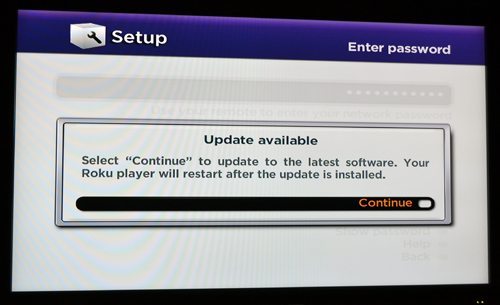 As soon as I was connected, the Roku 2 found and installed a firmware update.  I was then ready to setup the box and connect to my Roku account.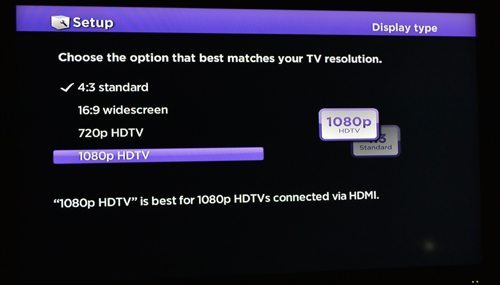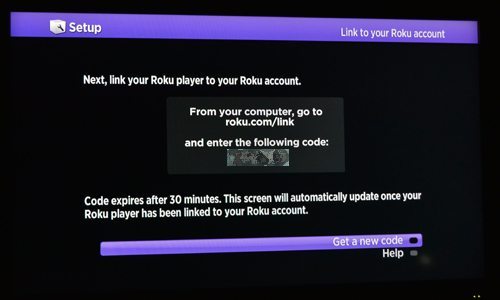 I chose the proper display resolution for my HD TV, then I linked my Roku account to the Roku 2 box.  You'll notice that the Roku box can stream full 1080p signals.  Not all media boxes can stream full HD; the 2nd gen Apple TV box does only 720p.  Because the Roku 2 is capable of streaming 1080p from Netflix (when available), I'm using the XD box for my Netflix downloads and using the Apple TV only for the iTunes store.
I had a similar experience setting up the XS version of this player. I didn't capture any screenshots as I was doing the setup, so I don't know if the screens are exactly the same on both devices, but I found the process to be fast and easy.
As I remember, these screens seem to be the same ones I used when I set up my old Roku, too. Did you have a step to pair your gaming remote to your box, or did it automatically do it?
It automatically found it when I put the batteries in and started working right away.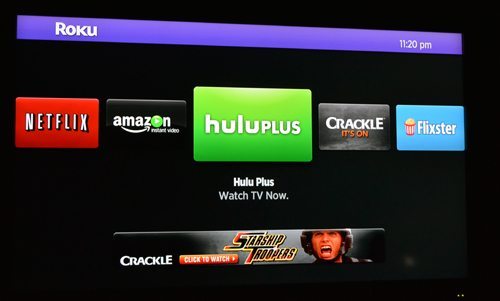 Once linked to my account, I selected channels.  Some channels are third-party subscription services, like Netflix, Hulu Plus, and Amazon Instant Video.  I subscribe to all of those, so I added those channels by logging into my accounts through the Roku 2 box.  There are some free Roku channels, like the Crackle movie channel.  I also added that.  There are a variety of pay channels through Roku, but I didn't purchase any of those.  You can also purchase games here.  There are several games available now.  I couldn't add games because I didn't have a gaming remote.  It took only a couple of minutes to get everything set up and ready to watch.
Some of the channels do require you to go to a special site on the web, to type in a code so that you link the channel to your specific account / Roku box.
I do wish that you could customize the channel view. I'm not a fan of the horizontal scroll method. I'd rather have a grid or list so I could see all my channels at once.
A grid arrangement would be really nice. I only have a few channels, but it takes a while to scroll to the one I want. Imagine how long it would take to scroll through them all if you had dozens of channels…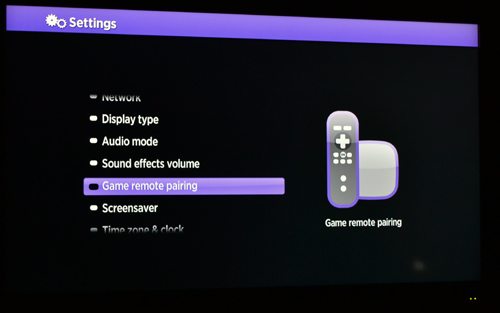 I mentioned earlier that I could pair a gaming remote to my XD box.  This is accomplished in the setup options.
I have watched several movies and TV shows using my Roku 2 XD box.  Playback always starts quickly, and I haven't had any glitches during playback.  It works equally well with all my subscription channels.  The remote works well to control the box.
The XS works well too. I have watched a bunch of segments on the Tested gadget review channel, shows through Hulu Plus (BTW, I think it sucks to have commercials for a premium service… but that's not Roku's fault) and movies through the Epix channel. The only issue I can complain about is that I have to crank up the volume on some channels and not on others. I'm guessing that this isn't the fault of Roku though. I didn't have any problems with video. Playback was smooth, with no hiccups once it was buffered.
The XD box that I have doesn't allow me play my own files.  The XD doesn't have a USB port, so I can't connect a flash drive or an external drive.  It doesn't support networked drives, either.  That's not a problem for me, because I just don't have many files that I want to stream to my TV.  I can use the Apple TV to serve personal files to my TV should I ever want to do that.
These are important features to me and the Roku does not shine in this area because it only supports MP4 format video files and does not allow streaming from networked drives. It works fine for watching content supplied by the channels, but if you want to watch your existing content, you're out of luck unless you don't mind converting your files to MP4s.
It's not something that interests me, but you can create private channels with the Roku service.  Some third parties have created channels that they make available to others, but I think their quality varies.  Other private channels could be used by businesses for training or sales videos, for example.
I really like the Roku 2 XD.  It does everything my old Roku did, but it adds full 1080p HD, which is very nice on my 65″ HDTV.  It's convenient to have a single box for Netflix, Amazon Instant Video, and Hulu Plus.  I like that I can add other channels directly from Roku, especially the free ones.  I also think it's nice you can add simple gaming features for little cost; this won't satisfy hard-core gamers, but it might be nice for grandparents to have a couple of games for when the grandkids come to visit.  I find that I get a lot of entertainment for my $80 investment.  If Hulu Plus could only add CBS programming, I could use the Roku 2 and my Apple TV instead of cable programming.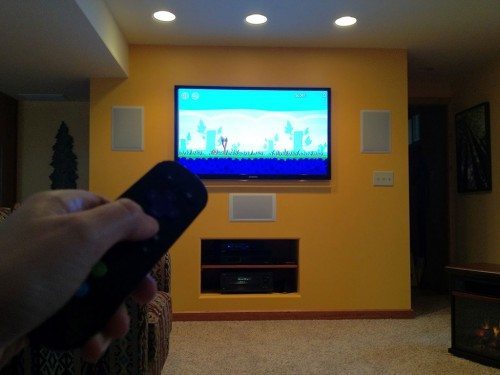 Unfortunately, the Roku XS won't replace my Boxee Box since it can't play all my own video content…  But playing Angry birds is a blast on my 55 inch TV and $99.99 is a fair price for the XS model considering all the free content that is available via the wide variety of channels. Roku even offers a 30 day money back guarantee, so it's definitely worth checking out for yourself or gifting.
It would make a great gift, even for people who don't have subscriptions to Netflix or Hulu Plus, because there are several free channels through Roku, including free movie channels and HBO Go.  They have a lot of channels available to choose from, and you can see a list here.
Update 12/03/11
On the advice of one of our readers (see comments below), I installed the PLEX media server on my iMac (which is located in the room behind the TV you see in the image above)  and then installed the PLEX channel on the Roku XS. I've only played with this setup briefly, but I have been able to stream video (in .AVI, .MOV and .MKV formats) via WiFi from the iMac to the Roku pretty easily. The default video quality setting for the PLEX channel is 720 kbps 320p (ick) and when I set it to the highest setting of 8 Mbps 1080p, I had problems with the video continually buffering. Setting it back to the next to best quality setting of >4Mbps 720p worked much better for me with no buffering issues once the initial buffering completed. I'm not a big fan of the PLEX channel interface on the Roku as it feels kind of slow and clunky. But it does work.
Update 02/05/15
The Roku 2 XS continues to be my favorite media to TV streaming gadget of choice. I've tried others but the Roku works the best for me. I use it several times a month to watch Amazon Prime video on demand and Netflix content and rarely check other channels. After showing my Dad, he bought 2 Roku sticks for his house, so we're a Roku family!
Product Information
Price:
$99.99 for the XS; $79.99 for the XD
Manufacturer:
Roku
Pros:

Can stream 1080p video
Works with Netflix, Hulu Plus, Amazon Instant Video, and other subscription services
Roku has free and pay channels to add even more content
Multiple models allow you to purchase only the features you want
Can play simple games with the addition of the RF gaming remote

Cons:

The XD has no USB port, so you can't play your own files
XD can only be connected wirelessly
USB streaming does not support .MOV or .AVI files