We use affiliate links. If you buy something through the links on this page, we may earn a commission at no cost to you. Learn more.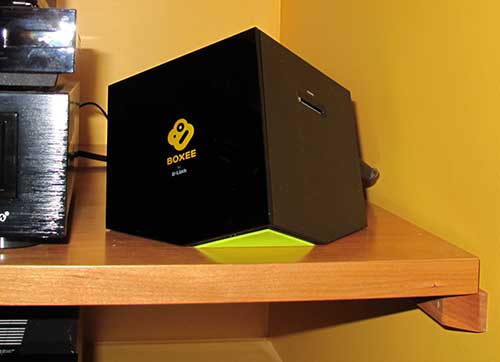 For over 5 months last year, I used my iMac as my TV while my basement was being remodeled. During that time, I was able to keep up on all my favorite shows using Hulu and 'other methods'. Although I did miss not having live TV, it wasn't that bad and I really didn't miss having to pay $90 to DirecTV for each of those 5 months. Once the remodel was completed, I turned DirecTV back on,  but have continued to keep an eye out for an easy to use, low cost alternative that will allow me to watch my favorite content on my big screen TV. The latest solution that I'm trying out is the Boxee Box from D-Link. Boxee software has been around for PCs, Macs and Linux machines for quite awhile, but the Boxee Box is the first all-in-one hardware / software solution that connects to your TV. Let's check it out.
Hardware Specifications
Dimensions (LxWxH): 4.5″ x 4.5″ x 4.6″
Language Support: English, French, German, Italian, Spanish
Network Protocol Support: IPV4, ARP, TCP, UDP, ICMP, DHCP Client, DNS Client, DDNS Client, HTTP Server, Samba Client, RTP/RTMP, VPN: PPTP, DLNA 1.5 (DMP)
Wireless: 802.11n/g/b
Ports: HDMI 1.3, 10/100 Fast Ethernet, 2x USB 2.0, Optical Audio (S/PDIF), Analog Audio (RCA L/R)
Memory Card Support: SD, SDHC up to 32GB, MMC
Audio Formats: MP3, WAV/PCM/LPCM, WMA, AIF/AIFF, AC3/AAC, OGG, FLAC, Dolby Digital/Dolby True HD
Video Formats: Adobe Flash 10.1, FLV/On2 VP6 (FLV/FV4/M4V), H.264 AVC (TS/AVI/MKV/MOV/M2TS/MP4), VC-1 (TS/AVI/MKV/WMV), MPEG-1 (DAT/MPG/MPEG), MPEG-2 (MPG/MPEG/VOB/TS/TP/ISO/IFO), MPEG-4 (MP4/AVI/MOV), DivX 3/4/5/6 (AVI/MKV), Xvid (AVI/MKV), WMV9 (WMV/ASF/DVR-MS)
Image Formats: JPEG, PNG, GIF, BMP, TIFF
Playlist Formats: M3U, PLS, WPL
Subtitle Formats: SRT, SUB, SSA, SMI, ASS
Supported Resolutions: H.264: 1080p at 30 fps, 1080i at 60 fps; WMV9/VC-1: 1080p at 30 fps, 1080i at 60 fps; MPEG4: 1080p at 30 fps, 1080i at 60 fps; MPEG2: 1080p at 30 fps, 1080i at 60 fps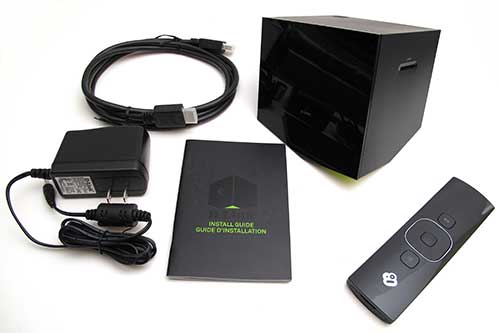 Package Contents
Boxee Box
HDMI Cable
AC Power Adapter
Remote Control with Full QWERTY keypad
Install Guide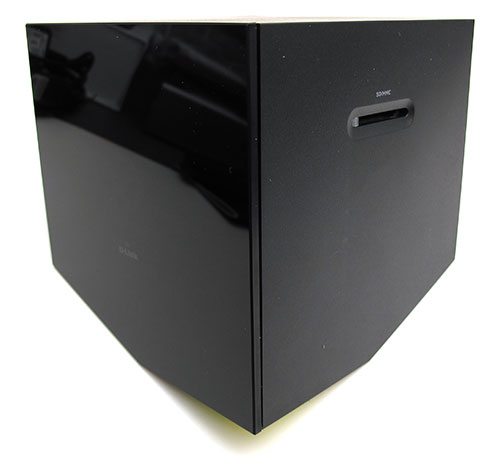 The physical design of the Boxee is unique. It looks like a cube that is sinking into the surface below it. The box is made of Black plastic, with one shiny side and the rest matte. The shiny side has the Boxee logo, which glows a Greenish Yellow when powered on and Red when in sleep mode. The bottom of the Boxee has a neon Green rubber non-slip surface.
The Boxee has excellent expansion options, including an SD card slot on the Right side.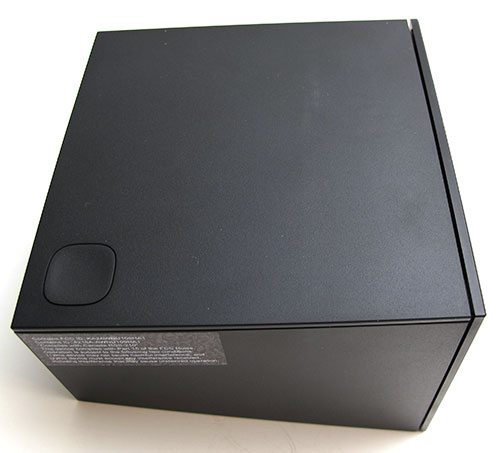 The power button is located on top.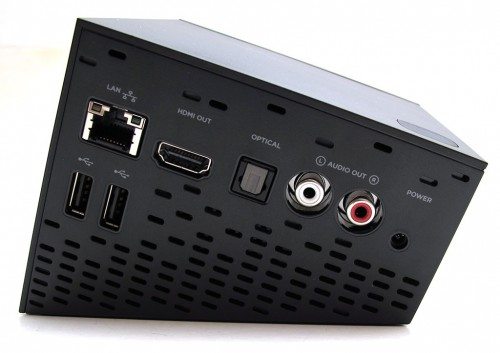 All the connections are located on the back. There are 2 USB ports, that you can use to connect USB hard drives and/or flash drives to play your existing content. You can also connect to your network via Ethernet or WiFi. To connect to your TV, you will need to use the included HDMI cable and if needed, the optical or RCA audio jacks. Most video streaming devices include component or composite video connections, I think the Boxee is the first one I've seen that only offers HDMI. I'm perfectly ok with that as I like just using one cable to connect to my AV receiver for both video and audio.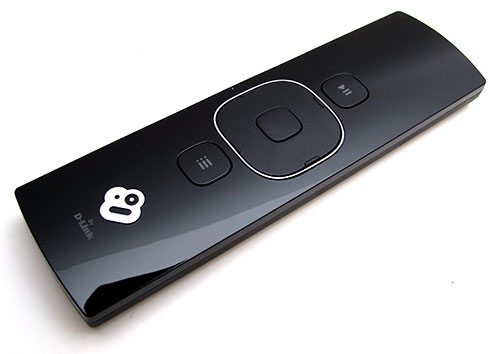 You also get a small RF remote control. The top surface of the control has a 4-way directional pad with an enter button in the center. There are two other buttons for play/pause and menu.

But flip the remote over and you will find a full QWERTY keyboard. Instead of using an onscreen cursor to type in search critera, you get a regular keyboard. The rubber keys are small, but they have good tactile feedback and get the job done. My only wish is that the remote was lighted. In a dim room, it's hard to see the letters on the keys.
Connecting the Boxee to my home theater setup took me a total of 10 minutes, with the majority of that time being devoted to fishing the AC adapter and HDMI wires around and through various openings in my custom enclosure. I only connected two wires – the included HDMI cable from the Boxee to my Onkyo AV receiver and the AC adapter to a power outlet. I'm not sure you can get any simpler than that.
Once connected, I pressed the power button on the Boxee and switched to that input on my receiver. When the Boxee finished booting, it immediately found my WiFi network and asked if I wanted to connect. A simple button press for Yes, and it then let me optimize my screen size. The last step asked me to either setup a Boxee account or login with an existing account. That's all there is to the setup. It's fast, it's easy and painless.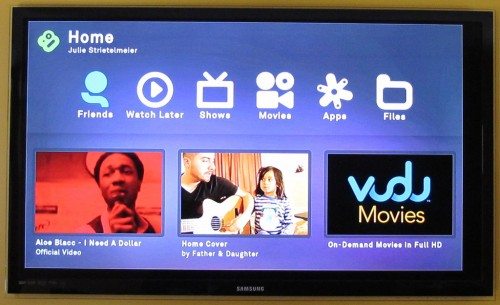 The Home screen is an uncluttered view of the 6 main ways to watch content and a scrolling thumbnail view of featured videos.
Friends is the social part of Boxee. It allows you to watch stuff that your Facebook and Twitter friends are sharing.
Watch Later is exactly what it sounds like.  You can install a bookmarklet in the web browser of your desktop or laptop and mark videos to watch at a later time on your TV.
Shows and Movies should be easy enough to figure out… They are local and internet TV shows and Movie content.
Apps are special interfaces to popular content like Pandora, YouTube, TED, etc.
Files is a file browser for attached (USB, SD) or networked content.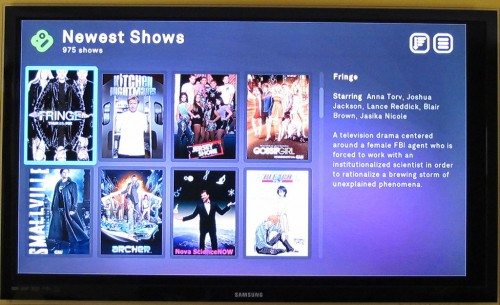 There's no shortage of things to watch on Boxee, but of course, the question is, is that content 'good' content? One of my criteria is the ability to find the latest episodes of my favorite shows, like I can with Hulu. Choosing the Shows option, you're greeted with a scrollable thumbnail view of the latest TV shows. You can sort this list alphabetically if you like. You can also flip your remote over and start typing the name of a show to search for that show.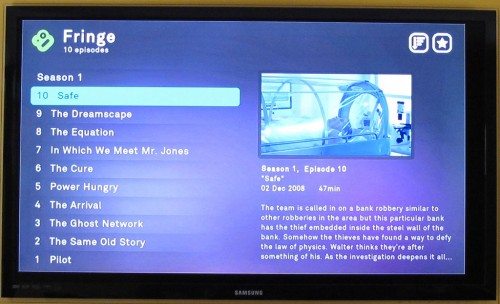 Clicking on a show's thumbnail will then display the available episodes for that show. As you scroll the list, you will see the title, description and run time for the show. If you want to watch it, you just click Play on the remote.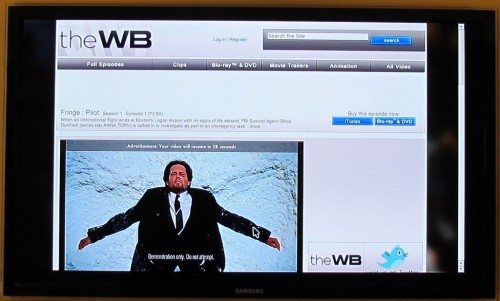 Depending on where the show is coming from, the resulting video might start playing in a web browser interface like you see here. When this happens, you have two options. Sometimes you can press the menu button on the remote and then press the enter button to go to full screen mode. When that doesn't work, you'll have to move the onscreen cursor (see the arrow on Mayhem's left arm in the image above?).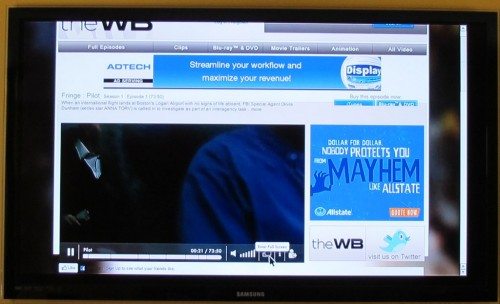 You'll need to use the arrow keys on the remote to move the cursor to the appropriate onscreen button to change the video to full screen mode. This can be an annoyingly slow operation.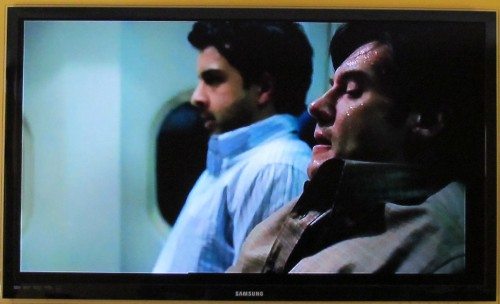 Once in full screen mode, the video (depending on the source) looks pretty darn good on my 55 inch TV.
But again, depending on the source and if you're connected via hardwire Ethernet or wifi, you may encounter problems with buffering. That's where the video will play for a few minutes and then pause as it loads more of the currently playing video.
But like I mentioned above, the whole thing is finding the stuff you want to watch. For me that's current and semi current TV shows. I had problems finding full episodes of most of my favorite shows. For example, searching American Idol only showed snippets and clips of old stuff. Same for Grey's Anatomy, Biggest Loser, Worst Cooks in America, and more. Yes, there are lots of shows that are available, but don't think you're going to be able to watch every show on TV for free on your Boxee. It's not going to happen. Sometimes you'll see a list of episodes on Boxee and when you choose one, you'll be prompted to buy/rent it. I've seen this with Vudu.
It's really a shame that Hulu isn't available for Boxee…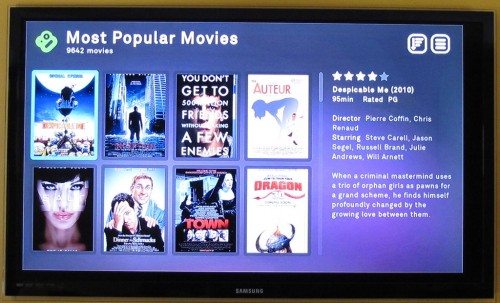 Watching and finding movies is comparable to watching and finding TV shows. There are a lot of free movies, but you get what you pay for.
At this time Netflix is not available for Boxee. But Vudu is available for Boxee and it might be even better than Netflix because there's no monthly subscription fee and they get movies the day the DVD is released. The video and audio quality is fantastic.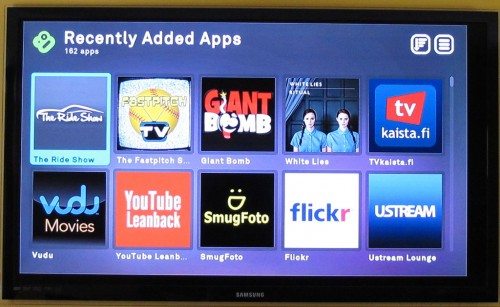 Vudu is one of the many free apps that you can install. There are apps for all sorts of content that you would typically visit a website to view. There are apps for Flickr, YouTube, DiggNation, and many more.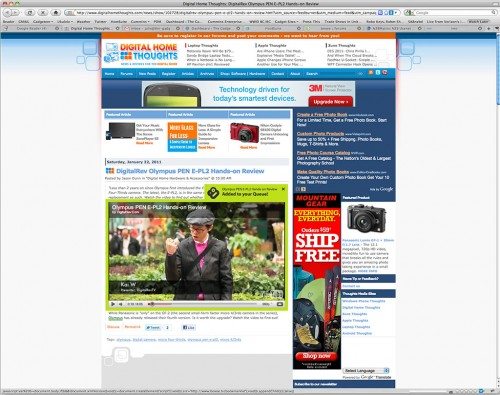 One of my favorite features of the Boxee Box is the ability to mark videos on my desktop and laptop for viewing later through the Boxee on my big screen TV. All you have to do is install the Watch Later bookmarklet in your web browser. Then as you surf and find a video that you want to watch later, just click the bookmarklet button.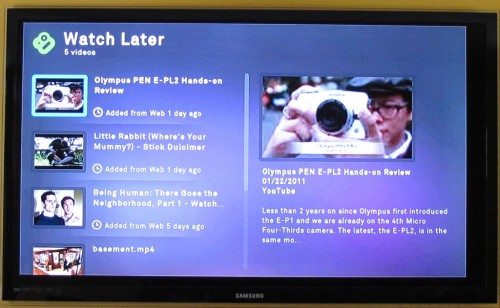 Then when you check your Watch Later list on the Boxee, the marked videos will appear there.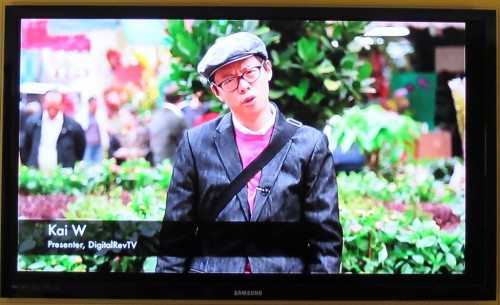 Just click and watch. The only thing I wish it would do would be to automatically remove the videos once you've watched them. Instead, you have to manually remove them.
It's important to note that you won't be able to resume playback of online video if you stop playing and exit out of the video. If you come back to the video, it will restart it from the beginning. This isn't a problem with local (USB, SD, networked file shares) content though. Those files can be resumed.
The Boxee Box is all about watching video content from the Internet, but don't forget that it's also a very capable viewer of your local content too. You can attach a USB hard drive, USB thumb drives or SD cards with video, music and pictures and the Boxee will show the media on your big screen TV.
I tested streaming video from another computer in my house via WiFi and had no problems with pausing or buffering even when I streamed a 4GB 720p movie. I had the same experience playing video on attached USB hard drives and SD cards. The best part is that you tell Boxee to keep an eye on certain networked folders or attached storage and it will automatically scan those places for new content and will present the found video and music files with the same type of thumbnail images and descriptions that it does the online TV shows and movies.
I've been using the Boxee Box for a few weeks now and have enjoyed testing it. The ability to explore lots of online content is both a good thing and a bad thing. It's easy to get distracted by all the content just like we do when we're surfing web pages. I've found the Boxee lacking when it comes to having the ability to find and play the full episodes of all my favorite shows. When Hulu becomes available, that should be less of an issue. For movies, Boxee really shines when used with the Vulu application. Netflix fans are upset that the Netflix app hasn't been launched yet, but for me, Vudu is a better choice. Boxee also shines for playing your local video files. It had no problems playing all the video formats I could through at it.
All in all, I like the Boxee quite a bit, but I think it still needs some work as far as providing the apps that a lot of people really want (Hulu and Netflix) so that they can dump their cable or satellite box. For me, it is a very nice alternative to the Popcorn Hour C-200, which takes a up a lot more space. For playing movies and local content, it's my new best friend. But for playing TV shows, it doesn't quite cut it and I won't be cutting the cord to my DirecTV. At least anytime soon.
Product Information
Price:
$199.00
Manufacturer:
D-Link
Pros:

Very easy to setup
2 USB ports, SD slot and can stream from other computers wirelessly
Simple interface
Lots of internet content

Cons:

No Netflix
No Hulu
Can't pause some videos and resuming previously viewed video doesn't always work
Doesn't save place in video