We use affiliate links. If you buy something through the links on this page, we may earn a commission at no cost to you. Learn more.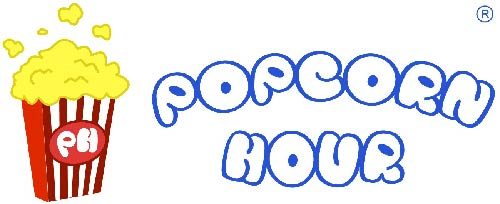 I am a TV junkie and whenever I accidentally miss one of my favorite shows, I use various methods to download the video file so I can watch it. I don't watch the shows on my iMac or iPhone though. I stream them to my 65″ RPTV so I can watch them in my living room. Over the years I've tested several video / media players and have had good luck with the WD TV HD Media Player and more recently, the Popcorn Hour A-110. The Popcorn Hour has become one of the most heavily used gadgets in my home until now. Now I have found something even better… the Popcorn Hour C-200.
Hardware Specs
Chipset: Sigma Designs SMP8643, 667MHz CPU with floating point coprocessor.
Memory: 512MB DDR2 DRAM, 256MB NAND Flash
Audio/Video Outputs: HDMI v1.3a with CEC, 36bpp deep color, 12-bit xvYCC processing and HDCP 1.2 content protection
Component Video, S-Video, Composite Video, Stereo Analog Audio, S/PDIF Optical and Coaxial Digital Audio
2x USB 2.0 host at the front, 2x USB 2.0 host at the back, 1x USB 2.0 internal
2x SATA (one occupied by HDD tray)
3.5″ HDD tray
Internal mounting for 2.5″ HDD
2.4GHz RF Remote Control, Infra-Red Remote Control port (Infra-Red Remote Control optional)
Network: Ethernet 10/100/1000, miniPCI MII interface for 11n WiFi card (optional)
Power: 100~240V AC, 50~60 Hz, max 2.5A
Dimensions: 425mm x 290mm x 80mm (16.73″ x 11.42″ x 3.15″)
Weight: 3.7kg (8lbs 3oz)
Connectivity: Bonjour, UPnP SSDP, UPnP AV, Windows Media Connect, Windows Media Player NSS, Samba, NFS
Media Servers: myiHome, myiHomeLite, myiHomeMS (UPnP), MSP Portal
Third-party media servers: WizD, SwissCenter, Llink, GB-PVR
BitTorrent P2P
Usenet downloader
NAS Access : SMB, NFS, FTP
Casgle iDVR RSS feed downloader
Web Services
Video : Revision 3, Videocast, CNET TV, Mediafly, Mevio, Bliptv, Break Podcast, CBS Evening News, CNN Anderson Cooper 360 Daily, CNN The Larry King Podcast, NBC Today Show, The CNN Daily, CNN In Case You Missed It, NBC Nightly News, NBC Meet The Press, CBS Face the Nation, Podfinder UK, Motorz
Audio : Jamendo, iPodcast, BBC Podcast, Indiefeed, CNN News, ABC News
Photos : Flickr, Picasaweb, Pikeo, 23, Photobucket, SmugMug
RSS feed : Yahoo! Weather, NMT Forum, Bloglines, Cinecast, MSNBC News, Traffice Condition, Yahoo! Traffic Alerts, Yahoo! News, Weather Bug
Peer-to-peer TV : SayaTV
Internet Radio : SHOUTcast™ Radio, Radiobox, Live365 Radio
Supported Media File Formats
Video containers: MPEG1/2/4 Elementary (M1V, M2V, M4V), MPEG1/2 PS (M2P, MPG, DAT, VOB), MPEG2 Transport Stream (TS, TP, TRP, M2T, M2TS, MTS), AVI, ASF, WMV, Matroska (MKV), MOV (H.264), MP4, RMP4
Video Decoders: XVID SD/HD, MPEG-1, MPEG-2 [email protected], MPEG-4.2 [email protected], 720p, 1-point GMC, MPEG-4.10 (H.264) : [email protected], [email protected], [email protected], [email protected], WMV9 : [email protected], SMPTE 421M (VC-1) : [email protected], [email protected]
Audio Containers: AAC, M4A, MPEG audio (MP1, MP2, MP3, MPA), WAV, WMA, FLAC, OGG
Audio Decoders: Dolby Digital, DTS, WMA, WMA Pro, MPEG-1 Layer 1, 2, 3, MPEG-4 AAC-LC, MPEG-4 HE-AAC, MPEG-4 BSAC, LPCM, FLAC, Vorbis
Audio Pass-Through: DTS, DTS-HD HR, DTS-HD MA, Dolby Digital, Dolby Digital Plus, Dolby True HD
Other Formats: ISO, IFO navigation, AVCHD navigation, Blu-ray** ready (requires addition of compatible BD-ROM and at least 2GB USB memory stick)
Photo Formats: JPEG, BMP, PNG, GIF, TIFF
Subtitle Formats: SRT, MicroDVD SUB, SSA, SUB/IDX
DRM: Cardea DRM (WMDRM-ND), Janus DRM (WMDRM-PD)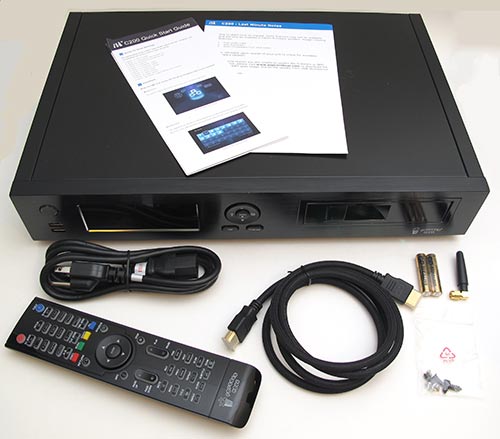 Package Contents
Popcorn Hour C-200 (HDD not included)
IEC 60320 C13 power cord
1.5M length HDMI cable
RF Remote Control with 2 "AAA" batteries
Quick start guide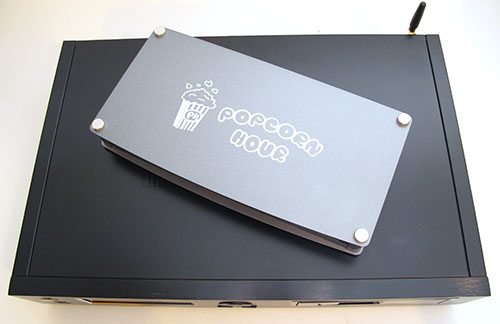 The previous Popcorn Hour unit is pretty small compared to the new model. The C-200 has a typical set-top box size similar to DVRs and satellite tuners.

The front of the unit has a power button, 2 USB ports, a large White on Blue backlit LCD display, menu navigation buttons and an access door to a hard drive, CD drive, DVD drive compartment. You can click the image above to see a larger view.
With regards to the LCD display, I'm not really sure what the point of it is because you can't see it from across the room and everything you'd need to see (menu info) is displayed on your TV's screen anyway.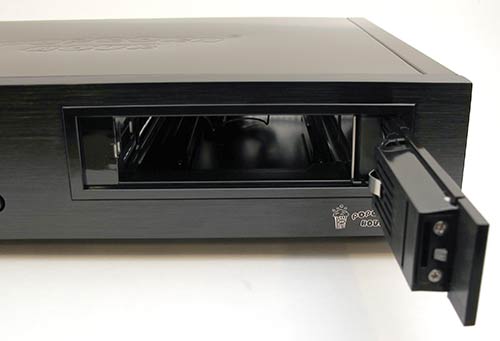 The Popcorn Hour doesn't ship with a hard drive installed, but you can easily add your own. The front panel has an easy to access tray for a 3.5 inch drive. You can also pull out the whole tray assembly to install a CD drive or DVD drive. As with the previous Popcorn Hour, I didn't install a hard drive because I keep all my media on my iMac in my office and stream it to the C-200 wirelessly. More about that in a sec.

On the back you will find all the normal A/V connectors including HDMI. There are also two more USB ports and an Ethernet port.
I had issues with the previous Popcorn Hour working with my TV via HDMI. Basically it didn't work. 🙂 I had to use component cables. I'm happy to say that this isn't a problem with the C-200. HDMI works perfectly.
The C-200 has an Ethernet port which I tested and found to work very well. If you prefer to use WiFi instead of hard wiring it to your network via Ethernet, you'll need to buy and install the optional MN-200 WiFi Card.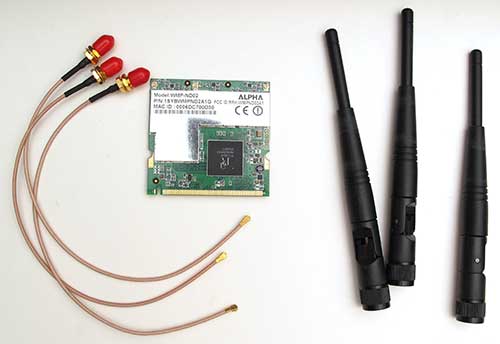 The card comes with 3 antennas.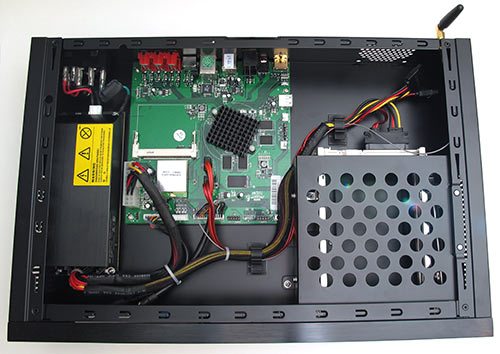 Installing it is not difficult. First you remove the cover. You'll see the WiFi card connector below the round sticker.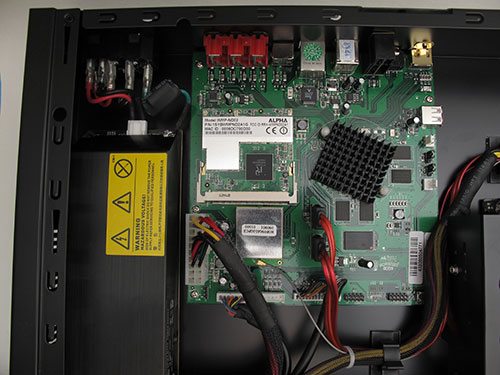 Then insert the card in the slot.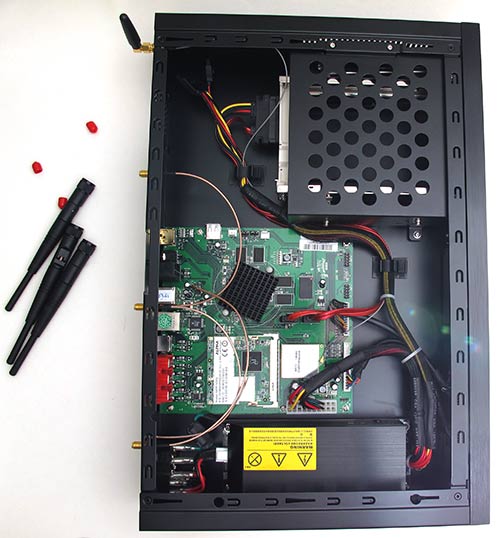 Cables for the 3 antennas are then connected to the back panel.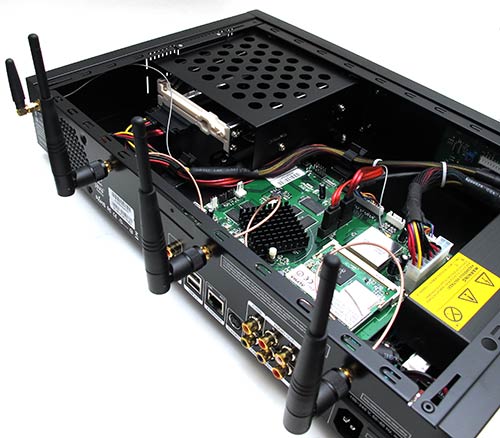 The hardest part of the whole installation is attaching the tiny antenna cable connectors to the WiFi card. Everything else is plug and play. After the card has been installed, you won't need to install any special software or do any setup for the card to be activated. Put the cover back on and you're all set to watch video, listen to music, access web video / audio sources and view your images.

The remote that is included with the C-200 is above average as far as having a good button layout with Red backlit keys. The best part about the remote is that it is an RF remote and not IR. What difference does that make? Well, I have all my A/V components stacked on top of each other on top of an entertainment center. Think Leaning Tower of Pisa and you won't be that far from the truth 😉 Anyway, I sometimes have difficulty getting my devices to recognize remote commands due to the angle that I'm pointing the remote. RF doesn't need line of sight, so no problems. Yay!
Setting up the C-200 with my 65″ RPTV was a snap. It was equally easy to connect to a shared drive on my iMac in the other room. Streaming music and video over Ethernet is blazing fast. The older Popcorn Hour would take 30-45 seconds to load a video file, the C-200 only takes about 5-10.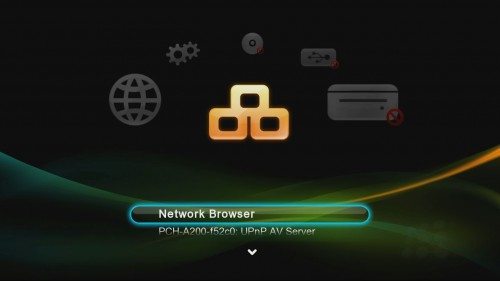 The menus on the C-200 haven't changed significantly from the A-110. They are basic, with no wow factor. The great thing is, if you hate the interface, you can load another. The Popcorn Hour is a media player that has a large community of modders that have created some alternative 'jukeboxes' (menu systems).
The main menu allows you to browse your network  shares, attached hard drives, USB drives and CD/DVD drives. Like I had mentioned previously, I keep all my content on my iMac and stream it to the Popcorn Hour. I tested streaming via Ethernet and WiFi and found that there wasn't much of a noticeable difference in speed between the two methods, but were very noticeable compared to the A-110. This speed increase in itself is a big reason to upgrade if you have the older Popcorn Hour unit.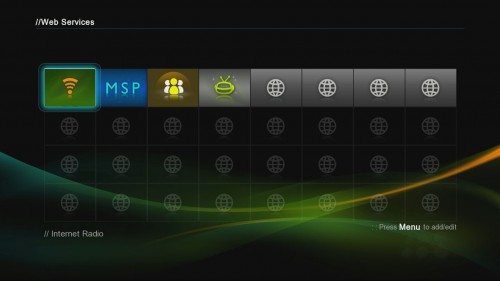 If you're bored with your own content, you can view videos and listen to internet radio stations. I don't do this often because I find that the video media can be old and sometimes isn't available. I have enjoyed playing around with internet radio stations though.
I have also noticed that the C-200 will sometimes freeze up when I try to access some of the web options. The spinning load graphic will display in the center of the screen and will stay that way till I unplug the box to reset it.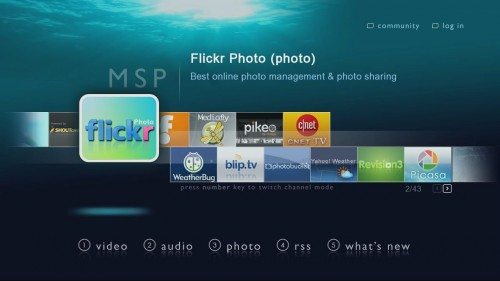 One thing that I really really really wish was built into the C-200 is Netflix and Hulu streaming. Alas, it doesn't… 🙁 YouTube isn't available either which is odd because it was available on the A-110. I would think that a web browser would have been a great feature to include too, but it wasn't.
In addition to Internet radio and video features, there are apps that you can run on the device. One fun app is Weather Bug.
A free download for your Windows or Mac computer called myiHome will let you view the videos and images from your computer, as well as listen to music from your computer. It is very easy to setup and works pretty well… when it doesn't freeze up. I'll stick with just sharing a drive instead of running that service on my Mac.
Another really nice feature is the ability to add a DVD / Blu-Ray DVD drive to the unit. I tested this feature with the external USB Blu-Ray drive that came with the HP DV2 laptop. I love that I can put all my media playing gadgets into one box that requires only one power cord. That said, I had some problems playing non Blu-Ray DVDs in the Blu-Ray player. The onscreen status would just show the spinning graphic forever and I would have to pull the power cord to reset the whole device. I'm hoping a firmware update will fix this issue.
While I really liked the first Popcorn Hour (A-110), I am loving the C-200 for what I use it for – video file playback. It seems to handle every video type that I throw at it and it loads that content much faster than the older Popcorn Hour. All the USB expandability is terrific too, not to mention the ability to add a hard drive or DVD drive. So far it's the best digital media player I've used even though it has occasional glitches with accessing internet video / radio.  If they can add NetFlix and Hulu support, I'd be in heaven.
Product Information
Price:
$299.00, $349.00 (with MN-200 WiFi Card)
Manufacturer:
Popcorn Hour
Pros:

Fast
Very expandable with USB, hard drive, CD drive, DVD, Blu-Ray drive
Can view internet video, radio, etc.

Cons:

Large footprint
WiFi is not built in
No web browser or Netflix feature
Some issues with playing SD CDs in Blu-Ray drive