We use affiliate links. If you buy something through the links on this page, we may earn a commission at no cost to you. Learn more.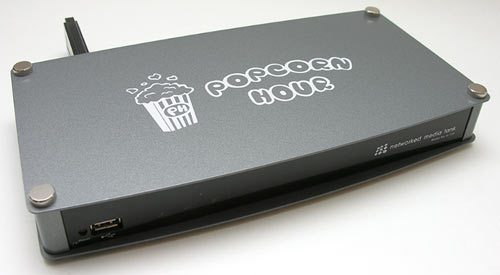 I watch a LOT of television shows. Too many shows. It's a sickness really. 😉 I just can't get enough of American Idol, Survivor, LOST, Celebrity Apprentice, Amazing Race… the list goes on and on. For that fact, I often have days where I need to record three shows that are all on at the same time. My dual tuner DirecTV DVR can only record two at a time, so what's a TV addict like myself to do? I grab the shows off the internetS of course! But I don't watch them on my 24in iMac screen in my office, I watch them on my 65″ HDTV in my living room. I had been using the WD HD TV Media Player for this task, but lately I've been testing the Popcorn Hour Networked Media Tank. Let's take a closer look.
First of all, I have to say that I went into this review with a bit of bias. I couldn't help it really as I was already in love with the WD HD TV device. The WD HD is one of those products that is extremely simple to setup, easy to use and just plain works well. I didn't think anything would be able compare to it, but I was curious to find out if the wireless functionality of the Popcorn hour would cause me to choose it as my new favorite media player.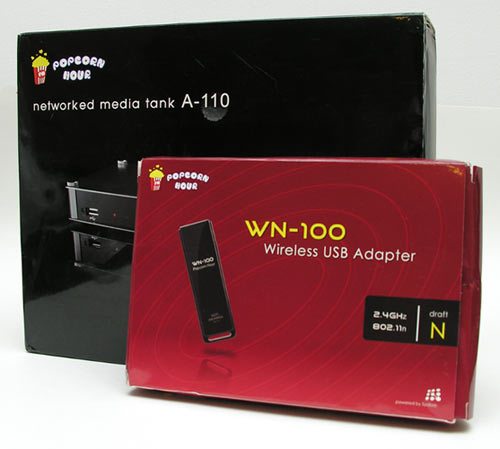 I was sent the Popcorn Hour A-110 and WN-100 wireless USB adapter to review.
Hardware Specs
Connectivity: Bonjour, UPnP SSDP, UPnP AV, Windows Media Connect, Windows Media Player NSS, SMB, NFS, HTTP servers: myiHome, WizD, SwissCenter, MSP Portal, Llink, GB-PVR, BitTorrent P2P, NAS access : SMB, NFS, FTP
Web services:
Video : YouTube, Veoh, Videocast, DLTV, Cranky Geeks, Bliptv, PodfinderUK, Vuze, Break Podcast, Revision 3, CNN The Larry King Podcast, CNN Anderson Cooper 360, The CNN Daily, CNN In Case You Missed It , NBC Meet The Press, NBC Today, CBS Face the Nation, NBC Nightly News, Mevio
Audio : Live365 Radio, iPodcast, Radiobox, ABC News, BBC Podcast, CNN News , Indiefeed, Jamendo
Photo : Flickr, Picasaweb
RSS feed : Bloglines, Yahoo! Weather, Yahoo Traffic Alerts, Traffic Condition, Cinecast, Yahoo! News, MSNBC News
Peer-to-peer TV : SayaTV
Internet Radio : Shoutcast
Video formats supported: MPEG1/2/4 Elementary (M1V, M2V, M4V), MPEG1/2 PS (M2P, MPG), MPEG2 Transport Stream (TS, TP, TRP, M2T, M2TS, MTS), VOB, AVI, ASF, WMV, Matroska (MKV), MOV (H.264), MP4, RMP4, XVID SD/HD, MPEG-1, MPEG-2, MPEG-4.2, WMV9, H.264, VC-1, ISO, IFO
Audio formats supported: AAC, M4A, MPEG audio (MP1, MP2, MP3, MPA), WAV, WMA, FLAC, OGG
Image formats supported: JPEG, BMP, PNG, GIF
Chipset: Sigma Designs SMP8635
Memory: 256MB DDR SDRAM, 32MB Flash
Audio/Video outputs: HDMI v1.3a (up to 1080p), Component Video (up to 1080p), S-Video, Composite Video, Stereo Analog Audio, S/PDIF Optical Digital Audio
Interface: 1x USB 2.0 slave, 2x USB 2.0 host (placed at front and back panel each), SATA
Network: Ethernet 10/100
Power: 12V DC, 3A
Dimension: Width 10.5″(270mm) x Depth 5.25″ (132mm) x Height 1.25″ (32mm)
Weight: 2.2 lbs (1Kg)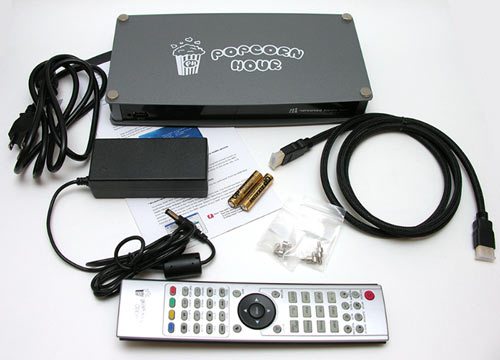 Package Contents
Popcorn Hour A-110 (HDD not included)
100~240V Power Adapter and 3 Prong Flat US Cord
1.5M length HDMI cable
Remote Control with 2 "AAA" batteries
USB Slave cable
Quick start guide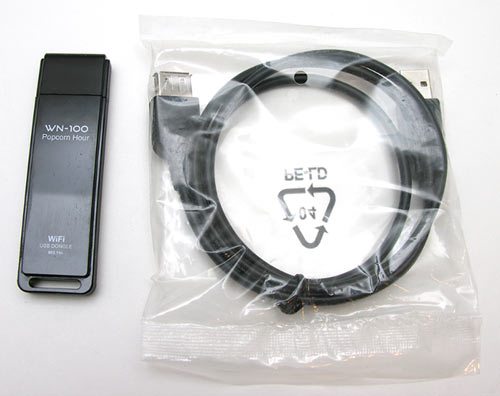 If you get the package with the wireless option, it will also include a WN-100 802.11n (draft 2.0) USB WiFi adapter and a USB extension cable.

The main device is nicely constructed of metal, with an easily accessible USB port on the front. Next to the USB port is a recessed reset button.

All of the various video, audio and power ports are located on the back.

There's a master power switch, component video, s-video CVBS, RCA audio, optical audio…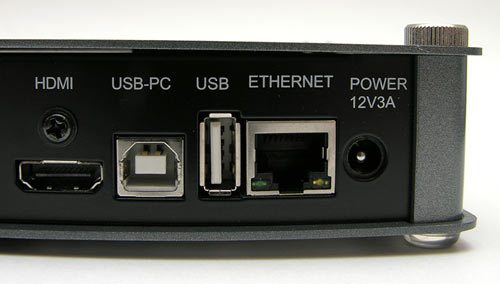 HDMI, USB host, USB, Ethernet and power connectors.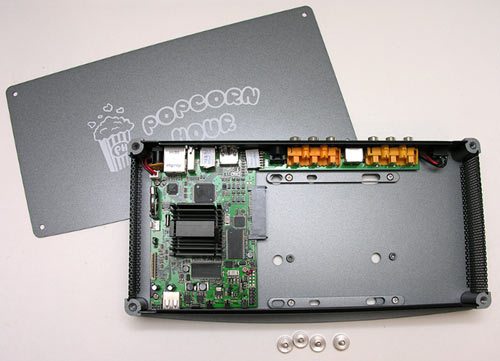 In addition to the USB ports, you can also install an SATA 3.5 hard drive inside the Popcorn Hour. I didn't have one available to me, so I tested using USB flash drives, USB hard drives and network drives.
Connecting this player to your television set is not difficult. Since I wanted the best picture possible, I opted for the HDMI connection. I was very pleased to see that an HDMI cable was actually included in the package. That's pretty rare. My joy was short lived though as I was unable to get the player to work using HDMI. I tried 3 different cables and 3 different HDMI ports on my TV. Whenever I would power on the Popcorn Hour device, diagonal lines would display on the TV for a few seconds and then the screen would turn Blue as if there was no input signal at all. To their credit, the folks at Popcorn Hour tried to help me figure out the problem. Their suggestions to try a lower resolution and upgrading the firmware did not fix the problem though. I finally gave the unit to a friend to try on his TV and wouldn't you know that it worked fine for him. This is the first time I've ever had an HDMI device that was not compatible with my 5yr old Mitsubishi RPTV. Bah!
So I ended up connecting the device to my TV using component video cables. Not my first choice, but oh well…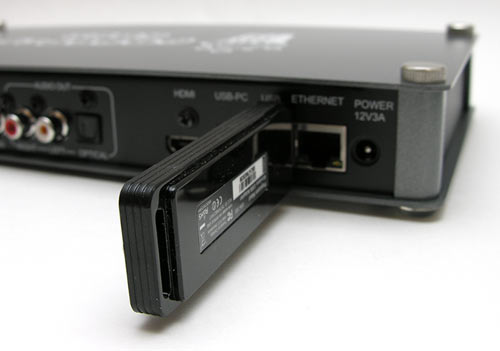 I also plugged the included Wifi adapter into the rear USB connector so that I could test wireless connection to network drives. This is one feature that could give the WD HD a run for its money and I was anxious to try it out.

The remote included with the Popcorn Hour (which I'll call PCH from here on…) is full sized with a bazillion buttons. It's comfortable to hold and the buttons are easy to press.
Once you have the unit connected to your TV and audio source, you can turn it on. It takes a minute or two to boot from power off and when fully loaded, you'll see the main menu shown below.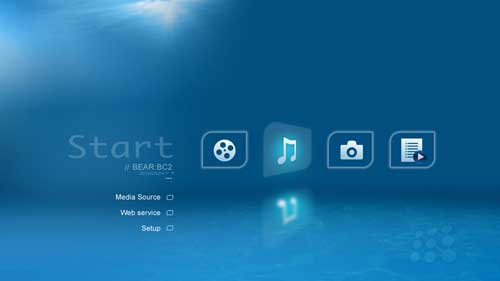 The main options are designated by large icons for video, audio, images and files. You can also change the media source (USB or network), connect to web services or go into the setup options.
Connecting to WiFi is quick and easy if you have a non-secure SSID like I do. Otherwise you will have to specify various security settings for your wireless network. Once connected, you can then connect to a network drive on your computer or use the web services.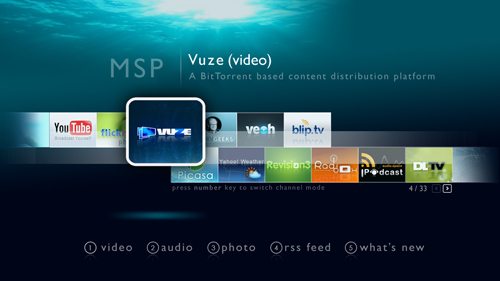 Web services are things like YouTube, RSS feeds and Internet radio. I tried all of them, but my main interest for this device was playing video files.
Instead of copying video files to a USB flash drive or portable hard drive and then plugging them into the PCH, I wanted to access a shared drive on my iMac in the other room. Setting this up wasn't hard. It just required me to go into the system preferences, turn on file sharing, check SMB (Samba) sharing and specify the folder to share. The only annoyance came when I would have to actually login through the PCH using the remote. My username on my Mac is "Julie Strietelmeier". So I would have to type it in using the telephone style keypad. Not a huge deal to complain about if you only have to do it once, but this info isn't saved if you remove power from the PCH or you switch back and forth between an attached USB drive and network shared drives. Grrrrrrr… Maybe there's an easier way to do this, but I'm not sure what that is.
Update 5/19/09 – There is an easier way. You add the share instead of browsing the workgroup list. I thought I had tried this without success, but a subsequent try worked! Now I can even unplug the unit and it remembers the share and automatically connects to it. Yay!!!
When I was connected to a network drive, streaming videos, music and images over WiFi worked very well for all the formats that I tried except for a 5GB ISO. Playback of that file was very jerky and not viewable at all. Playing the same ISO file from an attached USB hard drive worked just fine though. I was also impressed that the DVD menus from the ISO worked just like they do on a regular DVD player. The WD HD is unable to show DVD menus (as of the current firmware), so this is a definitely plus for the PCH.
Some of the formats that I tested were ISO, MKV, M4V, MP4, AVI. They all worked fine with this player and looked good on my TV at 1080i (my TV doesn't do 1080p). The audio behind the video also sounded just fine. I liked that video playback including web videos can be resumed (as long as you don't remove power) if you stop and come back later. This is true even if you stop one video and go watch part of another. You can then go back to the first video and resume from where you left off.
It also has some good playback features that allow you to jump to different times in a video, zoom / shrink the display, change subtitle size and colors, etc.
I also tested the music and image playing features of this device. Although they work relatively well, you can tell that they aren't the primary feature of this product. Album art is supported for music playback, along with track info (time, title, artist, album name and genre).
Because the PCH is running a version of Linux, it has other more complex features such as a BitTorrent downloader and FTP server. You can even install 3rd party music and video jukebox applications that allow for feature that the default player does not have. One feature that comes to mind that the video jukebox apps add are DVD thumbnails. But installing these applications feels like a big mystery. You have to navigate the Networked Media Tank forums for instructions.
Besides the HDMI issue and the PCH not storing the username and password info for network shared drives, I really only have two other complaints. One is that this device feels a little sluggish, but you mainly only notice this when navigating from menu to menu. I also noticed that the remote control seems to have a narrow area where it can 'see' the command. Often times I would have to press the buttons a couple of times before it would recognize the key press.
The Popcorn Hour Networked Media Tank is one step down from having a full fledged HTPC (home theater PC) and with it, come a complex set of features that might be wonderful for some, but a headache for others. For that fact, I don't see this player in the same category as the WD HD TV Player. I like the PCH because it has WiFi capability out of the box, but I don't like its overall sluggish feel. If you love hacking around with devices, then you'll probably love the PCH. If I can fix my issue with logging into network drives, I'll probably stick with it just for that convenience, but otherwise it's overkill for what I want to do – just playing video files.
Product Information
Price:
$250.00
Manufacturer:
Popcorn Hour
Pros:

Networked
Internal drive bay
2 USB ports
Powerful features

Cons:

May be too complex for some people
Might not work with all HDMI enabled TVs
Sluggish response from remote control
No thumbnail support for file listings