We use affiliate links. If you buy something through the links on this page, we may earn a commission at no cost to you. Learn more.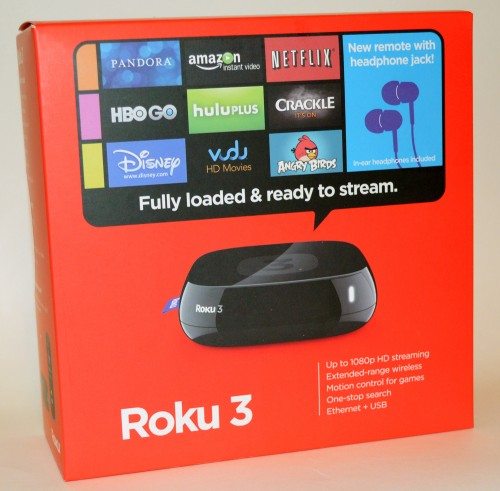 In November 2011, Julie and I reviewed two models of the Roku 2 (see related posts for link).  I've been using my Roku 2 in my living room since then, and I had an older Roku in my bedroom.  The bedroom TV has no cable hookup, so I relied on my Roku and my Apple TV for programming.  A few weeks ago, I saw the announcement that Time Warner Cable would be making their programming available through Roku, so you could stream their live programming to a TV without needing a TWC set-top box.  This was exactly what I needed.  As soon as I saw that the TWC channel was available on Roku, I tried to install it.  I had no luck, because the bedroom Roku was too old.  I decided buying a new Roku 3, which does support the TWC programming, was cheaper than paying to have a new outlet installed and then paying rent for a cable box and for a remote, so I placed my order at Amazon.  I didn't have long to wait, because I had my new Roku 3 overnighted.
Click any image for an enlarged view.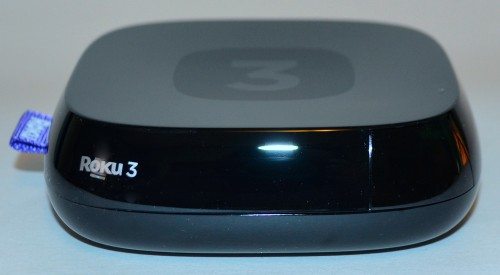 The Roku 3 is a small, shiny, black plastic box.  There are no buttons on the front, but there is a dim white indicator light to show when it is streaming to your TV.  It measures 3.5″ X 3.5″ X 1″ and weighs only 5 ounces – not that the weight matters, since you won't be toting it around.  It's branded with a "3" on top, a grosgrain ribbon with the Roku name on the side, and the Roku 3 label on the front.
The Roku 3 has no power button.  It's always on and always connected, so it's ready to stream when you're ready to watch.  Roku says it draws less power than a nightlight, and it will automatically find and download software updates as they become available.
Just like the Roku 2 models that Julie and I reviewed, the Roku 3 has access to all the programming offered by Roku – Netflix, Hulu Plus, Disney, HBO Go, and a multitude of other channels, including the TWC content.  Much of the setup and use of the Roku 3 is very similar to that of the older models, too.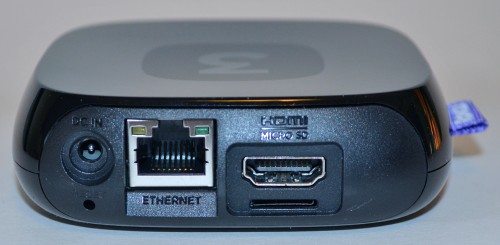 The back has a power jack and a reset button on the leftmost side.  The Roku 3 has built-in dual-band WiFi b/g/n capability, but you can also wire it to your router using the Ethernet jack.  Unlike earlier Roku models, you can only use an HDMI cable to connect to your TV, so it won't work with anything but HD TVs.  There's also a microSD slot on the back that's used to expand the storage capacity for Roku channels and games; it cannot be used to provide multimedia content.
You'll need a broadband internet connection with a speed of at least 1.5 Mbps (such as mid-level DSL).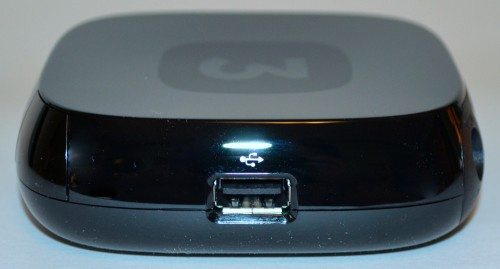 The USB port on one side does allow you to input your own content from supported USB drives.  You can find a list of the supported file types in the tech specifications image that's found later in this review.  You must first install the Roku USB Media Player channel before you can play any content from USB sources.  I don't really have any files that I want to stream through the Roku – I use my Apple TV for that – so I haven't loaded the app or tried the USB.
Never miss one of our posts again. Sent MON, WED, and FRI with the latest gadget reviews and news!

Here you can see how small the Roku 3 is compared to the newest generation Apple TV it's sitting on and the Orb Audio Booster amp it's sitting beside.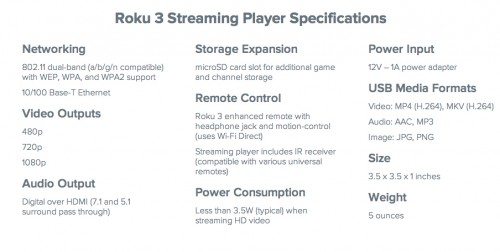 These are the technical specifications for the Roku 3 and its remote control.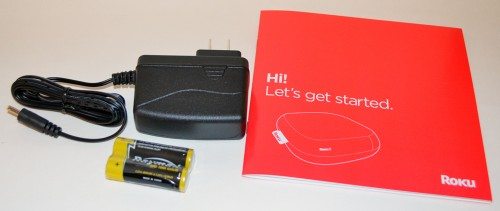 The Roku 3 comes with a power adapter, batteries for the remote, and a small user's guide.  You'll notice you do not receive an HDMI cable with the Roku 3.  I just used a $10 HDMI cable I bought from Amazon a couple of years ago when I got the old Roku.

The remote included with the Roku 3 is an enhanced, Bluetooth model.  As you would expect, it has buttons to control the playback of streaming content.  It is also used as a gaming controller for games such as Angry Birds, which is included for free with the purchase of the Roku 3.  It has "motion-sensing technology" inside that allows you to control game play, like the remotes for the Wii my daughter has.  It has an adjustable wrist strap to prevent you from throwing it through the TV screen during a spirited game.  The A/B buttons at the bottom are for gaming.
Just a note about the games:  I don't think these Roku games are going to satisfy any hard-core gamers.  But as I said in the Roku 2 review, it might be good for grandparents to have when their grandkids come to visit.


This remote has a feature I've never seen on a remote control before.  One side of the remote has a headphone jack.  When you plug in headphones, the TV sound is automatically muted.  The other side has volume buttons to adjust the sound level for the headphones.  You'll be able to listen to TV without disturbing the other people in the room.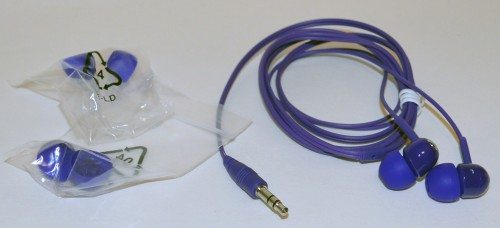 Just in case you don't already own some, Roku includes a pair of earphones.  You get three different sets of ear tips to get the best fit for your ears.  These aren't going to win any awards, but they are adequate for listening to TV.
It would be nice if they had a switch that could allow sound to go to both the remote and the TV, too.  My dad had trouble hearing the TV well enough to understand it, and he'd blast the rest of us out of the room when he cranked up the volume.  If the sound could go to both the TV and the remote at once, he could have used the earphones so he could hear better at lower volumes, and the rest of us could have still heard the show.  Maybe next iteration…
Before you begin setting up the Roku, you'll need to create an account at Roku's website.  You'll need to enter credit card information to create the account.  Most Roku channels are free to install, but some channels are not.  Of course, some channels, like Netflix and Hulu Plus, are free to install, but you'll need a subscription to those services to actually watch their content on the Roku.
I already have a Roku account, so I was ready to get started.  You are walked through a series of setup screens requiring you to sign in to your Roku account, select and join a network, and then you'll get the latest software updates.  You'll be entering network names and other information from one of those on-screen keyboards, so you can expect a lot of scrolling around and selecting letters.  You'll also need a computer to get a code from Roku that will activate your Roku box.    All this went without a hitch, and I was connected in no time.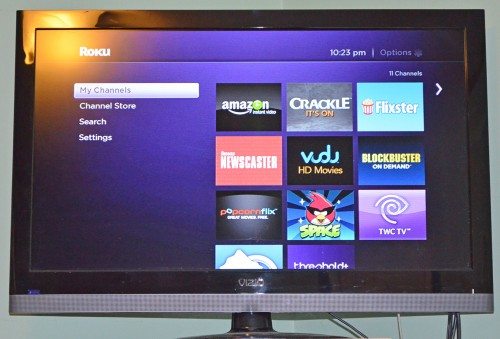 Several channels, and the free Angry Birds game, will be automatically added to the Roku during setup, and you'll be able to go to the Channel Store to find more channels.  I was able to find and add the TWC channel, as you can see from my list of channels in the above image.  This screen is different than the ones I'm used to seeing with my older Roku boxes.  The old horizontal scrolling list has been replaced with a grid arrangement of channels.  It's much nicer to use.
I've used my Roku box for several hours since installing it.  I've used it exclusively for watching the TWC channel, since I already have authorized my Apple TV for my Netflix and Hulu Plus channels.  Only three times have I seen it pause for buffering, and the longest pause was about 3-5 seconds.  We do have high-speed Road Runner service, and the speeds greatly exceed the minimum requirement.  My TV is only 720p, but the image is perfect.  (I selected the 720p output in the Roku's settings.)  I didn't notice any pixelation while watching.
I'm very happy with the Roku 3.  It's so nice to have access to my cable programming in my bedroom now, without the expense of having a new cable outlet installed and paying rental fees for another cable box.  The video is sharp and the sound is clear.  I've had almost no pauses for buffering using the WiFi connection, and I can always wire it up if I decide I need to do that.  It will pay for itself in no time because I didn't have to pay Time Warner an installation fee for a new outlet or monthly rental fees.
I plan to do a separate review of the Time Warner channel soon.
Product Information
Price:
$99.99
Manufacturer:
Roku
Requirements:

HD television with HDMI input
Broadband internet connection with a speed of at least 1.5 Mbps

Pros:

Installation was quick and easy
Variety of programming available
Built-in dual-band wireless
Can stream 1080p video
Works with Netflix, Hulu Plus, Amazon Instant Video, and other subscription services
Allows access to Time Warner Cable channels without requiring a cable box or a cable outlet
Can play simple games with the enhanced remote (may require purchase of games)
USB port allows you to play your own content

Cons:

Limited formats supported for your own content
No HDMI cable included