We use affiliate links. If you buy something through the links on this page, we may earn a commission at no cost to you. Learn more.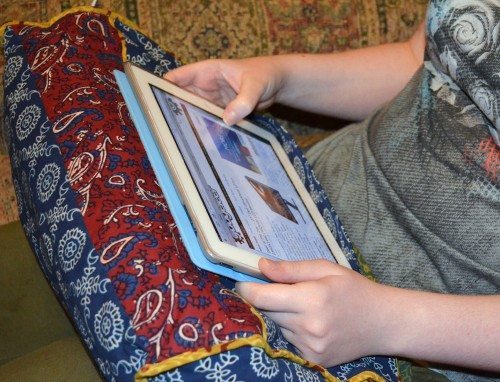 How would you like to give a gift this holiday season that's actually multiple gifts in one?  You can, with the India Cloud Book Pillow from Levenger.  The recipient will get a great book pillow that works with paper books, eBook readers, and tablets.  Other people will receive the gift of a living wage and the gift of literacy, and you'll receive the gift of knowing you helped so many people.  Read on to learn how one small pillow can do so much.
Most of the images in this review can be clicked for an enlarged view.
Anyone who reads a lot knows that books – even small eBook readers – can be tiring to hold for long periods.  There are a variety of pillows and supports on the market that will give your hands a rest.  Levenger sells several types themselves, including a leather version and a denim version of the Cloud Pillow.  No other book pillow I've seen benefits as many people as the India Cloud, though.  First of all, the India Cloud was designed in partnership with a manufacturer who is a member of the Fair Trade Federation.  The fabrics used in the India Cloud are produced by artisan families in rural India.  They hand-carve woodblocks, and then use them to print cotton fabrics.  This benefits the families financially and helps keep their native craft alive.  Secondly, "Levenger is also making a contribution to literacy efforts in India through Room to Read, a U.S.-based nonprofit organization dedicated to bringing literacy and gender-equal education to children in developing nations."  (This information is found on the paper bookmark that Levenger includes with the India Cloud pillow.)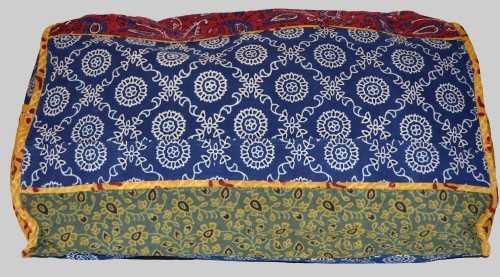 Each pillow uses blue, green, gold, and brown fabrics, and each pillow will be unique because of the hand-made nature of the fabrics.  You can see the pillow I received also has a bit of red fabric.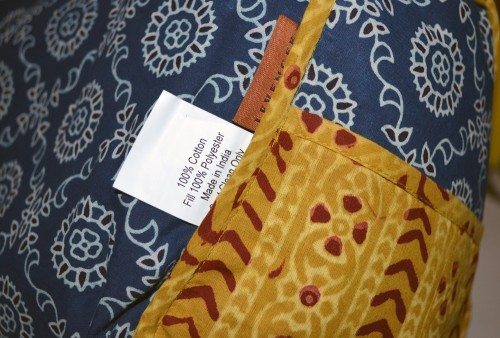 The pillow is about 17.5″ long X 8.5″ tall.  It has a wedge-shaped profile that's about 7.5″ wide at the base and about 3.5″ wide at the top.  The pillow is very lightweight and soft because of its polyfill stuffing.  My pillow was a bit misshapen because of shipping, so it took a little "fluffing" to shape the pillow and get it to stand up on its base like it does in the pictures at Levenger's website.  The only branding is a ribbon tag with the Levenger name sewn into a back seam.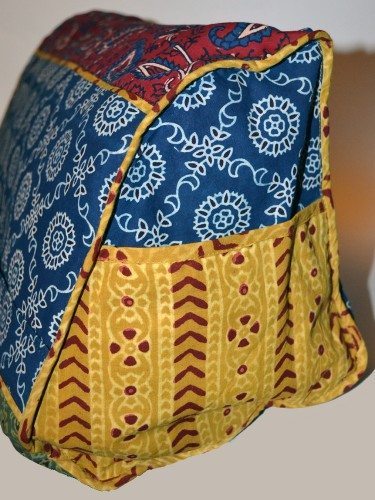 Each end of the pillow has a pocket that's the perfect size to store your reading glasses, pens and note cards, Post-it flags, and most anything else you like to have on hand while you read.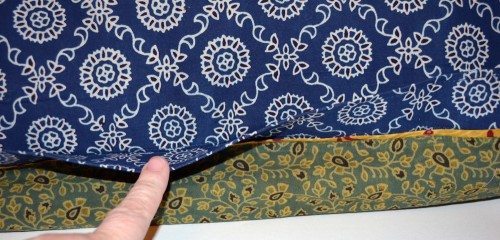 There's a long, shallow pocket along the front that you set your book in.  It will prevent accidental page turns with paper books, and it keeps the book, eBook reader, or tablet from slipping out of position while you read.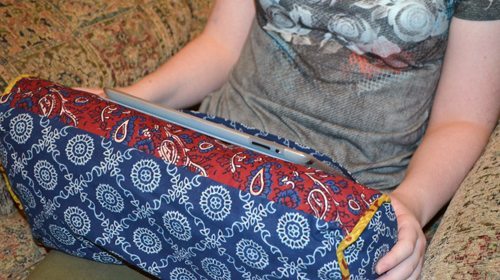 The India Cloud Book Pillow is very lightweight, and the cotton fabrics are breathable.  It's comfortable to hold on your lap.  You can also set it on a table or on the bed.  It's works well as a book holder for reading, but it will also work as a tablet stand while you surf or watch videos.  The only negative I see with this pillow is that it's dry-clean only.  The India Cloud Book Pillow will make a great gift for yourself or others, and the purchase of this pillow benefits many others.  What could be more appropriate for the holiday season?
Product Information
Price:
$49.00
Manufacturer:
Levenger
Pros:

Works with paper books, eBook readers, and tablet computers
Attractive and comfortable
Benefits Fair Trade Federation manufacturers
Benefits literacy programs

Cons: