We use affiliate links. If you buy something through the links on this page, we may earn a commission at no cost to you. Learn more.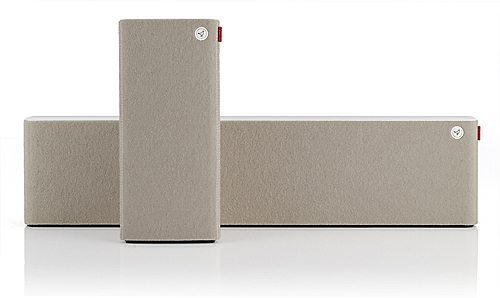 All of a sudden, there are a lot of Apple AirPlay* speakers being offered just in time for the holidays. Libratone is a new high-end player in this enlarging US market. They've been around for a while in Europe where they are famous for their high quality and great sound. This Danish company subscribes to the Scandinavian minimalist design ethos. Their speakers border on plain, yet they are beautiful to look at.
"Libratone is designed to simplify and enhance any home décor with room filling, high fidelity sound without clumsy speakers and tangled wires" says Soeren Louis Pedersen, Chief Sales Officer of Libratone,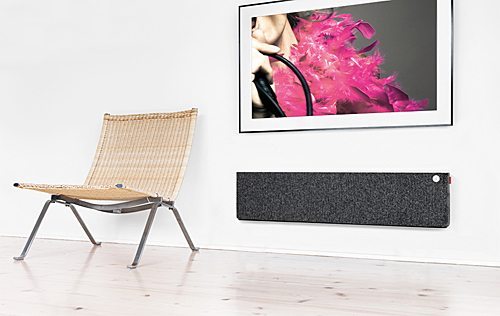 Two models are offered: the Libratone Lounge – made for living rooms – is a horizontal speaker bar with 2 ribbon tweeters, 2 ceramic midranges and a massive 8 in. woofer. All this in a 40 in. W x 8.7 in. H x 4.7 in D box wrapped in cashmere wool (yes, wool) and available in a choice of  5 colors.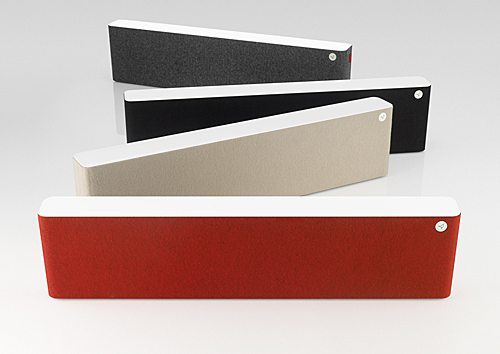 The Lounge can sit on a shelf or be hung on a wall. Also, the Libratone App is available to allow the listener to tweak the sound to their liking using an iPhone or iPad. Nice.
All of this aural sweetness will cost you either $1,299 or $1,399 depending on color choice. But as a replacement for a full-blown home stereo, the cost becomes more reasonable.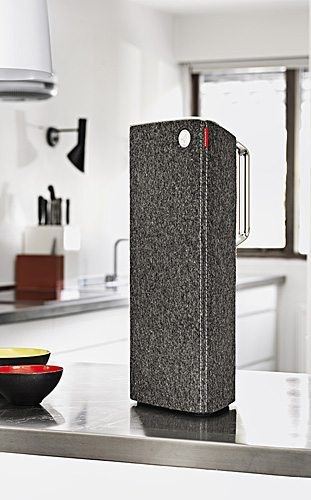 For smaller rooms and/or budgets, there is the Libratone Live, a vertical speaker with 2 ribbon tweeters, 2 midranges and a less massive (compared to the Lounge) 5 in. woofer. More than one Live speaker can be placed in different rooms using AirPlay for a house-filling sound.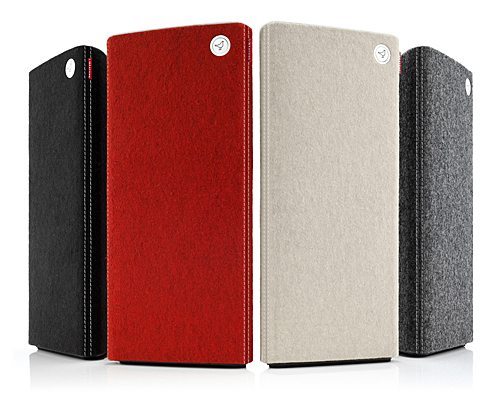 The Live is 18.5 in. H x 7.7 in. W x 6 in. D. Since it's vertical, it can be placed almost anywhere. It even comes with a chrome handle for carrying. Like the Lounge, the Live is cloaked in cashmire wool and the app is available for audio adjusting. The live sells for $699 and $799; again depending on color.
*AirPlay requires iPhone 4S, iPhone 4, iPhone 3GS, iPod touch (2nd, 3rd or 4th generation), iPad 2 or iPad with iOS 4.2 or later, or Mac and PC with iTunes 10.1 or later. Wi-Fi network is required.