We use affiliate links. If you buy something through the links on this page, we may earn a commission at no cost to you. Learn more.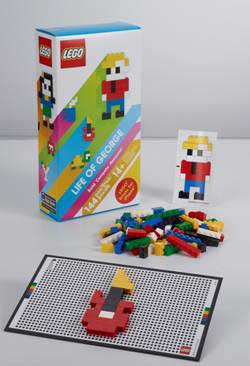 LEGO Life of George takes iOS gaming into a new direction where games aren't 100% virtual anymore. This game comes with 144 bricks and a Playmat. The idea is that the iPhone / iPod Touch app shows you a model and it's your task to build it as quickly and as accurate as you can. Once you've completed your model, you place it on the Playmat, which acts as a green screen for the iPhone/Touch camera to capture the built model and determine whether it has been constructed correctly. This is done with the app's built-in brick recognition technology/software (developed by EyeCue).
The game has been designed for builders ages 14 and up and has 12 levels with 10 models per level. LEGO Life of George is priced at $29.99 and will be available beginning October 1st, 2011 at shop.lego.com and select LEGO brand retail stores. Full press release after the jump.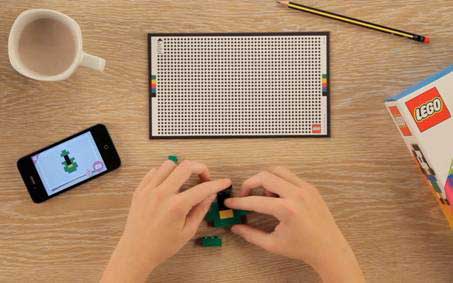 LEGO Group Unveils First Fully Integrated Digital-to-Physical
Gaming Experience

– Combining physical building with a digital gaming application, LEGO® Life of George invites builders to test building skills in a race against time-
BILLUND, Denmark, September 29, 2011 – The LEGO Group today announced LEGO® Life of George, its first product to combine digital and physical play for a hands-on LEGO gaming experience. Featuring patent-pending brick recognition software, powered by EyeCue, the game challenges players to build models, and place them on a play mat that acts as a "green screen" to capture the image and receive a score based on accuracy and speed. Beginning October 1, 2011, players can purchase the LEGO Life of George set for $29.99 from LEGO Stores and shop.lego.com and download the free Apple iOS compatible gaming application.
LEGO Life of George is a 12-level game that can be played in novice or expert mode. Each level showcases an adventure from George, around whom the game revolves, and is comprised of models of varying difficulty based on the number of bricks needed and the building techniques required to replicate them. Builders are challenged to physically recreate the virtual models from George's photo album using the LEGO bricks included with the game; once they have successfully completed all 10 models the next level will be unlocked.
In addition to Game Mode which can be played alone or against one competitor in a pass-and-play format, a Creation Mode called "My Life" enables users to design and capture their own models in the app's virtual scrapbook.
"We understand consumers' powerful connection to casual gaming, and we have seen how successfully the LEGO brand can translate to a virtual experience, so we pursued development of a fun way to combine both physical and virtual play into one product," says Paal Smith-Meyer, head of new business at LEGO Group.  "Life of George is a result of our desire to provide an innovative way for existing and new fans to play with LEGO bricks and interact with the brand."
Who is George?
George is a software engineer by day and adventurer by night. His main hobbies are travel, photography and numbers, and has a fun storyline for players to follow and engage with via his Facebook page, I Am George. Fans can expect to see updates and photography from George on his travels as well as hints to new game levels and app updates through his posts.
###
About The LEGO Group
The LEGO Group is a privately held, family-owned company, based in Billund, Denmark. It was founded in 1932 and today the group is one of the world's leading manufacturers of play materials for children.  The company is committed to the development of children's creative and imaginative abilities through its products, which can be purchased in more than 130 countries.  Visit www.LEGO.com
LEGO, the LEGO logo and the Brick and Knob configurations are trademarks of The LEGO Group.  ©2011 The LEGO Group.