We use affiliate links. If you buy something through the links on this page, we may earn a commission at no cost to you. Learn more.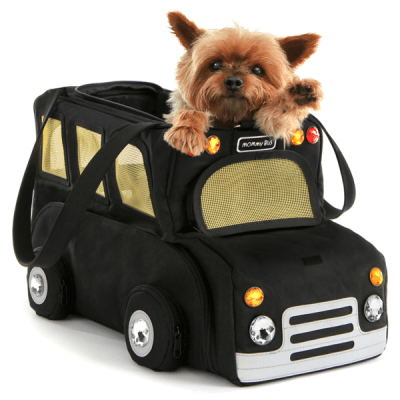 Oh Paris Hilton, eat your heart out!
I attended a local "Puptoberfest" (yes, it's exactly what it sounds like)  last weekend and came across this vendor– the Mommy Bus.  The bus is a fashion pet carrier designed for small dogs and cats up to 15 pounds, 15″ in length, and 13″ tall.  It's a top-entry carrier with screened side panels and an open/close windshield for peeking out.  Each wheel contains a zippered compartment for onboard storage of waste bags, leash, car keys, etc with an additional side-panel zippered pocket for larger items like mom's wallet or iPhone.  Inside is a washable bottom pad and leash attachment to secure the pup.  The bus itself can be used with a seatbelt to prevent it from shifting in a car.  Additionally there are two handle straps as well as an adjustable shoulder strap.  While maybe not being the most practical solution for transporting your pet, it does seem to be more fun than the standard cage–and will definitely start a few conversations!
Mommy Bus is available directly through the site in two different packages– the celebrity package (replica of the set given out at the Emmys to Betty White, Miley Cyrus, etc) runs $125 and includes the carrier, t-shirt, leash and collar, and stuffed companion pet or the basic carrier itself for $99.