We use affiliate links. If you buy something through the links on this page, we may earn a commission at no cost to you. Learn more.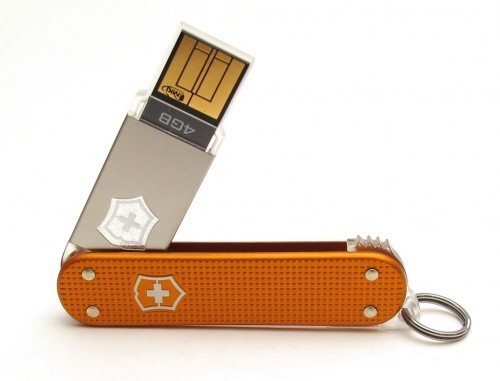 What looks like a Swiss Army knife but can't cut you? It's the Victorinox Slim USB Flash Drive which is available in five colors and in 4 GB to 64 GB (Victorinox Slim) or 2 x 64 GB (Victorinox Slim Duo) capacities. They sent me 4GB Orange version of this flash drive. Let's take a look.
Note: Click the images in this review to see a larger view.

When they say it's slim, they aren't kidding. The dimensions of the Slim drive are 58 l x 16 w x 7 h mm and it only weighs in at about 10 g, which isn't even half an ounce. You won't notice the addition of this little guy on your keychain or in your pocket.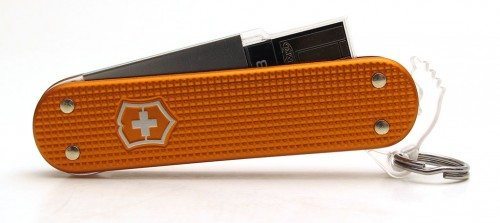 It's constructed of two anodized aluminum handles / grips. One side has the Victorinox logo and the other side (not pictured) has the word Victorinox embossed on it. The grips have a hatched pattern that give the Victorinox Slim USB flash drive a nice non-slip feel.
You'll be happy to know that this flash drive is both waterproof and shock-resistant, as well as TSA approved due to the bladeless design.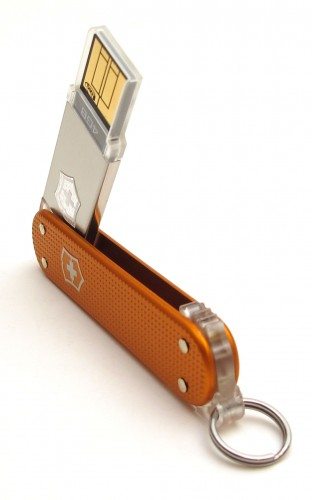 The handles are held together by 2 brass pins on each end. The flash drive part of the device is secured in place by a plastic lock when it is folded closed. A split ring is attached to the lock.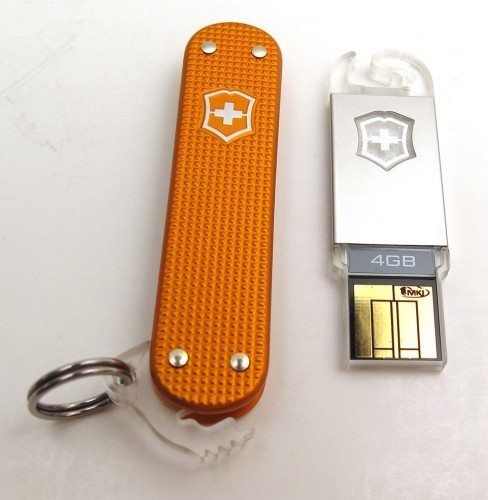 To use the flash drive, you just swivel the plastic lock at the end of the 'knife', which pops up the flash drive like a blade. The flash drive then easily detaches from the handle as shown above. The flash drive is wrapped in a thin layer of aluminum, with a clear plastic hook at the end that attaches to the pins that hold the handles together. I can't quite make up my mind if I like the fact that the flash drive detaches from the handle or not. I think I'm leaning more towards wishing it would stay attached like an actual pocket knife blade that folds out.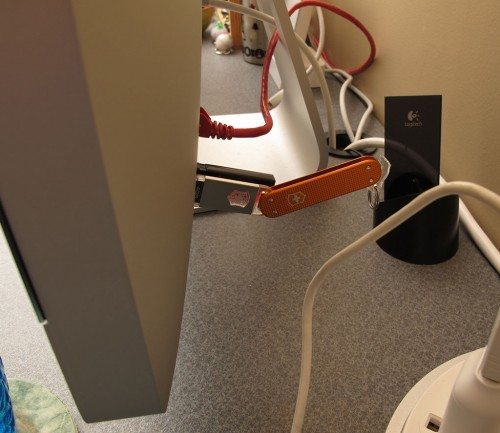 When you plug the drive into a free USB port on a computer, a Red LED will cause the Victorinox logo to glow and blink with activity.
If you happen to be a Windows PC user, you can take advantage of the included software that offers 256 AES data encryption technology for your files, along with a safe browsing feature, password manager, file backup and a self-destruct feature. Since I'm a Mac person, I wasn't able to test the software… and I don't know about the rest of you, but usually when I get a flash drive, the first thing I do is delete the included software.
I was surprised to find that the 4GB version of the drive actually offers 4GB of storage (even with the included files). Typically flash drives have less than the advertised capacity, but this one has 4.02GB available (16.3MB used). Kudos to that.
I've been using this flash drive for a couple of weeks now and have not had any problems with reading and writing files. It's rated for up to 23MB/s (W) and up to 30MB/s (R). Here are a couple quick and dirty file copy tests:
Copy 1.15 GB (two 577MB .AVI files) from iMac to flash drive – 2 minutes 55 seconds
Copy 1.15 GB (two 577MB .AVI files) from flash drive to iMac – 44 seconds
I also tested the drive by plugging it into my Boxee Box and watching one of the 577MB .AVI files I copied directly from the flash drive. I didn't have any problems with the video playback stuttering or pausing.
See it in action
At one point in the video it looks like I'm having problems removing the flash drive from the handle. In reality it is very easy to do if you open the 'blade' all the way as it will automatically detach. In the video, I was trying to unhook it when it wasn't completely folded open.
Flash drives come in all manner of shapes, sizes and capacities. The Victorinox Swiss Army Slim USB Flash Drive works as expected, but is significantly more expensive than flash drives of the same capacity. That said, those cheaper drives might not be quite as stylish with the Swiss Army knife design. If you don't mind paying a premium, the Victorinox Swiss Army Slim USB Flash Drive should perform your file storage operations and look good while doing so.

Product Information
Price:
4GB ($39.99) up to 128GB ($349.99)
Manufacturer:
Victorinox
Pros:

Compact
Stylish
Full capacity

Cons:

No Mac version included software