We use affiliate links. If you buy something through the links on this page, we may earn a commission at no cost to you. Learn more.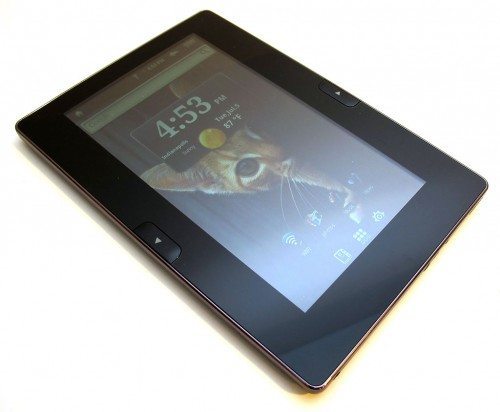 Dedicated eBook reading devices tend to fall in one of two categories: E-ink or Color. Examples of E-ink eBook readers are the Amazon Kindle, Barnes & Noble Nook (the original and new Simple Touch version) and various Sony Readers. The most popular color reader is currently the Barnes & Noble Nook Color. But today I'm going to show you another, the Nextbook Next6 tablet. Is it a better choice than the Nook Color? Let's see.
Note: The images in this review can be clicked to load a larger size.
Hardware Specs
Android OS 2.1
CPU: ARM926EJ Dual Core 600MHz
7" TFT 800×480 Capacitive Color Display
WiFi 802.11 b/g
Built-in 4GB Memory Storage
Built-in G sensor
Build-in Speaker
SD/MMC Card Slot for Memory Expansion
Ebook Supported Formats: PDF, EPUB (open and Adobe DRM), TXT, FB2, PDB, RTF
Music Supported Formats: MP3, WMA
Photo Supported Formats: BMP, JPG, GIF, PNG
Video Supported Formats: FLV, MKV, MOV
Built-in Rechargeable Li-polymer Battery
Dimensions: 7.48 x 5.11 x 0.44″
Weight: 0.92 lbs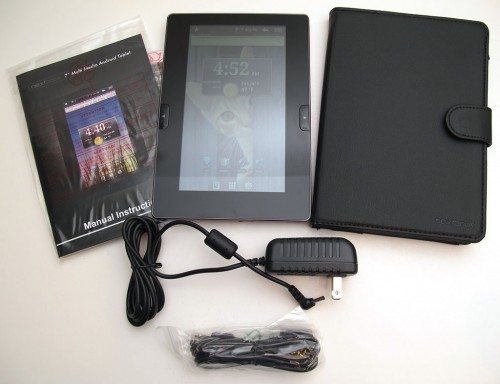 Package Contents
Next6 Multimedia tablet
Protective case
AC Power Adapter
USB Cable
User's Manual
The Next6 is a very nice looking device with its completely flat top surface that reminds me of an iPad. I love that it doesn't have a raised bezel. The top is a very shiny Black plastic, while the back surface is also Black, but with tiny sparkles.
The display is bright and vivid. It doesn't have has high a resolution as the Nook Color – 800 x 480 vs. 1024 x 600, but this didn't cause me to have problems reading books, webpages or viewing videos. Of course, color eBook readers have a big disadvantage over E-ink readers – glare and outdoor visibility. Unfortunately, you're not going to be able to use the Next6 to read your favorite novels out in the direct sunlight. The display washes out and is very hard to read. If you're an avid outdoor reader, stick with E-ink.
Never miss one of our posts again. Sent MON, WED, and FRI with the latest gadget reviews and news!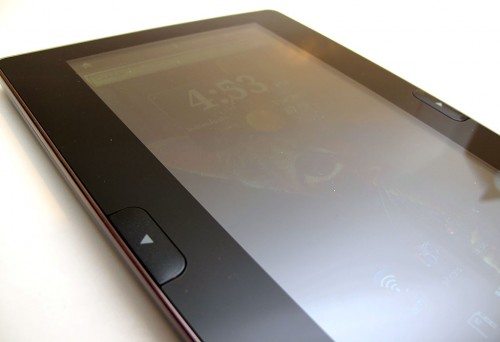 There is a button on either side of the display that can be used to page forwards and backwards through your ebooks. These buttons are generously sized and have very good tactile feedback.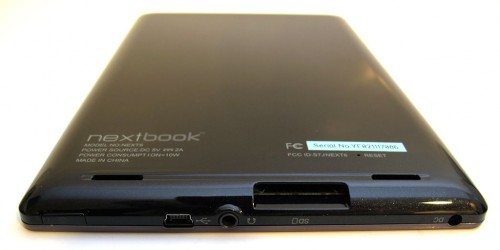 All of the ports and switches are located along the bottom surface of the device. There's a power button with a tiny LED that glows red while charging and turns green once charging is completed. Next the power button is a somewhat old fashioned mini USB connector that you can use to copy files to and from the reader. Next in line is an earphone jack, a full sized SD card slot and the power port. The two horizontal slots that you see are the built in speakers.
I have no major complaints as far as the Next6 hardware goes. This device looks nice, has a quality feel to it and is very solid. There's no flexing, creaking or cracking of the case while you use the reader.
The Next6 is powered by Android OS version 2.1. The good news is that the interface is easy to navigate if you're already familiar with Android.

There is a bar at the top of the display that has icons that will take you back to the Home screen, back one 'screen' and bring up the menu for the currently running application. You have 4 home screens that can be customized with widgets and app icons just like you're used to with your phones and other Android tablets.
The bad news is that the Next6 doesn't have a full installation of Android. Some important (to me) apps are missing.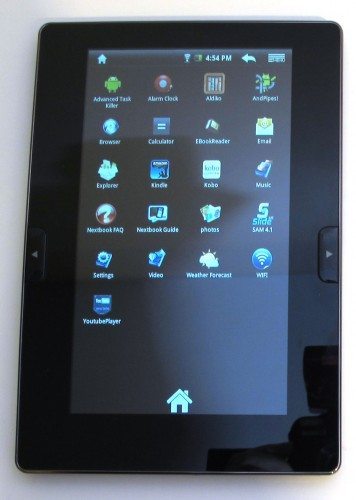 What you see above minus the Android Pipes game, Kindle reader, app and Aldiko reader apps, which I installed, are all the apps that come installed on this device. Missing are the calendar, contacts, Gmail and Android App Market.
I did test the photo viewer, music player, video player and web browser apps, which all worked pretty well. I did experience a few random app force closes though.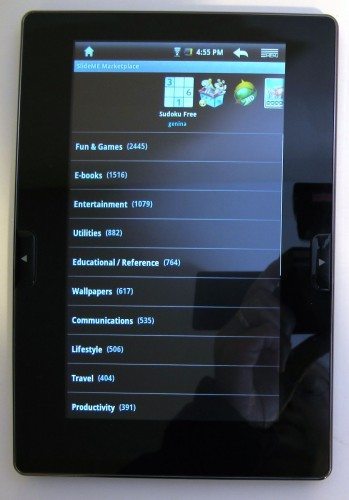 Although the official App Market is not included, you can install 3rd party apps through the SlideME Marketplace. Weird name huh? There are many paid and free applications available for download through your wifi connection, but you won't find all the apps that you can find in the App Market. For example, searching for Angry Birds yielded a whole bunch of apps that have absolutely nothing to do with the ever popular game. But, I was surprised to find the Kindle and Aldiko apps. The Kindle app is a pretty old version (1.1) though. However, the Aldiko app is up-to-date.
I should note that the SlideME Marketplace app is a bit buggy. More often than not, it would freeze up on me with a syncing routine when I would try to do searches.
Since the Next6 is being sold as an Android tablet and not just an ebook reader device, it's unfortunate that the full version of Android hasn't been included. Another gotcha is that this device can't be upgraded to newer versions of Android.
Let's read some books…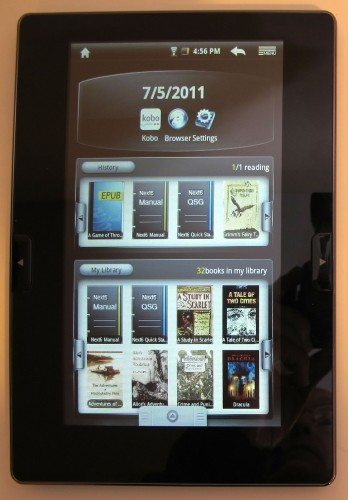 The Next6 is preloaded with 2 eBook reader applications and 25 free books. The books include classics such as Huckleberry Finn, Dracula, A Tale of Two Cities and many more. These books are read using the main reader app that you see above. The interface is attractive and easy to navigate.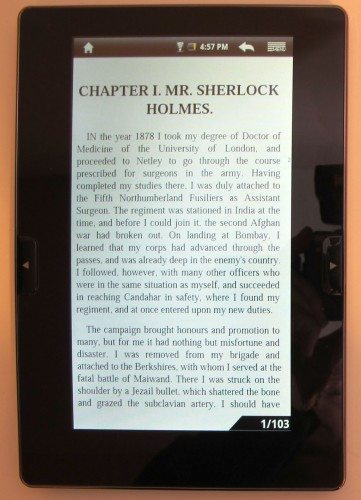 Reading using this application is pretty straight forward as it lacks any advanced features. Basically, all you can do is change the font size (not type or color) and turn pages. The hardware buttons can be used to turn pages or you can use the touch screen. If you're familiar with the page turning animation that the iPad has, where it looks like you're turning an actual physical page, this app does that too. The biggest problem with this app is that it doesn't save your place in the book and saving a bookmark doesn't work at all. You can create a named bookmark, but when you try to use it, it doesn't take you anywhere. I ended up creating a bookmark and naming it the page number that I wanted to remember. When I would go back to reading, I'd have to look at the bookmark name and then use the go-to feature to go to that page number. Not very elegant to say the least.
Another problem I noticed with this reader app is that when you turn the reader to landscape mode and back to portrait, it will skip ahead a page. Argh.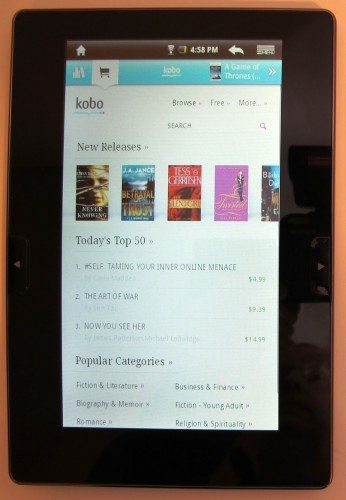 There is another reader included with the Next6. It's the Kobo reader and book store app. You can use this app to buy current books as well as download a large selection of free books. It works better than the other reader in that it accurately saves your place when you leave the app. But, it feels pretty sluggish to me and it seems that I was always staring at the spinning timer when turning pages and going from chapter to chapter. My advice is to use Aldiko.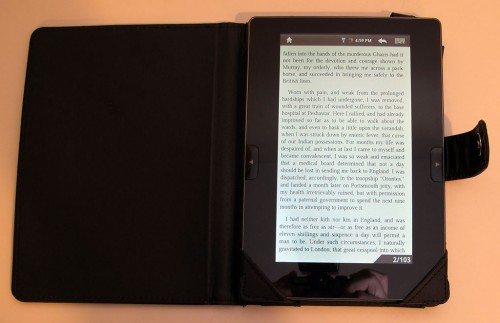 The Next6 claims to get about 10hrs battery life per charge. I didn't do any detailed tests to verify this claim, but 10hrs does sound about right. I know I was able to read a couple hours a day for several days without needing to recharge.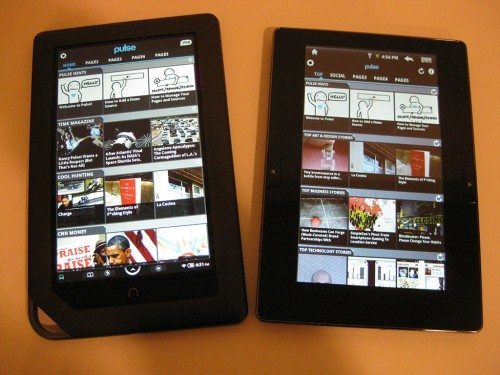 I like the Next6 hardware quite a bit. Sometimes it actually feels a little snappier to me than the Nook Color and I found the multi-touch capacitive display to feel more responsive than the Nook as well. The things that bother me about this player are the buggy reader and market apps and the fact that it can't be upgraded to newer versions of the OS. For these reasons, I'm torn as to whether I can really recommend the Next6. Although the advertised price for this reader is $279.99 on the Nextbook website, I have found it for $100 cheaper on Amazon. That makes it more attractive. As is, I wouldn't pay $279.99 for it and would be more likely to pay $249 for a Nook Color because I am more confident that it will be supported with firmware updates. I'm not confident that the Next6 will be supported with any updates at all. Since receiving this reader to review, Nextbook released the Next7, which has a 1GHz processor and Android 2.3. Sounds like that one is the better choice…
Product Information
Price:
$279.99
Manufacturer:
Nextbook
Pros:

Nice display
Case is included

Cons:

Built in eReader is buggy and doesn't save bookmarks
Can't upgrade the OS
Does not have official App Market