We use affiliate links. If you buy something through the links on this page, we may earn a commission at no cost to you. Learn more.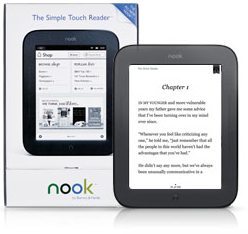 I have been a long-time Sony Reader fan. I loved my PRS-500, and jumped at the chance to get a PRS-700 for its promise of a built-in light. Turns out the light was not so great a feature, but I quickly became addicted to the touch screen. I have been hoping that Sony would update their line to include Wi-Fi (beyond the large Daily Edition), or for Amazon to support epub, SD, and a touch screen. Well, looks like the Nook from Barnes & Noble beat them both. Their new $139 Nook Simple Touch Reader checks off almost all of my wish list with features like:
6″ e-ink display
7.48 ounces
2-month battery (Wi-Fi off)
Public Library Borrowing Support (coming to Kindle in fall?)
Touch Screen
Wi-Fi 802.11b/g/n (free in-store and at AT&T hotspots)
Micro-USB port to sync and recharge.
MicroSD slot supporting upt to 32GB
ePub, PDF, JPG, GIF, PNG and BMP support
3G would be a nice add, but is not that compelling of a feature for me as long as I have Wi-Fi. I am still a fan of e-ink for reading, and the size is compelling. The reader is measures 6.5″ x 5.0″ x 0.47″. I am also intrigued that it runs on Android. I am really sorely tempted. Do I wait to see when (and if) Sony refreshes their line, or is it time to jump ship to the Nook?