We use affiliate links. If you buy something through the links on this page, we may earn a commission at no cost to you. Learn more.
Holding your iPad up during use takes many forms. If you're at your desk, a full sized stand can be used. But if you're on the go, and working from random places with your phone, other materials, maybe eating or collaborating and want to have the device at a consistent angle without having to hold it, what do you do? The award-winning team at tools has come up with an elegant solution, being manufactured and sold by just|mobile: the Slide iPad stand.
At first glance, it's just a strange slab of aluminum with a hook on one end and a loop on the other. At 3.5″ x 4.5″, it's not an imposing device, either. But placed within that loop is a rubber cylinder that changes this simple piece into an infinitely adjustable holder for your iPad, iPhone, Kindle, or about any single-surfaced device. The secret is in the cylinder.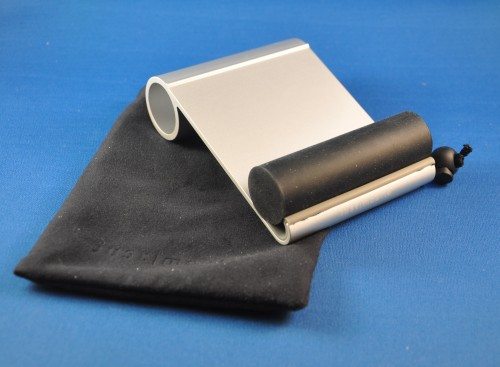 To use it, you place the cylinder on the slide, where it fits snugly against the hook part. Soft rubber pads on the bottom protect furniture from scratches. Roll the cylinder up slightly, and place your tablet between the lip and the rubber roller, and release both. The slight weight of the tablet will hold the roller against the slide, and keep everything as you left it.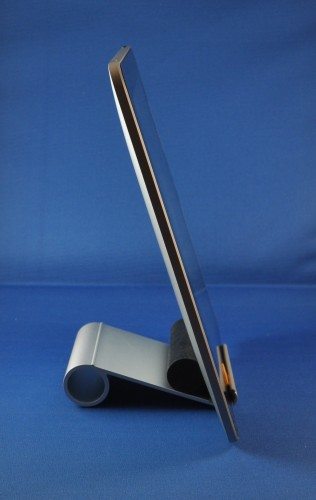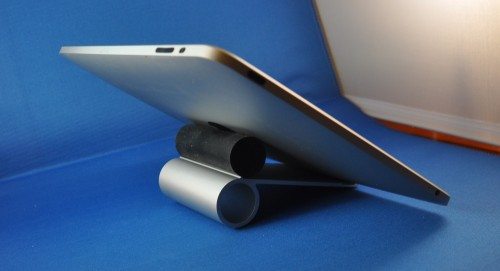 Adjustments are easy: To lower your device, reach behind, roll the cylinder up, and lower the tablet to the place you want it to be. To raise it, simply tilt the tablet up to where you want it, and then release. The roller will roll down as you bring the tablet forward and hold it in place. It's infinitely adjustable through it's range, and there's a slight lip at the top to prevent the roller from sliding off the back. Pretty neat.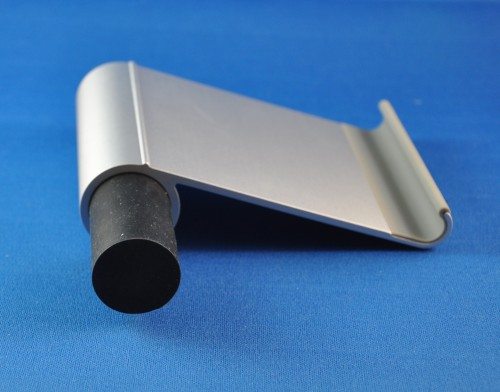 It is quite stable, either at a low angle for typing on the virtual keyboard, or playing a game or whatever. In portrait orientation, tapping near the top of the device can cause it to roll backwards, possibly unhooking it from the front lip. That's an extreme case, however, but if the iPad is in a cover, it is more likely to happen.
It will work with some cases and covers, but works best with a naked device. You'll have to test them on a case-by-case basis. (See what I did there? Case by case – get it?)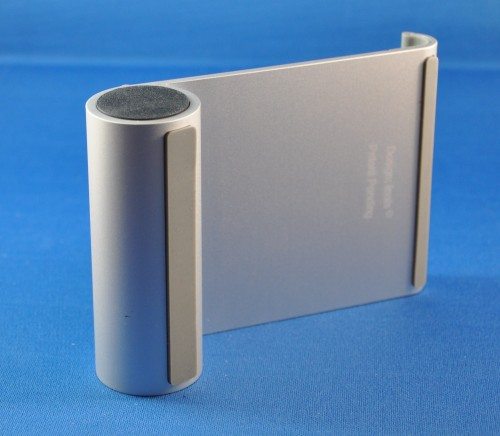 At $40, it's not cheap, but it is solidly made and works like a charm. It makes a very elegant statement. There is a logo on the front of the lip, but it's almost invisible. There's even a black velveteen drawstring bag (with another just|mobile logo) to carry it in, which will prevent it from coming apart or scratching anything in your bag. I give it four stars out of five.

Product Information
Price:
$39.95
Manufacturer:
just|mobile
Pros:

Very well engineered and crafted
Elegant design and functionality
Easy to use and carry

Cons:

A bit pricey
Doesn't work easily with many cases
Tapping at top in portrait mode can be a little unstable