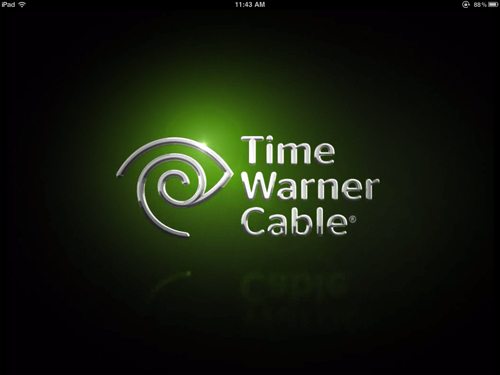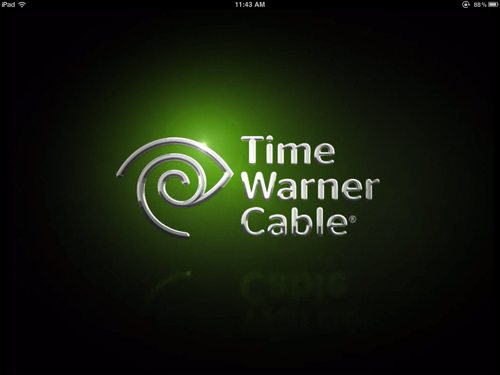 I like watching television. I watch TV every night.  Even when I'm surfing the internet or working on a review, I have the TV on in the background.  And you can be sure that I like gadgets, so anytime I can combine a gadget with television it's good.  When I heard about the iPad app from Time Warner Cable that would let me watch TV on my iPad, I was intrigued.  I'm a Time Warner cable customer and the TWCable TV app for iPad is free in the iTunes app store, so I immediately downloaded it and started trying it out.
All pictures, except the lead, can be clicked for a full-sized view.
Requirements:
iPad or iPad 2 running iOS 4.0 or later
Time Warner Cable video package at the Standard (Expanded Basic) level or higher
Wi-Fi connection to Time Warner Cable internet service (Road Runner Standard or higher recommended for best experience; Earthlink High Speed or Earthlink Cable Max is supported)
Time Warner Cable username and password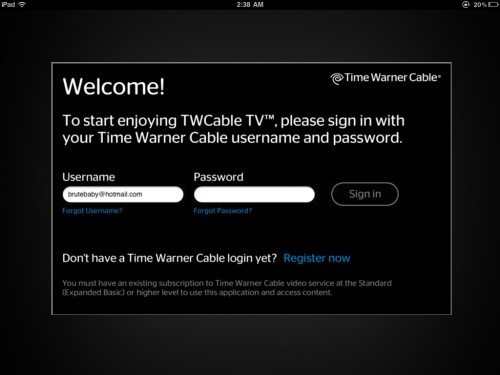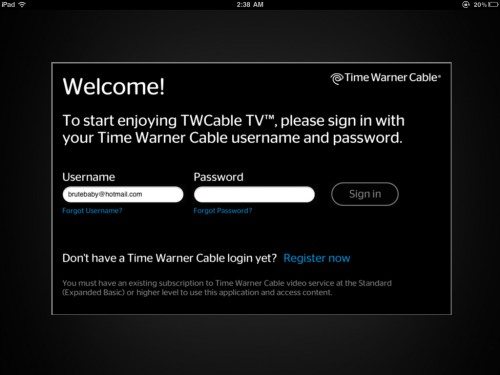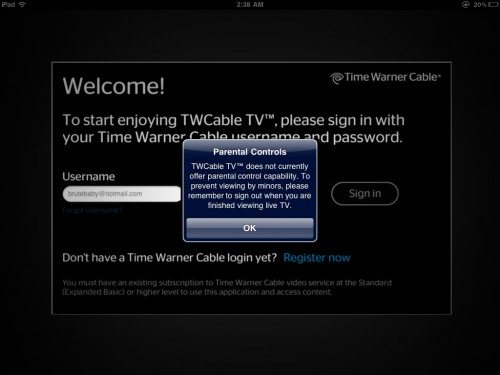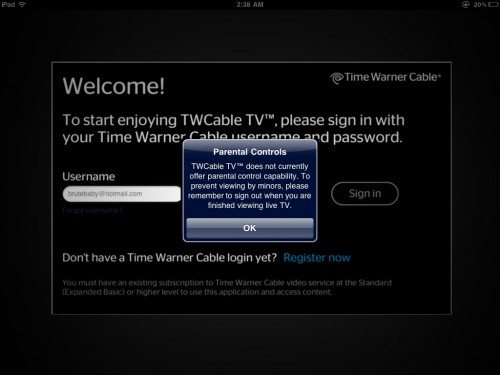 I didn't have a Time Warner Cable username and password, so I had to create one when I first tried to open the app.  Once I logged in, I saw a warning that the TWCable TV app doesn't have any parental controls settings.  The only way to ensure your children don't watch shows that are too mature for them is to log out of the account when you close the app.  If you don't have to worry about what kids are watching, you can leave the account logged in for faster connection to programming.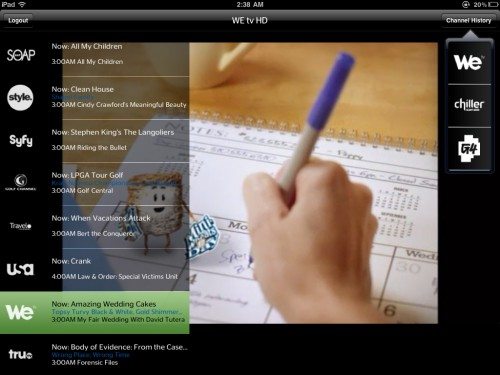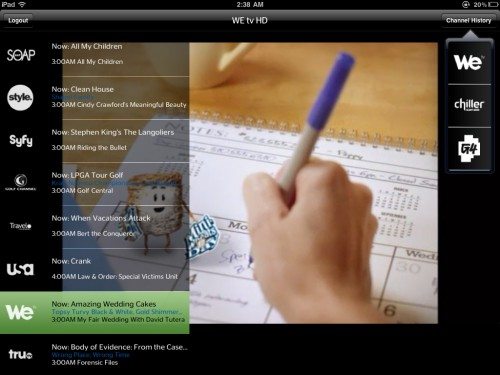 The splash screen (top photo) displays for a few seconds when you start the app, apparently while the programming is loaded up.  When the app starts, the last "channel" selected is playing.  A translucent list of available channels is displayed along the left side of the screen.  Underneath the network name is the name of the current program and the next program.  There is no other programming guide available in the app.  You swipe this list to scroll through all available channels.  The current selection is highlighted in green.  Simply tap a channel entry to change your selection.  When you make a new selection, you will see a "loading" message for a couple of seconds, and then the new program starts.
Tap quickly in the middle of the screen to make the guide and title bar go away.  Another tap brings it back when you want to make another selection.  If you don't tap, the guide and title bar will eventually close after a period of inactivity.  The programming will continue playing until you log out of the application or use the Home button to leave the app.  The home button doesn't "quit" the program; the app will stay in the multi-tasking list until you close it.
When Time Warner first introduced the application, about 30 networks were available.  Some of those networks immediately got greedy and started asking for more money to allow their programming to be viewed in this app.  Time Warner removed those networks from their lineup and added others within a couple of days.  I pay to watch these programs in my home, so I'm not sure why the networks think they are entitled to more money because I watch on a 9" screen instead of the 65" screen in my living room.
When I counted today, there were 43 channels available.  There are no "over-the-air" channels.  Programming consists of some home shopping networks, some news and government networks, kids' programming, and various other standard cable programming.  There are no extra-cost networks, like HBO or the for-pay sports content.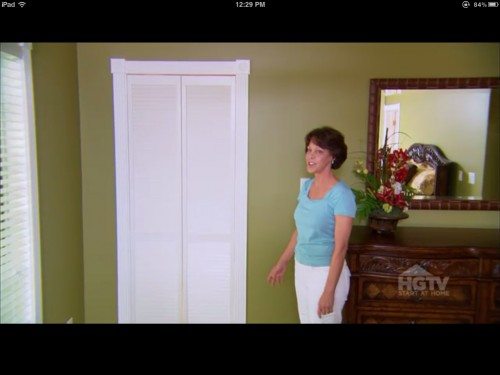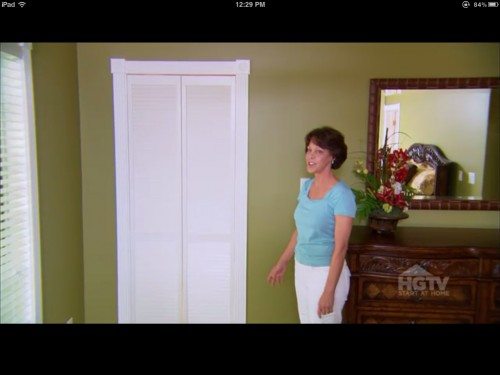 Most of the channels are HD, and they display in letterbox.  The picture and sound are very clear for these channels.  The screen capture of HGTV programming is in HD.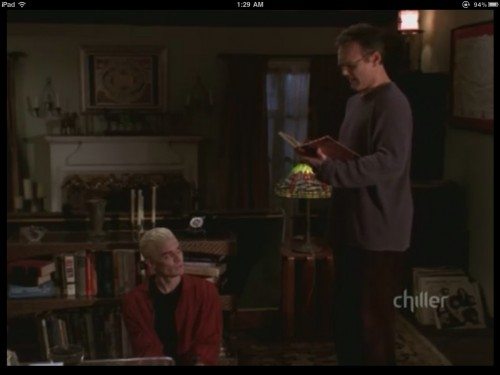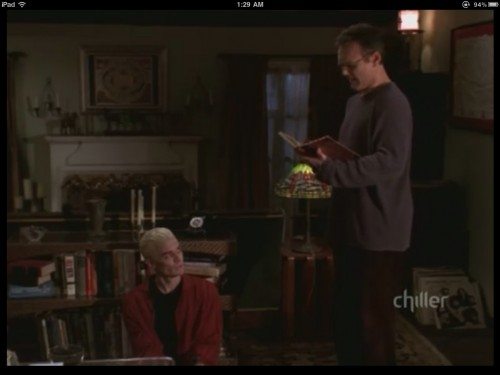 The non-HD programming displays in full-screen mode, and the picture isn't quite as clean.  The screen capture of Buffy the Vampire Slayer is from the non-HD Chiller channel.  The picture is a bit fuzzy, but it's still good enough for the small 9" screen.  The sound is fine.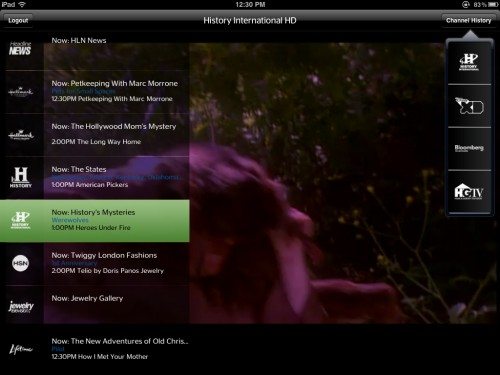 The only options available on the title bar are logout and channel history.  The history displays a list of channels you have selected during the current watching session.  You won't be able to use it to see if your kids found your password and were watching forbidden programming.
Something that may not be clear from the above requirements is that you can only use the TWCable TV app when your iPad is connected to your own Time Warner home service via Wi-Fi.  You can't access programming through 3G, and you can't use it to watch your shows while connected to any other Wi-Fi network.  You can't use it to watch programming recorded on your home DVR.  You also can't use the app to record programming on your iPad for later viewing.
Despite the limitations of the TWCable TV app, I like it.  The app starts quickly and playback is stable.  Only once or twice have I seen a program stop and display a "loading" message, and that only lasted for a second or two before playback resumed.  I've never seen it looked pixelated, and I've never gotten a "programming not available" message in the app as I frequently do when using the cable box in the living room.  The app is great for use in a room that doesn't have a TV.  You could watch the Food Network while you're working in the kitchen, or watch a scary program on Chiller while hiding under the blankets.  The app is free and you're already paying for the programming, so give the TWCable TV app a try.  I think you'll like it, too.
Some of our links in posts like this one are affiliate links, which means that we may receive a small commission on purchases at no cost to you.
Product Information
Price:
Free
Manufacturer:
Time Warner Cable
Retailer:
iTunes app store
Requirements:
Pros:

A variety of programming available, and more stations are being added
Picture and sound are good
A free way to watch TV in a room without a TV set

Cons: