We use affiliate links. If you buy something through the links on this page, we may earn a commission at no cost to you. Learn more.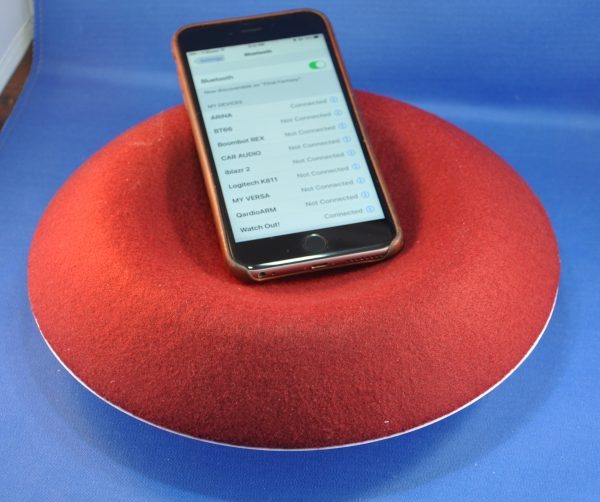 Bluetooth speakers are all over the map, it seems. You can get small ones that recharge, large ones that have battery or plugin power options, weatherproof, multi-speaker, and ornate ones that try to blend in to your more formal living areas. Firmly in that latter category, the Arina, from Muemma, is both a Bluetooth speaker system, a charger for your devices, and a place to put your phone while it's charging. It can also be used as a speakerphone with your paired device. The battery can be used just for music playback, or for charging another device, which makes it more than a pretty face. I was sent the black cover with white base, as well as a maroon cover to test.
Note: Photos may be tapped or clicked for a larger image.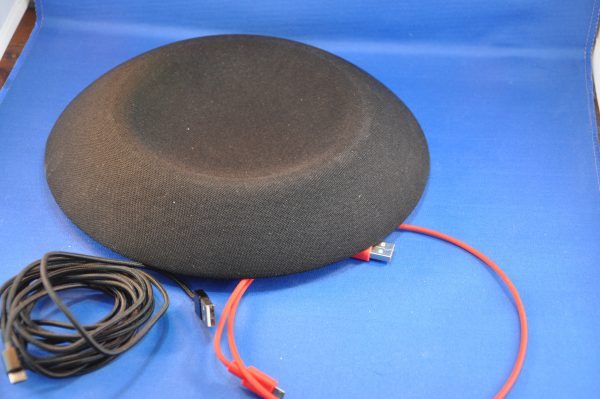 The speaker is a 9.25″ circle in two parts. The top is made of fabric (more on the tops later) and the bottom is smooth plastic with three legs. The legs have rubberized tips, to prevent damage to furniture, or slipping around on smooth surfaces. On the bottom, there is a power button, a status light, and a keyhole to hang the unit by a single nail or screw against a vertical surface. The hole is closed by a springy bit of the same plastic as the base, which moves aside for hanging, and then moves back into place. The overall look from the edge is like the family flying car from The Jetsons.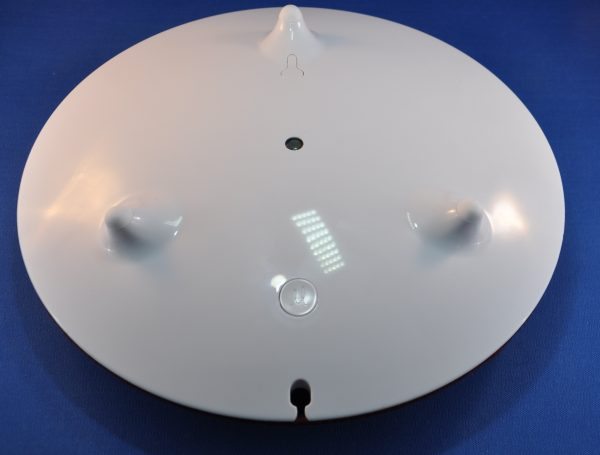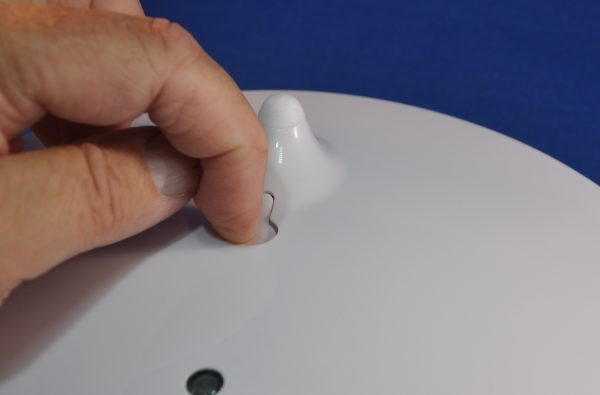 As mentioned earlier, the top fabric cover is removable. It is "dented" in the center to form a soft cradle for a phone or other USB chargeable device. It can be removed by twisting it counter-clockwise (ask your grandparents if you don't know what that means!) and lifting it off.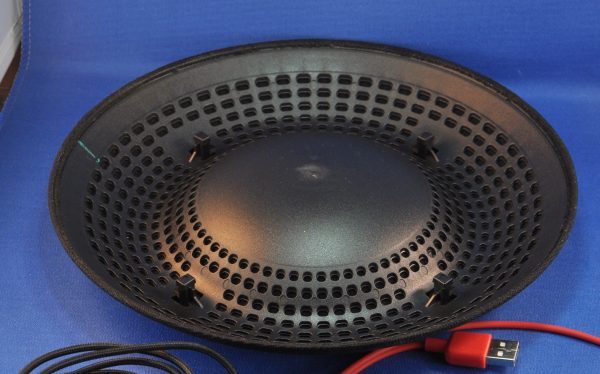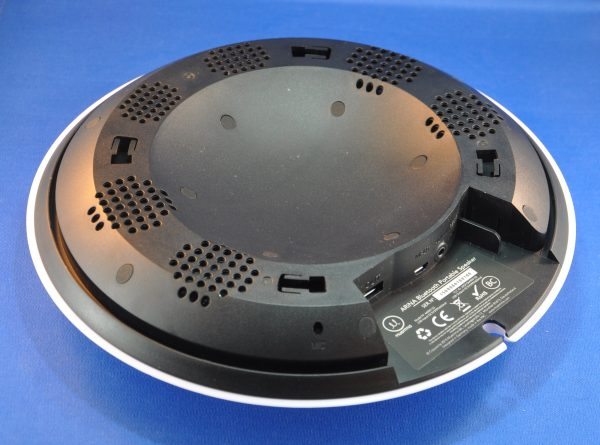 This exposes the two USB power ports for charging (one for the unit itself, and the other for any USB charging device you'd like to connect to the standard USB port) and the AUX port, where you can connect a non-Bluetooth device to play through the Arina. To allow the cover to properly attach, there is a cord pass-through on the edge opposite the hanging notch. Around the interior under the cloth cover, there is a groove that fits the included USB-microUSB cord for charging the unit for use. If you need to recharge a device with a microUSB port, you could reverse this cord to the out-going power port and use it. If your device uses any other connector, you're on your own for cables. A mic and a reset pinhole completes the available controls located under the cover.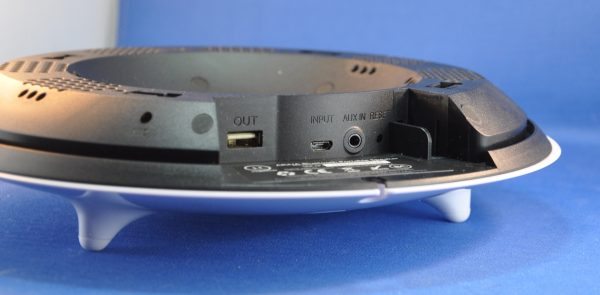 There are covers in several colors – the black and maroon already mentioned, as well as a dark charcoal grey, blue, and a lighter smoky grey. All covers are available for €20 individually. The black cover is a standard speaker grille weave, and all the others are a smooth wool felt. Both finishes are visually and tactilely appealing.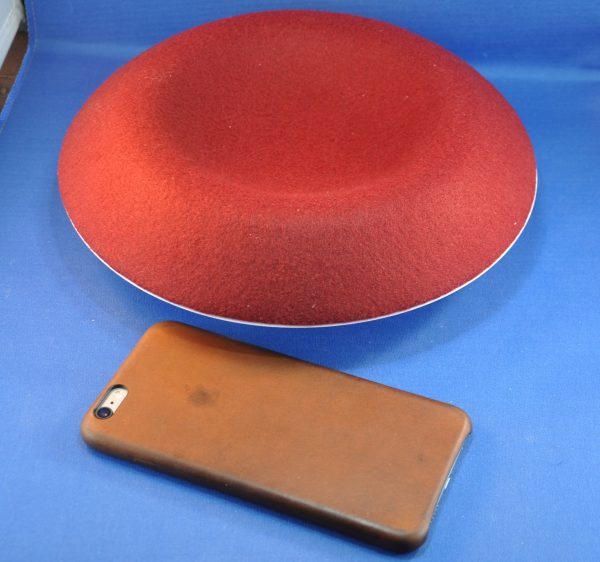 Pairing with my iPad Air 2 or my iPhone 6s Plus was quick and easy. Moving from one source to another, however, could only be accomplished by removing the existing profile and pairing with the other source device. I tried various things such as turning the first device completely off, and resetting the Arina, but the easiest method was just to delete it from one source, and then pair it to the other. I finally just used it with the iPad, since that's usually around my den or craft room where I listen to music.
The sound from the Arina is full and rich – but not really "thumping", if you like lots of bass. If you're going to place this is a huge room, the sound may get lost, but in a moderately sized living area, maybe even a conference room for background music during breaks, you should have no problem. One thing different about the Arina that I found in my testing is what the company bills as 360º sound. This means you can move it anywhere, and it's not going to really block the sound. The 6 interior speakers are angled slightly out from the center, so that the sound disperses. There is no speaker in the center (so you don't have to worry about anything in the cradle blocking the sound), and there is none at the point opposite the hanging hole, where all the ports are. This does several things. It prevents feedback when you're using the speakerphone ability, and it also points the mic in that direction, so that, if it's on a wall, say, above your desk or a sofa, you can easily be heard.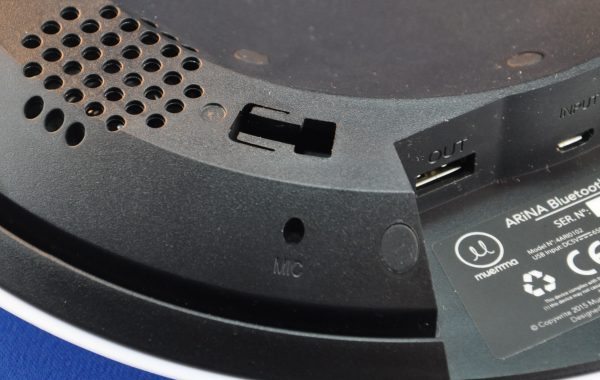 I tried it with Pandora and iTunes Match, and found no problems with playback. The Arina was much more suited to Sophie Zelmani, Bon Iver, Imogen Heap, or Bebel Gilberto than to AC/DC or Guns 'n' Roses. Even with it sitting on my desk, I could hear detailed music from the kitchen, about 15′ away. Using it to charge a device was OK, but it's a slower charge than just using your computer or an outlet with your normal charger. Perhaps if you're out on the deck, it would be nice to only have a single unit for charging and music. (If it ever stops raining, I'll test that theory.)
As for the cradle/phone holder, it will depend on the size of your device. My iPhone 6s Plus fits, but if I connect it for charging, it's a bit less stable, and I'm afraid I'll break the connector off inside the port.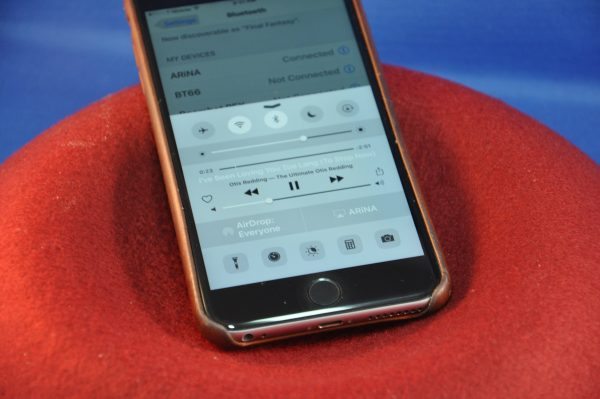 You could also use this area for keys, change, or anything else you'd like to. It's about 6″ in diameter, and only a bit deeper than one inch. You're not going to hold a lot in here.
The single-point hanger hole is an interesting idea. I have a round mirror with a ceramic frame over and to one side of my non-office desk. Maybe I'll ask the Lovely Bride if I can put a screw or nail up opposite that to have sound if I want it, without having to give up the desk space. (Plus, it's directly above the charging station on my desk, so I could charge it while it's hanging! Holding it up there, I kinda like it. If you have a bit more control over your shared (or personal) environment, you may be pleased with the Arina hanging on a wall. There is a bit more throw to the volume out into the room, rather than up toward the ceiling. All told, I found no reason to dislike the speaker, and many to recommend it.
Source: The sample for this review was provided by Muemma. Please visit their site for more info and Amazon to order.

Product Information
Price:
$159 - $169
Manufacturer:
Muemma
Retailer:
Amazon
Requirements:

Sound source
USB power source to charge battery

Pros:

Battery powered.
Suitable for nicer interior spaces.
360º sound spreads the sound over a wider area.

Cons:

Cover must be removed to access charging ports.
Not good for driving bass.