We use affiliate links. If you buy something through the links on this page, we may earn a commission at no cost to you. Learn more.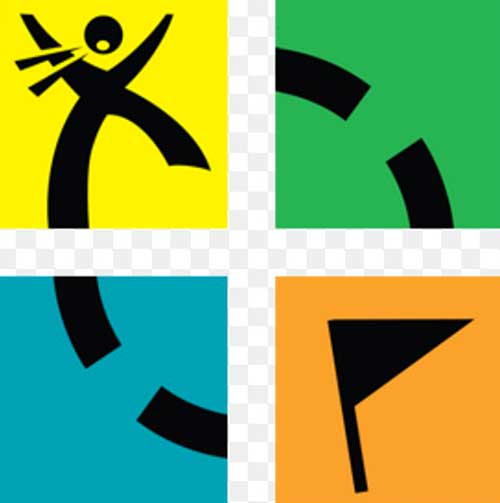 If you've never heard of geocaching, it's a high-tech game of hide and seek that is played with a smartphone or handheld GPS unit. It gets you outdoors in the fresh air and helps build your observation, puzzle solving and navigation skills to find caches. Caches are small containers that have been strategically hidden all over your town and the world and are just waiting for you to find them. When you do, they may contain little trinkets that you can take / trade and a log book where you can log your find.
Several years ago when I first became aware of geocaching, I discovered that there was a cache hidden within 200 feet or so of my front door. Jeanne and I walked down to a cemetery on our gravel road and found a small pill bottle behind an old grave marker. There wasn't anything special about this micro cache, it was just a pill bottle with a slightly soggy rolled up paper log inside where people had signed it. But at that point, I was hooked. Although I kept wanting to get out and hunt for more caches, I never made time to do it.
A few weeks ago we were planning for a staycation and I mentioned that I'd like to go geocaching. Jeanne gave the thumbs up, so I installed the official Geocaching app and the popular c:geo app on my Nexus 6P. But as luck would have it though, my back went out and screwed up our vacation plans.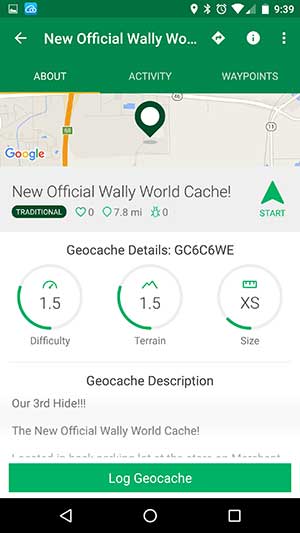 It was a gloomy drizzly day the last day of our vacation and we didn't have anything to do. I felt mobile enough so we could get out and try to find at least one cache. Using the Geocaching app, I found a pretty easy one that was supposed to be located in the back parking lot of our local Walmart. We got there, I tried to find it and didn't have any luck. Mostly because I wasn't moving too well and didn't want to bend over or squat down to look for it. So we gave up pretty quickly but vowed to try again as soon as my back was fully healed.
Then yesterday (a couple weeks later), Jeanne wanted to go to a few garage sales in the area and I thought it would be fun to try to find a geocache while we were out driving around. So I picked a cache that was close to the last garage sale, in an old cemetery. We'd had luck with our very first geocache which was also in a cemetery, so it seemed like a good one to choose.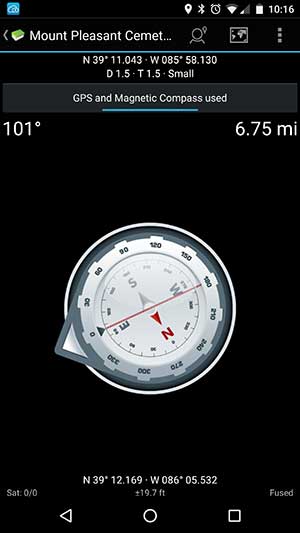 We parked the car, and I got out my phone and switched to the compass view of the c:geo app. That's when I found that using a smartphone might not be the best tool for geocaching. It was a brilliantly sunny day and the only time I could really see the compass on my Nexus 6P's display was when I was walking under trees. Trees are good for shading smartphone screens, but they aren't helpful at all when it comes to using the GPS built into phones. I would walk in the direction the compass was pointing only to get within 30 feet or so of the cache coordinates when it would then point another direction and say I was farther away. I think we walked back and forth for around 30 minutes in the glaring sun when we finally gave up.
Then I had the bright idea that we should go back to the Walmart cache and try to find it, so we did. And we struck out there too. At one point Jeanne said, "This is supposed to be fun?". I'll admit that I was starting to have the same thoughts.
But I'm not one to give up on something, so I'm determined to make this the summer where I give geocaching good try. To do that, I think I need a better tool for the job. So I'll be trying a Magellan eXplorist GC handheld GPS that has been designed especially for geocaching. I'm looking forward to seeing if this relatively inexpensive dedicated GPS device can make geocaching a little easier and more fun. Stay tuned.