We use affiliate links. If you buy something through the links on this page, we may earn a commission at no cost to you. Learn more.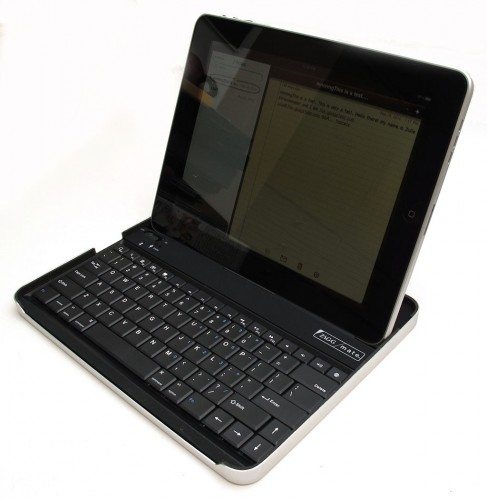 Trying to turn the iPad into a laptop replacement can be an easy or difficult task depending on your needs. I failed at that task when I tried to do it last Fall during a vacation to Florida. I wish I would have had a ZAGGmate w/Keyboard at that time, I think it would have made the experiment a lot easier. The ZAGGmate is an aluminum iPad case with a built in Bluetooth keyboard. It's a pretty slick design. Let's check it out.
Note: Some of the images in this review can be clicked for a larger view.
Hardware Specs
Height: 9.75 inches (248 mm)
Width: 7.625 inches (194 mm)
Depth: .4 inches (10.2 mm)
Depth w/keyboard: .54 inches (13.7 mm)
Weight: 7 ounces (.2 kg)
Weight w/keyboard: 12.8 ounces (.37 kg)
510 mAh rechargeable lithium polymer battery that will last several weeks of normal use without charging.
When I first saw the ZAGGmate advertised on various sites, I figured it would have the same mediocre keyboard that most of the iPad folios are using such as the tyPad. That keyboard is ok if you don't happen to be a touch typist, but if you are, it will drive you nuts very quickly because the layout isn't standard and it lacks a Right shift key. I was very happy to learn that the ZAGGmate keyboard was completely different…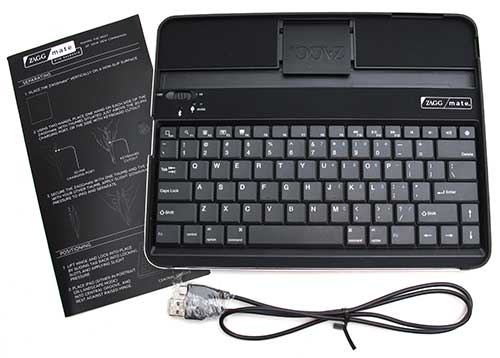 Package Contents
ZAGGmate Keyboard
microUSB cable for charging
User Guide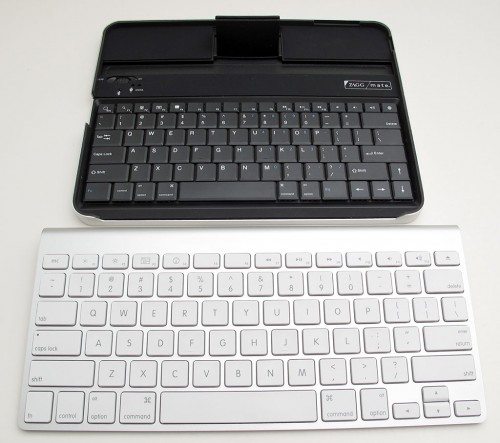 For a size comparison, here is the ZAGGmate next to a wireless Apple keyboard.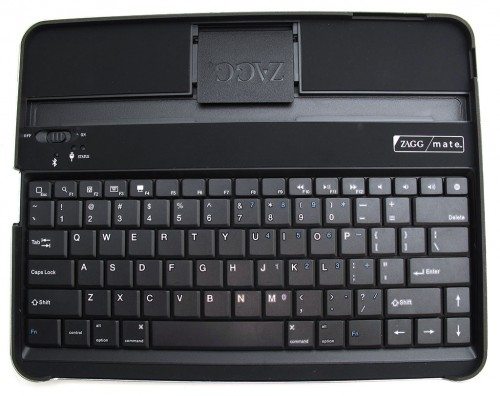 The keys on this keyboard may look small, but I found them to be perfectly large enough for accurate touch typing. It feels similar to netbooks that I've used. The keys have good travel and tactile feedback. If you click on the image above, you can get a better look at the layout, which is wonderful. All the keys are exactly where you would expect them to be. As a touch typist, the learning curve to using this keyboard is almost non-existent. The shift keys (there's a Left and Right shift key), /, ?, @, :, – and other keys which I tend to use often, do not require special function key press combinations. There's even a real number row! Yippee!
Speaking of function keys, the top row of keys on this keyboard are reserved for special iPad functions like the Home button, Search button, Slide show button, On/off button, and media player controls. There are also a few F keys, which don't do anything as far as I can tell… It would be cool if you could program them to launch specific apps.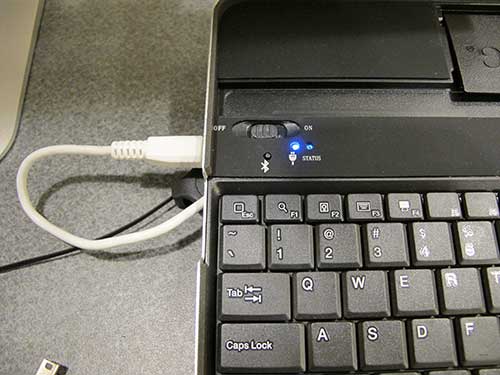 To use the ZAGGmate with your iPad, you first have to charge it using the included microUSB cable. An LED on the keyboard will glow Blue while charging and will then turn off once the charge is finished. This keyboard has a 510 mAh battery that they say can last for weeks on a charge. The LED will flash when the battery is low, to warn you that it's time to recharge.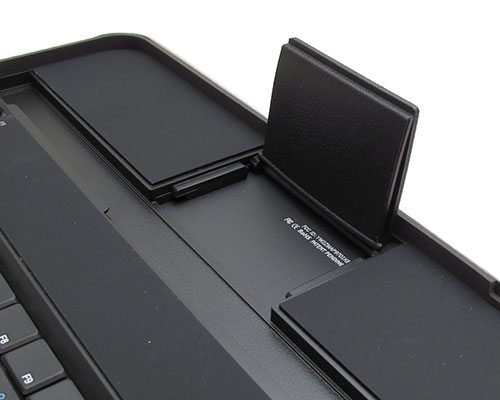 Once charged, you can flip up the little plastic stand in the back of the keyboard…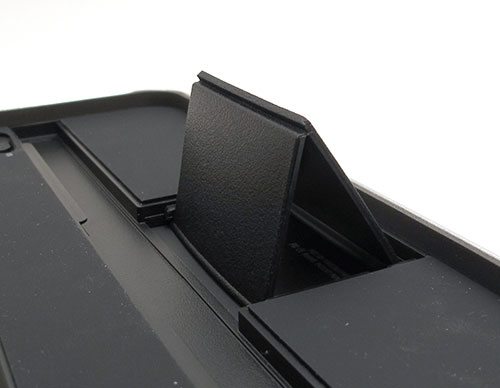 It folds out and can be snapped it in place.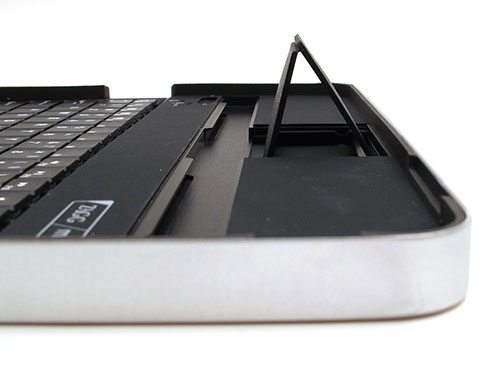 You'll notice a groove in front of the stand. This is where the iPad rests.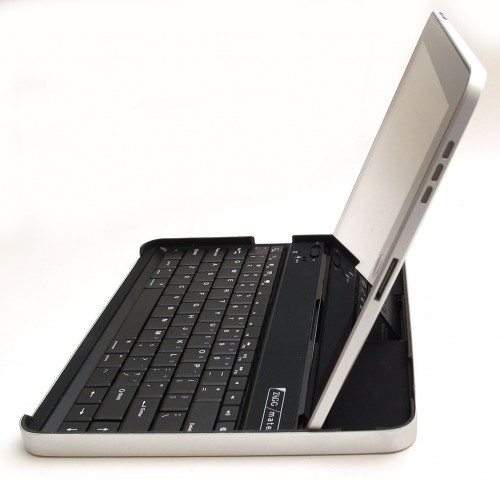 You can position the iPad in either portrait…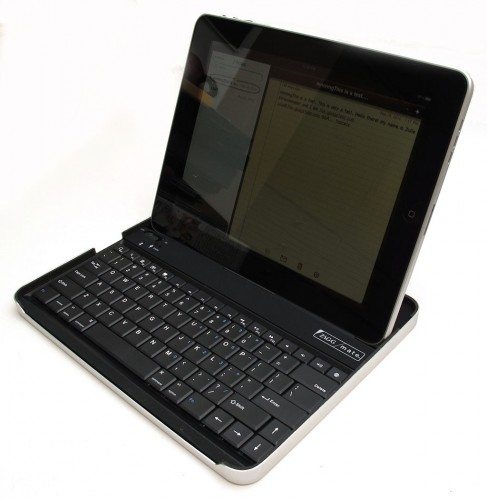 Or landscape orientation. I prefer landscape as it gives you more of a laptop feel. You can use this configure on your lap, but I think it's safer to use it on a table.
Although I worried that it might, the metal edge around the keyboard didn't bother me at all.
To pair the keyboard with the iPad, you just go into the settings app on the iPad, make sure Bluetooth is turned on and then press the tiny Bluetooth button on the keyboard (you'll need a ball point pen or some other pointy object to do this). The iPad will discover the keyboard and you'll be prompted to type in a 4 digit number. Once you've done that, you're done. From that point on, you should not need to pair again.
As I mentioned above, the layout for this keyboard is great. Touch typing with it is very comfortable once you adjust to the size. This didn't take me long at all, but it will depend on how large your hands are. The only things I can complain about, aren't really problems with the keyboard itself, but more with iOS. For example, you can't use the arrow keys on the keyboard to scroll up and down while in the web browser. Pressing these keys has no effect. The keys will scroll in the Notes app though… It would also be nice if you could use the tab key to tab to various web links in a browser window. Nope, no such luck.
Let's not forget that in addition to being a keyboard, the ZAGGmate, doubles a pseudo case for your iPad.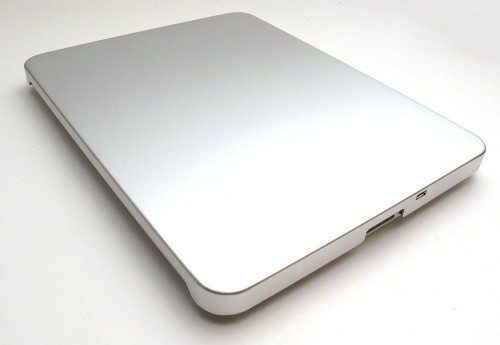 The bottom shell of the ZAGGmate is made of a brushed Aluminum that matches the look and feel of the iPad.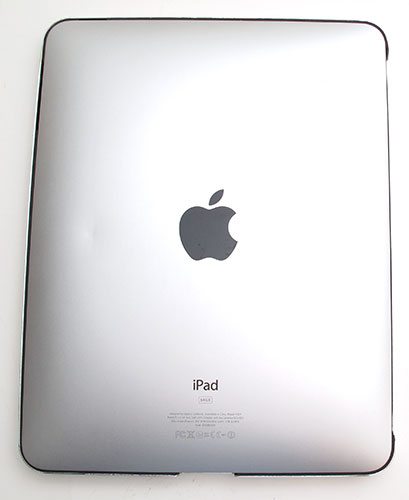 Neoprene around the inside edges/tray of the keyboard, hold the iPad in place and protect the iPad's display from touching the keys.

Here you see the iPad resting on top of the keyboard. Like I mentioned before, it's a slick design. The whole package (ZAGGmate + iPad) weighs 2lbs 5 ounces.
Overall, I have found that using the ZAGGmate has been the best keyboard experience that I've had so far with my iPad. If you're looking for a great keyboard for your iPad that you can touch type on, this is it.
Product Information
Price:
$99.99
Manufacturer:
ZAGG
Requirements:
Pros:

Great key layout for touch typists
Matches iPad look and feel
Long battery life

Cons: