We use affiliate links. If you buy something through the links on this page, we may earn a commission at no cost to you. Learn more.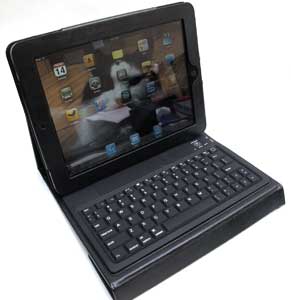 After 5 months I'm still loving my iPad and will be taking it with me on vacation next month instead of my normal traveling companion, my 15″ Macbook Pro. Using the on-screen keyboard isn't a problem, but for long typing sessions, I prefer a physical keyboard. That's why I have been considering a small Bluetooth keyboard and when I was offered the tyPad keyboard / case combo, I jumped at the chance to check it out.

The tyPad essentially turns your iPad into a laptop by combining a keyboard and a case into one unit.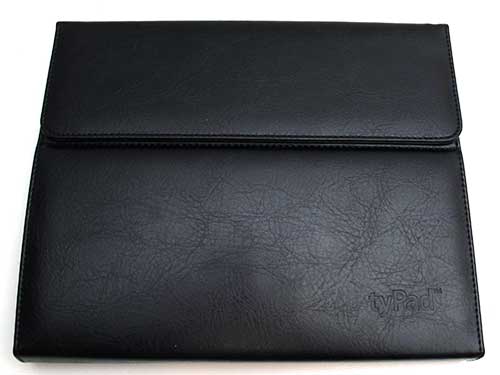 The case is denoted on the tyPad website as leatherette. It does feel and look like real leather though, so don't be too afraid of that term. It's slightly padded and rigid, which means it holds its shape and will protect your iPad from everyday abuse.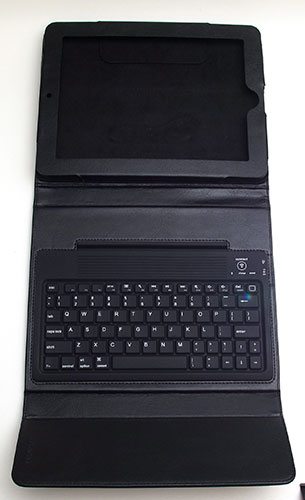 The case unfolds to reveal the keyboard and the iPad play-through holster / stand.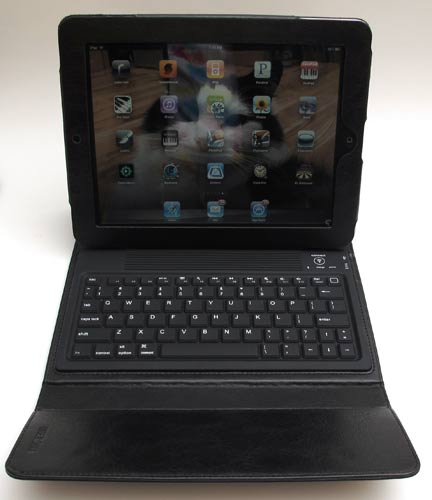 The iPad slides into the holster and is held inside with a small flap that slides behind the tablet to hold it in place. No zippers, snaps or elastic straps are used.
It's also important to note that the home button, power button, volume buttons, earphone jack and docking / charging connector are all accessible while the iPad is in this case.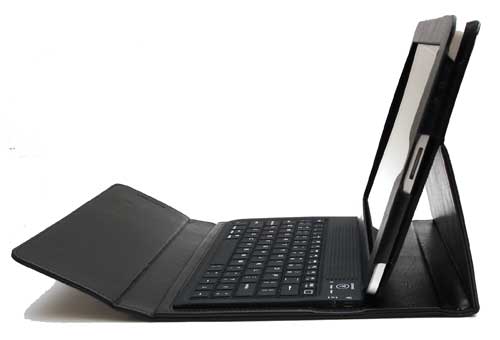 The viewing angle of the iPad can be adjusted by pivoting the display as you see here.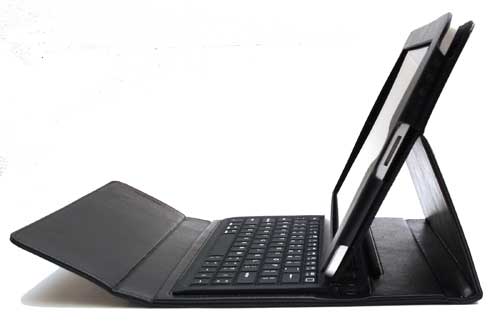 The bottom of the iPad just rests on the flat surface of the case, so it does work better on a table, than on your lap. That said, I have used this configuration on my lap with a decent level of success. But I do wish the viewing angle could be adjusted more because it sometimes feels like the display is too close to the keyboard.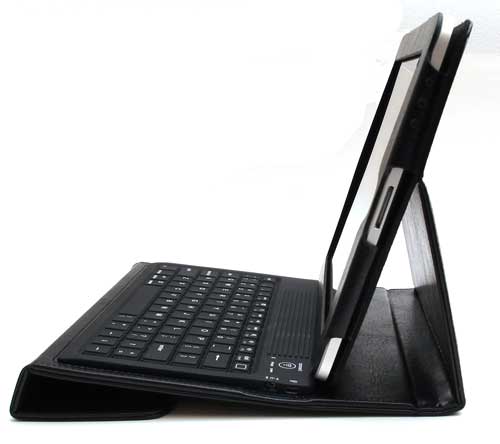 You can even tuck the case flap under the keyboard to elevate it… or for me, get it out of the way.

When not in use, the case is held closed with a magnetic flap.
The iPad, case, and keyboard combo is about as bulky a larger netbook.
Ok, let's check out the main feature of this product – the keyboard.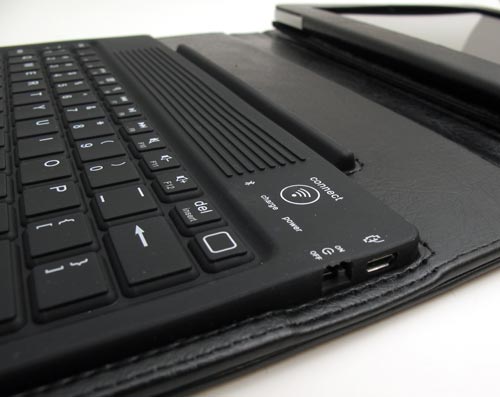 The tyPad keyboard uses Bluetooth to connect to the iPad. It is powered by an internal Li-ion battery, which charges via an included USB (micro) cable. Charging time is 4-4.5hrs, which then gives you 100 days standby time and up to 90hrs of continual typing time.
On the right side of the keyboard is a small on/off switch, 2 status LEDs and a connect button.
The first thing you do is turn on your iPad, make sure Bluetooth is turned on and have it search for discoverable devices. On the tyPad, you turn it on, wait 5 seconds, then press the connect button. Your iPad will see the keyboard and prompt you to pair and type in the passkey. The passkey only needs to be entered once, after that, the iPad will recognize the keyboard automatically the next time both are powered on.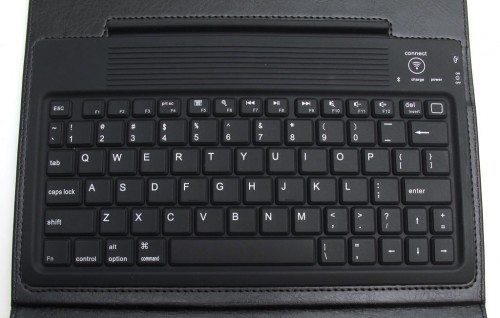 After the two devices are paired, you're ready to type!
The keyboard is small, but has decent sized keys that have pretty good tactile feedback. You definitely know when you've pressed a key because they have good travel. But, the keys are a little mushy/spongy, and the whole keyboard is covered in a thin layer of silicone material. This makes the keyboard feel a little odd, but it does offer good spill and dust protection.
The keyboard has a few special iPad keys that are useful. For example, there are volume adjustment keys, search key, on screen keyboard popup key, and a home screen key. The command key even works with C and V to cut and paste.
The functionality of the keyboard is fine, but the layout leaves a little to be desired… at least for someone like me – a touch typist. After only a few minutes typing on the tyPad, I ran into one big issue – there is only one shift key. There isn't one on the right side. So everytime I would normally use a right shift, I would end up pressing the up arrow instead, causing me to start typing into text that I had already entered. The location of the double and single quotes key is also in an unfortunate spot for a touch typist.
If you're a hunt and peck sort of typist, you'll probably not have any major problems using this accessory. It's made well, looks nice and adds a very convenient feature to your iPad for those times when typing with a physical keyboard may be easier or more comfortable than with the on-screen touch keyboard. The price for this convenience is a bit steep at $129.95 though. But I suppose if you consider that you're getting both a case and a Bluetooth keyboard, it's not completely out of line.
Do you use a Bluetooth keyboard with your iPad? If so, which one is your favorite and why?

Product Information
Price:
$129.95
Manufacturer:
tyPad
Pros:

Turns your iPad into a laptop
Long battery life
Spill and dust resistant

Cons:

No right shift key
Not the best layout for touch typists
Expensive