We use affiliate links. If you buy something through the links on this page, we may earn a commission at no cost to you. Learn more.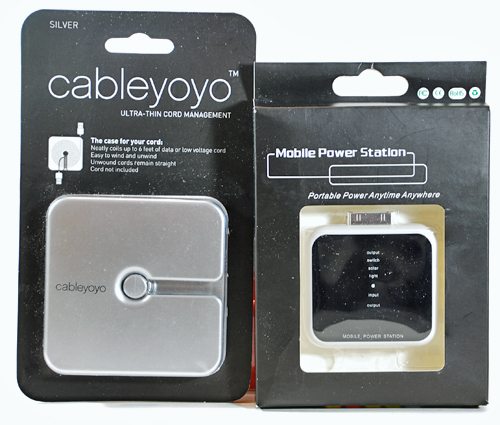 You know what they say about people with a lot of gadgets, don't you?  They have a lot of cables and chargers!  And a lot of cables and chargers lead to a big tangled pile of extra stuff you have to carry with you to keep your gadgets charged and ready to use.  Remodelize has products to help us tame and lighten our gadget accessories load.  They were kind enough to offer some of their accessories to The Gadgeteer, and I asked Julie if I could give a couple of their products a try.  We'll be looking at the Mobile Power Station charger and the Cableyoyo cord wrap.
Cableyoyo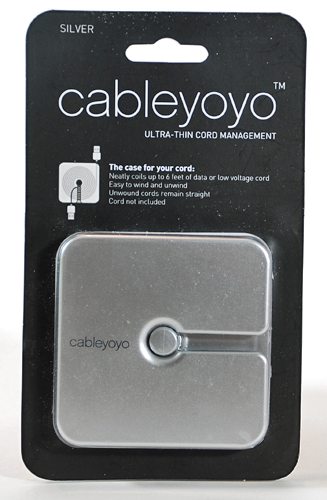 Corralling cables can be a difficult job.  You can find yourself with a snake's nest of cables behind your computer and another in your gear bag.  The Cableyoyo is a thin, flat disk (3" X 3" X 3/8") – about the size and shape of those old 3.5" floppy disks.  You wind your charge or sync cables around its center axis, leaving both ends free.  The Cableyoyo is thin enough that the cable doesn't overlap.  The cable doesn't have permanent bends and kinks in it when you remove it from the Cableyoyo.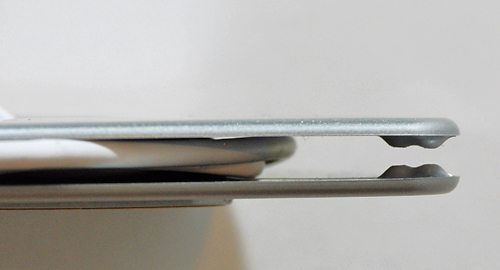 There are two "bumps" on one inside corner to prevent the cord from uncoiling after you've wrapped it to the correct length.  This is a great method for shortening those long cables into a more manageable length to neaten up your desktop area.  The Cableyoyo can hold up to six feet of data or low voltage cord.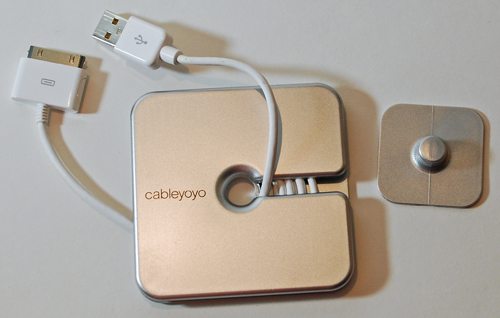 The Cableyoyo consists of two parts – a spindle with an adhesive back and the cable disk.  The spindle pops out of the disk.  If you use the Cableyoyo to neaten your desk area, you can use the adhesive spindle to attach it to your desk, wall, or computer.  If you need to take the cable with you, just pop the Cableyoyo off the spindle.  The compact size and shape of the Cableyoyo means you can slip it into a shirt pocket or pack it into a small space in your gear bag.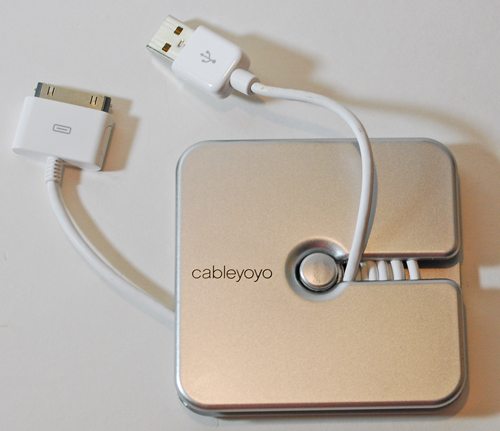 The Cableyoyo comes in three colors, gray (shown), white, or black.  You can choose the color that best matches your desk or computer to which you adhere the Cableyoyo.  Or you can use the colors to quickly identify what cable is stored on the Cableyoyo.
The Cableyoyo is a great tool for neatening your desk and gear bag.
Mobile Power Station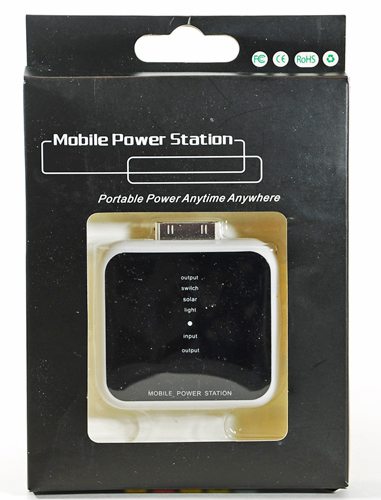 The problem with most emergency batteries is that they usually work for only one device.   That's not such a problem if the battery is built-in to a case for the device, but it increases your load when it's a completely separate device that you have to carry around until it's needed.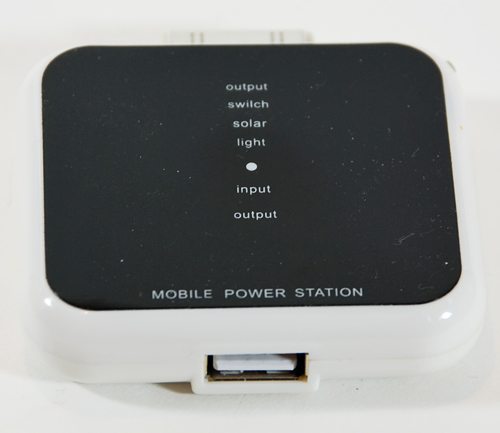 The Mobile Power Station from Remodelize is a great emergency battery.  It's small – about 2.25" X 2.25" X .5".  It will fit easily into your pocket or gear bag.  It even has a ring on one corner to attach it to your key ring.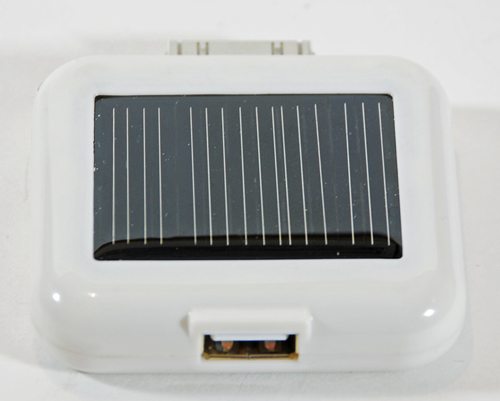 Its Li-ion polymer internal battery has a 1350mAh capacity, and it can be charged from a USB port on your computer with the included cable in about 2.5 hours.  It also has a solar collector so you can charge it in about 7.5 hours, even when you're away from your computer.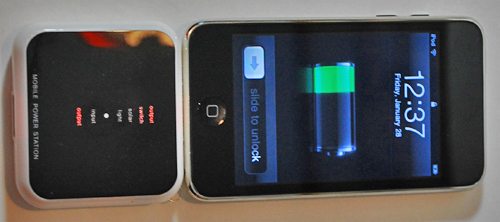 It has a built-in Apple connector, so you can charge your iPhone or iPod without needing an extra cable.  Even more convenient is it can charge any device that charges from standard USB.  There's a hidden button on the non-solar collector side that you toggle from off, to input (to charge the internal battery from USB or solar), to output (to charge a device).  When it's set to output mode, the USB jack can charge  any device connected to it.  You'll need to supply your own device cable.
The Mobile Power Station is a compact device that can charge your cellphone, iPod/iPhone, ebook reader, or other vital mobile device.

Product Information
Price:
Mobile Power Station is $29.99; Cableyoyo is $4.99
Retailer:
Remodelize
Pros:

Devices are compact
Cableyoyo shortens and corrals over-long cables
Mobile Power Station can charge any USB device

Cons: