We use affiliate links. If you buy something through the links on this page, we may earn a commission at no cost to you. Learn more.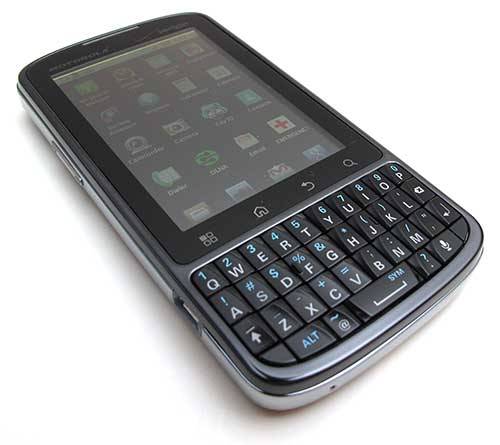 As a relatively new convert to Android devices, I've been trying as many phones as I can get my hands on to validate my choice for buying the Droid X. So far only the Samsung Fascinate has made me second guess my choice. I even had a chance to trade my Droid X for that phone, but in the end kept the Droid X. Then I saw the Motorola Droid Pro from Verizon Wirelesswith its candy bar form factor and QWERTY thumb keyboard and my second guessing problems started anew. Looking at the Droid Pro takes me back to the good old days with various Palm Treos. As a button lover, this phone should be perfect for me right? Let's find out.
Note: Most images in this review can be clicked to view a larger size.
Hardware Specifications
Processor: TI OMAP 1GHz processor with Dedicated GPU
Networks: CDMA 800/1900 MHz; GSM 850/900/1800/1900MHz
Data : EV-DO Rev. A
Memory: 2GB Internal memory for emails, texts, and apps, 2GB pre–installed microSD card for music, videos, and pictures (expandable to 32GB)
Operating System: Android 2.2 (Froyo) OS with Motorola Application Platform
Display: 3.1″ 480×320 (HVGA) TFT display
Camera: 5MP with LED flash
WiFi 802.11 b/g/n
BLUETOOTH v2.1+ EDR
Dimensions: 4.69″ (H) x 2.36″ (W) x 0.46″ (D)
Weight: 4.73 ounces
Battery: 1,380mAh with up to 390 talk minutes or up to 330 hours standby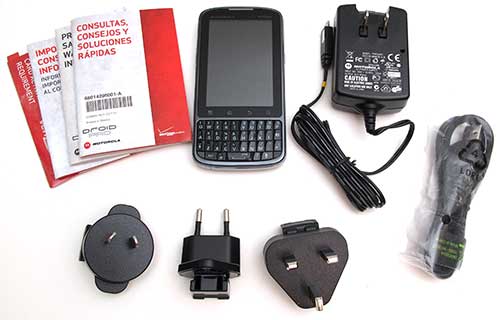 Package Contents
Motorola Droid Pro Smartphone
Wall charger
3 international adapters
USB charging / syncing cable
Manuals
2GB microSD card
SIM card for global calling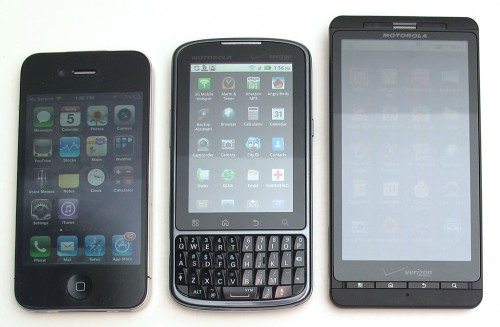 Whenever I get a new phone, I like to compare the size with my other phones. As you can see here, the Droid Pro is right in the middle size-wise between the iPhone 4 and the Droid X. It's not too big and not too small. It's pretty much just right.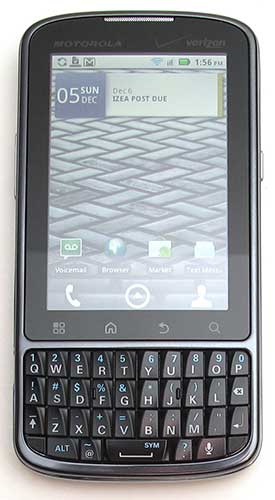 From what I can tell, the case of this phone is made of plastic, with no metal parts (correct me if I'm wrong…). The top part of the shell is a silvery grey blue, with a chrome band around the sides. The back is black with a gradient line graphic.
The face of the Droid Pro has the 3.1″ capacitive touch screen, touch panel and QWERTY keyboard. I've been using the Droid X with its ginormous 4.3″ display for several months, so the Pro's 3.1 inch display seems cramped to my eyes and fingers. That said, it's bright and easy to read. It is sensitive to the touch and I noticed no problems tapping and scrolling.
Below the display is the 35 key keyboard.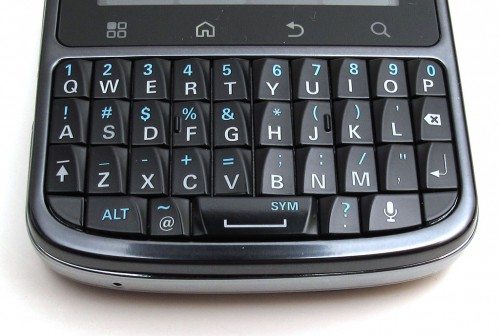 Honestly, my first impression of the keyboard was "wow, these keys sure are tiny!" They aren't any smaller than other thumbstyle keyboard keys that I've used in years past, but I guess since it's been quite a while since I used one, I forgot what it was like.
The keys are hard, with a strange shape. Instead of being domed or flat, they have an angled 'wave' to them. I really don't care much for shape, but the keys work fine and they have good tactile feedback. I'm able to type without much difficulty, but I think I'm faster with the touch screen Swype keyboard on my Droid X than with this physical keyboard. It's interesting to note that in landscape mode the Droid Pro has a touch screen keyboard, but they don't offer Swype as an option…
Both the keyboard and touch panel right above the keyboard are backlit. At first I didn't think there was a backlight at all, but after a bit of experimenting, both seem to be related to the light sensor and only light up when it's dark. If hold my hand over the top of the phone, the keyboard and touch panel will light up. Take away my hand and the backlight goes out.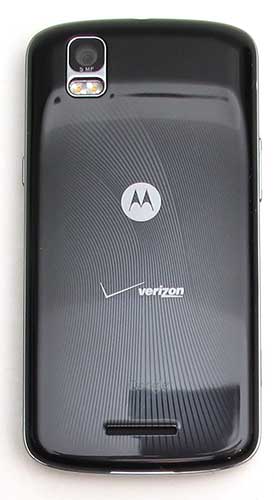 The back of the phone has the 5MP camera and LED flash.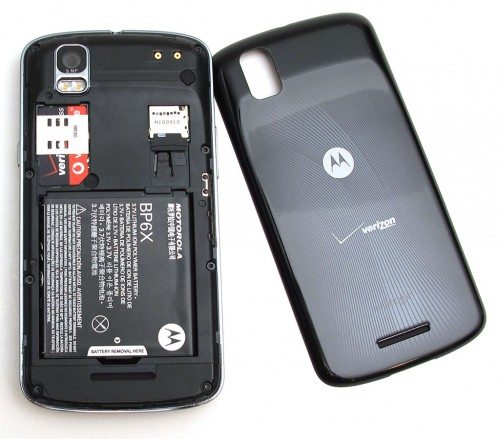 The back cover of the case easily pops off to reveal the battery, microSD slot and SIM card for global calling. The cover is very flexible and at least with my review unit, it doesn't feel like it snaps on very securely. I can barely stick my fingernail under the bottom right corner and it will pop up. It just feels too flimsy to me.

Along the top edge is a standard sized headphone jack and the power button.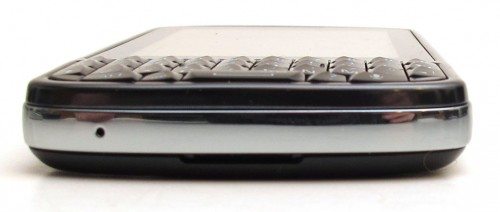 The microphone is located on the bottom edge.

On the left side of the phone, you'll find the volume rocker and the micro USB connector for charging / syncing. There's an LED around the USB connector that lights up in white while the phone is charging.

The right side has one button that when pressed, launches the calendar app by default. You can customize the button to launch any app you like though. You can also customize quick launch keys to open apps by holding down the soft search (magnifying glass) and pressing a keyboard key.
Except for the flimsy back cover, the Droid Pro feels solid and comfortable in hand. It doesn't flex (except for the back cover), creak or crack when squeezed.
Phone
One of the main advantages of the Droid Pro is that it is a global phone. It has support for both CDMA and GSM technologies for roaming outside the US. When you're here in the US, the Droid Pro will communicate on Verizon's CDMA network, but when you're outside the US, it will automatically switch to the international GSM (850/900/1800/190MHz) and UMTS 3G (850/1900/2100) networks by way of the GSM SIM card that it ships with.
Of course, you'll have to pay extra for global calls… Voice rates start at 69 cents a minute. You can add a global value plan for $4.99 per line/per month for discounts in 150 countries. Here's the link for more info on devices, plans, roaming, etc: http://b2b.vzw.com/international/Long_Distance/index.html
The phone can also be unlocked after 60 days so that you can swap out the GSM card with another.
I didn't test the GSM global calling features of the Pro, but for regular domestic calls, I found that it performed as well as other Verizon phones I've tested. Call quality and volume were both adequate and I had no dropped calls. I've read that some people are complaining of bad call quality, but I've not had those issues with the review unit I've been testing.
Camera
The built in 5mp camera does a pretty good job. It at least passes my macro requirement. I often use my mobile phone camera to take pix of books and magazine pages when browsing bookstores and the Droid Pro is able to capture those types of images just fine.
Here are some sample images. Click to see the full size version.
I do wish that the right side app launcher button would double as a shutter button while in camera mode instead of having to tap the screen to take a picture. There doesn't appear to be a way to use it for that function though – unless I missed it.
This camera can capture video but not 720p HD. It does support 720 x 480 pixel (DVD) mode though.
Battery Life
I haven't had a chance to really test the battery performance of the Droid Pro, but from the few days I've been using it, it seems to do better than my Droid X 🙂 It can get through a day or two with normal use before needing a recharge.
Is the display too small?
By adding the keyboard below the display you do lose some screen size. Is that a big deal? I've included some screenshots comparing the Droid Pro with the Droid X to give you an idea…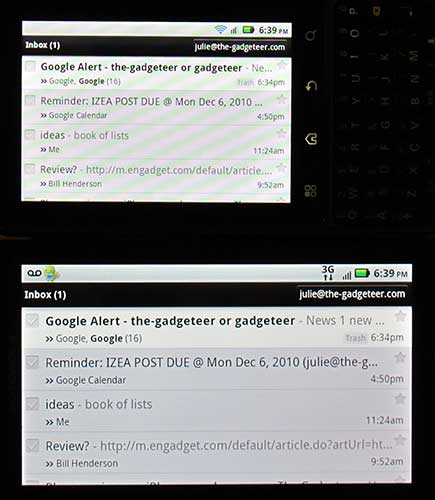 Gmail in landscape mode gives you the same amount of info… just smaller.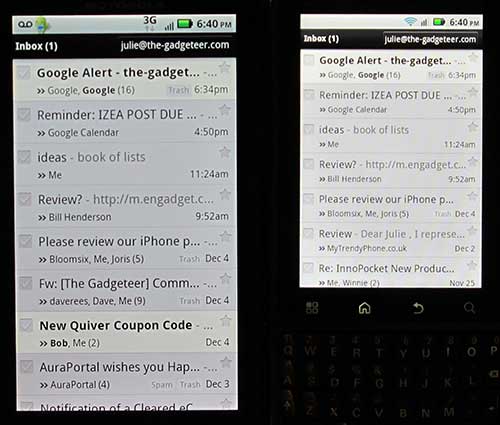 In portrait orientation, you lose one line item in Gmail when compared to the Droid X.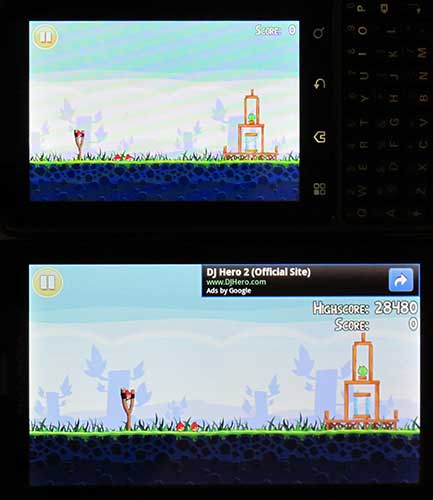 Angry birds is still playable…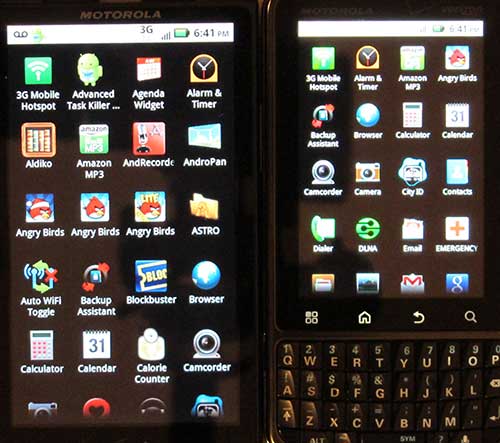 You lose a row of icons…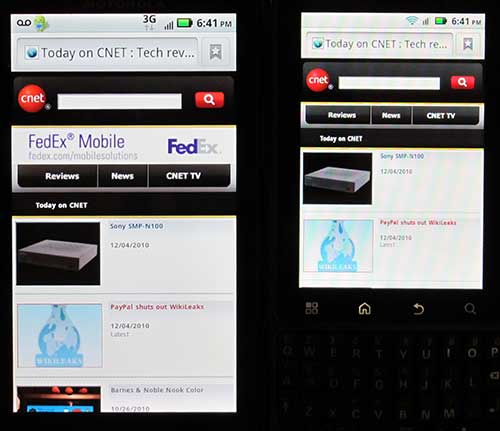 Surfing and ebook reading on the Droid Pro will require more scrolling, so if those are your two main uses (or if you're an avid game player), I'd not pick the Droid Pro as my main device.  This phone is aimed at business users anyway, so a gamer probably would not have this phone on their radar to begin with. It's much better suited for people that are heavily into texting and need the global calling capabilities.
I like the form factor of the Motorola Droid Pro, but I think this phone has finally made me further realize that I no longer need or want a physical keyboard. And yes, I'm still very happy with my Droid X 🙂