We use affiliate links. If you buy something through the links on this page, we may earn a commission at no cost to you. Learn more.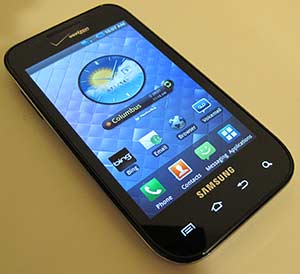 When I decided to ditch my iPhone 4 for an Android smartphone on the Verizon network, I had to choose between the Droid X, Droid 2 and HTC Incredible. I opted for the Droid X after checking out all three. At the time, the Samsung Fascinate had yet to become available. I didn't want to wait any longer to make the jump, so I went ahead and purchased the Droid X mainly for the huge screen and physical buttons. A short time ago, Verizon's Galaxy S phone (the Samsung Fascinate) became available and I've had the opportunity to test one for the past couple of weeks. Am I sorry that I didn't wait for it? Let's see. 
For those of you not familiar with the term "Galaxy S", it refers to a line of Android smartphones from Samsung. Samsung created a phone for each of the major US carriers (AT&T, Tmobile, Verizon, Sprint) with the same basic feature set that includes a 4″ AMOLED 480×800 pixel display, 1Ghz processor and 5MP camera. The phones are not identical. Each phone has a different form factor / shell (the Sprint version even has a physical QWERTY keyboard) and may have different memory configurations and / or other modifications.
Hardware Specs
Carrier: Verizon Wireless, 1X/EV-DO, Rev. A
Processor: 1GHz Cortex A8 Hummingbird
Memory: Flash: 512MB, RAM: 384MB, 16 GB microSD card pre–installed on–device — up to 32GB microSD supported
OS: Android 2.1
Display: WVGA 4" 480×800 AMOLED Touch Screen Display
Battery: Lithium Ion rechargeable. Battery is user replaceable. 1500 mAh., Usage Time: Up 420 minutes or Standby Time: Up to 312 hours
Connectivity: Bluetooth 3.0, GPS, WiFi 802.11b/g/n
Camera: 5MP, 4x Digital Zoom
Video: 720p HD
Size: 4.18" x 2.5" x 0.39"
Weight: 4.5 ounces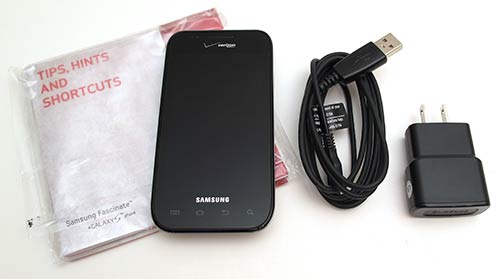 Package Contents
Samsung Fascinate Galaxy S smartphone
Documentation
Micro USB cable
USB AC adapter
Hardware Tour
Let's start out by comparing the Fascinate with two other popular phones: The Motorola Droid X and the iPhone 4.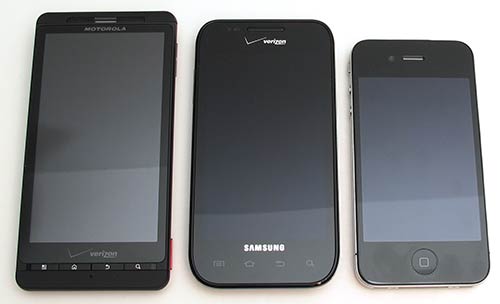 As you will notice, the Droid X is the largest phone in the group, with the Fascinate sitting right in the middle as far as size.
Having carried the Droid X for a month before receiving the Fascinate, I was immediately struck by how small it felt. In hand it made me remember how much I missed a smaller sized phone.

It felt smaller than the iPhone 4, but as you can see, it's actually a little longer and very slightly thicker.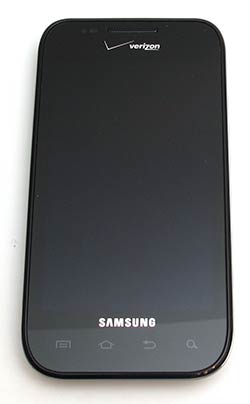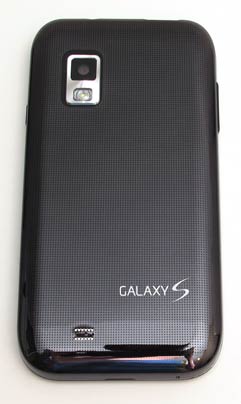 The face of the phone is flat except for a tiny raised bezel around the edge. The call speaker is right above the Verizon logo and there is a row of soft buttons below the Samsung logo. When the phone is in use, pressing the soft buttons will cause them to light up and vibrate with haptic feedback (unless you turn off the vibration feature like I always do).
The back of the phone has the 5MP camera lens and LED flash. There's also a small speaker at the bottom.

The volume adjustment button is located on the left side of the phone.

The power button is on the right side. I don't know about you guys, but this seems like an odd location for the power button. Most phones have them at the top. It's not a big deal, but I constantly find myself trying to turn it on by pressing a non-existing top button.

On the top edge you will find the 3.5mm earphone jack and the micro USB charging port. That's a weird location for that too… Is it just me?

At the bottom you will find the microphone.
All in all, the Fascinate is a very sleek phone. In hand it is comfortable with a solid feel. It passes the Gadgeteer squeeze test, but I have to say that it has a toy-like feel to it. I think it feels that way because it's light weight and made of very shiny plastic. It's also a dust and smudge magnet. It seems to be a scratch magnet too. I don't know if the person that had my review unit before me was rough with it, or if I caused the scratches, but there are quite a few very fine lines on the back of mine. I've kept it by itself in a cargo pants pocket or a soft lined pocket in my gear bag the whole time I've been carrying it, so I'm not sure how they got there.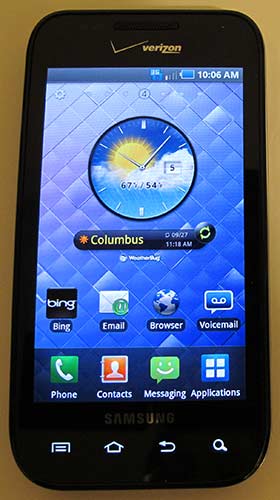 AMOLED displays are one of the main attractions to the Galaxy S phones. Why? Because they are crazy gorgeous with crisp lines, bright vivid colors and they use less power. Samsung also claims that with their anti-reflective screen, that the phone is great outdoors in bright sun light. Ummmm, not so much… From my limited outdoor testing (on a bright sunny day), the screen goes dark and hard to read just like the iPhone and Droid X. But inside or in the shade, the Fascinate's display will definitely grab your attention. Comparing it to my Droid X, it's like the difference between an HD display and a non-HD display.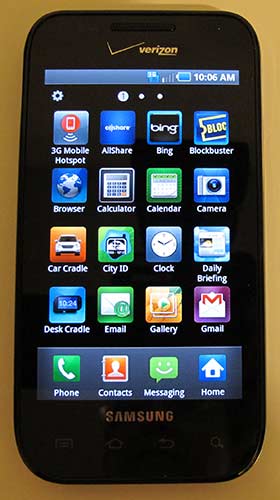 I have had no problems at all with screen response. Swiping, scrolling, tapping and other gestures are immediately recognized. In the images shown above, you'll see a bit of Samsung's own special sauce when it comes to the user interface. They have a collection of special widgets and have gone with a side scrolling application list (ala iPhone) instead of a vertical scrolling list like the Droid. They also put a colored square background behind each icon.
I haven't been all that impressed with the cameras on Android phones so far. I'm still spoiled by the iPhone camera. It just seems to take better shots and can do macro video, which the others can't seem to do as well. That said, the Fascinate does take nicer pictures than most. The camera app loads fast and saves images to the microSD card quickly too.
Calls
Having recently switched from AT&T to Verizon, I have to say that so far all the Verizon phones I've tested have excellent call quality, clarity and volume. The Samsung Fascinate is no exception. I have no complaints at all with using this phone to make and receive calls.
Performance
This little guy can busta move. The Fascinate is fast! Applications load quickly, screens scroll smoothly and video playback is enjoyable. I think this phone feels a little faster than my Droid X too. Grrrr 🙂
One area where the Fascinate definitely outshines my Droid X is in battery life. It seems to last forever and ever on a charge. I am lucky to get a day to a day and a half usage out of my Droid X, but the Fascinate can go 2-3 days before I need a recharge. I'm impressed and envious.
One thing that might be a concern is the amount of RAM that this phone has available. The Fascinate only has 384MB vs. 512MB that the Droid X, Droid 2 and Incredible have. So far I've not noticed this being a problem though.
Software and things that make you go hmmmmm
In addtion to the stock Android OS build, every phone manufacturer includes a selection of different apps with their Android phones. Samsung includes:
Memo – a basic note taking application that reminds me of BugMe
Mobile IM – AIM, Windows Life and Yahoo instant messaging client
Task Manager – Task killing app
Tetris – Block stacking game
ThinkFree Office – MS Office compatible suite
Nuance – Voice commands
Voice Recorder – Basic audio recorder
Voicemail – Visual voicemail app
Write & Go – Facebook, Twitter and MySpace message sending app
Now for the thing that made me go hmmmmm. Android is from Google right? Then why the heck does the Fascinate use Bing as its default search engine?! Weird with a capital W.
Bottom Line
I like the Samsung Fascinate quite a bit and think it's a great addition to Verizon's line up of Android smartphones. The only thing I don't like about it is the toy-like feel and the fact that it seems to scratch (the back) easily. The two features of this phone that make me sorry that I didn't wait before buying the Droid X, are the great battery life and the AMOLED display. If I had to choose between the Droid X, Droid 2, HTC Incredible and Samsung Fascinate today, I would pick the Fascinate. So there you have it.
Product Information
Price:
$199.99 with 2yr contract, $579.99 without contract
Manufacturer:
Samsung
Retailer:
Verizon Wireless
Pros:

Gorgeous AMOLED display
Great battery life
Snappy performance

Cons:

Feels a little like a toy
Back scratches easily