We use affiliate links. If you buy something through the links on this page, we may earn a commission at no cost to you. Learn more.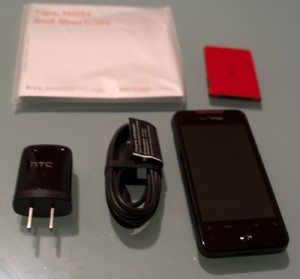 My week with the HTC Incredible turned into almost 2 weeks, but still it didn't seem long enough. Even after the brief hour I spent with it to create the First Looks post, I knew I was going to like this phone.
Now after a week, the standout features for me were:
Speed (1 GHz Snapdragon processor)
Physical Size
Screen size (480 x 800 3.7″)
Sense UI
Specifications
Android 2.1 with Sense UI
3.7″ 480 x 800 AMOLED Display
8 GB internal memory
512 MB ROM
512 MB RAM (actually had over 748 MB available)
8 GB internal storage (shows as 6.6 GB internal and is in addition to any SD card you add)
Optical Joystick
Bluetooth 2.1
12-pin micro-USB port
microSD slot (no card included) up to 32 GB (Verizon's site says 16 GB, HTC 32)
AC Adapter and micro-USB cable
Battery Life and Charging
After using this for almost 2 weeks, I found the battery to be pretty much on par with most App phones. By that I mean barely satisfactory. Most days, the charge lasted all day, but on 2 days I ran out early. No surprise that these were the first days when I was playing testing extensively. If you are looking for an App phone, there are not  significantly better options, and given the fact that this phone is running at 1 GHz, the battery life is good, compared to its peers.
I love a slim phone, but you know what manufacturers? Bit the bullet, add some thickness and give me more battery life. Given the design of the Incredible, I have a glimmer of hope that they could release an extended battery with a new back. I would be all over that option.
I do love the fact that phones now typically charge via USB. This way I can charge it on my laptop, or use the car adapter I already own that has a USB port. I get tired of all the AC Adapters I have collected.
Memory
I was surprised that the phone did not come with an SD card. However, it has 8 GB built-in, so this is not a big issue. My biggest surprise was Phone Memory. The specs claim 512 MB. On my phone it displays 748 MB of total space. I wonder if this is pulled off by using some of the internal storage. The 8 GM of internal memory shows up as 6.6 GB.
Bottom line, the 748 MB of phone memory coupled with the 8(6.6) GB of memory is a great start. Add in that you can add a 32 MB micro SD card (which are quite expensive right now) and the memory and storage of this device is quite impressive.
Screen
I love the screen. By default it is set to automatically adjust, and after some experimentation I left it set there. I had one commenter ask how it worked in direct sunlight, and set to auto it worked fine. On par with my G1. You wouldn't want to spend a lot of time using it in direct sunlight, but it works. If the light is turned off, it is not viewable at all, but I did not leave it set to off.
If you look at the screen at an angle, you can see a gridwork of dots. I was going to take a shot of it for the review, but returned it before I did. That indicates not only my poor memory, but also that it was not a big deal for me.
Form Factor
I loved the form factor. After adjusting to it, it felt very natural. Now that I am adjusting back to my G1, the G1 seems like a brick. I did find that I hit the volume buttons unintentionally a few times, and it is easy to hit the power when you are taking off and putting on the back, but those were the only issues with the form factor for me.
Controls
The optical joystick worked fine. I still am not a fan of the touchscreen buttons at the bottom. They contributed to some unintentional taps when working on the screen, but as I adjusted to the device, that became less of an issue.
I really miss physical call and hangup buttons. It's warm now, but I wonder what it will be like using the phones with gloves in the cold. Also, with a physical call button I can launch a call from anywhere on my phone. Since the phone button is part of the home screen, I now have to go to one of the home screens to launch the phone.
Camera
This is a really good camera for a phone. It does fairly well in low-light, and I like the fact that you can use the touch screen to pick on off-center focus. The video worked well, and I loved that I could upload to Flickr and YouTube directly to my phone.
Bottom Line
This is a (if not THE) top-of-the-line Android phone. HTC has really made a name for itself in phone design. It will be interesting to see how the EVO performs when it is finally released, but right now, if someone asked me for the best choice for Android phones, I can't think of anything to beat the Incredible if you don't care about a physical keyboard or the Droid if you want a keyboard. At the risk of sounding like I am sucking up to the folks at Verizon, who have provided units to test, they are really making a case for being the best provider for Android phones.
Product Information
Price:
199.99 with 2-year contract and Data Plan
Retailer:
Verizon
Pros:

Fastest Processor
Slim Design
Built-in 8 GB storage
Expandable with microSD (up to 32GB)
8 Megapixel Camera w/ dual LED
Sense UI

Cons:

No Physical Keyboard
Battery Life
No Physical Call and End Button