We use affiliate links. If you buy something through the links on this page, we may earn a commission at no cost to you. Learn more.
If you've decided that your e-book reader is your new body part, you may have stumbled upon some of the DIY book-scanner forums or sites such as diybookscanner.org.  While the designs presented on the internet are intriguing, they are not always practical for klutzes.  Ahem.
So I was equally intrigued by this, the VuPoint Solutions Magic Wand Portable Scanner.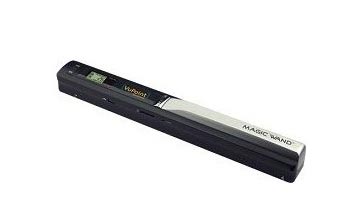 Other portable scanners (such as the DocuPen) have been discussed on the The-Gadgeteer, but this one is affordable and looks large enough for a decent sized scan.  It can be found on Amazon.com for $97.   Note as Julie mentioned in the DocuPen review, performing a scan sideways may render a better result with some hand-helds.