We use affiliate links. If you buy something through the links on this page, we may earn a commission at no cost to you. Learn more.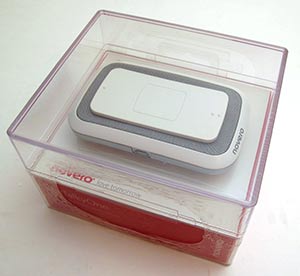 Are you ready to go hands free but don't want to stick a Bluetooth headset in your ear? I feel the same way. That's why I'm trying to find the best Bluetooth speakerphone. We've reviewed different speakerphones here on The Gadgeteer before, but the one I am going to show you today raises the bar a notch. It's the Novero TalkyOne Bluetooth Speakerphone.
Hardware Specs
Bluetooth: Multi-compatible with devices that support Bluetooth Specification 2.1 with EDR, Handsfree Profile 1.5, multipoint feature, A2DP (Advanced Audio Distribution Profile) and PBAP (Phonebook Access Profile)
Speakerphone weight: 3.3 ounces
Operating range: Up to approx. 33 feet
Talk-time (with fully charged battery): Up to 15hours
Standby time (with fully charged battery): Approx. 180 hours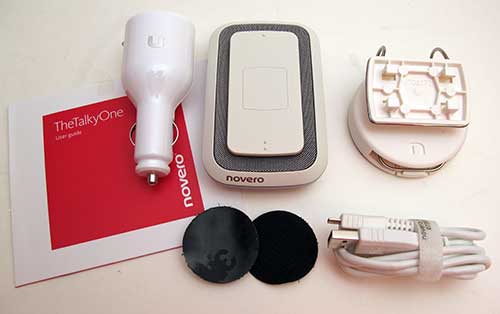 Package Contents
TalkyOne speakerphone
12V car charger
USB cable for charging and software updates
Dash mount with Velcro stickers
Visor mount
User guide (mini CD)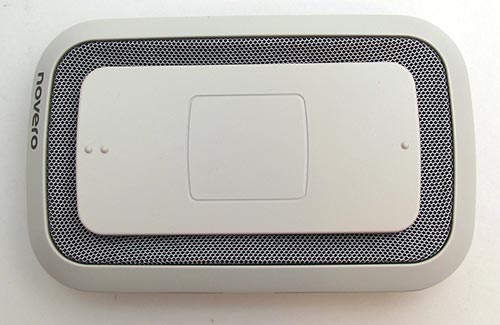 The TalkyOne looks very stylish with a White plastic casing, chrome accents and wire meshing. I like that there aren't a bunch of LEDs and labeled buttons.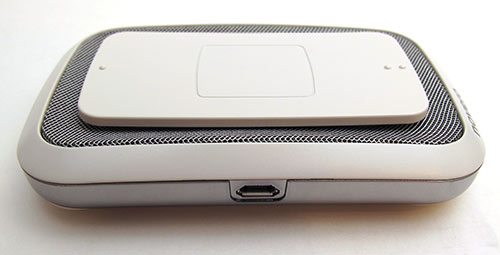 Instead there is just one large multi-function button on the top of the speakerphone. You can press the center of the button or rock it back and forth to adjust the volume. On one side there is a micro USB connector that can be used along with the included cable to charge with your computer or with the 12V card adapter.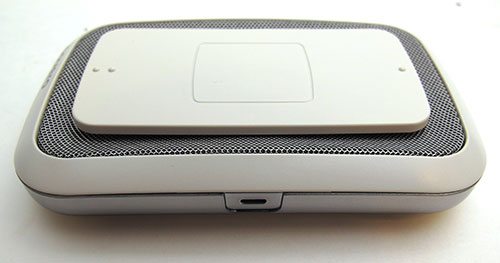 On the opposite side is the microphone.
Although it's not obvious and not pictured, this speakerphone does have status LEDs. They are hidden under the wire meshing and glow Blue or Red around the large button. It's really hard to see except in low light though.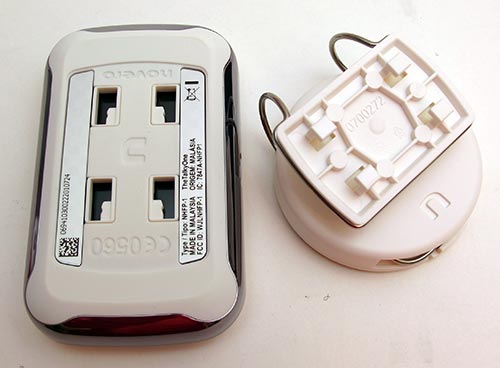 One cool feature of the TalkyOne is the keyed base that mates with the included sun visor / dashboard mount.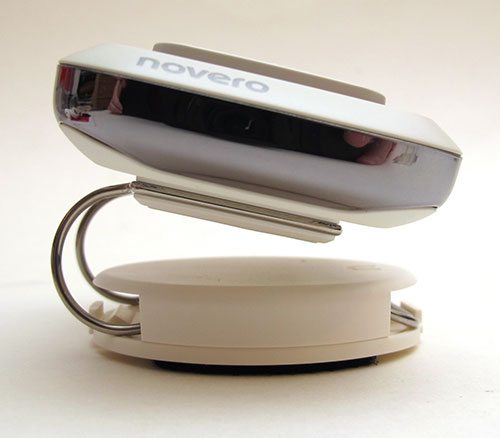 Here it is on the dashboard mount. You can attach it to your dashboard with one of the included adhesive Velcro disks.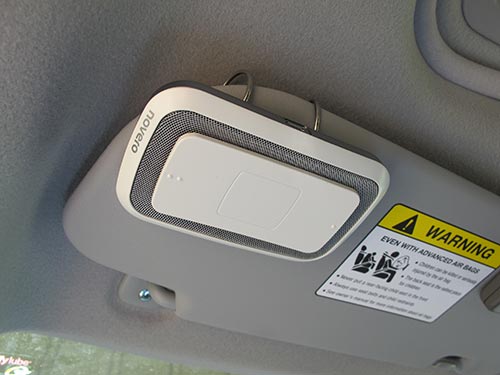 Or you can clip it to your sun visor as shown here. This is my preferred method of attaching the speakerphone.
I had no problems at all pairing the TalkyOne with my iPhone 3GS. It just required that I turn Bluetooth on and search for the new device via my iPhone. I didn't even need to type in the 0000 passcode. The TalkyOne can pair with up to two devices, which is handy if you and your significant other frequently ride in the vehicle together.
Once paired, I immediately noticed that the sounds from my iPhone (keyboard, taps, etc) started coming through the TalkyOne's speaker, which was kind of cool. So, I immediately tested playing music via the iTunes app. Nice feature, but I wouldn't want to use the TalkyOne as my only speaker system for music… It's ok, but kinda blah. However, it works really well for listening to podcasts or audio books.
The main use for the TalkyOne of course is for hands free phone calls. Making calls with my paired iPhone can be done in one of two ways. Either by looking up the number in the iPhone's contact list, or by pressing the center of the multi-function button on the TalkyOne and then speaking the command to call someone. For example, I could say Call Jeanne Webster at work and it would do just that. Nice. Not all phones support voice dialing though, so be aware.
As far as receiving calls, when one comes in, the TalkyOne will play a tone and then announce in a female voice who is calling. Too bad that you can't change the ringtone though.
Ok, time for a sound test! Below is an audio clip of the TalkyOne speakerphone in action. This will give you an idea of what it sounds like to receive a call from someone using this speakerphone. I used the free voicemail / fax service from K7.net for this test. I signed up for a free account, got a phone number and called it using a iPhone 3GS while using the TalkyOne speakerphone. The resulting voicemail is then emailed to you. Pretty nifty! At test time, the phone had full signal strength. Click to listen.
Driving Sound Test .WAV file (660K)
As you can hear, the TalkyOne doesn't block out the background radio sounds all that well. This isn't a huge deal for me since I always turn the radio off when I'm talking – just seems like the polite thing to do.
The people that I called using this speakerphone could tell I was using something other than my phone's build in microphone to talk to them. They said it was no better and no worse than most other headsets and speakerphones that I've used in the past.
At $139.00 the Novero TalkyOne is a bit on the pricey side when compared to similar devices.  However, it's super easy to use, works well in both your car and in your office, looks pretty snazzy and at the moment it's my favorite speakerphone.
Product Information
Price:
$139.00
Manufacturer:
Novero
Pros:

Easy to use
Great volume
Can also be used as a regular speaker for music, podcasts

Cons:

Comes with a mini CD instead of a paper manual
Pricey