We use affiliate links. If you buy something through the links on this page, we may earn a commission at no cost to you. Learn more.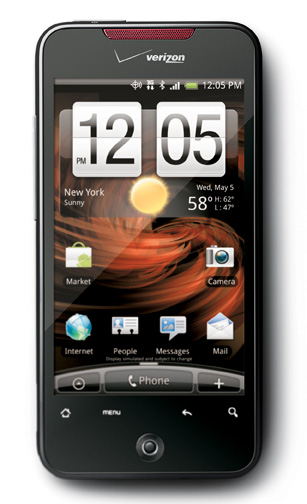 On Friday I was provided the opportunity to play with the HTC Incredible. The only stipulation was that I could not post or tweet about it until today.
This is Verizon's new Android phone. Some of the notable things about it are the use of the 1 GHz Snapdragon processor, a large display, and an 8 MP camera. I hope to get to spend some more time with it soon, to provide more details, but here are my first impressions.
Here is quick list of the Incredible's features from the press release:
Android 2.1 with HTC Sense experience
1GHz Qualcomm Snapdragon(tm) processor for maximum responsiveness
Friend Stream for unified Flickr, Facebook and Twitter updates
"Leap" view for quick access to all seven home screen panels
8 megapixel camera with dual LED flash for crisp, detailed images
Razor-sharp 3.7 inch WVGA (480×800) AMOLED capacitive touch display
Optical joystick for smooth navigation
Dedicated, touch-sensitive Home, Menu, Back and Search keys
Proximity sensor, light sensor and digital compass
Integrated GPS
Wi-Fi (802.11 b/g)
3.5 mm headset jack
The Phone
All I had to compare it to that day was my old G1. Here is a side by side: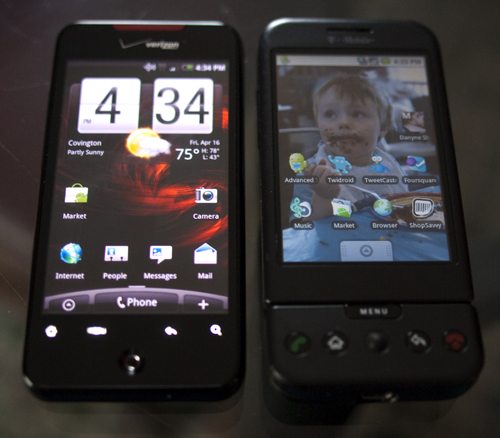 I set both phones to maximum brightness, and this is at an angle, but you can see the Incredible is brighter, and the display is larger.
Since there is no keyboard, the Incredible is much thinner: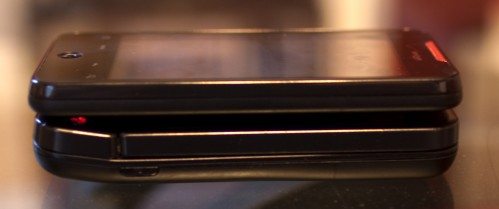 I am happy to see that most new phones come with a standard headphone jack. It is located on top with the power button: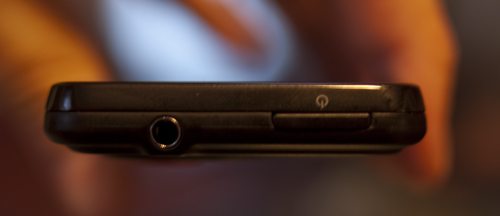 The side contains the USB port and volume controls: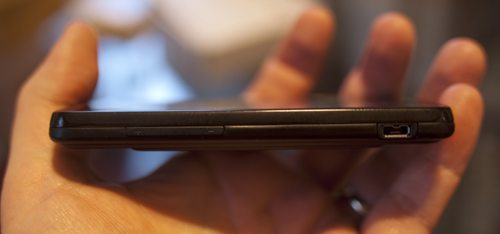 This may seem strange, but I was also happy to see that the USB port does not have a cover. In my experience they are a pain, and not long for your device. The cover for my G1 fell off months ago. I am a little concerned with the type of connector. It did not look like a standard MicroUSB port. One of my first tests will be to see if a standard MicroUSB plug works. I really do not need yet another cable to keep around.
First Impressions
This is a very sleek phone. It does not have a physical keyboard, so it is very thin. The screen is very responsive, bright, and beautiful. The screen is the same size as he Droid, but a slightly different resolution (480 x 800 vs. the Droid's 480 x 854). I would be interested to see the two side by side, and may try to meet-up with someone I know who has a Droid.
The phone switches very smoothly between portrait and landscape, it gives you the 2-finger zoom features everyone seems to love, and lets you tap to choose what the camera focuses on. Here is a quick video, no audio:
The Camera
I was actually concerned with the fact that it is an 8 MP camera. A lot of times more pixels means less low-light ability. My quick picture was a surprise. It looked really good in a low-light environment. I also liked that you could tap to focus off-center. I didn't think to send the picture to my account so that I could show a sample, but I will definitely look at the camera in more detail. It looks like a winner.
All in all this looks like a very impressive phone. It is taking all my strength to not say it is incredible.  It will initially be priced the same as the Droid  ($199) with rebate. You sacrifice a few pixels and a keyboard for a faster processor, the Sense UI and what appears to be a much better camera. I hope to have more to post soon.