We use affiliate links. If you buy something through the links on this page, we may earn a commission at no cost to you. Learn more.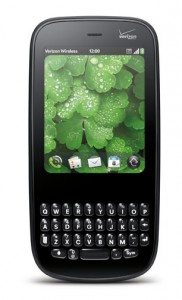 I was recently given the opportunity to try out the new Palm Pre Plus and Pixi Plus from Verizon. The "Plus" refers to the ability of both these phones to function as 3G hotspots (like a mi-fi). You can connect up to 5 devices through Wi-Fi to access the internet through the phones. Since we have already covered the Pre with Julie's Week with the Palm Pre and Craig's Palm Pre: Six Months In, I chose to focus on the Pixi. If you are interested in the Pre, or even the Pixi, I encourage you to revisit these posts, as they contain a lot of good information about the Palm webOS environment.
The Palm Pixi is a smaller, and cheaper version of the Palm Pre. It takes it's design cues from the original keyboard Treos and blackberries. If you are looking for a phone with a physical keyboard, but don't want to slide it out, this is a great option.
Hardware Specs
Operating system Palm webOS™ platform
Dual-band CDMA2000
3G: EvDO Rev A
2.63-inch multitouch screen with a vibrant 18-bit color, 320×400 resolution Sub-HVGA display
Physical QWERTY keyboard
Microsoft® Exchange email with Microsoft Direct Push Technology
POP3/IMAP (Yahoo! Mail, Gmail™, AOL, Hotmail®, etc.)
Built-in GPS
2-megapixel camera with LED flash, geotagging, and video capture
Ambient light, accelerometer, and proximity sensors
Audio formats: MP3, AAC, AAC+, eAAC+, AMR, QCELP, WAV
Video formats: MPEG-4, H.263, H.264
Wi-Fi 802.11b/g with WPA, WPA2, WEP, 802.1X authentication;
Bluetooth® wireless technology 2.1 + EDR with A2DP stereo Bluetooth support;
Wi-Fi router functionality for up to five devices using Palm mobile hotspot.
8GB Memory (~7GB available)
Up to 5.2 hours talk time and 350 hours standby time
Charger/microUSB connector with USB 2.0 Hi-Speed
3.5mm stereo
Palm Touchstone Charging Dock Compatible
Width: 55.0mm (2.17 inches)
Height: 111.0mm (4.37 inches)
Thickness: 10.85mm (0.43 inches)
92.5 grams (3.26 ounces)
The screen is smaller than the Pre, but still very usable. Here is a side by side comparison of the Pre and Pixi: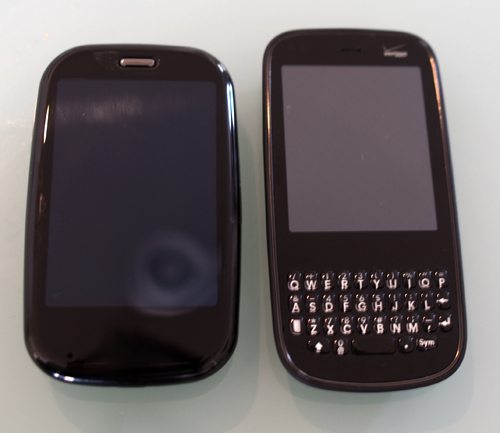 When closed, the Pre is a little shorter than the Pixi. When open, it is taller: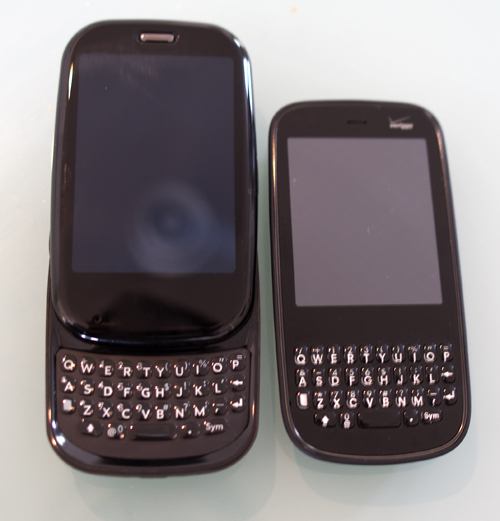 The Pixi is considerably slimmer than the Pre: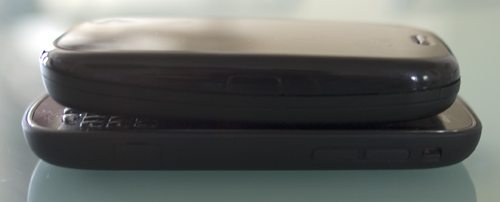 In fact, that is the first thing I noticed about this phone, it is VERY thin. This is easily the smallest smartphone I have ever used.
webOS
This is an area I don't feel I have a lot to add. Look through Julie and Craig's posts for a lot detail. I'll just share my impressions here. I found the OS to be very elegant. However, both the Pre and Pixi could benefit by a more powerful processor to run this OS. I found it a little laggy at times.
Synergy
This is one of the truly wonderful things about the Palms. Synergy allows you to access your accounts from multiple sources in one place. I was able to use my Gmail, an exchange account, and a yahoo mail account with ease. My calendar entries on my exchange and Gmail accounts were displayed in different colors. All in all, it was a great experience.
Keyboard
The keyboard is a touch smaller than the Pre. I didn't think it would be very functional, but after a short while using it, I was surprised how well it worked. The keys are small, but the curve and the slight rubbery feel work very well. If you are concerned about the keyboard, I would recommend visiting a store and trying it out. Give it more than a few minutes, though.
Mobile Hotspot
One of the big attractions to these two phones is the "Plus". That is, the ability to be a mobile hotspot. Both phones have the ability, but they require you to sign up for the service separately. This is usually a $40 /month charge, but right now they are waiving it. So with your Palm phone you essentially get a free MiFi. This can be a great deal for folks that travel. I also got to experience the convenience when my RoadRunner service want down, and they told me they could come fix it in a couple of days. I fired up the Pixi and was working in no time.
Palm's Future
Since I received this phone to review, the news has come out that Palm is looking to be bought. This certainly raises issues with the future of webOS. This is certainly something you should factor into your purchase decision, but as I was considering that I realized how many different phone OS' I have had over the years.
Conclusion
I really like this phone. As much as I like this phone, it won't be my next phone. I felt it was a little underpowered, and I don't really care for the form factor (except for the incredibly small size). I am a sucker for a large screen and some horsepower. Also, I have to admit, that I think I am losing the battle to not become an Android fan-boy.
This phone is a great choice for someone who is looking to get a phone that can access multiple online accounts, and wants a slick, modern OS in an incredibly small package. Add in the $29.99 price and being able to use it as a mobile hot spot, and this is a very strong candidate.
Product Information
Price:
$29.99 with 2-year contract and data plan
Manufacturer:
Palm
Retailer:
Verizon Wireless
Pros:

Very slim
Physical keyboard
webOS
3G Mobile Hotspot

Cons:

Seems under-powered
Smaller screen
Small keyboard