We use affiliate links. If you buy something through the links on this page, we may earn a commission at no cost to you. Learn more.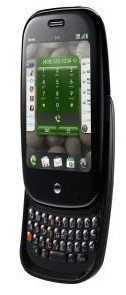 In mid-June of 2009, Palm sent me a Pre, its first webOS-powered smartphone, to try out as a "Real Reviewer."  That program, I was told, was launched to get the Palm Pre into the hands of a few people Palm could count on to use it daily for an extended period (about six months, to be specific) and talk about it in blogs, on social networking sites, mailing lists, and so forth.
Real Reviewers was meant to be different from the typical press loaner program, where phones get sent out to blogs & journalists, who spend maybe a week with them, and then send them back.  Those impressions, while helpful, might not be entirely complete; in contrast, spending months with a device can be much more revealing (for better or worse).
So, now, as my time with a loaner Pre comes to an end, here are my honest impressions of the device, Sprint's service, and the overall user experience.
In the Beginning
When I was anticipating getting the Palm Pre, I was filled with equal parts geek giddiness and abject terror.  While the geek giddiness part is obvious to anyone reading this site, the reason for my abject terror was that the Palm Pre was about to end a 13-year, love-hate relationship I had had with Palm OS devices.  Virtually every part of my daily mobile existence revolved around my Palm OS phone.  While I'd had other types of PDAs and smartphones over the years, I never found them as compelling, so I stuck with Palm OS.
As the Pre runs Palm's new webOS operating system, everything would have to change.  Yes, it had the Classic emulator, which could run some Palm OS apps with varying degrees of competence, but HotSync was broken, which meant much of what I relied on day-to-day would need to be revised.
And frankly, it should've been.  The "sync to my PC" model of transferring data is antiquated, unreliable, and somewhat antithetical to the whole concept of an always-connected smartphone.  So, I jumped into the Palm Pre experience with both feet.
I ran the included converter app, which I used to transfer my Treo's calendar and contacts to Google's equivalents, and my tasks and memos went into the Pre's on-board versions of those apps.  The concept of syncing my PIM data to the cloud has always appealed to me, and this first step was entirely painless.
Synergy
With that done, I started to see the magic of Palm's new webOS feature called Synergy, which basically acts like a huge data funnel, sucking your personal and social network calendar and contacts information into the Pre.  After giving it my Exchange, Google, Facebook, and LinkedIn (and Yahoo! was recently added) login info, it went out and synced all my contacts from all those sources into the Pre and, as if by magic, matched up duplicates to create combined entries.
For example, my wife's Google Contacts entry, Facebook profile, and LinkedIn profile all contributed to her single entry in my Pre's addressbook.  It recognized redundant info, such as where she entered the same address in two places, and presented me with just one address.
Calendars work similarly; events on any one of my private or social network calendars show up, color-coded, on my Pre's calendar.  If someone makes a change to an event I've added to my calendar, my phone is updated automatically without me lifting a finger.
Synergy worked so well that I was simply stunned…it was the thing I showed off first to curious friends and coworkers, and it never failed to impress.  And it still does me to this day.  If webOS has a killer feature, Synergy is truly it.  And, frankly, the prospect of doing without it, should I ultimately decide to get a non-webOS phone after the Pre, is not one I relish.
The Learning Curve
I did have to make a few big mental shifts.  For example, with all these thousands of entries in my Pre's addressbook, I had to stop using it like a Rolodex (looking people up alphabetically).
Let's say I wanted to send someone a text message.  On a different device, I'd typically open up the messaging app, tap the To: field, scroll (or jump) to the person I wanted, and then tap their phone number.  On the Pre, it's more straightforward:  I start typing the person's name (fastest way is first letter of first name followed by 2-3 letters from the last name), and the Pre's Universal Search function pulls up his contact info.  From that screen, I can tap the "SMS" button on the corresponding phone number, which launches a new text message.
In short, on communication tasks, I had to move from thinking about apps to thinking about people.  And honestly, that makes a fair bit of sense.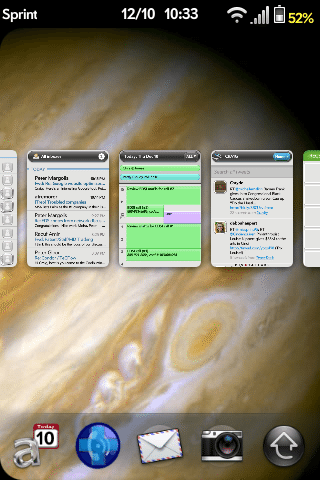 Another area in which I had to change how I interacted with the device involved multitasking.  Palm OS doesn't multitask.  When you open up an app, the previous one closes automatically, preserving its state (most of the time).
When I got the Pre, I tended to use one app at a time, just like on my Treo.  However, over the following couple of months, I found myself in more and more situations where multitasking was incredibly handy.  One example involved streaming my kids' favorite song into our car stereo (via Orb) while simultaneously tracking our route in Google Maps.
As I use the Pre more, I get more and more reliant on being able to have several apps running at once.  But the real benefit of webOS is how easy it is to switch apps.  Not only can you get a visual overview of all your apps with a single gesture, you get the equivalent of Windows' Alt-Tab to rapidly cycle through what's running.
Not All Wine and Roses
By this point, you may have started thinking this was an infomercial.  Let me put that fear to rest.  While I really do enjoy using the Pre, it is far from perfect.
My biggest complaints so far do not include that it only has ~550 apps in the Palm App Catalog (heck, it's still in beta), but are (a) the overall sluggishness of the user interface and (b) Palm's apparent lack of concern for operational efficiency in webOS (something Palm OS truly excelled at).
To be completely honest, there are times when I want to slam my Pre to the floor (I haven't yet…I'm always cognizant it's a loaner).  It takes 2-5 seconds for a calendar page to load (or do whatever it's doing) before I can scroll up or down or switch to the next page.  If I want to go 5 days into the future, that's an untenable proposition…it takes literally 5 times 2-5 seconds = 10 seconds minimum.  Similarly, rendering even a simple text email often takes an inexplicable 3-5 seconds.  One upside of this is that I use my Pre to handle email far less than I used my Treo.
Perhaps even more frustrating are the random lags.  I'll tap an on-screen button and nothing happens.  So I'll tap it again.  Nothing.  Then, just as I'm about to tap it a third (or 4th or 5th) time, the screen reacts and it's obvious that both initial taps were acted upon.  AARGH!
Disclaimer:  I have installed many, many homebrew apps and community patches onto my Pre, so there's a chance that one or more of those are creating some of this lagginess. More on homebrew below.
Regarding operational efficiency, Palm has clearly departed from the "Zen of Palm" philosophy, which drove the UI design of Palm OS from its inception.  webOS is anything but.
One example is webOS' reliance upon the "Back" swipe gesture, which is basically a short, right-to-left swipe below the screen to take the app back one screen/command/menu level.  As much as I do this, I'd really much rather have a physical button, as it's faster and less work for me.
A related issue is, because webOS is so very finger-friendly, all of its on-screen control elements are a lot bigger than the equivalents on a stylus-based UI.  This usually results in far fewer commands and functions being given full-time availability.  Also, the font and spacing between elements is often much bigger, leading to more white space and less content on the screen.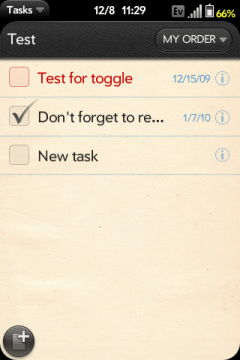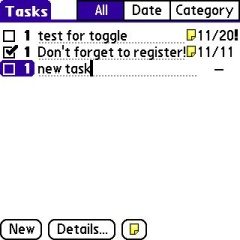 Compare the new webOS Tasks app (on the left) with the old Palm OS To-Do app (on the right); on the latter, see how much more direct access to changing stuff you have without diving into menus and hitting little (i) buttons first?  Every element on the Palm OS version is tappable, and the tap takes you directly to being able to interact with that specific field.  On the webOS version, tapping anywhere on the entry (except the checkbox) takes you to the details page, where you then have to tap again to change the field you're interested in.  In my opinion, when you're designing a mobile OS that people in a hurry are going to use, every tap matters, and I'd like to have to make as few of them as possible.
Finally — and this is probably just a personal preference — I like physical buttons.  Being able to launch an app with a dedicated hardware button is fast and efficient.  While Palm tried to get some of the same effects with the "wave" launcher, it's just not the same.  I have to slide my finger up, make sure I'm on the right icon, and then wait for the app to load.  Sure, it's only a second or two difference, but it feels like eternity compared to what I'm used to.
Physically, the Pre is really a feat of engineering. Squeezing all that functionality into so small and svelte a package is impressive.  Two minor complaints about the hardware, though.  One complaint is no flash expansion slot.  I got used to being able to take my card out and insert into whatever I needed at the moment.  Instead, the Pre can go into flash drive mode, which, when connected to a PC with a USB cable, is fully accessible via the file browser.  It's not a bad compromise.  The other complaint is the USB cover…it's just so flimsy and annoying that I'm constantly tempted to rip it off entirely.
Homebrew to the Rescue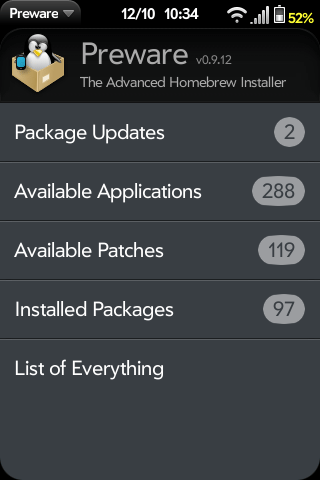 Thankfully, Palm has been exceedingly open about webOS, which is fitting since it uses a lot of open source components.  Because of that openness, the webOS developer/hacker community has been very active.  As of my writing this article, there are several hundred homebrew (the term for unofficial webOS software) applications, patches (changes to the operating system), and themes, which change the look and feel of wallpapers, soft buttons, icons, etc.
All the homebrew apps are free, since there's no way to enforce payment through the installation systems available today.  However, many are "donationware," which suggests that, if you use the app regularly, you should make a small donation to the developer.  Relying on the honor system isn't perfect, but, for many devs, it's a good alternative to the hassle of a formal e-commerce solution.
Many of the patches are targeted at adding or changing features of the user interface.  For example, one patch increases the number of icons the user can see at any one time in the app launcher from 9 (3 rows x 3 columns) to 20 (4 rows x 5 columns), meaning less scrolling (yay!).  Another patch adds the date next to the time in the center top of the screen (see screen cap above for example).  These are little things that really do add up to a measurable improvement in overall usability.
Other aspects of homebrew have tackled more significant issues, such as Palm's decision to greatly limit the memory available to install 3rd-party apps in, or enabling a virtual (on-screen) keyboard to complement the physical slider.
With the advent of Preware, users can access all of these homebrew offerings directly from the device; browsing and downloading over-the-air (OTA), and not having to go to a computer to install something, is really a phenomenal improvement over the traditional sync approach.
Touchstone
When the Pre was revealed at CES in January, 2009, one of the things that gave the blogosphere vapors was the wireless, inductive Touchstone charger Palm also showed off.  Curious about it, I bought one.  It has a couple of nifty features.  While the Pre's charging, if a call comes in, picking the Pre off the Touchstone automatically answers the call.  Putting it back on the charger while the call's in progress switches it to speakerphone mode.  Nifty.
However, I had to relegate my Touchstone to my office.  I had originally wanted to use it on my nightstand, but that proved unworkable.  While charging on the Touchstone, the Pre keeps its screen on and displays a clock.  However, the screen, even on the dimmest setting, was too bright and I found it harder to sleep.  It would be really nice if Palm could give users the option of turning the screen completely off while the phone's on the Touchstone.
Sprint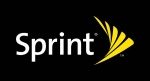 A review of the Pre wouldn't be complete without discussing the one carrier it's currently tied to (although nearly everyone who isn't a Sprint shareholder wants to see that exclusivity end very soon).  Sprint is a pretty good network for the Pre.  While coverage can be spotty in some places, Sprint's 3G network is quite fast.  In fact, a multi-city comparison by Gizmodo just about a year ago showed Sprint topped all others in average download speed.  While 3G doesn't compare well with Wi-Fi speeds, in good-coverage areas, I've found data speeds on the Pre to be good, if not great.  So, as long as you're in an area with good coverage, the 3G data experience will be pretty excellent.
Looking into the Future
Overall, Palm has developed a really amazing operating system in webOS.  It seems to scale well to various screen sizes; it's intuitive and easy to use; and it's enjoyable to look at.  Is it perfect? No, but we're just 6 months from the launch of the first webOS device, so the fact that it's this stable with this much of a user/developer community already is encouraging, if not downright amazing.
Looking ahead, I think webOS will greatly benefit from some of the powerful, new mobile processors that are starting to come out (e.g., Qualcomm's Snapdragon and the Cortex-A9).  But, given the Palm Pre runs its Cortex-A8 processor (which is no slouch by any means) at just 500MHz and doesn't (currently) use any of that chip's on-board graphics coprocessing, one can only believe there's quite a bit more to extract from even today's hardware than webOS has attempted so far.
Wrap-Up
When compared to the smartphone behemoths that represent the Pre's competition (Apple, Microsoft, Google, RIM, and Nokia), it's flat-out amazing that tiny little Palm can even compete, let alone produce a device and platform that is superlative in many ways.  And yet, despite a decade of predictions of Palm's demise, they did just that.
In summary, there's a whole lot to like in the Pre and webOS, as well as some detractions.
The Good
Enjoyable OS with powerful multitasking capabilities
Synergy, Synergy, Synergy!  (the killer feature, IMO)
Rapidly growing application catalog
Enthusiastic homebrew community
Physical keyboard that slides away when not needed
Frequent OTA updates from Palm, which seems committed to webOS
It's small and fits in a pocket exceedingly well
The Bad
Hardware may not be entirely up to the challenge of running webOS smoothly
Some apps and preferences need improvement in usability and/or responsiveness
No flash memory expansion slot (I do miss that) and silly little USB cover
Smallest app catalog of all the major platforms (so far)
I'm grateful that Palm has let me use the Pre for six months.  But, like Algernon, now that I've lived with webOS, I just can't go back to my Palm OS Centro.  So, I have a choice to make in the very near future.  Do I renew my Sprint contract and get a Pre of my own, or do I explore another platform, like Android, which spans all the major carriers?  The glorious part about this dilemma is that it's a dilemma at all…never before have we, consumers, had so many compelling options.
Decisions, decisions.