We use affiliate links. If you buy something through the links on this page, we may earn a commission at no cost to you. Learn more.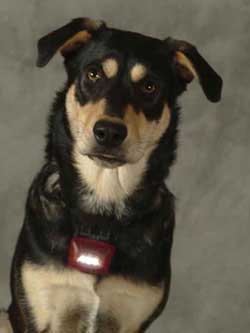 Here's a last minute gift idea for the dog owner on your list. It's the PupLight lighted dog collar. Full press release after the jump. The collar is adjustable to fit dogs of all sizes. Attached to it is an LED flashlight that is powered by 3 AAA batteries. I'm sure it would come in really handy for those after dark dog walks. You can fetch one for $19.95.
Santa Has Rudolph's Red Nose to Guide His Sleigh at Night
PupLight® Guides Dogs and Their Walkers on Safe Walks After Dark
Chicago – (December 9, 2009) – With the shorter days of Winter now upon us, many dog owners amusingly wish that they had Santa's Rudolph reindeer with his "red nose" to safely navigate slick sidewalks, cross dangerous intersections, and to be more visible to motorists who may not see them and their dog companions when it it's dark outside and the weather turns foul.
Most would agree that carrying a flashlight is not the best option.  A flashlight is not only cumbersome to carry, but most flashlights do not provide much illumination.  PupLight® as just the answer, and makes the perfect unique gift for any dog lover who is safety conscious and who walks their dog after dark.
Highly-acclaimed, PupLight is a one-of-a-kind illumination device designed specifically for canine safety.  Night-time safety concerns of dog lovers have finally been answered with PupLight.  In fact, PupLight is brighter than traditional flashlights.  Powered by three AAA batteries, PupLight "lights the way" with three powerful LED lights that pierce the darkness for blocks.  This handy and affordable safety device is only $19.95 and comes with a two-piece, adjustable band, which is easily worn by dogs of all sizes and breeds.
According to Jackie Simoni, inventor and president of CPA Systems, PupLight addresses a serious threat for dogs that all too often suffer trauma injuries or death when hit motor vehicles, heart-breaking accidents that soar dramatically in winter months."
"As a life-time dog lover I developed PupLight to fill a void in pet industry," said Ms. Simoni.  "Based on customer testimonials, we know that PupLight provides peace-of-mind for dog lovers."  She adds, "While we are still educating the public about how vital pet visibility at night is, we have also forged ahead with the development of NekLight™, a companion product for kids and people of all ages."
"NekLight, which is also $19.95, can be worn around the neck of hunters, hikers, runners, and others, and provides an added layer of protection for dog walkers at dusk or after dark," said Ms. Simoni.  "Together, PupLight makes a dog visible, and NekLight makes the dog walker visible to traffic, and allows the dog walker to see ahead, and spot potential hazards."
About PupLight®
PupLight is constructed to serve as a rugged, water-resistant safety device, which features three ultra-bright, white, wide-angle, LED beams of light that shine several yards ahead.  With three AAA batteries, PupLight is an affordable safety device, and comes with a two-piece, adjustable band, which easily slips over the dog's head, snaps on, or it can be attached to an existing collar or harness.  PupLight also comes with a fur guard for dogs with longer hair, and the device can be adjusted up or down to provide the best visibility for dogs of all sizes.  Besides it's obvious safety benefits, PupLight makes it easier to find a dog when outside after dark, assists in "cleaning up" after pets in the dark, helps scare off wild animals such as coyotes, and assists older dogs, as well as dogs with failing vision.  For more information about PupLight, visit http://www.PupLight.com, or call 1-866-PupLight (787-5444).