We use affiliate links. If you buy something through the links on this page, we may earn a commission at no cost to you. Learn more.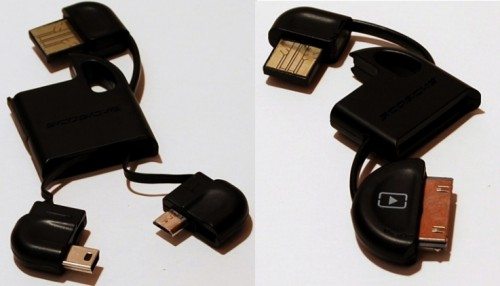 It's always nice to be able to charge or sync your devices wherever you are, but carrying a bunch of cables and chargers in your gear bag requires a lot of room and can add a lot of weight.  Scosche has come to the rescue with some very compact and useful charge and sync cables that can lighten your load.  They make a flipSYNC charge and sync cable for iPhones and iPods and one for devices that use Mini or Micro USB.  Each of these is small enough to carry on your keychain.  Julie sent me both Scosche flipSYNC cables to review.  Let's check them out.
flipSYNC USB 2.0 Charge and Sync Cable for Mini and Micro USB Devices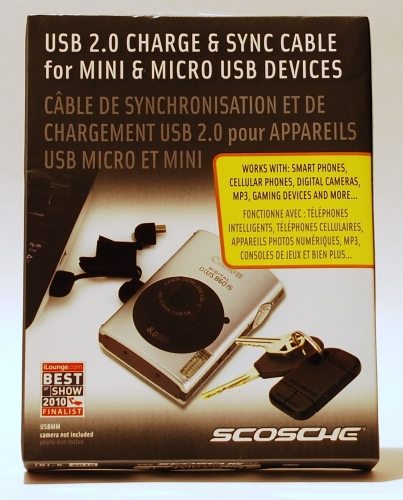 Specifications
Input:  5V
Output:  5V
Cable length:  3 inches
USB 2.0
Works with: Cellular and Smart phones, digital cameras, MP3 players, gaming devices, and more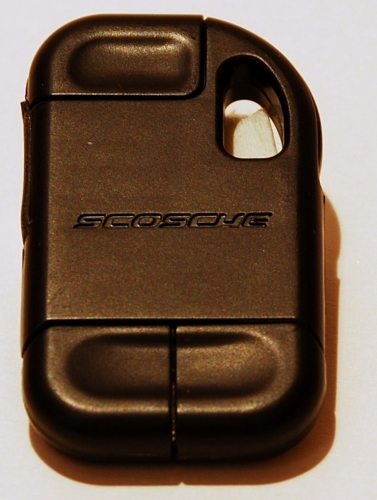 The flipSYNC mini/micro USB cable is a small, black plastic rectangular piece with rounded corners.  It's about 1.875" X 1" X 0.3".  On one end is a hole so you can slide the flipSYNC onto your keychain.  Pull out this end to expose a full-sized USB connector.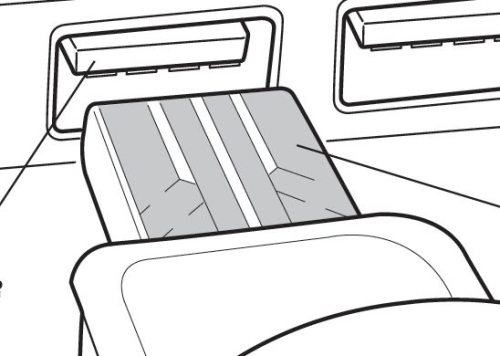 When you pull it free, you'll see it's one of those minimalist connectors with no metal surround.  Make sure you insert it so the metal side makes proper contact inside your USB port.  The other end pulls off to reveal two cables.  Pull this end apart to expose a mini and a micro USB connector.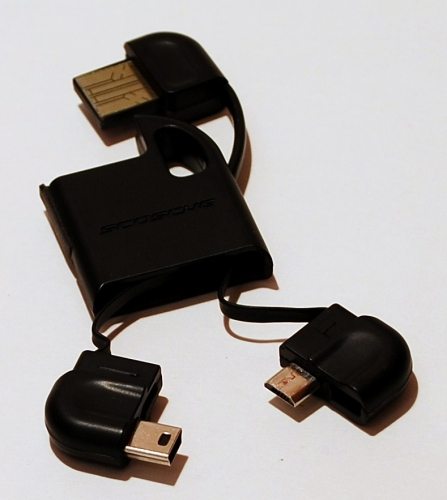 I have a variety of devices this cable will prove useful for – my cellphone and the Bluetooth earbud for my phone, for example.  My Plantronics earbud uses a micro connector, so I started my tests by charging the earbud.  The flipSYNC cable worked perfectly to charge the earbud in the same time as with the AC charging cable supplied with the earbud.  My LG enV3 phone also has a micro USB port.  However, when I connected the LG phone, it didn't charge but entered music sync mode.  I'll still have to charge my phone with an AC adapter, but I can sync up music onto the player without using the LG cable.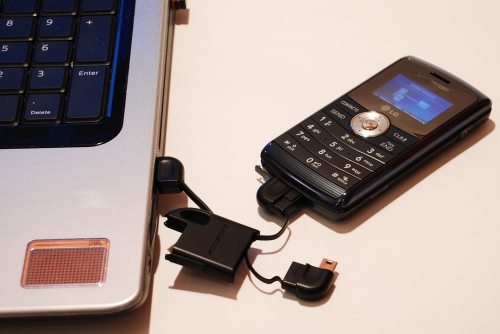 Because of the power requirements of my devices, I would charge only one device at a time using the flipSYNC mini/micro cable.
flipSYNC USB 2.0 Charge and Sync Cable for iPod and iPhone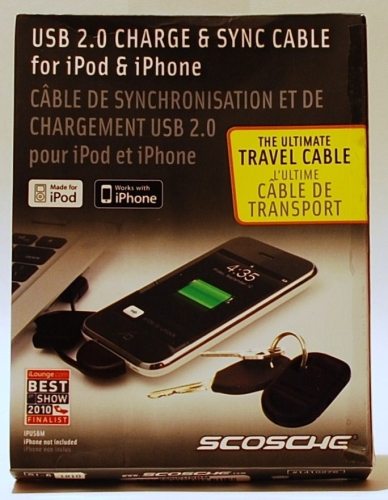 Specifications
Input:  5V
Output:  5V
Cable length:  3.25 inches
USB 2.0
Works with: iPhones and iPods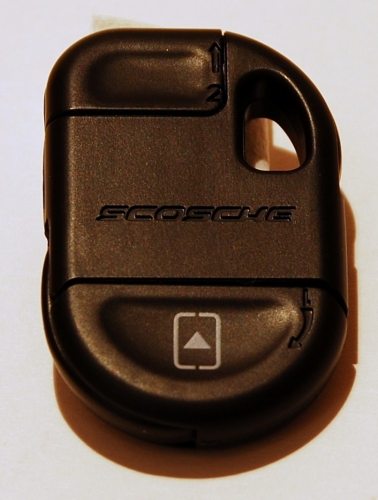 The Scosche flipSYNC charge and sync cable for iPod and iPhone is also a small, black plastic rectangle with rounded corners.  It's about 1.75" X 1" X 0.25".  There's a hole for attaching to a keychain at the end where the USB connector is.  The entire other end is a standard Apple docking connector.  You'll notice that these connectors are numbered to show the order they should be removed for use.  This is required because of the cable length.  (When you close it, simply reverse the order.)  Pull the Apple connector out first, then remove the USB connector.  There's a minimalist USB connector again, so you'll need to be sure the metal side makes correct contact inside the USB port.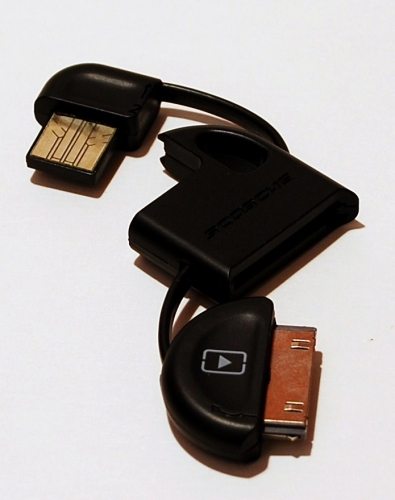 My iPad was nearby when I started testing the flipSYNC Apple cable.  Although I can't charge my iPad through the USB ports on my computer (this is a known problem for some computers, apparently), I should be able to sync the iPad using the cable.  However, when I plugged in the iPad I got an error message saying that the attached device had exceeded power limits.  I quickly removed the iPad and had to restart my computer – my USB mouse was dead after the error occurred.  After my computer was restarted, I plugged in my iPod touch using the cable and got the same error message.  I rebooted again, and I checked to see if the iPod and the iPad would work with the Apple-supplied cable.  Since both the iPad and iPod worked correctly with the Apple cable, it seemed obvious there was a problem with the particular flipSYNC cable I had received – it happens.  I contacted Scosche customer service through their webpage.  They immediately sent me out a replacement cable, which I received in just a couple of days.  Great customer service!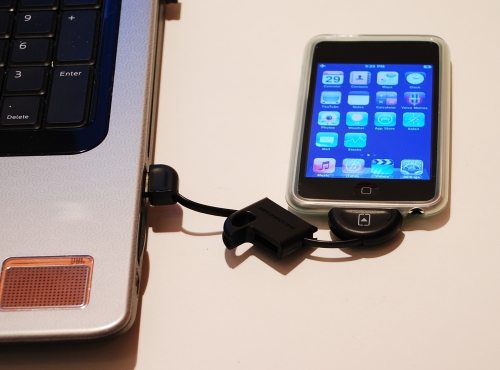 The second flipSYNC cable for iPhones and iPods worked flawlessly.  I was able to sync my iPad with no problems.  My iPod touch synced and charged without a hitch.
iLounge.com selected these Scosche flipSYNC charge and sync cables as finalists in their 2010 CES Best of Show Awards, and I can see why.  These are great little cables.  They have earned their place in my gearbag!

Product Information
Price:
$19.99 each
Manufacturer:
Scosche
Pros:

Compact and convenient
Can charge or sync a variety of devices with each cable

Cons: