We use affiliate links. If you buy something through the links on this page, we may earn a commission at no cost to you. Learn more.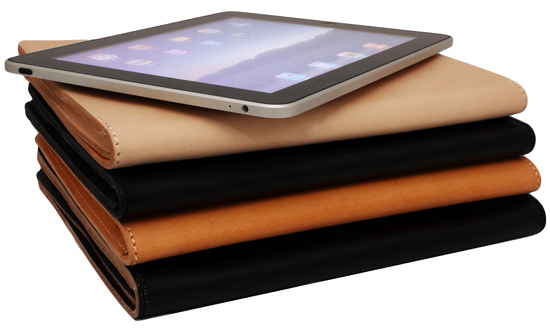 In 1982, John Naisbitt created the phrase "high tech/high touch" in his bestselling book Megatrends to reference how we tend to want both highly functional technical operations as well as the comfort and relaxing ease of a highly personal and sensual* experience. This is the reason we're drawn to big, puffy chairs in coffee shops, where we can read from our electronic book readers or surf with our computers over the free WiFi. Or why we want teak furniture with elegant, clean, highly functional leaves, shelves, and design. If we can combine both extremes into the same object, so much the better. Thus, the leather case for our most current device, be it phone, laptop or iPad is the highest manifestation of this. Aligata, with their Leather iPad case, fits right into the mold on this one.
Offered in four colors, from "Black Espresso" to "Nude Beauty", these handstitched bovine beauties are buttery soft and smell of real, natural leather. No chemical or rubber/neoprene smell – just leather. I was sent the "Nippon" color. (Second to bottom in the stack above.) This yellowish leather is not dyed, but slightly oxidized, in order to appear a little used. It will weather and develop a patina over time, as it's handled. When I opened the brown craft paper wrapping, I knew it was a quality piece. It is made from full grain cow hide, with external, slightly contrasting stitching, and fits the iPad nicely.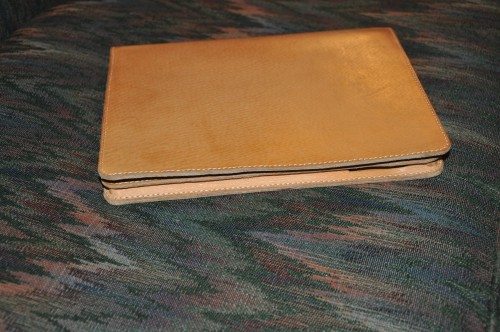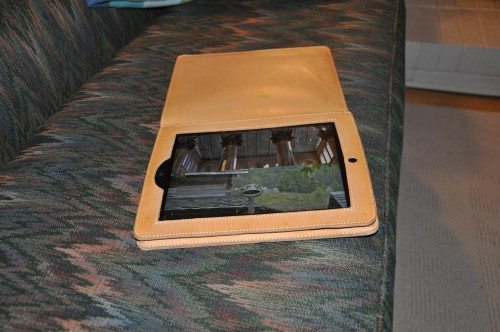 The top case, which outlines the visible area of the screen with a notch for the Home button and a hole for the ambient light sensor, is as stiff as the wrap-around back and front flap. The pieces that hold the top case to the base, however, are a bit lighter, less stiff. This allows the case to fit very tightly, but still to offer a pretty good cushion should you drop your iPad on a corner. It's not a fool-proof system, but there is a good bit of extra stiff leather on the back and front, which will bear the brunt of the force should you drop it on a corner or edge, possibly saving you from a shattered screen or dented edge.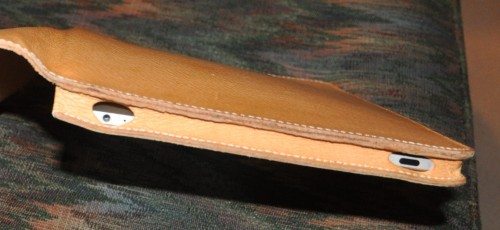 Here is the description from Aligata's site:
This case is a little oxidized, but not dyed. It is made to look like it is a little used, not new. The leather has more glitches, small imperfections, is darker than Nude Beauty. It will further oxidize (get darker) and grow older with you. This case has a soft and very, very personal/unique look that still maintains our excellent protection levels.
If you worry about your iPad falling off your coffee table and landing on its corner, then this is the case for you.
This case features our exclusive leather suspension system. It creates an elastic barrier which cradles your iPad away from the edge of the case. This case is made of softer leather and the device fits a little more loosely in the case such that friction and the natural flexing of the leather will more readily absorb sharp but lighter impacts such as a minor fall common in home and business environments.
This case is a shield for your iPad offering near total scratch protection for business or home use. It is soft to the touch and very visually appealing. The more natural finish of this case means that it is not immune to coffee stains and will require more careful handling. The more pliable nature of this case permits (on a carpeted surface) the front of the case to be folded behind and used as a stand for viewing movies and the like It's design protects both the screen as well as the edges and back of the device.
The finish of this case is durable bovine leather and, with proper care, will last for years. It is free from straps, magnets, velcro and anything that could interfere with the proper operation of your iPad. It features an ascetic, simple and logo-free design which corresponds to general Apple design guidelines and allows access to all ports, light sensor and controls.
The first impression, as mentioned, is rich, durable, Old-World charm. I put my iPad into it as soon as it arrived, and have had positive comments from everyone who has seen it. Colleagues who own iPads all want to know where I got it and other details. I'm asked who the manufacturer is almost every day when I'm using my iPad on breaks or at lunch. I've had to go fetch it from my locker to show customers at the request of co-workers. It's a really beautiful case.
For those who have not seen an iPad, many only assume it's an expensive legal pad holder or planner, which is fine with me. I'd rather they not notice it, rather than thinking I'm being pretentious ("Oooo, I have an iPad!"), or see it on my car seat and not consider breaking the window for it, as they might with a more obvious iPad cover.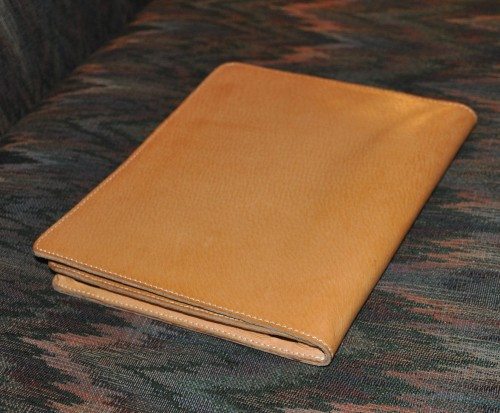 How does it function?
I've used it for the better part of two months, and must say, it's quite nice to hold and carry about. The leather has begun to show small darker places of color where I hold it, and the crease where I fold it back to view video has relaxed the tightness of the spine, making it flop open, rather than having to force it back. It's becoming my case, not just a nice leather case.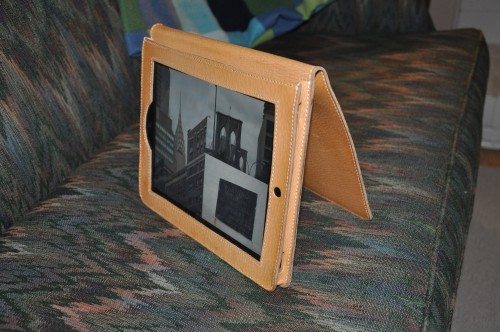 Having used the Apple iPad case before getting this one, I was very used to the angled typing and viewing positions that you can lock that case into, and was a bit irritated initially that this was not available with the Aligata case. When sitting at a very slick topped table, this is quite an issue. My Griffin A-Frame stand holds the iPad nicely at home for reading or watching video, but while out and about, I have had to resort to using my left hand while eating to hold it at a good angle. Not the best solution.

There are some apps that have not yet been converted to iPad versions, and when they are run full screen, they usually tilt to the left. This puts the opening for this case at the bottom, and on more than one occasion, I'd find that the iPad has slipped down a good bit during use. I tried to prevent this with a ribbed disc of rug-keeper material, but it still slipped a bit. This grew more frequent as time went by. The has case simply loosened up during the time I've had it. Since you can hold the iPad in any orientation, this only becomes an issue when you're using an iPhone app that doesn't take advantage of the ability to rotate the screen the other way. Yet, it dimishes the experience at times.
The thickness of the case, while protective, also made for some adjustments. In many of the bags designed for the iPad, they make a very tight fitting pocket, and it's difficult to get the iPad in with just the Apple case. Adding the Aligata case, with five layers of full grain cowhide, you have to be ready to forego many iPad bags. (Getting a new bag was the thing that finally made me remove the case for the first time since I got it.) I remove it and put the iPad back into my Apple case for work now, pending finding a case that I can carry both my work stuff and this one.
So, bottom line, what's my verdict? I still like it. It's very lush to carry around when taking nothing else to a cafe. It doesn't look like an iPad until I open it, and folks who know tech always ask about it. It's a bit of a hassle with my new work bag, because I can't get all the other stuff I need to carry in it with the thicker case. That means I take my iPad out of the Aligata case, and put it in my Apple case. I'm very likely to not put it back in the leather case for a single day off, so I'm not using it as often right now, but I want to. Despite the lack of set angles and easy standing, I like the feel and protection of the leather.
I give it three and a half out of five stars. Emotionally, it's a five, but the reality is a bit of a hassle, that brings the score down.
*(That's "appealing to the senses", not necessarily sexual. Get your mind out of the gutter!)

Product Information
Price:
$69.90
Manufacturer:
Aligata
Pros:

High quality leather doesn't look like a typical iPad case
Feels great while holding iPad during use
Weathers to a personalized patina depending on how you carry, store and use it

Cons:

No secure enclosure on center edge means iPad can slide out if opened wrong
Case loosens over time, making fit worse
Finish can be damaged by liquid, food, etc