We use affiliate links. If you buy something through the links on this page, we may earn a commission at no cost to you. Learn more.
With any popular new device that hits the market, it's not too long before there are products developed to support it. The iPod hadn't been out but a few weeks before cases, armbands, and the like were on shelves and websites everywhere. Likewise, the iPhone prompted a bewildering array of cases, battery packs, stands, charging solutions, and screen covers. The iPad ecosystem, barely a few weeks old, is also starting to grow beyond software and bags.
Today, the store I work in got the Griffin A-Frame stand, and sold through half our inventory in just a few hours. I decided to buy one for myself before they were all gone. The hardest part of the day was leaving it in my bag until I could get it home and put it through it's paces. Let's see what it's made of.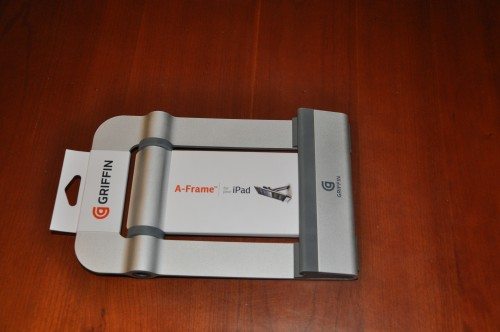 The Griffin A-frame stand is made of metal and rubber. There is a rubber pad, bumper, or gasket at every possible point where the iPad or desktop surface would touch the stand in normal use. The basic form is a metal slab of a single thickness of metal, bent into a tight J shape at the lower end, with an integrated leg hinged about 2 inches down from the top. The leg has a maximum angle of a little over 30º. (Where's a protractor when you really need one?)
When you first see or hold this beauty, you know it's a quality piece. Everyone I've shown it to has first of all commented on the weight. At 17.9 ounces, it's almost equal to the iPad's 24 ounces. The next thing noticed is usually the metal. It feels substantial, and the edges are sharply defined, similar to the leading edge of a MacBook Pro's top case. According to their website, it is aluminum. Here's the rest of their specs:
Features
Simple, beautiful table and desktop stand for your iPad
Holds iPad upright in landscape and portrait views or at a lower, wrist-friendly angle for surfing, reading and more.
Stable aluminum a-frame design
Non-slip rubber cradle accommodates Griffin's flexible and hard-shell cases and many others
Allows easy access to iPad's dock connector for charging and syncing
Here are the rest of the measurements I made:
5.875 inches wide
9.125 inches long/tall
.156 inches thick
Leg is 3 inches wide x 7.25 inches long
The very first accessory most folks purchase with their iPad is a case, and accommodating was a requirement from me of any stand. I didn't want to have to pull it out of the case to sit it in a stand or dock while I used the Bluetooth keyboard. There is plenty of room in this stand for the iPad in the black Apple cover in either orientation. It will even sit in the stand with the cover folded behind it. (My cover is still new and doesn't fold flat, though, so I'm not likely to leave it this way yet, but it doesn't fall out or sit erratically in this manner.)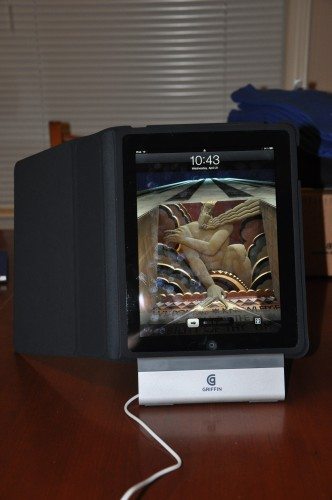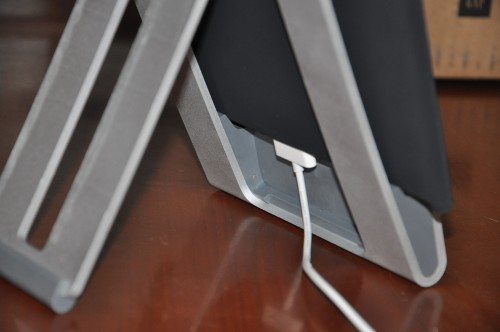 The Griffin A-Frame is also designed with a clever hollowed-out space under the center base which easily allows an iPad changing cable to be attached while it's in portrait orientation. When the back leg is folded flat for travel or low-angle use, it fits flush into this area.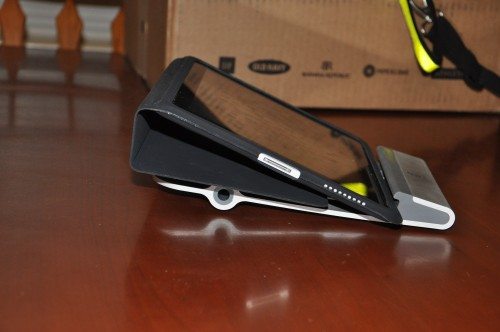 The build quality and finish perfectly match the current Apple design for their products. Whether you're sitting this by itself at a coffee shop, on your kitchen or coffee table for watching video, or on a desk for composing text, the stand, like the iPad itself, fades into the background and just does what you expect without any hassles. The friction hinge holds the leg at any angle within the range, and the soft rubber takes any worry about scratches completely out of mind. My only thought is pondering how I'll carry this if I leave home with it. The edges are quite severe, so I'm going to have to find a bag of some sort to protect other items from it while on the go. But when it's out in use, there are no worries at all. It is stable, tightly constructed, and sits gracefully in any location. At $50, it may seem a little pricey, but for the quality and peace of mind it gives, it can sit alongside my MacBookPro (on it's similarly constructed Griffin Elevator stand) with no problem.
A solid 5-star item!

Product Information
Price:
$49.99
Manufacturer:
Griffin Techology
Pros:

Quality materials and build quality
Innovative in-stand syncing
Holds iPad while in most cases

Cons:

Blunt edges may damage other items while packed for travel