We use affiliate links. If you buy something through the links on this page, we may earn a commission at no cost to you. Learn more.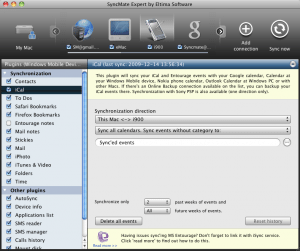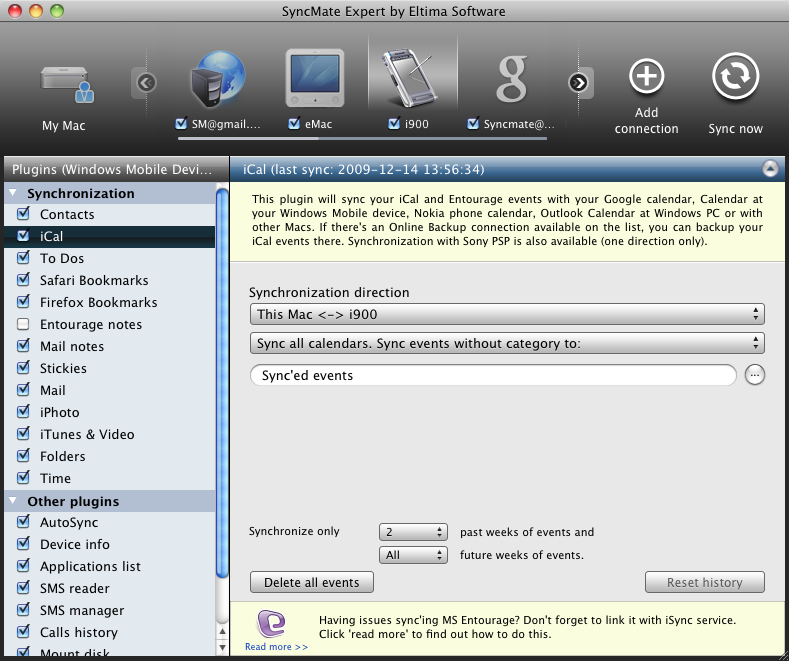 Let's suppose you have Mac and PC at home, a Windows Mobile or Nokia device in your pocket, a Google account with important Contacts and Calendar notes, a PSP device with your favorite games and you want all these devices and accounts to be synchronized. Of course you can copy each item and entry, from your Mac to your PC, duplicate Contacts or Calendar entries from your WinMobile device to your Google account, but… this an old fashioned approach and will take a long time. Or, you can install several sync tools in order to have all information up-to-date… In fact, synchronizing all these devices and accounts can be a real headache and you can barely imagine how much will it cost. But not any longer! With SyncMate you can easily sync various data in Mac with Windows Mobile or Nokia phones, other Mac or PC computers, PSP, USB flash drives, Google accounts and even back up data online! Keep reading for contest info.
SyncMate is offered in two editions, Free and Expert
SyncMate Free Edition enables you to sync Address Book and iCal entries in your Mac with their analogues in supported devices and back up these data to Online Backup account. Synchronization with Google Contacts and Google Calendar is also available. With SyncMate you can even sync your Mac Address Book and iCal with Android device! Once you've synced these data between Mac and Google account, it will be automatically synchronized between your Google account and Android phone (if auto sync settings are enabled in your Google account).
SyncMate Expert Edition provides all users with full access to all synchronization features. Sync iTunes&Video, iPhoto, Safari and Firefox Bookmarks, Entourage and Mail notes, ToDo's, Mail and even separate folders between your Mac and supported devices or accounts; create, send or delete SMS messages right on your Mac computer. With Expert Edition all users can even install any .cab files to Windows Mobile devices right from Mac computer. Moreover, with SyncMate you can sync data in your Mac and supported devices automatically (AutoSync option).  SyncMate Expert also supports real-time synchronization – once you have made any changes to files or folders on your Mac or connected device, they will be immediately synchronized (option is offered for Folders plugin and available for synchronization with USB flash drives, other Macs, Sony PSP, Windows PCs only). You can sync your Mac with supported devices via Wi-Fi, USB, Bluetooth, Ethernet or Internet. OS compatibility: Windows Mobile 5, 6, 6.1, 6.5 devices, Nokia S40 phones; Maс OS X version must be 10.4, 10.5 or 10.6. SyncMate is your all-in-one sync tool! No need to purchase several sync solutions – just download SyncMate and be sure, all your devices will be perfectly synchronized! More than that, with SyncMate you can sync all the devices mentioned above with each other (via your Mac)! You can find detailed information about SyncMate here http://mac.eltima.com/sync-mac.html.
How to win a copy of SyncMate
Prizes – 5 copies of SyncMate Expert Edition
How to win –  Between now and 3/26/10 Midnight EST, leave a comment to this post telling us what devices you'd like to sync together. On 3/27/10 five people will be chosen at random to win a copy of the software.
Rules – 1 entry per person, open to anyone in the world.