We use affiliate links. If you buy something through the links on this page, we may earn a commission at no cost to you. Learn more.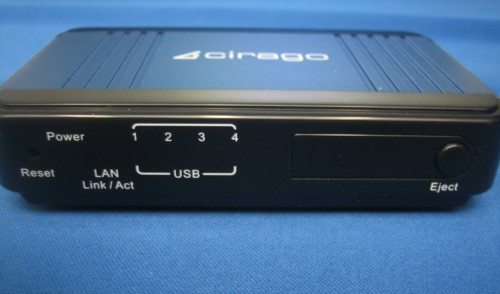 Cirago makes many multimedia products including the Cirago Multimedia Center 1000, CMC2000, and CiragoTV Mini Media Player reviewed by The Gadgeteer. Recently Cirago released the Network USB Storage Link (NUS1000), which turns your USB hard drives into network attached storage devices. Packed into a super small box (about the size of a handheld PDA) are 4 USB ports that can provide a web server, print server, media server, iTunes server and BitTorrent client.  That is a lot for a little box to do.
The Network USB Storage Link (NUS1000) comes with a LAN cable and AC adapter.  As the name implies, it functions to link your storage devices to your router.  There is no software needed.
The Basics:
Interface: 4x USB 2.0, 1x Ethernet (100Mbps)
Supported network protocols: Samba, SMB, LPR (print server), UPnP
Supported file system: FAT32, NTFS (read only)
Maximum Hard Drive Capacity: 2 TB
User accounts: 8
Warranty: 1 year
Included Accessories: User manual, RJ-45 cable, AC adapter
Dimension: 4.4'' x 2.8'' x 1.0''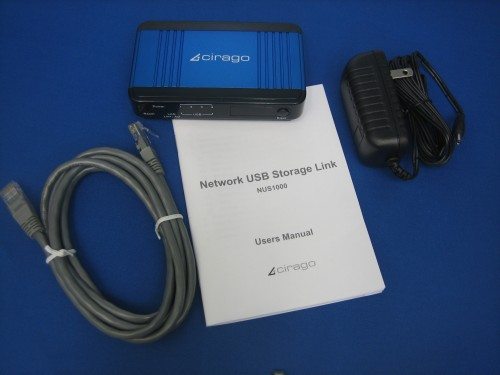 The NUS1000 can act as a web server, file server, BitTorrent client, iTunes server, media server, and print server. That is a lot for a small package, but essentially the NUS1000 acts as a middle man by managing links to USB storage devices and printer.  Most of the servers are managed from the web interface by pointing to a desired path.
Each USB port can accept a maximum of a 2 Terabyte storage device, which makes for 8 Terabytes total. According to the manual, they do not recommend using more than two 2.5″ USB storage devices  (e.g., USB flash drives) subject to the power limitations of the included power adapter and rating of the USB drives.  Therefore, when plugging in multiple devices, it is probably a good idea to use external power provided with each USB device, if there is one included.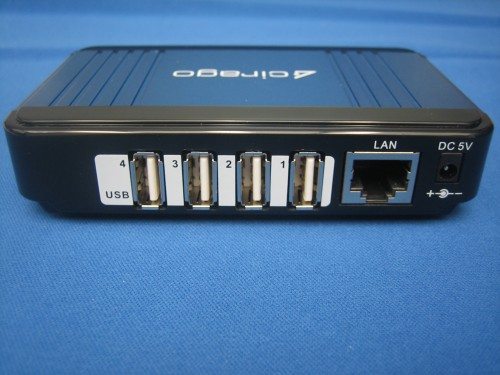 Installation is not too difficult as there are only a few things to plug in: power, LAN cable and USB devices. The no-frills web interface centralizes setup, management, and maintenance.
The front of the device looks like a traffic light. Blue is power, red is LAN, and yellow is USB connected.  Although the manual says connected USB devices show green, my device showed yellow.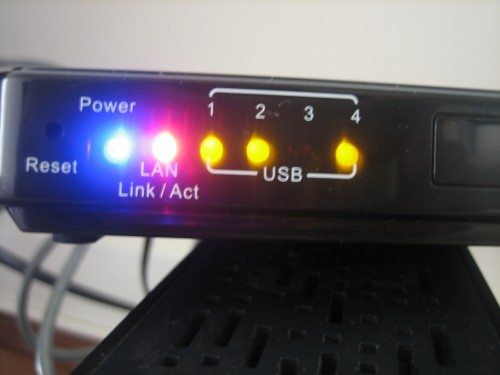 In my setup I used a WD My Book in port 1, a USB jump drive in port 3 and 4, and a Epson Printer in port 2.
The user manual provides thorough step by step guidance for setup including screen shots.  The quick setup guide is really quick. It is a sticker inside the box! To get started connect to the NUS1000 using the given user name and password combination.
The best way to get to the web interface once you have everything plugged in and powered up is to use http://nus1000:1010 or http://<yourIP address>:1010.  It's a good idea to bookmark this page. The following screen shot displays the home screen.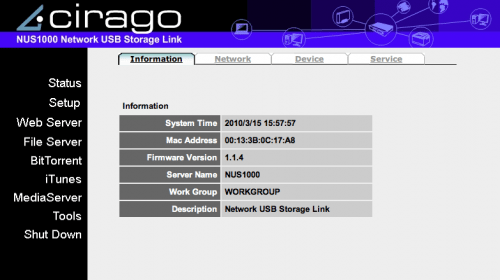 The status menu displays general information of the hardware setup. Each USB device attached to the NUS1000 is shown in the device screen.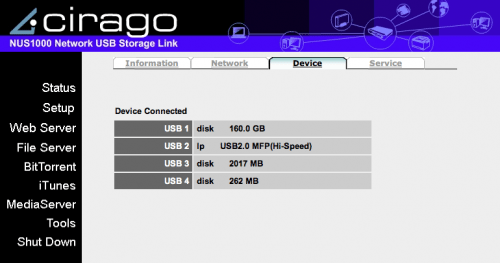 The setup menu allows those that are more technically inclined to tweak IP address settings. Setup also allows you to change password from the default. Changing passwords is highly recommended.
Additional detailed information is available under the Tools menu, storage tools tab. The formats supported are FAT32 and NTFS. Other formats are shown as "UNDEF".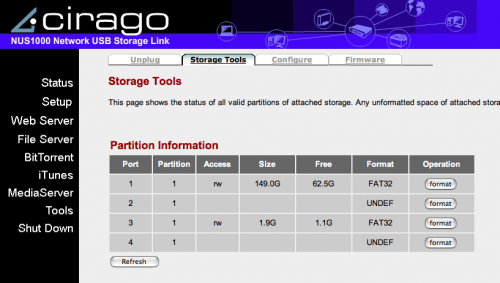 The file server menu allows you to create up to 8 user accounts to manage access rights to the various network connected devices.
The BitTorrent client allows a directory to be selected as a destination for downloaded files.  BitTorrent downloads can be effectively monitored using this interface. The limit is 5 torrent files on the list. When completed each should be removed from the list in order to accept a new seed.
To setup the iTunes server and media server, use the web interface to point to one or more music/media directories. The default allows the scanning of all attached drives, although it is recommended to limit the scope by indicating a directory. iTunes displays the shared drive under NUS1000 (or other chosen name). It took a few minutes for iTunes to pick it up, but when it does it comes up as a shared library.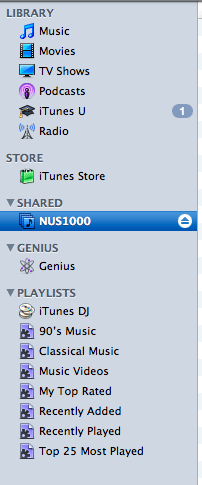 The device also acts as a simple web server that allows you to save your web page content to a specific path. You can access your website via http://nus1000:1010 or http://<yourip>:1010.  It takes some additional technical know how in order to make the web server accessible from the Internet. This involves assigning a fixed IP for the device and port forwarding from the router for http traffic to the device.
The NUS1000 can also be configured to network in a USB printer. There is no printer setup available through the Cirago web interface.  Each computer on your network should be configured separately to the printer. Printer setup on a MAC was much easier than on a PC.  I used the manual to guide me through printer set up. My 2 PCs did not connect to the printer, but my 2 Macs had no trouble at all. Your printer must support LPR in order to work with this device.  For purposes of this review I give the print server a low grade.  It may take some advanced tech support to figure this out. Keep you posted!
According to the manual, the most efficient way to unplug connected USB devices is to use the "unplug" command in the web interface. Alternatively, the eject button can be used before unplugging any connected USB devices by holding it down for 1 second until the USB LEDs are off.
A note about file formats:
The NUS1000 supports NTFS file format in read only and FAT32 in read/write. FAT32 is a file system that can be read by PC and Mac. It is important to know that FAT32 file size maxes out at 4GB.  NTFS is a file system for Windows, not Mac. The NUS1000 provides read only capabilities for NTFS files, meaning there is no way to modify, delete, or rename a NTFS file using the NUS2000.   There are tradeoffs here. On one hand using NTFS, no one can modify files but if you are going to be working with over 4GB files that you want to modify (e.g., video/audio editing) this is not the device for you.
Overall this is a super small unit that does a lot of things and best suited for home users who want to share files among several computers. The weakness is the printer server.

Product Information
| | |
| --- | --- |
| Price: | $69.99 |
| Manufacturer: | Cirago |
| Pros: | |
| Cons: | |