The Gadgeteer is supported by readers like you! If you buy something through links on our site, we may earn an affiliate commission. Thank you! Learn more.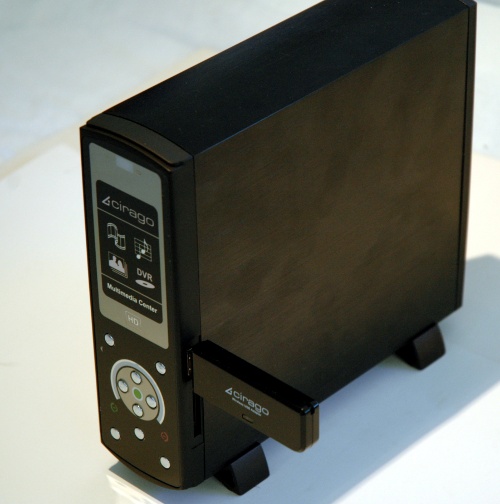 The Cirago CMC1000 Multimedia Center is an enigma. I've never heard of the company, or the product. Google found a few online sites that carry it, so I can tell you the 500GB model I am reviewing sells for under $190 online, and its 1TB version goes for about $60 more. It sure seems like a product that someone might like, I'm just not sure who that person is.
The little box arrived for review, and I spent a good few minutes examining the package before I even opened it up. What was this beast? Was it a media player? A PVR? A NAS? Checking the specs and the marketing-blurbs on the box didn't help much.
Top of the fold (as it were) the first feature is Record Video or Timeshift Live TV. That means there is a tuner or three in this box, right? Well, not exactly – look on the back, and (again, right there on top, first thing you see) there is a section for Digital Video Recorder. Records Live TV it says, very confidently. But how? Down at the bottom of the feature list we see Video Input: AV. OK, you now have my undivided attention! Looking at the back of the unit as pictured on the box, I see – no, it can't be – a composite video connector + L/R RCA audio jacks over a label saying AV Input! Is this 2009? Well at least I can set aside all worries about HD video recording, clear QAM tuner issues, or Cable Cards! The rest of the specs and connectors seem somewhat plausible, except for one last detail. The networking spec says 10/100 wired Ethernet, and they helpfully include an 802.11b/g USB dongle for wireless support. Yikes. Let's hope we don't need to move big files onto this thing over a network!
With serious misgivings, I opened the box.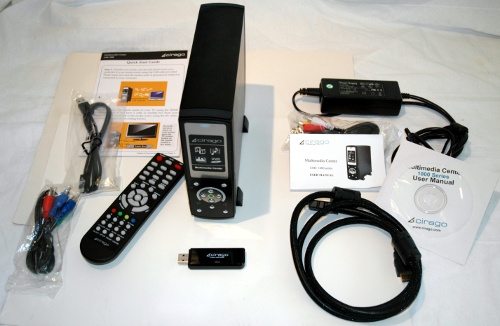 Sure seems like a lot of stuff in there! A rare but refeshing difference from many products is the inclusion of all the cables you'd need to hook this beast up to your home theater with the exception of a coax or optical digital audio cable. You're given one self-assembly job – attaching the feet to the box. If you're going wireless, you'll need to insert the WiFi usb dongle into the side USB slot – you can do that at any time, even with the unit on.
Setup
I used the analog composite + L/R audio jacks to connect to an ancient Tube TV, and sure enough the unit was able to provide a readable menu. For the purpose of all the review shots I hooked it up to a 37″ 720P LCD using the HDMI connection.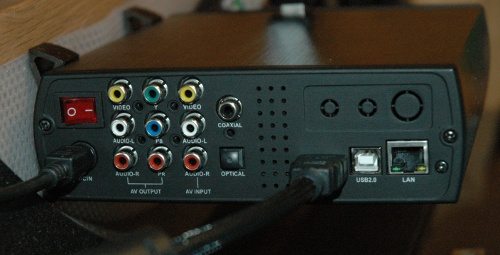 That gives a very clean and simple hookup – the left (bottom) plug is the power connection, the right (top) is the HDMI. With that, you're good to go with any digital TV made in the last few years. The back of the unit (shown rotated above so you can read the labels) has the Big Red Switch for power, two banks of analog outputs (composit and component), the composite + L/R analog AV Inputs, the Coax and Optical digital audio outputs, a single HDMI port, USB port, and 10/100 Ethernet port.
Turning it and the TV on, the system comes up in a conservative 4:3/480i video mode and I am greeted with a fairly simple but not too hard to figure out menu. Using the remote to navigate is straightforward for any child and many adults, as it looks much like a DVD or PVR remote.

To get the best experience you configure the video and audio to match how you've connected the device to your home theater, and its capabilites, via the setup menu. If for some reason the device ended up in a mode that doesn't display on your TV, there is a "TV SYSTEM" button on the remote that, when pressed, cycles through the various video output modes. You can keep pressing that until something shows up on screen, although I admit the unit I reviewed never had a problem detecting how it was connected.
You begin with the main menu – navigate over to Setup to get started: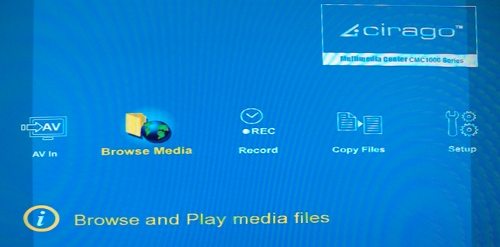 I apologize for the moire (squiggly lines) and slight fisheye effect on these screenshots – taking digital photos of an LCD isn't the easiest thing in the world! On an actual LCD the menus were very clean and pleasing. Setup lets you configure Video, Audio, Recording default quality, Network connection, and some low-level system stuff like disk formatting.

Video supports 4:3 and 16:9 aspects, 480i (standard TVs) and 480p/720p/1080i (digital via HDMI or Component) output. I was pleased with the quality of the image across all modes- within the limits of the various systems, the image was clean and sharp with reasonable color and free of ghosting or other obvious artifacts.

Audio out includes analog L/R, or Digital via the HDMI, Coax, or Optical outputs. There is a Night Mode (clipping some of the dynamic range) for those with little kids and thin walls.
All in all, the output connection options are very good. The box is not able to output 1080p, but that is not likely to be an issue given the limitations of its media playback abilities. More on that in a moment. I'll skip the tedious but typical setup of WiFi and note that you must enter your WEP or WPA key in hex – a somewhat annoying throwback to a bygone era for most home-networking appliances. On the plus side the device linked up just fine to my home WiFi. I also plugged in the wired Ethernet, which pulled an IP address from my home DHCP server just fine. Both network methods work without much fuss.
Let's finish the tour of the box and then get on to the business of using it!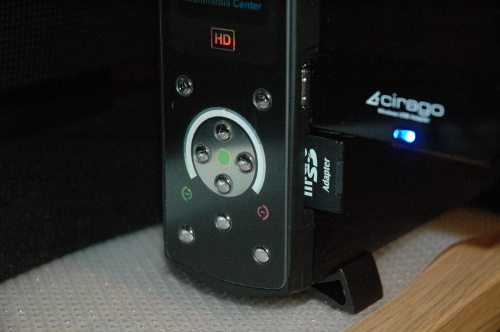 The bottom front and right side have the rest of the interesting bits of the unit. The front has 7 buttons that replicate some of the functions of the remote, along with a green power LED and a red record LED. On the right are another USB port (occupied by the supplied WiFi dongle with its own blue LED) and below that an SD slot. You're on your own if you have mini/microSD cards or CF cards, although I can report that all my various adapters worked just fine.
One last odd thing – the box has no fan, it should have been quiet as a mouse. For some reason the review unit's hard drive created some kind of vibration that was transmitted to every kind of surface I tried. The resulting hum was at least as loud as a cooling fan and was present whenever the unit was on.
What Is It, Really?
So, what is this thing? It's sort of a frankenstine monster – a mishmash of functions in a small attractive box. In the end it sort of does most things kinda well, and others not so well, which I found frustrating. I found myself rooting for it to succeed whenever I tried to use it, only to find myself disappointed many of the times. Let's start with something simple
It's a USB Disk Drive
Connect a USB cable between the CMC1000 and your PC/Mac/Linux box and like magic, it's a USB 2.0 disk. It performed admirably as such, giving decent read/write speeds of close to 17MB/second. There is only one small issue. As shipped the drive is completely formatted as a Fat32 disk. In that mode the unit can use the whole disk to record (more on recording in a bit) and you can copy as much as you want to it, but no single file can be larger then 4GB. If you want or need to copy larger files, you will need to reformat the drive (via that System option in Settings) to split it between Fat32 and NTFS partitions. The unit can read NTFS but cannot write it, so that portion of the disk won't be available for recording. You can see how this is going to go by now, can't you?
So one thing you can do is copy a bunch of media onto the internal drive – haul the thing and its brick to your PC, mount it as a disk, load it with goodies, and then bring it back to the home theater. Not the best use model, but it could work. Let's assume you do that, and now its back over by the TV…
It's a Multimedia Center
Time to play some media! Go to Browse Media (see the first screenshot above) and hit the OK button and you see this: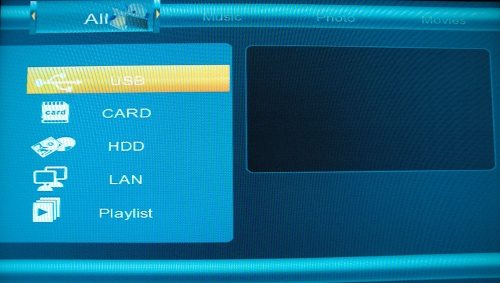 Yes, it is a simple file browser. Across the top of the menu you can filter by media type (All, Music, Photo, Movies) and on the left you select where to look (USB, Card slot, HDD – internal disk, LAN, or a playlist you've created before.)
If you copied stuff onto it, you'll find it under HDD. You'll want to do that if the media you are trying to play is to demanding to play over 802.11g WiFi, or if you can't get a good signal to the box. With a decent signal and not very demanding content I used the LAN. The first time you connect to a device on your LAN you are prompted for a User Name/Password (if needed) and you can save that information in a "Shortcut" which you can use from then on to bypass the login. This works reasonably well.
Audio
Below is an example of playing an MP3: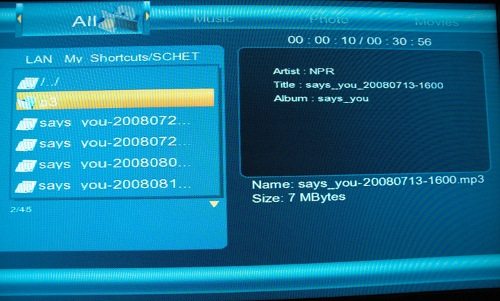 You get some useful information as it plays, and not much else. It works as expected, and plays MP3, WMA, AAC, and OGG audio formats. It won't play any DRM'd files, and can't see shared iTunes libraries. It plays files.
Video
Let's play a video!  Prepare yourself for some disappointment here. Video playback requires a discussion of codecs which is beyond the scope of this review. Suffice it to say that for an appliance (like this CMC1000) you'll be able to play media it can play, and you won't be able to play whatever it can't. So, what can it play? It did pretty good with mpeg-ish stuff (mpg1 and mpg2 video, transport streams captured off cable, even ripped DVDs if they were copied onto the device) and it did ok with divx (some content downloaded off the Internet.) It failed at h.264 mpg4.
The browsing experience over the LAN is also a little problematic, since it wants to give you a preview for each video. Pause too long on a file name and it runs off and checks the LAN speed: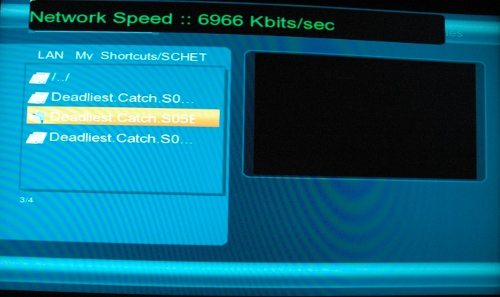 Then it gives you one of two results. The happy result is a preview of the video playing, along with media info: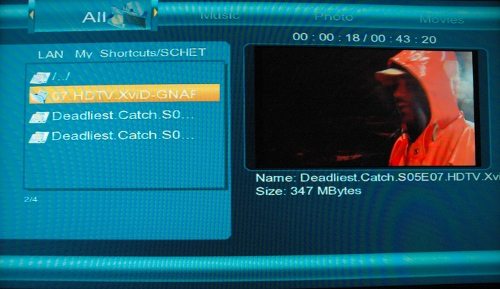 The sad result is an error message (slightly misleading, if you ask me) if it cannot play that type of video: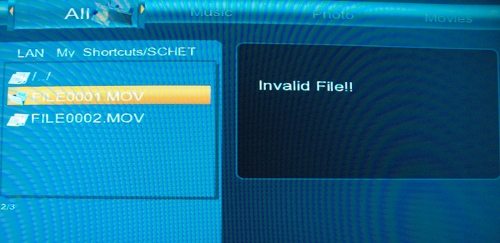 I didn't bother taking a photo of the video playback, as it was actually quite good (or rather, its as good as the source material) and the photos I attempted looked atrocious! If it can play your video file, it plays it quite well.
This then is the first major shortfall of this device. It failed to play quicktime/mpeg4, and other variants of h.264 videos. That's the format used by a lot of HD video on the web, and many digital video records like my own Aiptek Action HD. In other words, I can't view any of the hundreds of hours of video I've shot with the CMC1000. Not good.
There is some kind of streaming software provided on the CD – you can run this on a Windows PC on your LAN, point it at your h.264 videos, and then use the LAN view on the CMC1000 to stream them (converting on the fly to mpeg on the Windows machine) to the box. I assume it works, but frankly its not a solution to the problem.
Photo
Photo browsing from a LAN or internal store works much as video/audio. One typical use might be to view your freshly shot photos (or videos – if only it supported my video format) simply by connecting up the card from your camera.
Yes, it works. First, you get your card out, and then you plug it in. Hmmm… my Nikon D70 uses those large CF cards, guess I need to use my USB adapter. Uh, wait: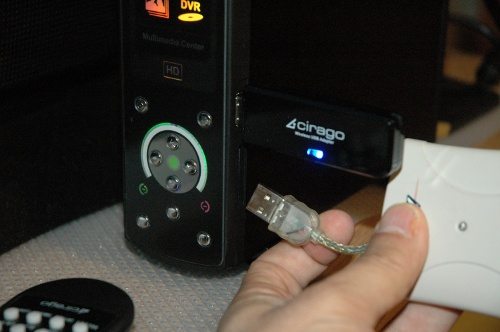 Minor annoyance – yank WiFi out, plug in card and…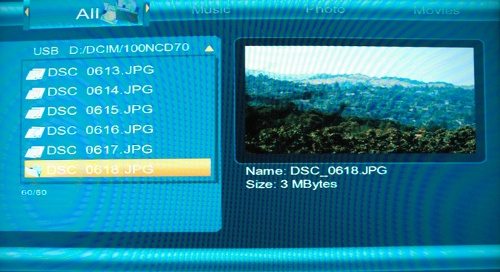 Yay! The CMC1000 will happily play a slideshow of all images in a folder for you, with pleasing transition effects.
Its a VCR
I've finally figured out the recording model of the CMC1000. Plain and simple, it's a VCR without the tapes. You can create schedules to record whatever is coming in via that AV composite connection at a given date and time, in whatever quality you desire. Selecting a higher quality uses more disk (the highest seems to be about 1MB/sec mpg2)
To test the function, I dug out my old DV camcorder, hooked up the analog output, and recorded a few clips. As advertised, when you select AV In from the main menu you see (side-boxed in 16:9 mode) whatever is going into that input. It's playing/buffering, so you can Pause (up to 30 minutes or so) and then play/ff the signal. You can also simply hit the Record button to start recording (in a file with the current date/time stamp) whatever is going in.
This is a frame capture from the source (16:9, squeezed to 4:3, resized to 16:9 – isn't analog FUN?) from the recording I made in the highest quality: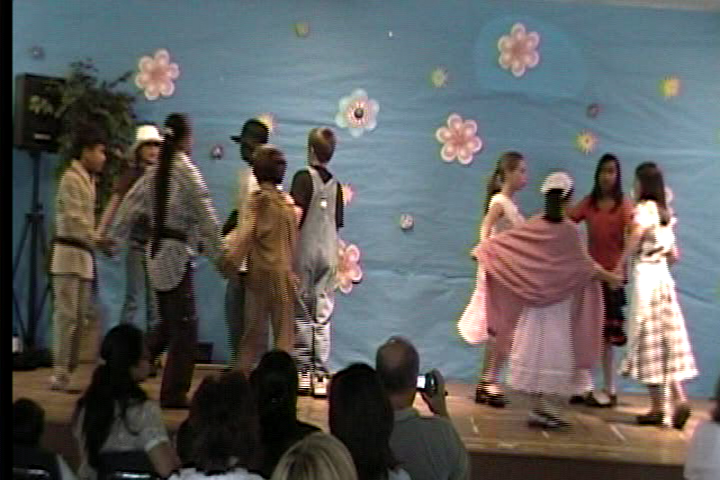 The files it produces are standard mpeg2 videos – you can copy them off and play them on a PC, burn them to a DVD, whatever. Is that a PVR? Well, not in the Tivo sense, no. It's a video recorder plain and simple. Perhaps what's worse is its an SD-video recorder, on a "HD" Multimedia box.
It's a handy storage thingie
If you can plug it into the CMC1000, you can copy stuff onto or off of whatever you plugged in. For example let me grab those videos I recorded and dump them onto an SD card. Insert Card: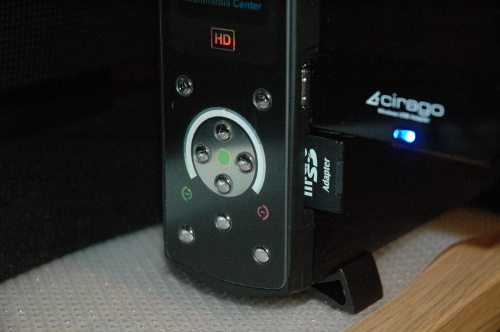 Use  Copy Files on the main menu to select source and destination: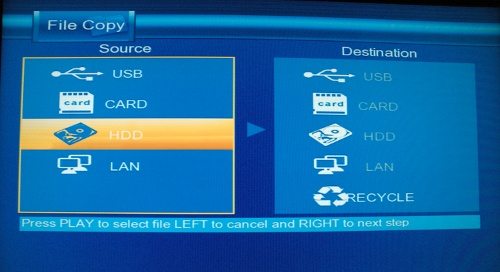 And without much fuss it copies the stuff over. You could use it to quickly dump your photos from your digital camera without needing to boot a PC, for example.
I was also able to copy media off the LAN onto the HDD, and vice-versa, but the painfully slow speed of WiFi (or even 100mbit wired) makes this a poor choice. Trust me, you are better off using a USB drive, or carring this thing to whichever PC you want and plugging it in directly, unless you have hours to kill while your media trickles over the slow network links.
Its NOT a NAS
The CMC1000 lacks the ability to share its hard drive on the network. Yes, you read that correctly. It seems an obvious function of a network device with a disk drive, and yet it's not supported. The device firmware can be updated, perhaps that will come in a future release.
Does It Blend?
The Cirago Multimedia Center is in the end the sum of the compromises needed to get all the various functionalities it offers into a small, cheap box. If it does what you need, it could be a great way to get a toe into the digital media age. I can't help seeing all the flaws, but maybe my expectations are just too high.
Product Information
| | |
| --- | --- |
| Price: | .5TB $190.00 |
| Manufacturer: | Cirago |
| Requirements: | WiFi or Wired LAN, Composite, Component, or HDMI TV, Composite AV source |
| Pros: | All-in-one box, Easy setup, Decent feature set. |
| Cons: | Missing support for common Mp4/h.264 video formats, No NAS functionality, No Gigabit/802.11N networking, only analog video in. |