We use affiliate links. If you buy something through the links on this page, we may earn a commission at no cost to you. Learn more.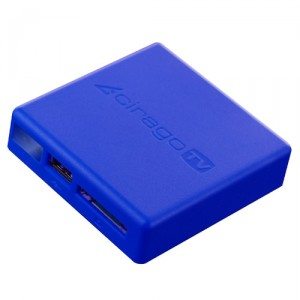 Using an SD-Card, FlashDrive, or even a multi-Terabyte USB HardDrive, the CiragoTV Mini lets you playback videos, pictures and music that you downloaded or created at your computer on your television in beautiful 720P or 1080i ( and 480i & 480p for any tube owners ). This isn't a networked UPNP media playback system with wireless or even ethernet: it's a far simpler solution utilizing the classic SneakerNet to transfer files on a storage device. For around $70 retail, you'll get a box a little bigger than a deck of cards with AV and HDMI output, a remote, AC adapter, and some composite AV cables. Plug your SD card ( Or USB hard drive/flash drive ) into the CiragoTV Mini, and it's quickly being shown on your television in excellent quality. Read on for more information…
Since CiragoTV Mini's sole purpose is to play media, in my opinion there are just two concerns; The first is what formats the device supports. My video files are in a multitude of formats, so having a device compatible with the majority of my files is seriously important. I don't want to re-compress anything if possible. And the second is the playback quality; how well does it play on my current TV and on the flatpanel I'll eventually have in my living room. In both areas I've been satisfied with the CiragoTV Mini, but thats because most of my files are in SD formats. But even a few DVD's compressed down to around 256MB ( created back when my PSP had a 512MB MemoryStick Duo ) looked decent and surprisingly viewable, even on an a 720P plasma.
I have to admit something here; I still have a 32″ tube television. It's a nice one, but it's still ancient technology. I used this monstrosity for all the screenshots below and some of the testing. But we also spent a night watching this through the HDMI output on a 720P 42″ Plasma TV, and even though most of my files were SD the output scaled nicely. Of course the higher resolution AVI files played back beautifully on the plasma TV, and we quickly realized we're probably the only people in Brooklyn without a flatpanel TV. Hopefully Santa is going to rectify this.
I ended up playing files in Divx, AVI, MPEG 1,2 & most 4, and almost all played without problems or hiccups. There were a couple known-bad files I tried to play, and mostly these just refused to play. But a couple times I needed to unplug the device's power cable to play new files after it 'froze'. Overall the playback quality was impressive considering most of my video is SD, and I found the UI completely useable although it could look better ( IE: more modern – reminds me of XP ). There is built in support for VOB files & and subtitles too- along with customization of the colors involved which is nice. But the bad news is MKV and M4V files both fail to play back, which could be a serious limitation. Since I've been dealing with a tube TV, and most of my files are AVI or Divx SD, I can play almost everything in my library. But a close look at the device's playback compatibility and your video file formats is a must before purchasing.
Included in the box is the CiragoTV Mini unit, a remote, a AC Adapter, and an A/V cable with composite video & RCA Right and Left audio connectors. On the front of the unit there is an IR sensor, a USB port, and a SD/MMC card slot. On the back is an HDMI output, but the cable is not included, and there is an A/V port for the included composite ( not component ) cable. There is a small wall-wart power adapter included that also plugs into the back. The remote's batteries are pre-installed and protected by a plastic tab you remove to activate the remote, and the video/audio cable is about six feet long. The digital output is, obviously, sharper and cleaner than analog.
Overall, I'm really enjoying this little box, more than I thought I was going to. The small size of the CiragoTV Mini makes it totally portable, it's a little bigger than an older iPod, so taking it with you to a friend's house or a hotel makes watching your media on any tv completely possible. I've got about a dozen 1GB to 4GB SD cards floating around, and copying files to one of these cards and popping it into the CiragoTV Mini is almost second nature to us now. Plus the USB port lets you to also keep a huge hard drive plugged in as a permanent addition to your media center and use the SD cards just for new files. The flexibility of the USB and SD/MMC reader plus the great output makes this a real winner in my opinion – I recommend this device as long as it will play back your videos in your existing library & please remember to check for format compatibility before purchasing.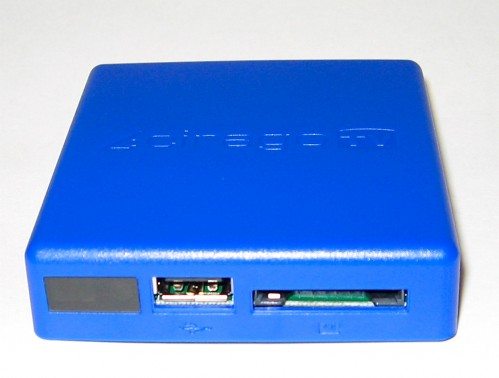 The front of the unit has an IR window ( With the red/blue power indicator LED inside ), the USB port, and the Card slot. I tried a USB Flash Drive, USB Hard Drive, and a USB Card Reader; all worked without problems in a FAT32 format.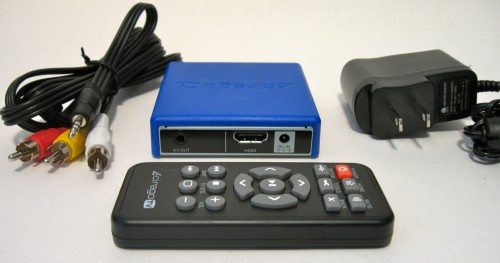 The reasonably long AV cable and power adapter, the remote, and the CiragoTV Mini. You get an idea of how small this device is from the picture. The little rubber feet on the bottom helped it stay put on a wood shelf and on the metal top of an A/V receiver.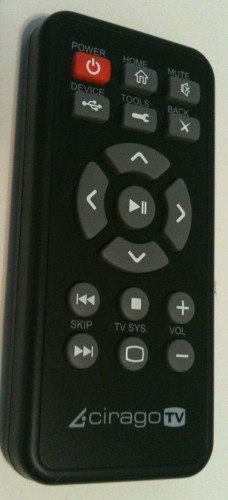 The remote has some nice features; a USB device button to switch between media containers, mute and volume, but no fast forward. You have to open the menu while video is playing to fast forward in 2x, 4x, and 8x increments then one more press puts in back into normal playback speed.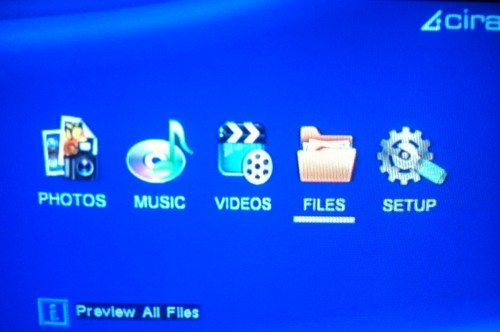 The main menu lets you select media types to playback, look at the files through a file-system browse, or setup the CiragoTV Mini.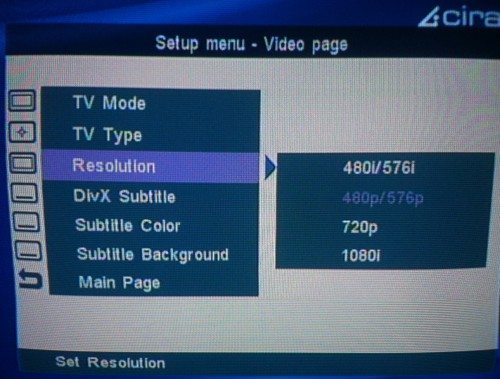 The CiragoTV Mini will work with almost every SD and HD set out there with the composite and HDMI outputs.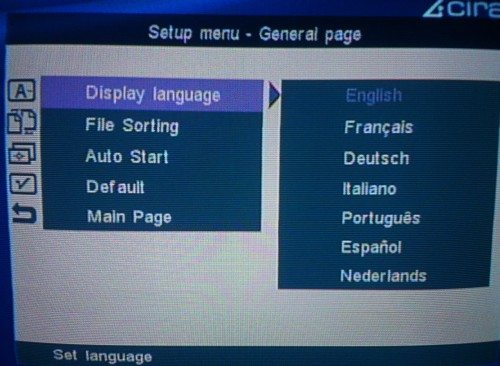 The unit also supports 7 languages.
Product Information
| | |
| --- | --- |
| Price: | $69.99 |
| Manufacturer: | Cirago International Ltd. |
| Pros: | Compact, simple operation, excellent output, comparatively inexpensive. Video Formats Supported: MPEG1 (dat, mpg), MPEG2 (vob, mpg), MPEG4 (avi, divx, xvid) |
| Cons: | Doesn't support MKV, M4V, some MPEG4 containers, UI is pretty basic & a bit ugly, bright LED on front of box, only composite cable included |