We use affiliate links. If you buy something through the links on this page, we may earn a commission at no cost to you. Learn more.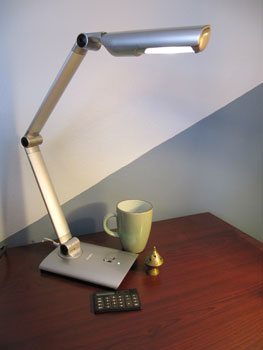 The Energizer Light On Demand (LOD) Swing Lamp ($29.99) is an LED lamp with an interesting gimmick:  It has a power sensing mode that turns the light source on automatically if power is lost.  It can also be angled, looks sleek, and its light source can be slid out and removed from the base.  So there are actually a number of interesting points about this lamp over other more "standard" LED lamps.  Let's take a little deeper look at this.
As mentioned, the main feature of the LOD lamp is that it can be set up to turn itself on when there is a power outage; thus saving your toe when fumbling through the house when your other lamps go dark during a thunderstorm or other power crisis.  You can then also slip the light source out of the base and voila you have a portable flashlight that is all charged up and ready to go.  This, (the fact that you can remove the light from the base during a power outage and have the thing be charged) is a nice plus.  I can't tell you how many times the power has gone off in my place and every flash light I've had stowed away for such purpose either can't be found or has bad batteries.  And as for re-chargeable torches?  Well I don't use them because they take up space at the outlets and I always forget that they are there.  The nice thing about the LOD lamp is that it can be used every day on your desk and yet at the same time be placed into the "auto" prepare mode.  And it's always available at the tip of your fingers.  Imagine having to run down to the server room and not having to search for a flash light — just pop the source out of your desk lamp and pop it back when you return.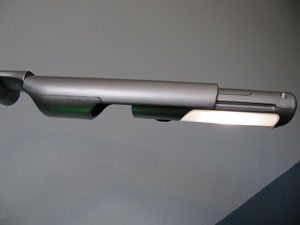 The power specs on this light:  6 V, 0.7 A; two LED's — one for dim or low light, and one for brighter output.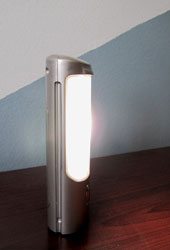 To operate the unit in normal "lamp" on/off mode,  plug the unit in  and just set the base's switch to either "off "or to one of the "low" or "high" "on" settings.  Switching the lamp to the "auto" mode turns off the light source but continues to charge the batteries.  Then,  if power is lost, it will turn on automatically.  When the light source is illuminated, it doesn't put out a lot of light, but that's pretty much a fact of life with LEDs.  This fact is not so annoying, though, as the green diode on the base that is constantly on – even if you turn the unit to the "off" mode (a similar though not-as-bright amber lindicator illuminates in "auto" mode).  This green mini-sun is glaring at me right now as I write this and I think is one of the main reasons that I got the unit on sale ($19.99).  It's really bright and really annoying.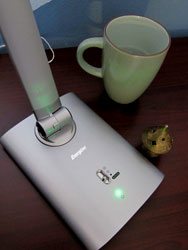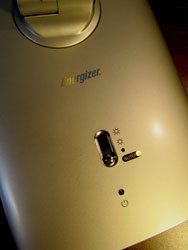 Despite this green piercing eye-burner, there are still nice amenities about this lamp including a heavy base so that it will not tip over; three adjustable joints to achieve a height and depth from its arms; and a nice clean look.  But on the down side the articulation is stunted by the fact that you cannot swivel the light more than about 10-15 degrees.
In summary, this is a nice-looking and well-made lamp, and has the built-in feature to charge the removable light source, making it very useful without causing excess clutter.  But the super-bright on/off indicator light and lack of swivel capability are some things to consider before making the commitment if you plan to use the lamp every day.  I like it and its features enough to want to keep it.  But as with a lot of cool stuff that I've tried out, I'll have to end up modifying it with a piece of duct tape over the green indicator light.  Course, then it won't look as sleek, but I'll be able to catch a few zzz's at my desk once again.

Product Information
| | |
| --- | --- |
| Price: | $29.99 |
| Manufacturer: | Energizer |
| Pros: | Nice desk lamp that auto charges removable light source; heavy, sturdy base, swivel arms |
| Cons: | Overly bright green indicator light when unit is not in the "auto" mode; can't swivel the light source too much |