We use affiliate links. If you buy something through the links on this page, we may earn a commission at no cost to you. Learn more.
A few weeks ago, I submitted a news article about the new Custom Book Pouch from Renaissance Art, a maker of beautiful, handmade leather goods based in Santa Fe, NM.  Renaissance Art designed these pouches as a storage or presentation pouch for paper books.  But since 99% of my reading is on my Sony PRS-600 digital book reader and since I subscribe to the opinion that one can never have too many cases for a beloved gadget, I immediately thought the pouches would make a great case for my Sony reader.  I was thrilled when Julie told me that the people at Renaissance Art were willing to send a Book Pouch to The Gadgeteer for review – and I was the one who got to do the review! 
Because the Book Pouches are custom made to your specifications, the ordering process requires a few decisions.  Based on the length, width, and depth of your book, you choose either the small, medium, large, or x-large size to determine the starting price.  These sizes vary in price from $55 for the small (max. book size of 4.5 X 7 X 2.5 inches) to $95 for the x-large (max. book size of 9 X 12 X 2.5 inches).  You send along the exact measurements so they can customize your pouch to your book.  I wanted to use this pouch as a protective case for my reader in another cover, so I measured the Sony reader in both covers I currently own for it.  I found the two covers were almost identical in size, and they fit into the medium-sized pouch ($67).  Choosing the leather colors was fun, because there are twelve colors to choose from.  Some colors are described as "elegant" with a shiny surface, and some were described as more rustic and appeared more matte in the picture.  I was tempted by the sunflower yellow for the exterior, but I ultimately decided on the cranberry red – because I always choose red.  I chose the black/ebony color for the interior.  Two closure options are available – a simple snap or a long leather lace that you wrap around the pouch.  Because I want to use the pouch when I carry the reader in my purse, I chose the snap closure.  I thought that would be less likely to get tangled up in all my other purse stuff.  You can specify a little extra depth added to your pouch; I requested a quarter-inch extra depth, but you can choose up to a half-inch.  None of these options added extra cost to the base price.  Finally, you can add up to three lines of personalization at $12 per line.  You can specify where you'd like the personalization on the pouch, or you can leave it up to the people at Renaissance Art to decide where it looks best.  I didn't request any personalization on my pouch.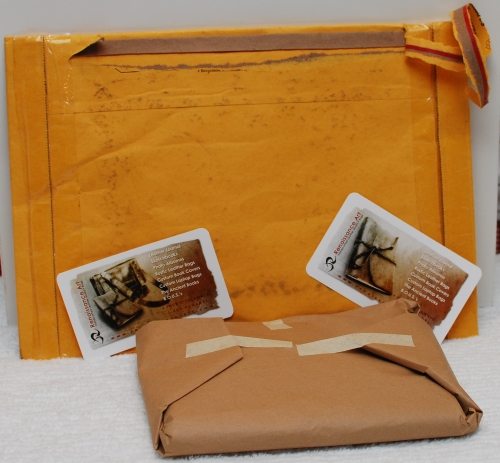 Have you ever received a fine leather item in beautiful packaging?  You know – the heavy, expensive box that you open to reveal the beautifully constructed fabric bag cradling the leather goods inside?  At first you are impressed by the luxury, and then you think:  "Wait a minute!  How much of the cost went into this packaging?  How much less would this have cost me if I didn't have to pay for all this other stuff?"  You don't have to worry about that with Renaissance Art.  My Book Pouch arrived in a flat manila mailer, wrapped in plain brown paper that was held together with masking tape.  The people at Renaissance Art know how to make a presentation, because they save all the beauty for the item that really counts.  You open up that brown paper, you get that subtle whiff of leather, and you can see that every penny went into that beautiful leather item that they hand-crafted just for you.  Nice!
When I picked up my Book Pouch, I was impressed at how soft and flexible the leather is.  I looked at the edges, and I saw nothing but the interior and exterior pieces of leather – no cardboard or any other substrate to add thickness and substance.  The two pieces of leather are pretty thick, too – about 3 mm thick on the flap edge.  The colors I chose are apparently part of their "elegant" finishes.  The cranberry red color is a rich, deep bluish-red with a very glossy sheen.  The color is a bit mottled or marbled, just as you would expect from color added to natural leather.  Looking at the edge of the leather shows that the color goes all the way through.  The glossy finish almost appears cracked because of the flexible leather, but close inspection shows that the finish is completely intact.  These "wrinkles" add an interesting texture to the appearance.  The interior leather is a deep, even, glossy black, with the same wrinkled texture.
The upper edges of the front and side pieces are nicely finished.  They appear to have been shaved down and the exterior piece folded over to make a smooth edge the same thickness as the rest of the piece.  The snap is plain and silver colored and is centered on the front flap.  The stitching is very even and straight and done in a heavy black thread.  And did I mention the smell?  I don't notice any petrochemical smell at all from the dyes or finishes – just a nice leather smell.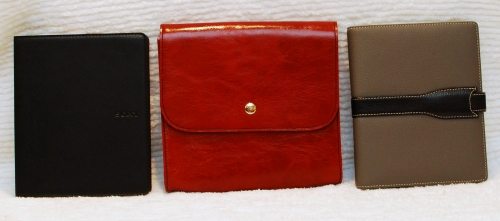 Okay, this Book Pouch has a great first impression, but how does it perform?  I expect it to be the protective outer cover for my reader.  I expect it to protect my reader from getting gouged by pens and keys or anything else that could scratch.  I expect it to provide a little extra strength to protect the screen.  And remember the manila envelope and the brown paper?  I expect that this pouch is going to hold up because Renaissance Art gave me the impression that they know their products are going to wear well.  It didn't have to be coddled to ship it to me, so I shouldn't have to coddle it in daily use.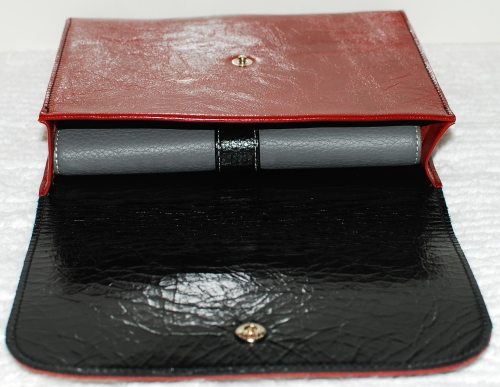 First of all, how does it fit?  I tried the Book Pouch with both of my covers.  Both covers fit perfectly.  The extra depth allows me to get my fingers in there to grab the reader for easy removal.  I've been using the lighted cover, so I put my reader in that cover, put it in the Custom Book Pouch, and just crammed everything in my purse along with my wallet, cell phone in a leather pouch, my keys, sunglasses case, and sometimes my iPod Touch.  I dragged the Pouch out whenever I wanted to read, opened and closed the Pouch many times, and it still looks great.  With stiffer leather, I would expect a crease to start forming or perhaps the edge of the flap to start curling up from pulling up on the flap to open it.  The flexible leather just returns to its original state with no permanent effects.
The Book Pouch still looks great.  It works great as protection for my Sony reader.  It is much thicker than the neoprene netbook sleeve I'd been using in my purse to protect my reader.  Of course, the Book Pouch wouldn't protect from serious crushing – say a car running over my purse – but it works beautifully to protect my reader from normal perils.  It keeps keys and pens away from the screen, and it provides a layer of cushioning against bumps and slight drops that might happen with my purse.
Never miss one of our posts again. Sent MON, WED, and FRI with the latest gadget reviews and news!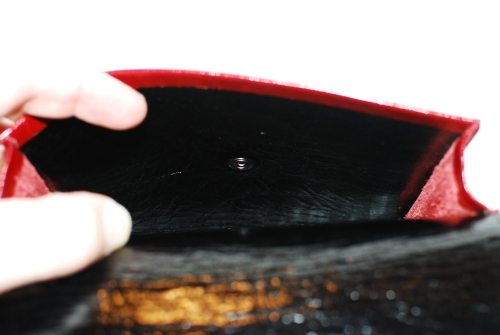 I do have two concerns, both involving the snap.  The bare metal back of the snap is exposed on the inside of the Pouch.  It does "sink in" to the flexible leather, but I worry that it could scratch a "naked" reader while pressing the snap closed.  I also worry that pressure on the reader while closing the snap could damage the screen, again especially with a naked reader.  Even though I have my reader in a cover, I make sure that I face the back side of the reader to the snap.  I don't mean to imply it takes excessive pressure to close the snap.  I'm just exceptionally careful with my gadgets.  (I know what you're thinking –  and "obsessive/compulsive" is such a harsh term!)  Using a magnetic snap would make it easier to close without putting undue pressure on the reader.
It almost seems a shame that I'm using this Book Pouch inside another bag.  I think this would make a nice, simple clutch purse for daily use or even as an evening clutch. With the variety of sizes available, you could design it just the size you need to hold your wallet, cell phone, and other essentials.  I like the way it looks now, but I'd like to see how it looks with two snaps pushed out closer to the outside edges of the flap.  I think two snaps would make it even more appealing to me – symmetry is my life!
In any event, I think the Custom Book Pouch does a great job protecting my Sony reader.  Because of the variety of sizes available, you could customize a pouch to fit just about any digital ebook reader.  Don't you think your reader deserves a beautiful, safe home after all the pleasure it gives you?  Oh, and I'm sure it would work beautifully to store a treasured paper book.  And I know it would make a very impressive presentation if you gifted someone a book in the Custom Book Pouch.
I anticipate using the Renaissance Art Custom Book Pouch for many years.  As long as I can keep my husband from stealing it from me!
Product Information
Price:
Prices range from $55 to $95, depending on size. Up to three lines of personalization at $12 per line
Manufacturer:
Renaissance Art
Pros:

Beautifully crafted pouch
Custom-made to your specifications
Can be personalized
Many choices for colors and closures
Beautiful, soft leather

Cons:

Bare metal back of snap could scratch your ebook reader or paper book.