We use affiliate links. If you buy something through the links on this page, we may earn a commission at no cost to you. Learn more.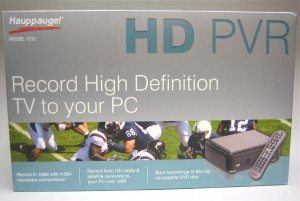 The Hauppauge HD PVR allows users to record HD content off a cable or satellite set top box to their computer's hard drive, and from the recordings, create HD quality DVDs for their personal media libraries. The HD PVR is one of the only mass marketed HD personal video recorders presently sold to the consumer.   The strengths of this device lie in its ability to allow the user to burn TV shows and movies to DVD and the ability to optimize recordings for various video playback devices (e.g., Playstation 3, Xbox 360, iPhone, iPod, Zune, etc).
The HD-PVR works with your computer, TV, and cable or satellite set top box or other HD input device such as a video game console or Blue-ray player.   The HD PVR records video onto the computer's hard drive in a compressed H.264 format.  Recordings are taken from direct connections to the HD PVR box via component video, S-Video or composite video inputs.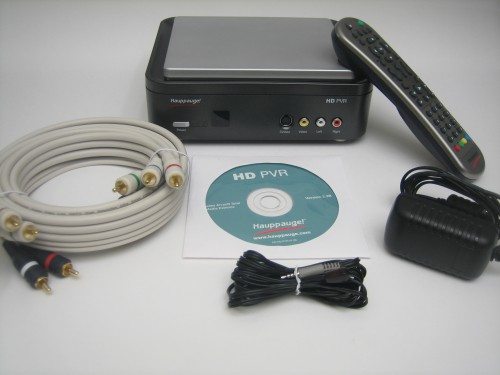 In the box:
HD-PVR
Component/Composite cables
IR blaster
USB cable (not shown here)
Remote control (2 AAA batteries included)
5V power supply
Install CD (Arcsoft TotalMedia Extreme software and drivers)
The HD-PVR is surprisingly light. The front of the device includes an S-video in, composite video in and audio in connections.  The back is a little denser and includes on the bottom row: audio in, component video in, optical audio out/in, IR Blaster out, USB, and power. The top row includes the corresponding audio out and component video loop out.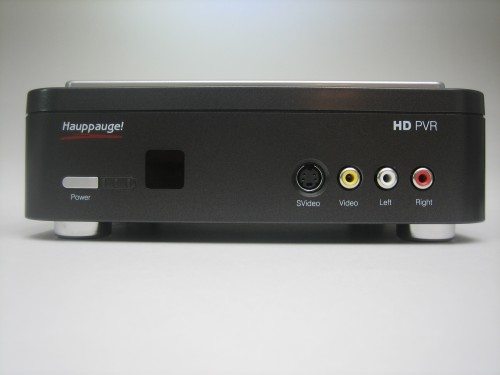 The HD PVR connects to your computer via USB. There are several ways to hook up the HD-PVR inputs to the back or front of the device.  Set-up ultimately depend on how you want to use the device. I was interested in recording off a cable box. Alternatively, you may record off a video game console, DVD/Blue-ray player or practically anything with a composite video or component video output!
Composite Video in:
If you do not have an HD set top box then you may use the standard composite video connection on the front of the box.
Component Video in:
HD connections from the cable box go in the component video in row on the back.
Component Video out:
You may use the component output to hook back to your HDTV.   Note: The box comes with one Component/Composite cable.
S-Video:
There is an S-Video connection on the front of the box if you wish to feed the video signal in that way from you set top box.  Note: The box does not include an S-Video cable.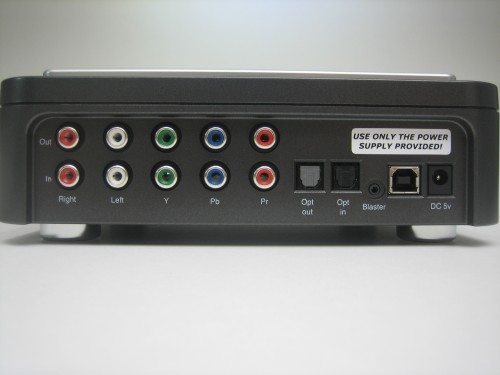 Installation of drivers and software is simple.  The software to be installed include Arcsoft TotalMedia Extreme, HD PVR Scheduler, and IR Blaster application. Checking the Hauppauge support website for the latest drivers is a good idea too.
IR Blaster:
The device comes with an IR blaster, which acts like a remote control to change the channel on the set top box for scheduled recordings. The IR blaster will not turn your box on and off. It only changes the channel. Therefore, you must leave your cable box ON for the IR blaster to work. The set-up on the IR blaster is the most tedious of all the setup. Like any remote controller the IR blaster has to be configured to work with your specific set top box. The configuration program requires the user to select the manufacturer and then test out codes that work with the box. You can also test out if the IR blaster can change the channel. If the IR configuration does not work for you cable box there is an option for learning a new set top box. Although possible, this seems like a tedious process.
Positioning of the IR blaster is super important. It only works within a 1 inch range with the remote control sensor of the set top box.  For this reason the IR blaster has two-way tape on it so it can stick directly on the cable box's remote sensor. This may take some guess and test if you cannot readily find the sensor on your set top box.
The IR blaster works as an intermediary between the HD PVR and the set top box to facilitate unattended recordings.  I discovered that if you physically change the channel during the recording then it would record that too. It will not continue to record the channel you set it to if you change the channel during recording. The software itself does not recognize individual channels as input. Rather, it records whatever signal is coming into the box via the component, composite or S-video input.
Software walk through for Arcsoft TotalMedia: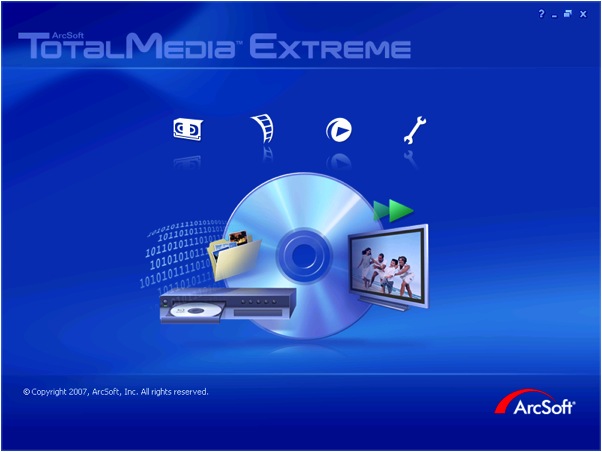 The opening menu for TotalMedia Extreme includes 4 options: Record video, Create DVD, Playback, and Utilities.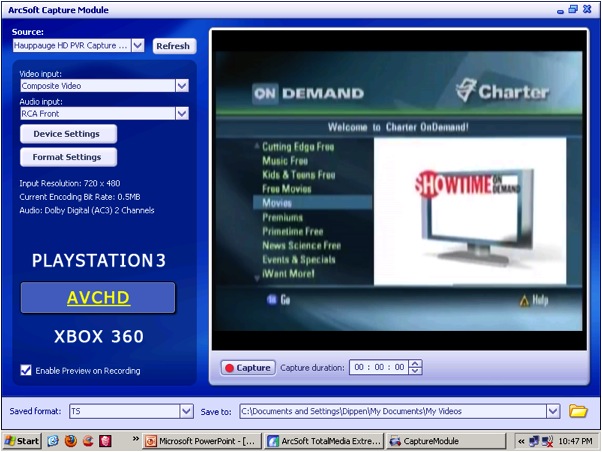 The first option (video cassette icon) in the Arcsoft TotalMedia menu brings you to capture mode. Capture mode may record from 480i to 1080i resolution at datarates from 1Mbit/sec to 13 Mbit/sec.  The latter creates very large files. Hauppauge recommends 5Mbit/sec or higher to maintain picture quality. Capture mode can be configured to record directly into HD formats suited for Playstation 3 and Xbox 360.  Other players (e.g., Apple TV, iPod, etc) require conversion using the Media Converter, discussed below.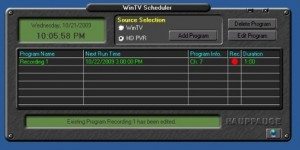 The WinTV Scheduler is used to schedule recordings. Scheduling a recording is uncomplicated. At the scheduled time the HD PVR sends a signal via the IR blaster to the cable box to change to the specified channel and a few seconds later, capture mode will start recording video on you computer.    There is a delay few seconds of delay here.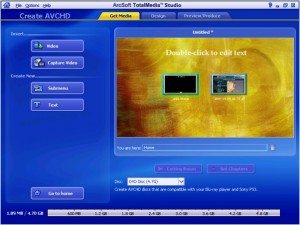 The second option (film reel icon) in the Arcsoft TotalMedia menu brings you to Arcsoft TotalMedia Studio, which allows DVD authoring so you can be your own producer.  Creating a DVD with background, title menu, and submenus is a snap. The software allows you to grab saved recordings off your computer. You can preview the DVD as you design the menus and Arcsoft gives several still and animated menus to choose from.   Once a design is complete you can save your project or produce your DVD by burning it to disk. Voila! You have made your own HD quality DVD for playback in your Blue-ray player. You could also record in standard format for non-HD recordings.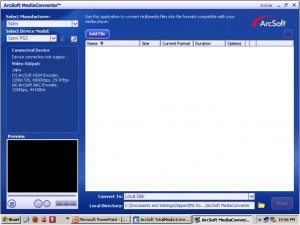 Since video files don't always transfer perfectly between devices because of unmatched speed and quality, Happahague added a convenient Arcsoft Media Converter under the Utilities option from the main menu. With the Media Converter you can convert your recorded content for playback on other devices.  Capture mode has direct support for PS3 and Xbox360, but for playback on other devices the conversion step is needed first.  The software converts and optimizes video files for various video-supporting devices including those manufactured by Apple, Microsoft, Philips, SanDisk and Sony.
Third party applications:
The HD-PVR may be used with third party applications.
SageTV
Windows Media Center
Elgato's Eye TV
Myth TV
For more information on third party support, visit Hauppauge's site.
The following are some notes that were included in the box from Hauppauge:
The Hauppauge remote control currently does not operate with Arcsoft TotalMedia Extreme. If does operate with other third party applications such as SageTv.
Your PC cannot be put into suspend or hibernate mode while the HD PVR is either previewing video or streaming. This will be fixed in a future release of the HD PVR driver
HD PVR currently supports Dolby Digital and PCM audio capture via SPDIF. DTS audio is not supported at this time.
Conclusion:
If you are looking to use this as a replacement for a DVR, you may want to think again.  In attempting to use the HD-PVR to do un-attended recordings, it was very finicky. It dropped out 20 mins into an hour long recording, and I don't know why.  The box has to be restarted often. Another time it recorded for 4 hours straight when I had only set it for 30 mins. If you are recording while watching television, you have to keep your set top box tuned to the channel you are recording. As mentioned above the software itself does not recognize individual channels as input, rather it records the signal coming into the box via the component, composite or S-video input.
For DVR like capabilities you are better off with a USB TV tuner stick with a functioning remote control like those made by Hauppauge, Pinnacle, or the Kworld USB ATSC TV Stick that I recently reviewed.
If, however, you are looking to create HD quality DVDs for your personal media library from the shows and movies you record for playback on various kinds of devices, then this may be the tool for you, if not the only tool.  I feel obligated to remind users to respect copyright laws!
Product Information
| | |
| --- | --- |
| Price: | $249.00 |
| Manufacturer: | Hauppauge |
| Pros: | |
| Cons: | Scheduled recording is not reliable |