We use affiliate links. If you buy something through the links on this page, we may earn a commission at no cost to you. Learn more.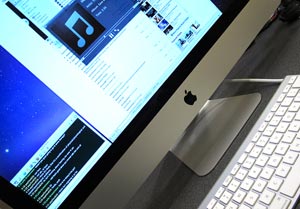 I stayed home from work today because I was feeling blah and while I was chatting with Dave, I happened to look over at the wireless LCD of the Brickhouse Security Wi-Spi EX30 and noticed that a FedEx truck had pulled into my driveway. Since I still had on my PJs, I wasn't planning to answer the door, but when I saw him walking up with no packages in his hand, I ran up the stairs and opened the door. I'm usually not home during the day, so I startled him as he was about to put a tag on my door. He went back to the truck to get my package and I was very surprised that it was my new iMac that wasn't due to arrive until next week.
Needless to say, I instantly felt a little better! 🙂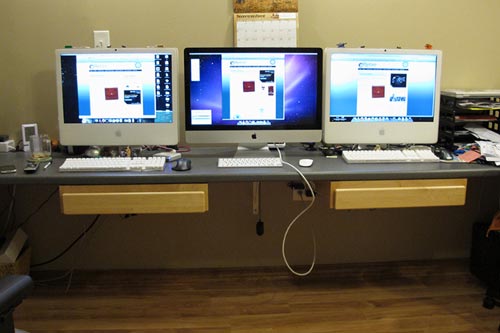 Here's a family portrait. Two 24″ iMacs with the new 27″ between them. The difference between my 24″ and the new computer is very clear to my eyes. The 27″ display is so much crisper and the Blacks so much darker. The screen itself isn't much taller, but quite a bit wider. So wide that I have to move my head from side to side to see everything.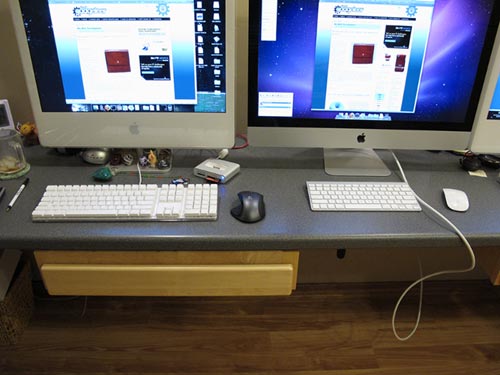 The included wireless keyboard with the chicklet keys is going to take some adjustment. But I like that it doesn't use a USB port. The same goes for the new magic mouse. I was sure I'd hate it because I couldn't stand the mighty mouse. I'm happy to say that the magic mouse is pretty nice. I'm not sure yet if it will replace my old fave the Logitech MX Revolution though… we'll just have to see.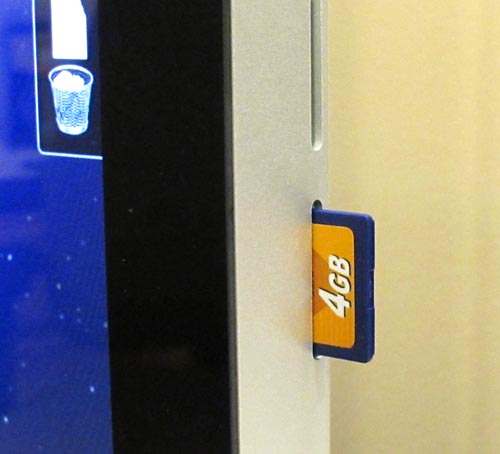 So the keyboard and mouse are going to save me 2 USB ports and I'm going to save a 3rd because there's an SD card reader built into the Right side of the display. Since I just recently upgraded my camera from an older Nikon Coolpix to the new Canon G11, this is going to be really  handy. I think I'll go ahead retire the Griffin Simplifi USB Dock.
A few things I've noticed already about this new computer when compared to my old one is that it runs a lot quieter. iMacs are already pretty quiet, but this one is probably half as loud. Yay!
It's also FAST! I guess it should be consider it's a quad-core i7, but wow. I'm impressed even with webpage loading speed through WiFi. I wouldn't think that would be any faster between the two computers, but it is. Or maybe I'm just on a new toy high and I can see no wrong.
Who says that Friday the 13th's are bad luck? Not me 🙂 Ok, I have to get back to loading software…. see ya!