We use affiliate links. If you buy something through the links on this page, we may earn a commission at no cost to you. Learn more.
If you prefer your desktop to be as uncluttered as possible, one of Griffin's
newest products can help you out. It is the Simplifi iPod / iPhone USB dock and
card reader. Let's take a closer look…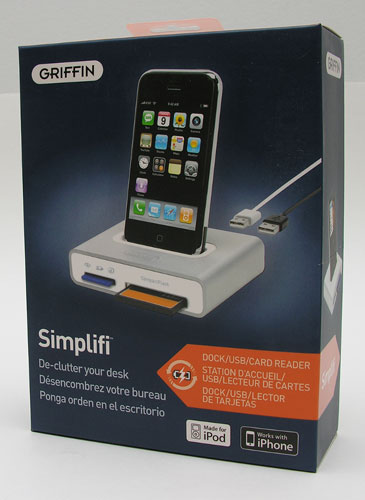 One thing to be aware of, if you decide to purchase this product, is to check
for an iPhone 3G badge on the box. If the box doesn't have this badge and you
happen to have an iPhone 3G, you'll need to shell out $1.99 for the 3G dock
adapter.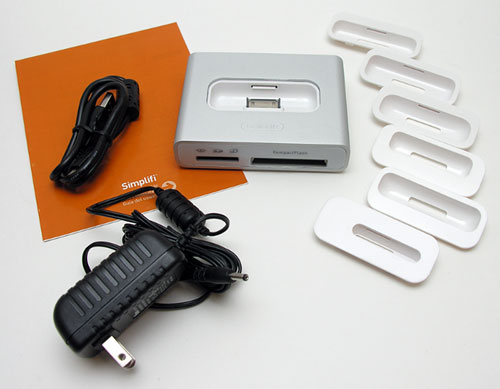 Package Contents
Simplifi dock
6 dock adapters
USB cable
AC adapter
Instruction guide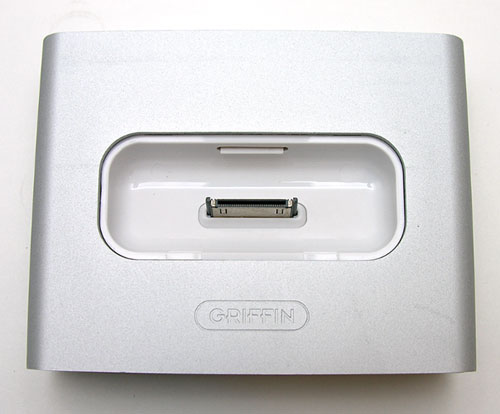 The Simplifi dock looks very Apple-ish (is that a word?), with its brushed
Aluminum wrap around shell and White plastic body.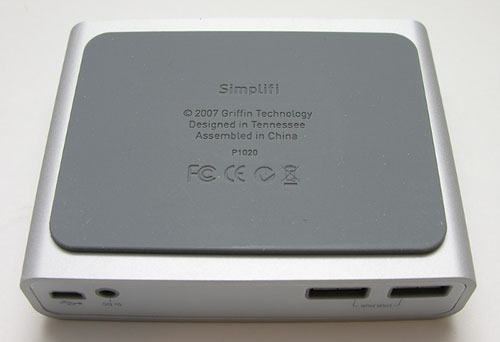 The bottom has a large rubber pad that helps to prevent the dock from sliding
around on your desk.

The front has two card slots that can accommodate the following card formats:
Memory Stick, Memory Stick Pro, SD, SDHC, xD and CF (CompactFlash). I really
wish a MicroSD slot also included as I find it a hassle to use an adapter with
them.

On the back side, you'll find two USB 2.0 ports, a power connector and a mini
USB connector. The addition of the two USB ports is a nice touch, but I would
prefer that they be located on the front of the device instead of on the back.
You don't have to use the included AC adapter with the Simplifi, if you're only
going to be using it to charge your iPod / iPhone and read memory cards. Just
plugging in the mini USB cable will suffice for those tasks. The only time you
need the AC adapter is if you use the two USB ports for devices that require a
powered hub.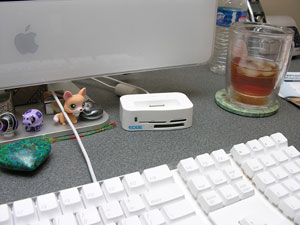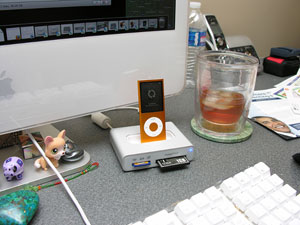 For the last several years, I've been using a similar iPod dock / card reader
from Edge
Corp. (seen above on the Left). While that product works just fine for
charging my iPods and iPhone, it lacks one important feature that the Griffin
Simplifi offers – an SDHC compatible card slot. So as soon as the Simplifi
arrived, I unplugged the Edge dock and plugged in the Simplifi in its place.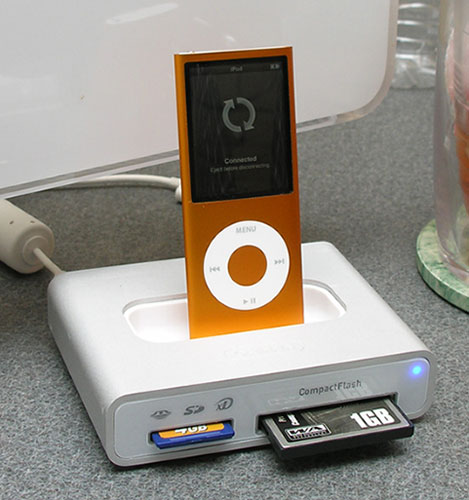 I don't like to use the little dock adapters that ship with iPod type devices
such as this one because I am always swapping between the new
iPod Nano,
the Touch and…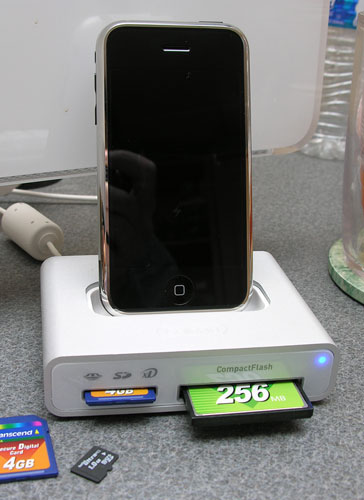 … the iPhone.
However, if you just have one iPod or iPhone device, it's probably a good idea
to use one of the dock adapters because it will prevent you from putting undue
stress on the connector.
I tested this dock / card reader with the nano 4G, Touch and iPhone. It
charged all of them without issues and was recognized by iTunes as soon as I
plugged one into the dock. As for the card reader, I tested several different SD
and CF cards and again, I had no problems accessing and writing data to them. I
was even able to copy files back and forth between the two card slots while
charging a device in the dock.
I like the Griffin Simplifi's design because it blends in well with my other
Apple products like my iMac. But, at $70, I think it's definitely way
overpriced. You can find the Edge
Corp. dock / card reader that I was previously using for $9.95. It can't
read SDHC cards, but for that price, that fact might not be important to you.
Atech sells a dock
/ reader that looks just like the one from Edge, but it DOES have SDHC
support and costs $19.99. If money is no object, I'd rather have the Griffin
Simplifi because it just looks snazzier. But in these tough economic times,
every little bit of savings can be a big deal.
Product Information
Price:
69.99
Manufacturer:
Griffin Technology
Pros:

2 USB ports included on back
SDHC support

Cons: