We use affiliate links. If you buy something through the links on this page, we may earn a commission at no cost to you. Learn more.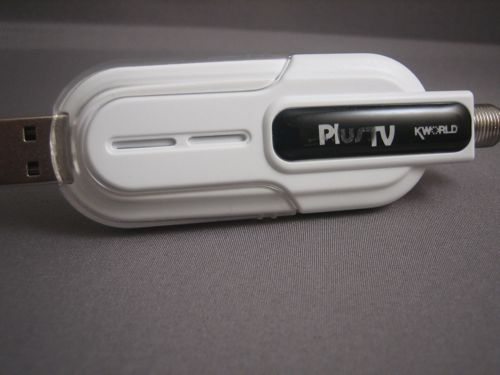 About a month ago my husband and I decided to cut the cord…the television cable cord, that is.  I was more than happy to get rid of the monthly bill. I watch mostly network television anyway, and with the HD conversion I get excellent picture quality over the air.  But then reality set in.  I missed my DVR!  My solution was the Kworld USB ATSC TV Stick (UB435-Q).
Luckily, I had a spare laptop lying around.  I hooked it up to my Samsung LCD TV and I was streaming my favorite shows off itunes, hulu.com and other sites.  Everything is not online, though.  How was I going to watch Oprah! This is my one daily soul-feeding hour of television I allow myself and it's not available online, anywhere.  As a 30-something female it is hard coded in our DNA to love Oprah. I'm sorry. I just can't help it!  So this is what motivated me to go out and find a device that could record and playback TV.  Why not get a VCR, well, that would be just too easy!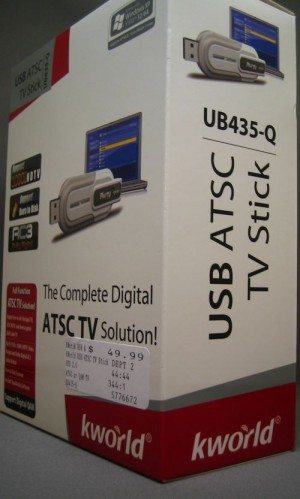 I purchased the Kworld HDTV USB Stick for $49.99.  HDTV USB tuners I looked at ranged from $50-150.  I choose the Kworld because it was inexpensive and in stock at Fry's that day.
Box includes just a few things:
– HDTV USB Stick
– Antenna with magnetic base
– USB extender cable
– Installation CD (includes ArcSoft TotalMedia 3 software CD)
It is important that you have a computer that meets the system requirements otherwise recorded HDTV wont play smoothly.   You'll need a computer with:
-Pentium IV 2.4 GHz (3.0 GHz above recommended for HDTV programs)
– 256MB RAM (512 recommended)
– USB 2.0 port
– Graphics Card (supports at least DirectX 9.0)
–  Sound card (AC97 compatible)
–  At least 1GB free space (more when you start recording)
–  Windows  XP (SP3)/ Vista/MCE
If we were to open the Stick up we would find an ATSC tuner card inside. ASTC is the digital television standard that stations transmit. Remember the old days of analog, just last month. Analog was transmitted using NSTC standard.   Since the digital TV transition, NSTC is no longer transmitted.  Some tuners out there still advertise that they pick up NSTC, but that is pretty much useless feature now.
The USB Stick is a little bigger than a standard USB jump drive or network dongle.  One end connects like a typical dongle into your USB 2.0 port. The other end of the Stick has a coax receiver for you to screw in your cable line or antenna. I used the provided antenna. If you have two adjacent ports they provide a USB extender so the Stick won't block the other port.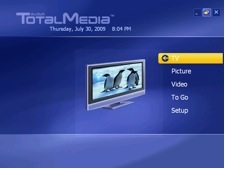 Installation was quick and painless.  I chose "typical installation", which installed the Driver software and ArcSoft TotalMedia 3 software.  Besides allowing you to watch TV, TotalMedia 3 is a multimedia application used to manage and edit video and pictures.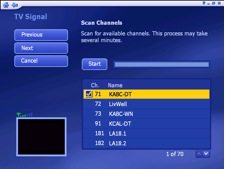 The software has a simple interface.  The large buttons and easy to browse menu make viewing on my TV screen easy.   The first time you access the TV menu the TV setup will begin.  The scan took about 5 minutes and found a whopping 70 channels! Not bad for an antenna, although half are in a language I don't understand.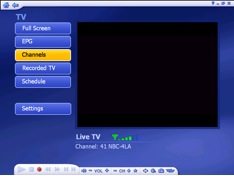 I was watching HDTV in no time. There is a full-screen mode that allows you to turn you monitor into a TV screen.  Some channels came in stronger than others. TotalMedia 3 shows the signal strength for each channel using 6 bars. I found anything less than 4 bars difficult to watch because of weak signal.  Signal strength really depends on your antenna and location. I found the antenna that came in the box to be okay but I got better reception using an antenna my husband had rigged out of coax, wire hanger and foil.  When you are using an antenna, signal strength is the biggest variable in this whole equation.   You'll find this with any HDTV tuner you decide on.
The software allows you to record, pause and rewind live TV. You can also watch recorded TV before recording is complete. They call this time shifting.  (Sounds like a term out of a recent episode of LOST!). You may also fast forward through recorded programs.  It took me a while to figure out that you have to use the Setup menu in the opening menu to set which video standard you want to use (e.g., EP, SP, LP, HQ). Extended Play (EP) takes up the least space.  According to the software I had 12.21 GB on which I could record 8:16 in EP, 6:23 in LP, 5:12 in SP, and 4:23 in HQ.
You can select from the Digital EPG or Internet EPG. You can select to record a show directly from the EPG. The Digital EPG, however, is somewhat limited in what schedule it provides. For example, if I try looking up the next day it only shows a couple hours of programming information and not the whole day.  This makes it a little difficult to select a show to record farther in the future, but there is a record area where you may select the date and time to set your recording.
Along with DVR like features, TotalMedia 3 has some unique features that you are not likely to find in a DVR, such as video/picture editing, picture slide show, burn to disk, and portable device syncing.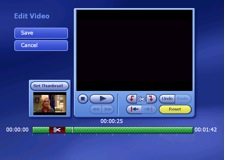 Video editing is present but limited. You can splice recorded video with a scissor tool.  I don't think this is a feature I would use everyday.  It could be a handy feature to remove commercials from recorded programming, but that seems a bit tedious in my opinion.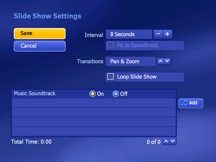 The Picture menu allows you to reference your stored pictures and create slideshows, print, edit and burn to disk.  The slide show settings shown here provide many customizations.  It allows you to set a soundtrack, intervals and transitions.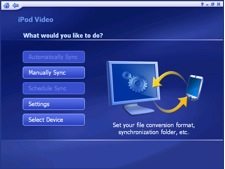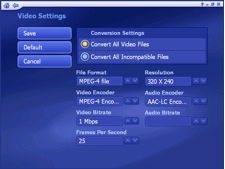 And then there is the syncing feature. This is cool if you have a video iPod, PSP or other portable video device.   You can sync your recorded shows to your portable video enabled device. Video settings can be used to adjust the video parameters for your specific device.
CONCLUSION:
The KWorld USB ATSC TV Stick does its job.  I believe most of these kinds of devices are made of the same stuff on the inside; the software used with the tuner is what can change the user experience.  In sum, TotalMedia 3 tries to do a little bit of everything and it does an adequate job of each. It attempts to manage your multimedia content including TV, recordings, pictures, and portable devices.
Personally, I only care about the TV part of TotalMedia 3, and do not need it to manage my other multimedia. Most of the extras, although nice, are a waste on me.  My main purpose is to record/pause/rewind/fast-forward live TV, and it does that well for a decent price.  A remote would make it even better.   It does what I want it to do, record Oprah everyday!  I am content, for now.
Product Information
Price:
$49.99
Manufacturer:
Kworld
Requirements:

• Pentium IV 2.4 GHz (3.0 GHz above recommended for HDTV programs)
• 256MB RAM (512 recommended)
• USB 2.0 port
• Graphics Card (supports at least DirectX 9.0)
• Sound card (AC97 compatible)
• At least 1GB free space (more when you start recording)
• Windows XP (SP3)/ Vista/MCE

Pros:

Easy install
Sync recordings to your portable video device
Burn to CD
Signal strength display

Cons:

No remote
Software has a bunch of features I probably won't ever use