We use affiliate links. If you buy something through the links on this page, we may earn a commission at no cost to you. Learn more.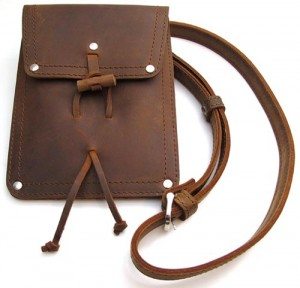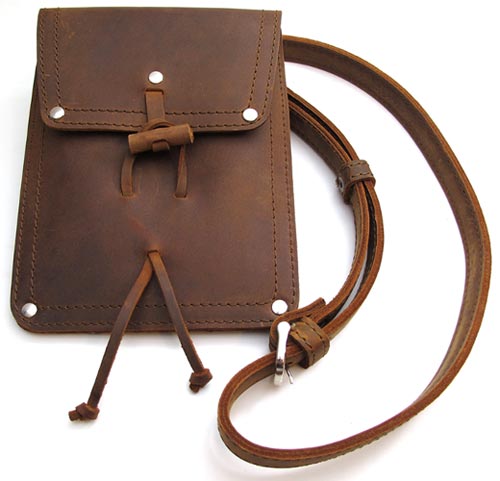 My reviews of Saddleback Leather Company bags have proved to be very popular on The Gadgeteer.com. Many of our readers who have gone on to purchase their products have written back to let us know that they have been more than happy with them. Today I wanted to do a quick review of one of their small standalone bag / add-on accessories for some of their other bags. It's the Pouch.
The Pouch is currently available in four colors that include Carbon Black, Chestnut, Dark Coffee Brown and Dark Tobacco Brown. I was sent the Dark Tobacco Brown version.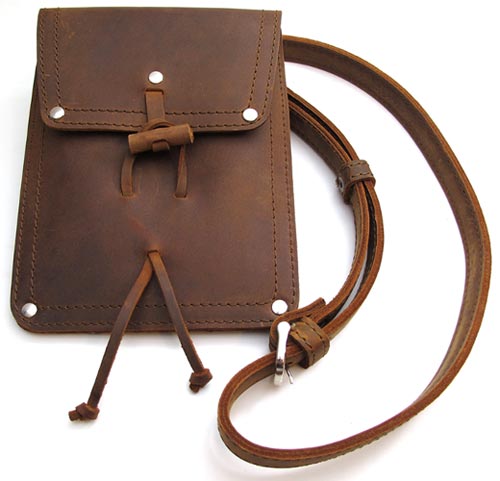 The Pouch is 6.75 inches wide by 8.5 inches tall. It's made of hypoallergenic 4-5 oz. (2-2.2 mm) thick chrome tanned leather with polyester marine grade industrial thread and metal rivets that are used at various stress points.
This bag doesn't have magnets, zippers, velcro or plastic clips to hold the flap closed. Instead, it uses a really cool leather loop and toggle design that can be opened and closed easily with just one hand.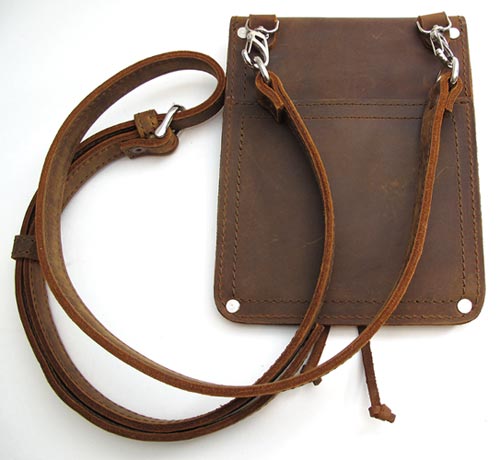 The removable leather shoulder strap is adjustable from 39 – 56 inches. It's pretty thick and for me is not the most comfortable. I'd rather have something a bit softer and thinner and may try to find some leather strips to braid into an alternative shoulder strap. That said, this strap is very rugged and is probably strong enough to tow a truck 😉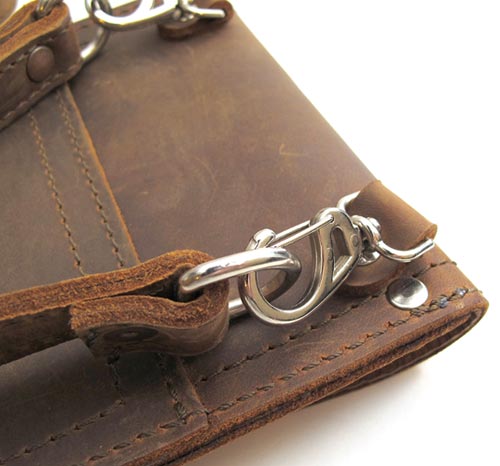 The strap is attached to the back of the pouch by two spring loaded metal clips. These clips allow you to use this pouch with other Saddleback Leather bags, which I'll tell you about in a minute.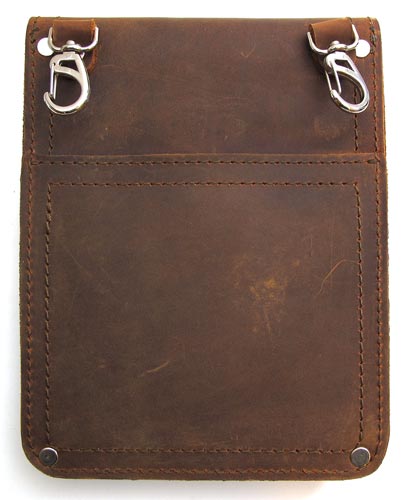 There's a flat open topped pocket on the back of the pouch that can hold thin items such as your passport, flight boarding passes, a small notebook, etc.
You may notice the scuffs and scratches on this pouch and consider them a defect in workmanship. Let me assure you that this is not the case. Those marks are natural occurrences in the skin and should be considered character marks, not defects. I've been told that some of their customers even request bags with certain types of these markings.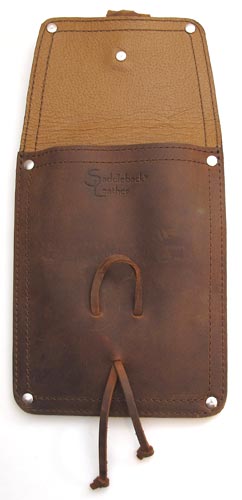 Opening the flap reveals the main (and only) compartment in this pouch, which is lined in pigskin. I was not aware that pigskin is the second strongest hide in the world, second to kangaroo. This material has a very slight sheen to it and is smooth. I like the fact the pouch is lined instead of just having the raw leather, which sometimes 'sheds'.
The interior pocket is a little over 8 inches deep and 5 inches wide. The pouch is pretty stiff, so it doesn't feel like it can hold all that much at first. After some use, it will stretch out to accommodate more items. But be aware that it's not designed to hold a lot of gear. Think of it as more of a minimalist gear bag and you'll be fine.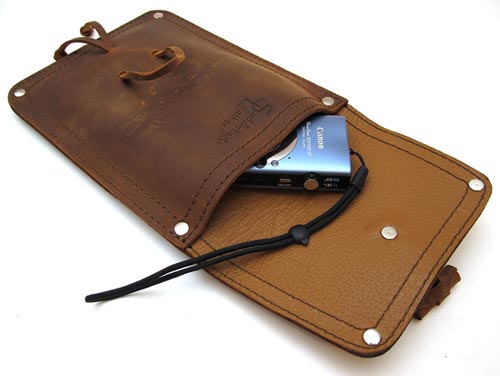 The Pouch works great as an around the town shopping bag or out to lunch bag. I have used it to hold my Waterfield wallet and a small point and shoot Canon digital camera.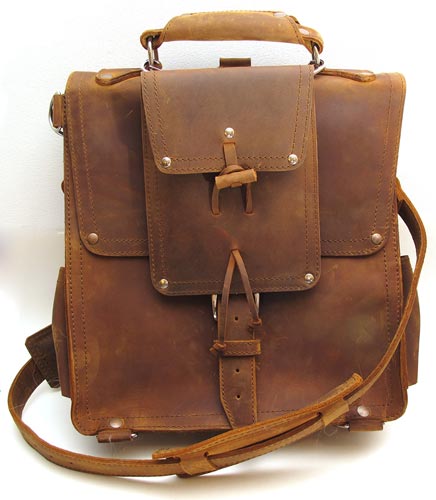 As mentioned earlier, the shoulder strap can be unclipped so that the pouch can be attached to other Saddleback Leather bags such as the Leather Briefcase, Leather Laptop Sleeve or Messenger Bag as shown above. It's a nice add on that can be used to hold items that might not fit in the main bag.
My only criticism of the pouch is the price. I know that some people wouldn't even blink an eye at that price, but for me, it would be hard to pay $127 for such a small bag.
I'm a real fan of Saddleback's quality. Their workmanship is beyond compare and they stand behind their products with a 100 year guarantee. If you want a leather bag that will last 'forever' and prefer a more rugged style over froo-froo designs, you'll love these bags. Trust me.
Note: The links to Saddleback Leather Company on this page are affiliate links. If you use one of these links to make a purchase, we will earn a small percentage of the sale, so we appreciate it if you click through.
Product Information
Price:
$127.00
Manufacturer:
Saddleback Leather Company
Pros:

Rugged
Simple flap closure system
100yr warranty
Can be clipped to other bags

Cons:

Small, doesn't hold many items
Expensive