We use affiliate links. If you buy something through the links on this page, we may earn a commission at no cost to you. Learn more.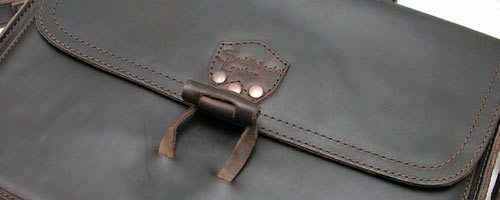 I have been a fan of leather bags from the Saddleback Leather Company since my first review of their Briefcase bag and then their Explorer's Satchel. The style of their bags is what I would call American adventure. They look like something that you might see a person carrying 100 years ago. Definitely a style that can be considered both trendy and classic at the same time. Today I want to show you their latest offering – a Laptop Sleeve.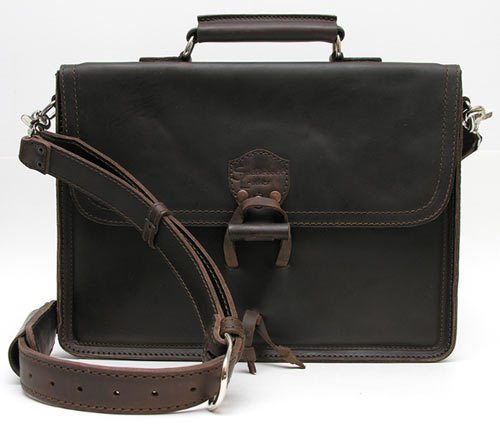 Available in two sizes and five colors, I was sent the Medium sized Laptop Sleeve in Dark Coffee Brown.
Medium – 15″ x 11″ x 2″
Large – 16 ¼" x 12″ x 2″
The Medium size is a perfect fit for my 15 inch Apple Macbook Pro. To call this just a sleeve would be a crime. It's a full blown shoulder bag, but one with very limited storage.
The bag is made of thick 100% waterproof full grain boot leather, that has been sewn together with heavy polyester marine grade stitching.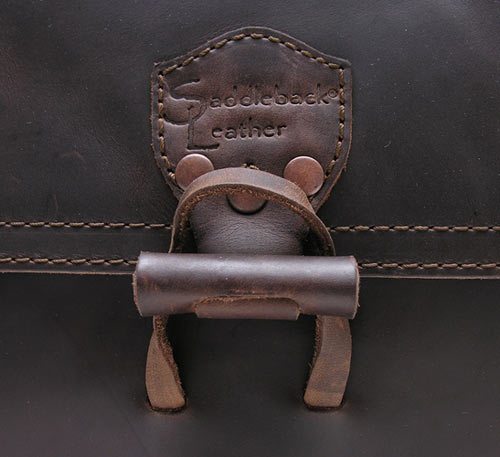 I love the flap closure design. It's a loop and toggle style, with the toggle attached by brass rivets.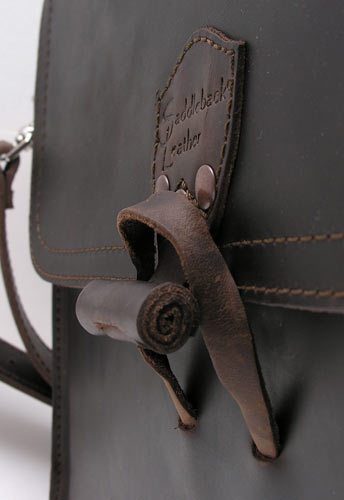 The toggle is a rolled 'bar' of leather that can be cinched down with a soft leather loop. There is no Velcro, snaps, or buckles to fool with or break. It's simple and cool. I love it.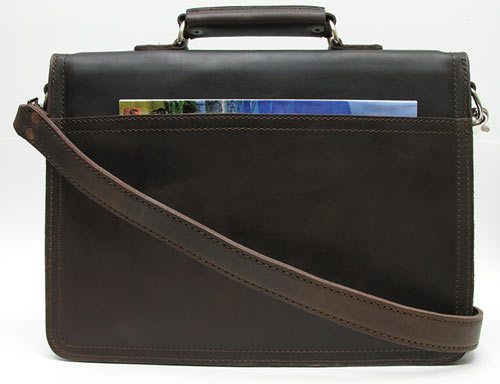 Flip the sleeve around and you'll see the only storage area in addition to the main interior compartment. It's a 9 ½" tall x 16 ¼" wide slot that can hold papers and file folders. In the image above, you can see how a standard sized magazine fits in this pocket.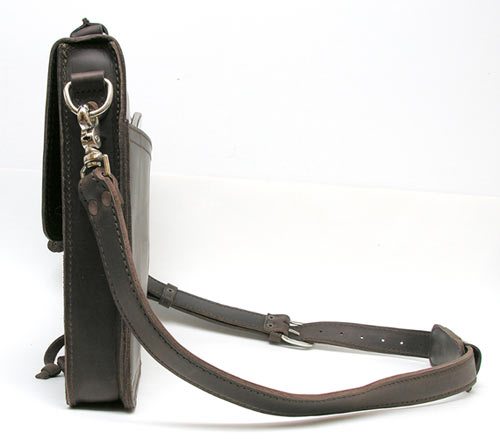 Although the laptop sleeve is a narrow bag, it can stand up on its base without toppling over. I'm not sure I'd trust it to remain standing up at all times though.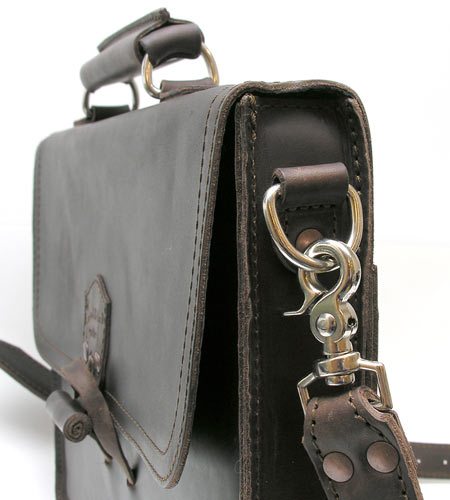 Check out the chunky hardware used to attach the removable shoulder strap.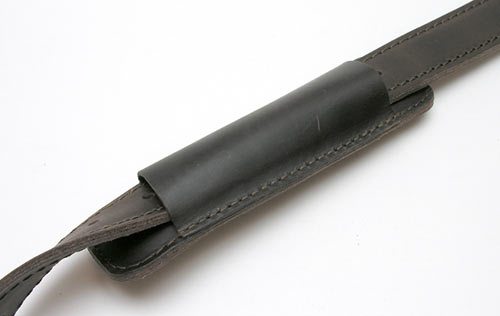 The shoulder strap length can be adjusted from 39″ to 59″ inches and has a sliding shoulder pad. I did find the edges of the shoulder to pad to be too 'sharp' for me and not very comfortable against my collar bone. That said, I don't have much padding in that area, so other people might not have this same issue with it.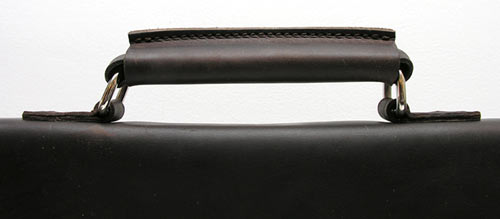 The handle for the sleeve is wide and comfortable. No complaints here.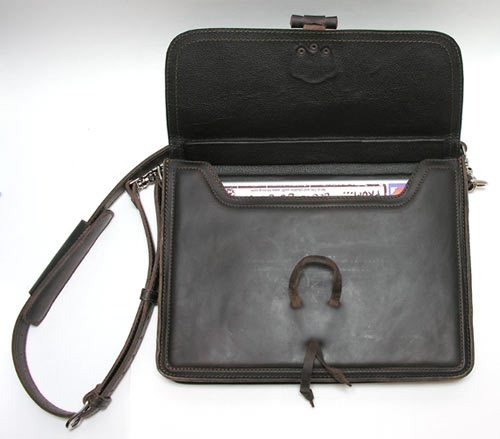 The interior of the sleeve has a double layer of Neoprene padding on all sides that is covered with durable Pigskin. It should provide more than adequate protection from everyday abuse.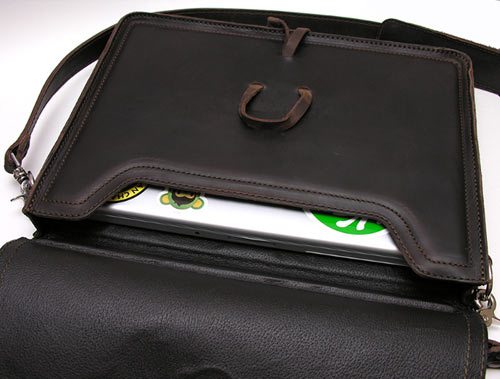 Like I mentioned earlier, the medium sized sleeve is a perfect fit for my 15 inch Macbook Pro. However, once inserted into the main compartment, there's not room for anything else. This means that there's no room for the AC power adapter and cord. To get around that problem, you can attach one of the Saddleback Leather Company Pouches to this sleeve. Of course, that will add more bulk and weight to what you're already carrying. The empty sleeve with the shoulder strap weighs in at 3 lbs 11 ounces. Add a Macbook Pro and the entire ensemble goes up to 9 lbs 5 ounces.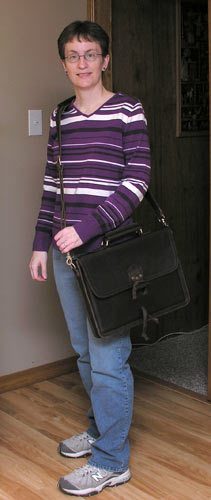 To give you an idea of the size of the bag, here I am carrying it. I am 5 ft 5.5 inches tall and weigh 125 pounds. I find the laptop sleeve to be a little too heavy for me to use with the Macbook Pro, since it doesn't have room for the power adapter. But, it's not bad at all when used with the HP Mini 1000 netbook. There is plenty of room for the power brick and a mouse in the bag and the total weight is 6lbs 11 ounces.
Everything about Saddleback Leather Company products screams quality and longevity. As a matter of fact, their bags carry a 100 year warranty. How's that for confidence? Their products may be pricey, but you certainly do get what you pay for. 🙂
Note: The links to Saddleback Leather Company on this page are affiliate links. If you use one of these links to make a purchase, we will earn a small percentage of the sale, so we appreciate it if you click through.
Product Information
Price:
$245.00 (Medium), $265.00 (Large)
Manufacturer:
Saddleback Leather Company
Pros:

Gorgeous
Rugged
100yr warranty

Cons:

No room for power brick when used with full-sized laptop
Pricey