We use affiliate links. If you buy something through the links on this page, we may earn a commission at no cost to you. Learn more.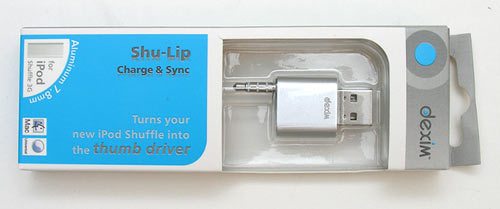 Did you recently purchase the latest and greatest iPod Shuffle and wished you had a slightly more elegant way to charge  / sync it with your computer? Dexim has come to the rescue with the Shu-Lip. The Shu-Lip is a small adapter that replaces the USB cable that shipped with your Shuffle. Let's test it. The packaging says that it Turns your new iPod Shuffle into the thumb driver. I think they meant thumb drive, AKA USB flash drive…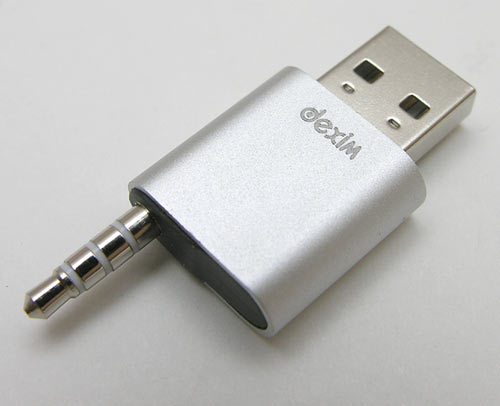 It's a small adapter with a USB connector on one end and a 3.5mm plug on the other end. The body is made of aluminum that matches the Silver Shuffle. Unfortunately, there doesn't appear to be a Black version of the Shu-Lip, so it doesn't quite look all that great with my Shuffle.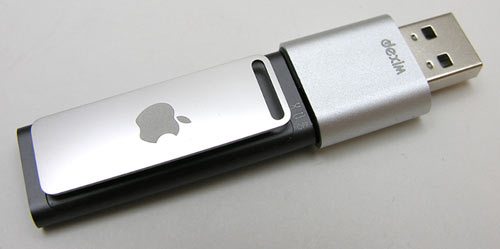 Using it is pretty straight forward. Just plug it into the 3.5 mm jack on the Shuffle and then plug it into an open USB port on your computer.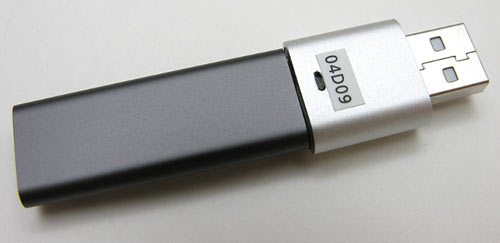 On the back of the adapter is a lame looking sticker with a serial number or model number. It's been attached with really goopy glue, so removing it is a hassle. Below the sticker is what I thought appeared to be an LED. But it doesn't light up when plugged in or when accessing data on the Shuffle. So I think it might just be where the plastic part of the adapter snaps into the aluminum shell.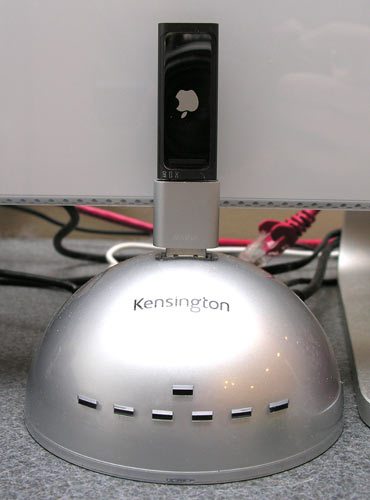 This adapter doesn't provide any additional features over and above what the short USB cable included with the Shuffle gives you. It allows you to charge through your computer, sync music via iTunes and also copy files to and from the Shuffle like any other flash drive. The only advantage is its size. There are two disadvantages to it though… The adapter covers the Shuffle's status LED, so that you can't see if the battery has finished charging. You can swivel the Shuffle on the jack to view it though… The main disadvantage is the price. $10 is ummm… crazy for this little adapter. I mean you can find similar looking adapters for the previous version of the Shuffle for as little as $1.57 (DealExtreme)! Before you go there and order one for this new Shuffle, don't. Apparently there is something different with the new Shuffle that keeps it from being compatible. <sigh>
The Dexim Shu-Lip iPod Shuffle Charge & Sync adapter performs as expected, but in my opinion, I'd save your money and continue using the cable Apple included with your player. At least till they are available for less than $2 on DealExtreme 🙂