We use affiliate links. If you buy something through the links on this page, we may earn a commission at no cost to you. Learn more.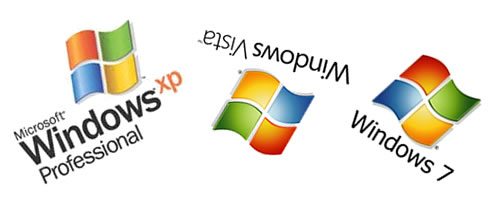 I wish I could say that this was a labor of love for readers, but I recently became so disgusted with the poor performance of my HP laptop, that I was determined to gain some of the spec performance promised me when I bought it. What I wound up with is 3 different operating systems installed on one laptop in one day. What you wind up with is the bottom line, most brief insight into real world performance of these three Microsoft offerings.
Almost exactly a year ago, I purchased a HP DV2715nr laptop. I had just changed employers and turned my beautiful Dell 12.1" back in, and for the first time in over 15 years on the road, I was going to be anchored in an office and would not be receiving a shiny new laptop courtesy of someone else's hardware budget. Knowing I could not do without a laptop for sofa surfing, I quickly snapped up a good deal on this unit. I wasn't expecting to play Quake 3 on it, but I did expect it to perform at least as well as my 2 year old Dell had. And I did expect it to at least play the included Vista games. Boy was I wrong.
Machine Specifications
Model Number: DV2715nr
Microprocessor:  1.9 GHz AMD Turion 64 X2 Dual-Core Mobile Technology TL-58
Microprocessor Cache:  512KB+512KB L2 Cache
Memory:  2048 MB (2 x 1024 MB)
Memory Max:  Up to 4 GB
Video Graphics:  NVIDIA GeForce 7150M
Video Memory:  Up to 799 MB
Hard Drive:  160 GB (5400RPM)
Multimedia Drive:  LightScribe Super Multi 8X DVD±RW with Double Layer Support
Display:  14.1″ WXGA High-Definition BrightView Widescreen Display (1280 x 800)
Fax/Modem:  High speed 56K modem
Network Card:  Integrated 10/100BASE-T Ethernet LAN
Wireless Connectivity:  802.11b/g WLAN
Sound : Altec Lansing speakers
Keyboard:  101-key compatible & 2 Quick Launch Buttons
Pointing Device:  Touch Pad with On/Off button and dedicated vertical and horizontal Scroll Up/Down 
PC Card: Slots  One ExpressCard 5/4 slot (also supports ExpressCard3/4)  
External Ports:  5-in-1 integrated Digital Media Reader for Secure Digital cards, MultiMedia cards, Memory Stick, Memory Stick Pro, or xD Picture cards, 3 Universal Serial Bus (USB) 2.0, 2 Headphone out, 1 microphone-in, 1 VGA (15-pin), 1 TV-Out (S-video), 1 RJ-11 (modem)1 RJ -45 (LAN), 1 notebook expansion port 3, 1 IEEE 1394 Firewire (4-pin), 1 Consumer IR
Dimensions;  13.15″ (L) x 9.33″ (W) x 1.02″ (min H) /1.54″ (max H)
Weight:  5.25lbs
Security  Kensington lock
Power-on password
Accepts 3rd party security lock devices 
Power  65W AC Adapter
6-Cell Lithium-Ion battery 
What's In The Box : WebCam with Integrated Microphone, Mobile Stereo Earbud Headphones (1 pair), HP Mobile Remote Control
Back Story
As you can see, the specs say this thing should be a decent performer, at least a year ago it looked good. The one thing I was looking for in this price range was a decent graphics chipset. I briefly looked into the Geforce 7150m, and from the specs, I should be able to play sim games like Age of Empires, Civilization, or Sim City.
Let me just go ahead and put the ugly truth out there. The specification for the video chipset, 7150m and up to 799 available shared ram, is a lie. Plain and simple. I believe this spec is absolutely 100% intentionally misleading, and HP should be absolutely ashamed of themselves for misleading the consumer, and the frustrated hundreds that I've run into on forums and bulletin boards, trying to get this notebook to perform as it should, based on the spec. HP should send everyone who bought this model laptop a brand new notebook that performs, today, without question.
After a year of trying to solve this problem I discovered that this notebook does not have a 7150m graphics chipset, at least per Nvidia spec. What it has is an intentionally crippled and orphan, HP test tube MCP67m. The graphics chip was hard locked by the manufacturer to run at 100mhz memory speed as opposed to the 425mhz spec on the 7150m. The maximum memory you can throw at this thing is 128mb as opposed to the 799mb promised.
So to sum up, this graphics chip is not as promised by HP in writing. It runs at only about 24% of its specified memory speed, and is capable of being allocated only 16% of the shared memory promised. The only reason I can think of as to why they would do this is to help a heat issue. Even at the anemic speed this chipset runs at, this laptop gets blazing hot on the bottom. And the hotter it gets, the slower the system gets.
There is no software trick to unlock this chip, not from Nvidia, HP, or any 3rd party. There is no driver or chip tuner in the world that will make this chip perform as promised. So essentially, what I have in this notebook is the best performing graphics chipset available approximately 10-12 years ago. This thing is so horrible a graphics performer that it struggles to open web browser windows, play video, or even play the chess game that came as a part of Vista. And it was billed as a multimedia performer.
I'm always careful to look at both sides of a piece of hardware from a manufacturer, and be fair. What I have stated about this notebook and HP's marketing of it may seem harsh and unfair. I assure you it is not, it is simply the truth I have experienced, after hours and hours and countless more hours of investigation into, and work on, the matter.  And although I have been personally affected by it, I stand 100% behind my estimate of it as objective fact.
This is why I spent 10 hours yesterday; installing 3 different operating systems on this notebook, and why the result is something I think is worthy of sharing, and is the basis for this article.
Windows Vista Performance
This laptop came with Vista, I had purchased it at a time when it was the only choice, there were no downgrades to XP available with anyone, and I was anxious to try out the new OS. I'm not going to rehash the whole Vista debacle here, it's common knowledge that it's a bloated under-performer. What I did do was delete my existing Vista partition, and install a fresh OEM copy of Vista without all the HP bloatware.
I gained some meager performance from a clean install and lack of HP goodies, but even with the newest driver from Nvidia, (which was just released because until now because they had refused to issue drivers for notebook graphics chips of their making, instead leaving it to the notebook manufacturer) the overall performance gain was minimal, and there was no improvement in the performance of the graphics chip.
This result was not unexpected, so it was off to my trusty XP Pro to save me.
Windows XP Pro Performance
Frustrated at this point, I deleted my Vista partition and re-formatted (I like as clean a start as I can get). Windows XP installed fine but I had to really dig to get the motherboard chipset drivers and graphics driver installed. Once I did, I noticed quite a bit of performance gain. The graphics chip did seem just a tad better, but not much. However, the overall performance of the environment was much better.  The frustrating part of this is that there is no driver I could find to let me get the network card, the wireless network card, or the sound card to operate under XP, even with HP's own drivers for these components.
I tried several different motherboard chipset drivers, and anything else I could think of to get these components to work under XP to no avail. This process took most of my time yesterday and ended in frustration because I was looking for some real performance gain with XP and streamlined graphics instructions. I was about to chunk my favorite new paperweight out the window when I noticed the DVD I had burned with the Windows 7 beta release OS on it, lying on my desk. I decided to give this a whirl and I figured why not, if it doesn't work, I'll throw Ubuntu (per Rob Tillotson's most excellent suggestion) or HP's MIE OS on it and see if any of that worked.
Windows 7 Performance
Keep in mind that we're dealing with an unofficial final product here, so I wasn't sure what to expect out of this laptop even though I've been running it on my desktop since it was released for testing a few months ago, and I've been very pleased with it.
The install went beautifully, and every single component was recognized and a driver was installed by the operating system installer. It took only about thirty minutes and performed two Windows Updates. The end result was a freshly popped up desktop with all features working. What I did do, just to be sure, was download the latest nForce chipset driver and Nvidia graphics driver for the notebook. The only stragglers were the SM Bus Driver (a motherboard component) and the driver for the coprocessor. These were remedied by installing the Vista motherboard chipset drivers located on the help and support page from HP for this laptop.
It's not quite a day old yet, but this laptop is performing better under Windows 7 than either XP or Vista. I'm really amazed at just how well it's doing. My 3D chess game still isn't silky smooth, but it's playable. Windows are flying open, browsing is a sheer joy, and even my graphics editor is performing well. I almost feel like I've gotten a new laptop, no thanks to HP.
Conclusion
This isn't a scientific review complete with charts and graphs or benchmarks; it's anecdotal evidence, it's what I've experienced firsthand, side by side, in a short amount of time. As I've learned from this purchase, (and I SHOULD know what I'm buying) is that real world performance sometimes isn't the same as what's on paper. I'm not sure what the engineers or sales executives at HP were thinking when they released this notebook with the written spec they did. I'm not the sharpest crayon in the box, but if I got taken, a lot of other people surely did. The evidence for this is in rants and desperate cries for help all over the Internet.
I do feel good at saying what I think Microsoft has done. And that's trim the fat from Vista, and make this operating system communicate with hardware in a much better and more direct way than Vista or XP. I was almost laughing when I read recently that Microsoft was hoping Windows 7 would replace XP as the choice for netbook operating systems. I'm not laughing anymore; I can't wait to try it. I think they've got a real winner.
So this isn't meant to be the torch bearer review for Windows 7 vs. OSX, or any other system. I'm simply suggesting that if you've got a system with Vista on it, and are frustrated by it, like I have been with this sheep in wolf's clothing of mine, try breathing a little new life into it when the Windows 7 official release comes out. The real world gain is definitely perceivable, and you may be surprised by just how much. I was.