We use affiliate links. If you buy something through the links on this page, we may earn a commission at no cost to you. Learn more.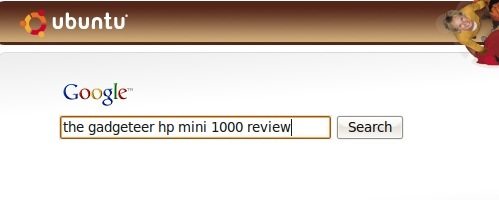 I've wanted something like a netbook for a long time — and I've gone through a lot of PDAs, phones, and other portable devices without quite finding it — so when Julie decided to do a team review of the HP Mini 1000 I was excited to give it a try.
Within the growing market for netbooks, we're seeing a renewed interest in Linux for the consumer. One of the main reasons for this is cost: when the whole computer costs $300, the price of a Windows license can be a significant percentage of the total. Another reason for the interest in Linux is its customizability, which allows it to have a small footprint on a device which only has 4GB or 8GB of SSD storage.
I'm interested in it for a slightly different reason: besides maintaining the Gadgeteer site and the server it runs on, I do software development in Python and Ruby, and have used Unix-ish systems for my work since the 80s. While I'd prefer a Mac OS X netbook (to match my Mac desktops and laptop), I'm a bit too lazy to hackintosh my Mini, so I'm going to use Linux until Apple gets around to entering the netbook market.
Linux on the HP Mini
HP sells a version of the Mini with its own consumer-focused "Mobile Internet Experience" version of Linux. That's not what I'm going to talk about here, even though an installation image for it is available for download from HP. My main reason for passing up HP's official Linux is that the installer completely wipes out the Mini's hard drive, and I would rather maintain the flexibility of being able to dual-boot into Windows.
Instead, I chose the popular Ubuntu Linux distribution. Ubuntu has two things in particular that make it especially useful in this situation. First is the Wubi installer, which makes installing Ubuntu on a PC that is already running Windows quite pain-free by putting the entire Linux installation in a Windows folder, without making any other changes to the system. If you decide not to keep it, you can just delete its folder and it's gone. Wubi also does its work without requiring a CD, which is quite useful if you don't have an external CD drive to use with the Mini.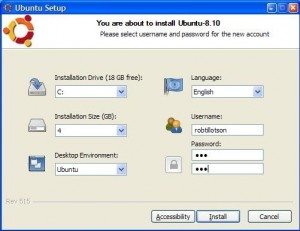 The second reason I chose Ubuntu is the Ubuntu Netbook Remix, which is a set of customizations for Ubuntu to make it more netbook-ish. Although the netbook remix is available as an installation image, you can also add it to an existing Ubuntu installation, such as one created using Wubi. The technical details of how to do this are beyond the scope of this article, but you can find them here if you're interested in trying it yourself.
So, here's what it takes to install Linux on the Mini:
Download Wubi.
Make sure wubi.exe and
ubuntu-8.10-desktop-i386.iso are in the same place (a
USB stick, for example).
Run wubi.exe and wait for it to do its work.
Reboot, and choose your new Linux installation from the
menu.
At this point, you'll have a basic Ubuntu installation to play with. You don't need to install any drivers or special packages to support the Mini; everything just works, including Bluetooth and WiFi. Ubuntu comes with just about everything you might need to get started, including an office suite, the Firefox web browser, music and video players, and so forth. It looks a little like this (note: this screenshot comes from a desktop computer, not the Mini):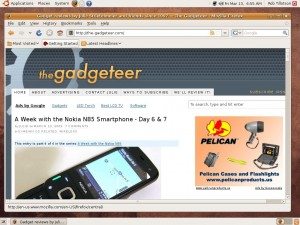 But, like the Windows XP the Mini came with, this version of Linux isn't really optimized for a small screen. This is where the Netbook Remix comes in. After installing the packages (from the instructions here; please keep in mind I'm glossing over a rather technical task!) you must go into the Appearance preferences and turn off visual effects, as the Mini's graphic processor isn't quite powerful enough if you leave them on.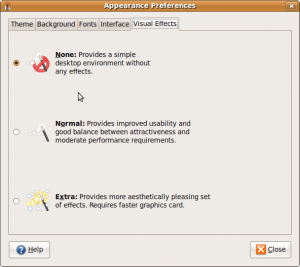 With that, you get something more like this: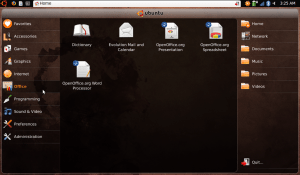 That's the UNR launcher, and the reorganized status bar. The tabs down the left side are categories from Ubuntu's system menus, and the ones down the right side are shortcuts to commonly used folders. In the upper right, you can see that Ubuntu recognizes the Mini's wireless and Bluetooth interfaces with no additional drivers. The Ubuntu logo in the top left corner brings up this launcher at any time.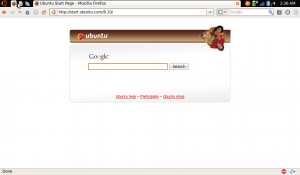 Here's Firefox. The Netbook Remix desktop automatically maximizes applications to use the whole screen, with no borders or title bars. When you only have 1024×600 pixels to use, this is usually the correct decision. I've got a couple of other applications running in the background; their icons appear at the top left, and whatever space is left in the task bar is used for the window title.
Vertical space is at a premium on the Mini (as on all netbook displays) so I've customized Firefox a bit, by turning off the bookmark bar, and using a nice extension called Personal Menu to get rid of the menu bar as well. Bookmarks, history, and the main menu now appear as icons to the right of the search box. Windows users, you can do this too, if you want to squeeze every last pixel out of your Mini's display.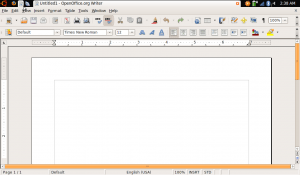 This is OpenOffice. Like Word, it's definitely a candidate for having its toolbars turned off when you don't need them. If there is one thing I hope the rise of netbooks does, it's to instill in application developers a new appreciation for screen real estate.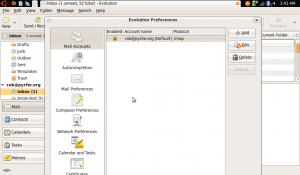 Use a netbook long enough and you'll come across something like this. Unfortunately, Linux isn't immune to it, any more than Windows is. Evolution is Linux's answer to Outlook, and it shows: where's the bottom of that dialog? Who knows.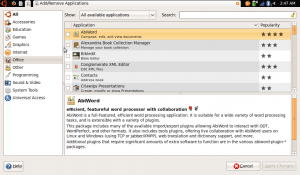 One of the main differences between Linux and Windows is that with Linux, most of the applications you can run on it are available directly through a built-in package manager. There is too much here to describe, from the mundane to the extremely geeky.
Conclusions and Opinions
Is Linux on the HP Mini right for anyone other than me? Linux in general seems like a good fit for netbooks — it does everything a typical netbook user will probably need, it's usually pretty efficient, and it can be customized by vendors in ways that Windows can't be. (Look at HP's "Mobile Internet Experience", for example. Without being told that it's Linux, you'd never know it.) As a long-time Unix developer, I'm perfectly at home with a terminal and a text editor alongside Firefox and Thunderbird, so it suits me just fine.
I should note that though installing Ubuntu with Wubi is very easy, installing the Netbook Remix packages on top of it might be a bit too daunting for new Linux users. On the other hand, installing the entire Netbook Remix at once is possible, but is also somewhat technical, and it requires partitioning the drive like a more traditional Linux installation. If you try Linux on the Mini, feel free to let us know how you fare in the comments; I'll try to help as much as I can.
That said, the HP Mini is an excellent netbook for Linux, as far as I'm concerned. With Ubuntu, everything works out of the box, and the keyboard is more than adequate for a little bit of coding — it even has CTRL and ALT keys on the right side. The hard drive is a bit disappointing, as it is slow and not easily replaced due to its size, but 60GB is plenty for me as much of my work is on remote servers anyway. Although I might need a netbook with more storage in the future, for now I like the way the Mini feels.