We use affiliate links. If you buy something through the links on this page, we may earn a commission at no cost to you. Learn more.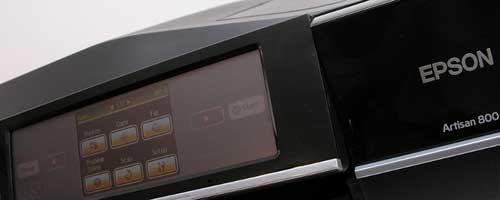 I've been using a Canon Pixma IP6000D color ink jet printer for quite a few years now. I haven't had any real complaints about it except for the fact that I've not been able to find ink locally for the past year or so. That's why I was happy to say yes when Epson asked if I would like to test drive their All-in-One Artisan 800 printer. It's a printer, a copier, a scanner and a fax machine all in one package. This printer even includes some fun little bonus features that I've not seen on other printers.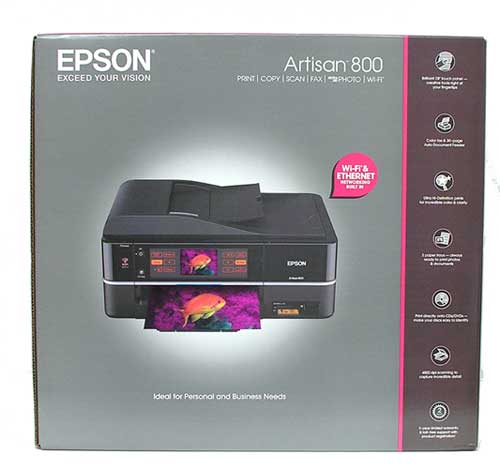 Hardware Specifications
Printing Technology – Ultra Hi-Definition Printing Advanced MicroPiezo® 6-color ink jet printing with DX5™ technology
Ink Palette – 6 individual ink cartridges (Black, Cyan, Light Cyan, Magenta, Light Magenta and Yellow)
Ink Type – Claria Hi-Definition Ink (smudge, scratch, water and fade resistant photos)
Light Resistance / Print Longevity – Up to 200-year album storage. Lasts up to 4x longer than photo lab prints
Minimum Ink Droplet Size – 5 ink droplet sizes, as small as 1.5 picoliters
Maximum Resolution – 5760 x 1440 dpi
Black Text – Black text up to 38 ppm
Color Text – Color text up to 38 ppm
Scanner Resolution – 4800 dpi (9600 x 9600 dpi interpolated)
Standalone Color Copier – Copy Modes Color, Black/White, Text, Graphics, Photo
Maximum Copy Size – 8.5″ x 14″ (Legal) with Auto Document Feeder
Compatible Memory Cards – SD, xD, Memory Stick, CF
Fax Speed – Modem: 33.6 Kbps
Fax Memory (pages) – Up to 180 pages
Weight and Dimensions (W x D x H) 23.8 lb, 18.4″ x 23.0″ x 7.8″
Connectivity – Wi-Fi 802.11 b/g, compatible with 802.11 n, Ethernet – 10/100, Hi-Speed USB 2.0, PictBridge, Bluetooth (optional)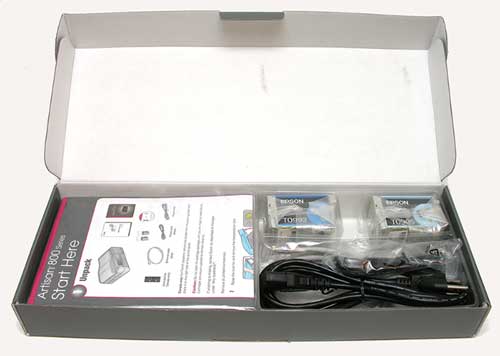 Package Contents
Epson Artisan 800 All-in-One printer
Ethernet cable
Phone cord
Power cord
6 ink cartridges
Driver / software CD
Start guide
Basics guide
Network install guide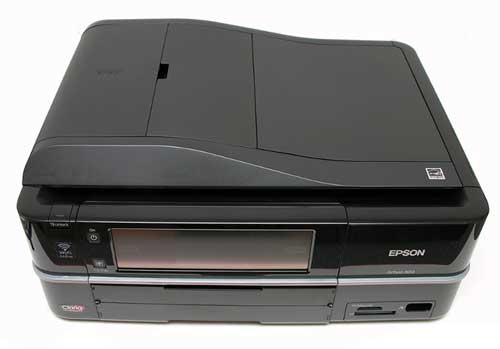 The Artisan 800 is not a small printer. It's pretty heavy and has a larger foot print than the Canon printer that I've been using for years.
It's made of Black plastic (both shiny and matte), with a Silver band running around the center.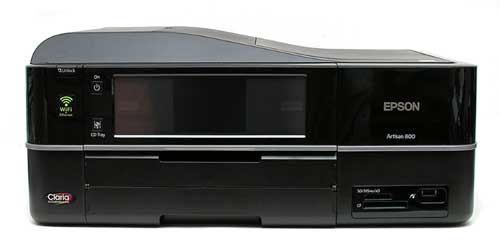 The front of the printer has all the user controls.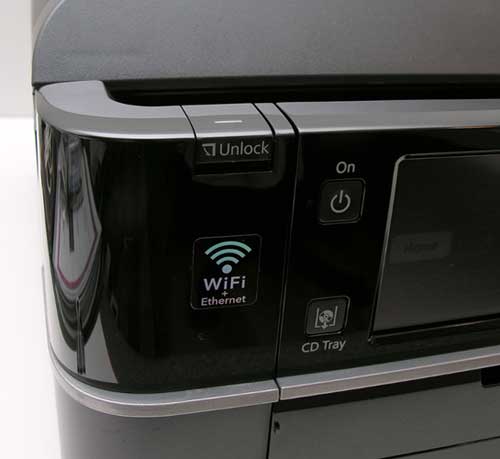 There is a power button, CD tray extender button, an adjustable touch screen display, unlock button for the touch screen, the paper tray and the media / USB slots.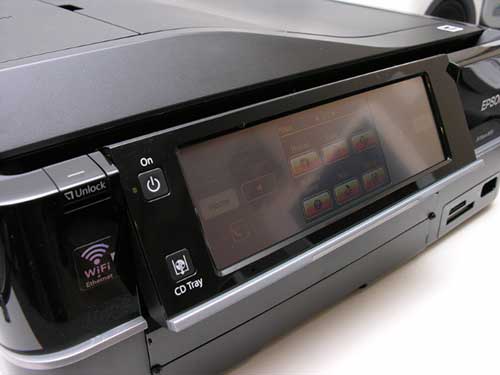 The touch screen display can rotate upward in order to adjust the view.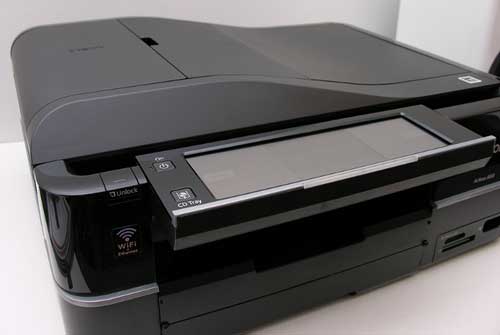 You can rotate it 90 degrees so that you can easily interact with the menus when you're standing in front of the printer.

The color touch menus are bright and easy to understand.

The buttons are large and finger friendly.

It's easy to do a quick ink level check.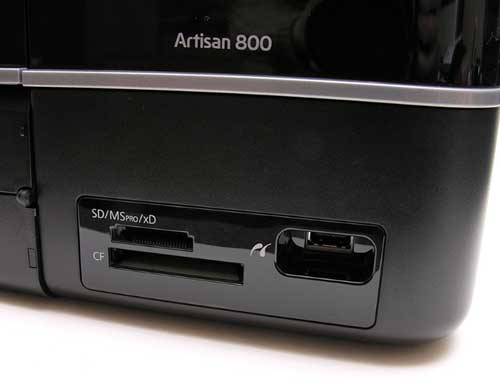 Insert a memory card or USB flash stick in one of the slots on the front, to print images saved on them.

The touch screen menu will automatically bring up the photo menu, so that you can cycle through the images on the inserted media to print. You will have the ability to crop, rotate and enlarge the photos right from the touch screen display – no computer or photo editing software is needed.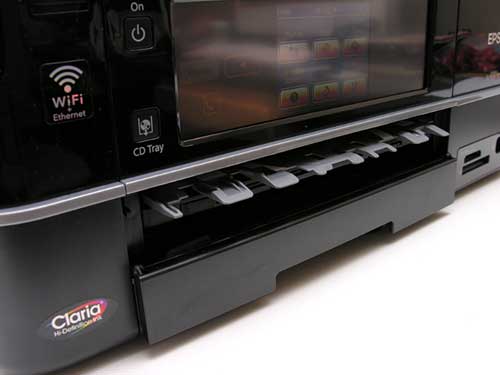 The bottom edge has a fold down door that will expose the paper tray and CD tray. The CD tray is normally hidden, until you press the CD Tray button. It then extends slightly from the slot, so that you can place a blank writable CD in the tray.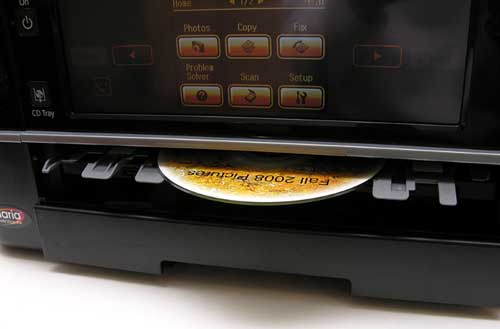 Using the included Print CD software, you can print images on your blank CDs.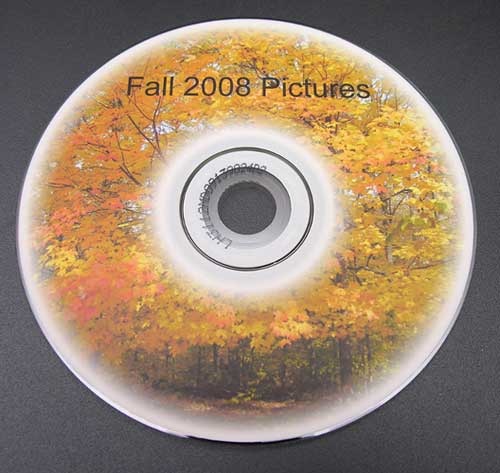 Printing is quick and the results are pretty cool.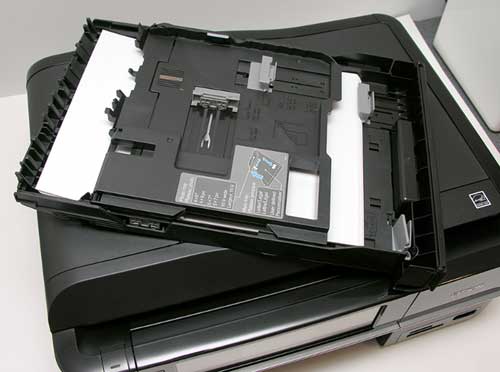 The Artisan has a pull out paper tray that can hold up to 120 sheets of letter-size or A4 plain paper or when extended, the tray can hold up to 50 legal-size sheets. This tray can also hold up to 20 sheets of 4×6 or 5×7 photo paper at the same time that you have the letter-size paper loaded. The photo paper goes in the top tray (not shown in the image above – but you can see the grey guides where the 4×6 paper would sit).
The tray itself feels somewhat flimsy, but I've not had any issues with anything jamming or breaking.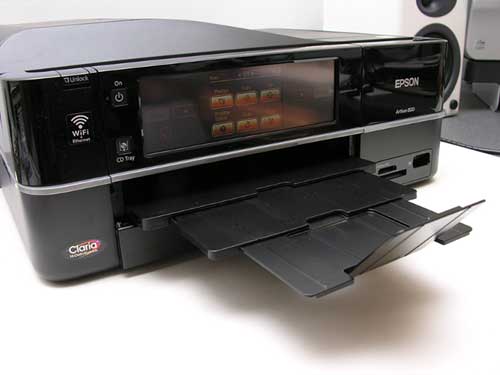 An output tray can be extended to catch newly printed documents. Like the paper tray, the output tray also feels kind of flimsy. I do wish that the plastic was thicker. I haven't had anything break, but it just doesn't feel like it's built to last.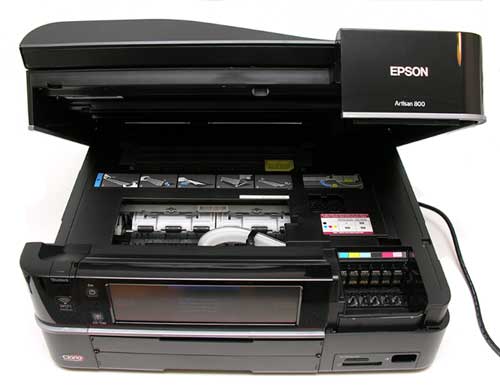 To load the ink cartridges, you lift up the top half of the printer.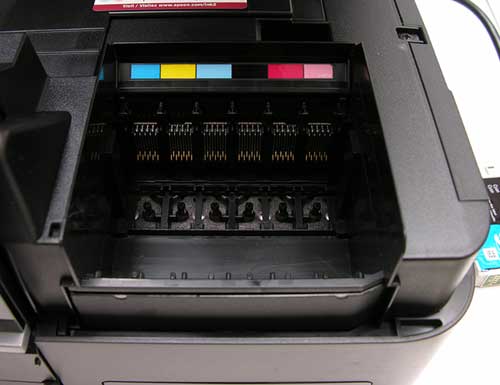 The six color coded ink slots are located in the right corner.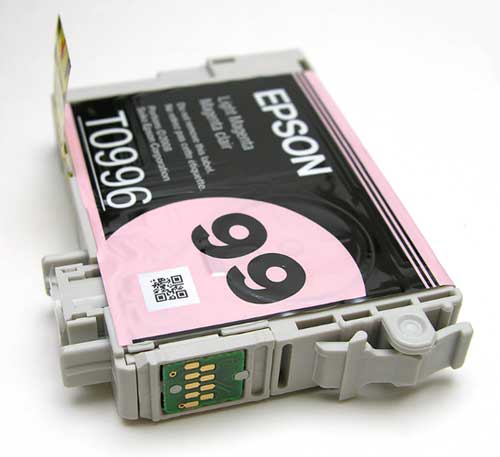 Unlike a lot of printers that I've purchased in the past, the Artisan ships with full cartridges. A full set of ink cartridges from Epson will run about $53.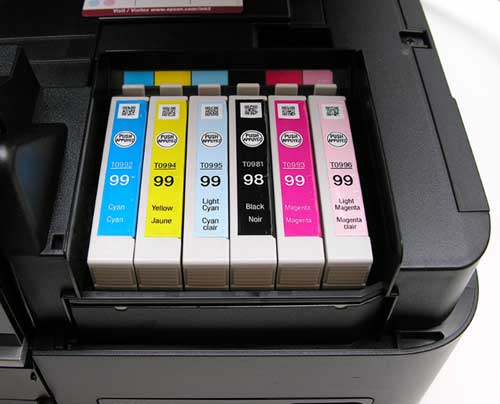 The cartridges are easy to install, but according to one article that I read on Gizmodo, you have to be careful NOT to remove a cartridge before it's empty. Apparently, doing so may cause the printer to reject the cartridge and you won't be able to use the rest of the ink in it. Yikes! So far, I've not had this happen during my testing…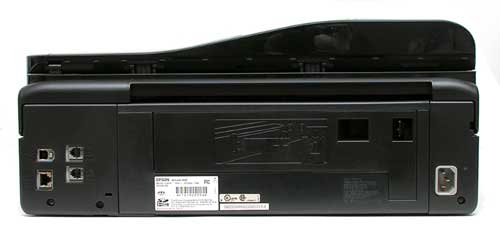 The connection points for this printer are located on the back. There is an Ethernet port, USB port, phone jacks and the power port. Since the Artisan 800 has WiFi built in, I opted to go the wireless route. Setup does require you to use Ethernet, but once it's complete, you can disconnect the cable and you're good to go.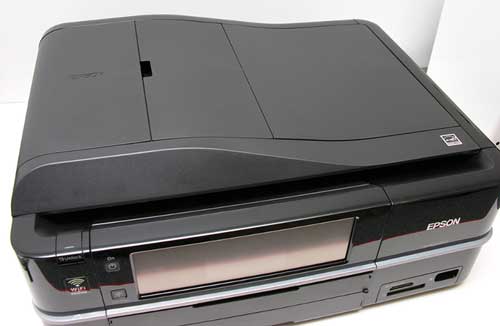 The lid of the printer has a 30 page document feeder that can be used for faxing, scanning or copying.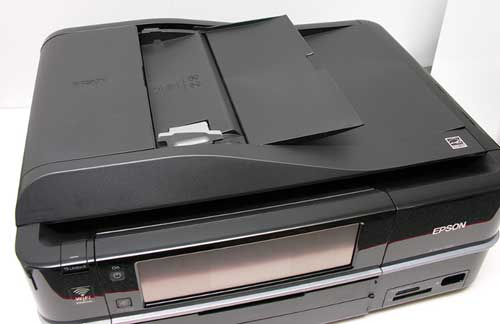 Just flip the feeder door open, load your paper and off you go.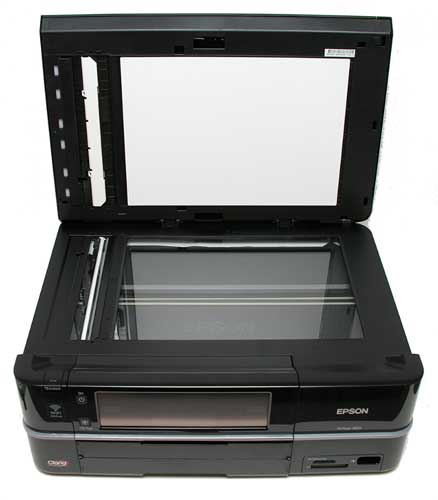 Individual scans, copies and faxes can be placed directly on the scanner glass by lifting the document cover.
Before you can use this printer with your PC or Mac, you have to set it up using the included CD. The CD includes the required drivers, along with extra software for CD printing.
The first printing test that I tried with the printer, was to print some 4×6 images on photo paper using Photoshop.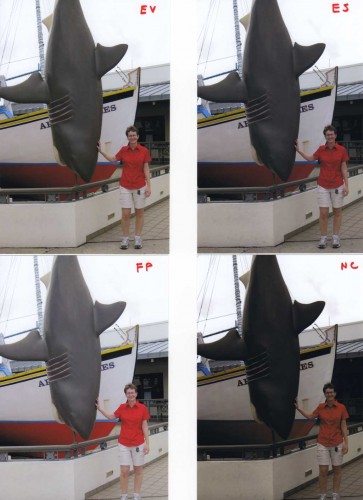 Click thumbnail to see full-size image
Depending on the color correction method chosen, the resulting images come out noticeably brighter or darker. In the image above, I've used the scanner to scan printed 4×6 images with different color correction settings. The top left is Epson Vivid, top right is Epson Standard, bottom left is Fix Photo and the bottom right is no correction.
Photos are sharp and clear. I used to drag out my little Epson PictureMate Dash whenever I would want to print a 4×6 snapshot. Now, I'll just use the Artisan.
Next, I tested the printer by printing various press release PDF files that I have received. I tested on both cheap OfficeMax copy paper and samples of Epson Premium Bright White paper.

Here's a sample of a document that I printed on OfficeMax paper and then scanned. You can click the image to see the full-size version.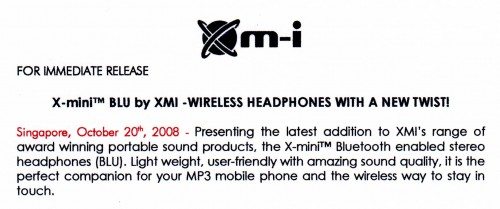 Here's a sample of the same document that I printed on Epson's Bright White paper and then scanned. You can click the image to see the full-size version.
I found that the cheap OfficeMax paper actually makes a better print. If you look closely at the Epson paper, you can see that there are some ink bleed issues. Nothing that you would probably notice to the naked eye, but it's nice to know that this printer works just fine with just about any paper.
Regardless of paper type, printing is very fast with the Artisan. I have no complaints with speed at all.
Using this printer to make copies, scans and faxes is very easy due to the friendly touch screen menus and controls. It's so much  faster and quieter than my older than dirt CanoScan LiDE 500F USB scanner.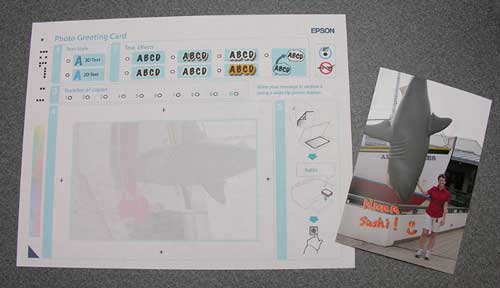 This printer as a few really interesting extras that I've not seen with other printers. From the touch screen menu, you can print Blue lined graph paper, and lined paper. You can also print coloring book type images and photo greeting cards.  The photo greeting card feature is really pretty cool. You put an image on a media card or USB stick and select a desired image. Then the printer will create a template for you like you see above. Your mark different choices like you would on a scantron sheet, add your handwritten note on the template, put that template on the scanner glass and then choose print. A new image will print out with your handwritten greeting updated in the style you chose. It's really very cool.
I am really liking the Epson Artisan 800 All-in-One printer very much. It may require a bit more room than my previous printer, but It's amazingly fast and I really appreciate that I no longer need to dig out my flatbed scanner when I need to copy something, or setup my 4×6 PictureMate printer when I want to print a snapshot. Now I can even print on blank CDs with the same printer. This one's a keeper for sure.
Update 5/26/09 – A couple users noticed that they were unable to scan to PC or PDF using the touchscreen. I sent a note to Epson and received this response:
It sounds as if your reader is using the Artisan through a wireless connection, and the all-in-one is actually not capable of wireless push-scanning (i.e., from the unit to the computer).  It is only able to pull-scan through the driver when set up wirelessly (i.e., through the Epson Scan software on the computer).  This means your reader must use his computer to initiate the scan.  However, this is a feature that Epson is working on changing in future Artisan models for added convenience.
Update 02/05/15
I've been using this printer for 6 years and it's still working pretty well. Sometimes there will be a blob of red ink in the corner of prints, but since we don't print often or important documents, we just deal with it. I just bought 4 packs of ink and have decided that I'll probably upgrade to a new printer once all the ink is gone. That will probably be 2yrs from now with as little as we print.
Update 11/04/15
I'm ready to buy a new printer. The Epson worked well for many years, but it's starting to have annoying issues like leaving blobs of ink on pages, and spitting out four pages for every one page that it prints. I'm going to go with a color laser printer this time and have decided on the Brother HL-3170CDW. It often goes on sale through Amazon for less than $200. I actually just missed a sale a week ago when it was $189. I could kick myself for not jumping on it then but I'll wait a few more days and if it doesn't go back down, I'm still going to order one. A friend of mine has one and really likes it. He just bought another one when that deal was going on.
Product Information
Price:
$299.99
Manufacturer:
Epson
Pros:

Touch screen
Fast and very easy to use
Scanner, copier, fax built in

Cons:

Paper tray feels a little flimsy
Printer can be noisy at times