We use affiliate links. If you buy something through the links on this page, we may earn a commission at no cost to you. Learn more.
It's strange, but in all the years that I've been using digital cameras, I find that I rarely print out my photos. I usually just copy them into a folder on my computer and look at them from time to time, or post some of them to my flickr account. Although I have a perfectly nice full-sized color printer (Canon Pixma iP6000D), I have always found it a pain to use for small 4×6 sized snapshot prints. That's why I was curious when I was approached by Epson to review their PictureMate Dash PM 260 Personal Photo Lab photo printer. I wasn't sure if this printer would make me excited to print photos, or if I would continue to snap and file as before.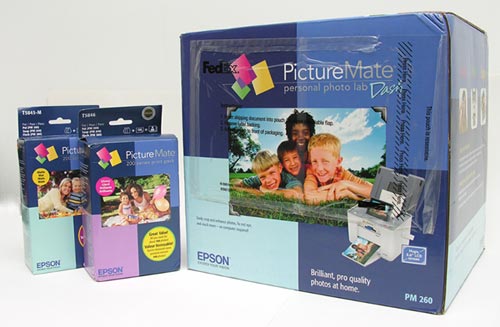 Hardware Specifications
Printing Technology: Advanced MicroPiezo®, optimized for photo printing
Nozzle Configuration: 90 nozzles x 4
Ink Type: 4-color dye
Maximum Resolution (dots per inch): 5760 x 1440 dpi
Minimum Ink Droplet Size: 3 picoliters
Print Speed: 4″ x 6″ photo in as fast as 37 seconds
Built-in Memory Card Slots: CompactFlash® (Type I and II), Secure Digital (SD™), SDHC™, MMC, Memory Stick®, Microdrive® (Type M/H) and xD-Picture Card™
Layouts and Templates: True BorderFree®, classic borders, wallet size, mini-wallets, jumbo-wallets, U.S. passport size, 2″ x 2″ – 3″ x 3″ square photos, portrait packages (four per page and ten per page) and proof sheet
Interface and Connectivity: USB connection between printer and PC, USB connection for external CD-R/RW drives, zip drives, flash memory (thumb drives), Bluetooth (with optional Bluetooth Photo Print Adapter for Epson), PictBridgeâ"¢ and USB Direct Print-enabled digital cameras
Supported Digital Camera Technologies: P.I.F., Exif Print , reads Digital Print Order Format (DPOF) from digital camera memory cards
Paper Capacity: 20 sheets of PictureMate photo paper
Dimensions: 9.1″ x 6.5″ x 8.7″
Weight: 5.3 lb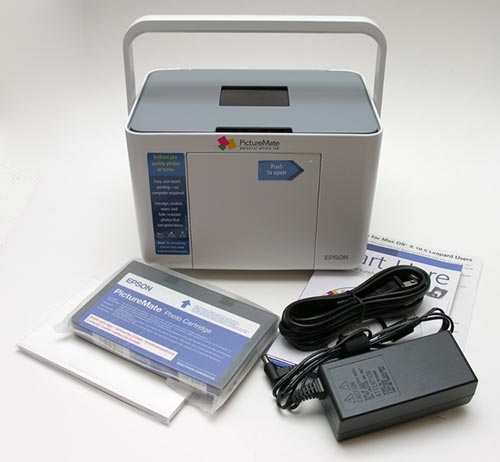 Package Contents
PictureMate Dash Printer
Paper and ink cartridge for about 20 4″ x 6″ photos
Power supply
Quick Start guide
Printer Manual
CD-ROM containing printer drivers and ArcSoft® PhotoImpression® 5 (PC and Macintosh Compatible)
The PictureMate is a lunch boxed sized printer with a handle that you can use to tote it around. This little printer does not require a computer in order to print your photos. It reads your images from its built in card readers, or an attached USB storage device. If you want to connect it to a computer, you have that option too. Drivers are available for Windows and Mac OS X.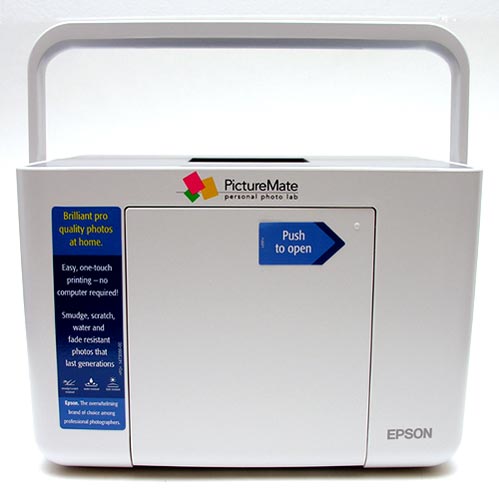 The front of the PictureMate closes up for transport. To open the paper tray, you just press the spring loaded latch in the upper right corner.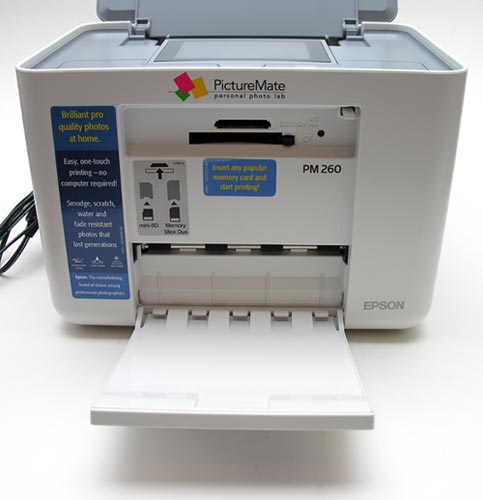 When the paper tray is opened, you'll also see the built in card readers. The top reader slot can accommodate MemorySticks and SD cards. The bottom slot is for Compact Flash Type I and II cards. Other card formats such as MicroSD and miniSD can be used if you have the appropriate adapter.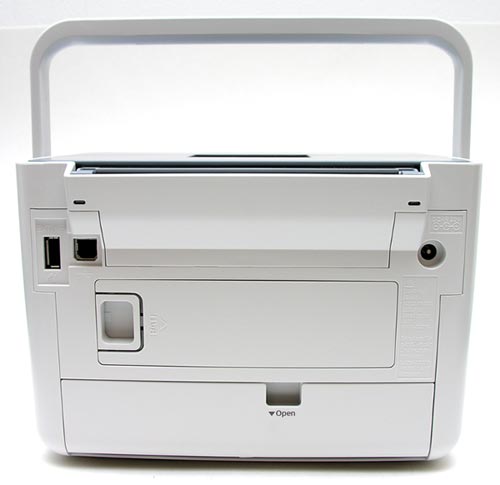 If we look at the back of the printer, we will find a USB port for external storage devices, a USB port to use to connect to your computer, a power connector, a battery compartment and an ink cartridge compartment.
In addition to loading images from flash cards and USB devices, you can also send images wirelessly from a Bluetooth enabled phone, PDA or computer. To do this, you have to purchase the optional Bluetooth adapter available for $39.90.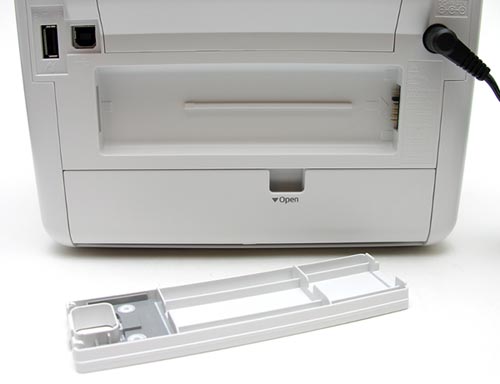 The battery compartment is for the optional Lithium ion rechargeable battery which is available for $49.99. Using the battery would make this printer truly portable and a fun device to take with you to family events and functions.

One of the first things that you must do before using the PictureMate is to load the included ink cartridge. Unlike full-sized printers that might have several color ink tanks, this printer has one cartridge that contains four colors. To load it, you just open the compartment door…

Slide the cartridge into the slot, move the locking lever to the lock position and close the compartment door. Totally quick and easy, just the way I like things to be.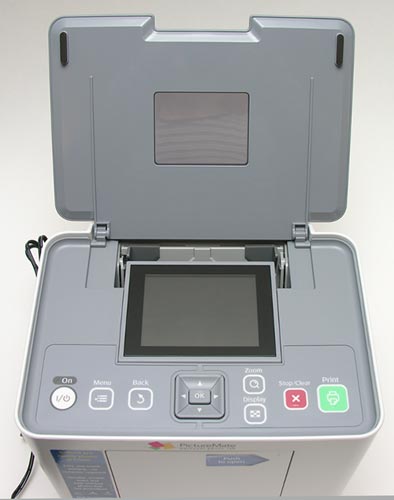 The user controls, paper slot and the 3.6" LCD color display are located under the top lid.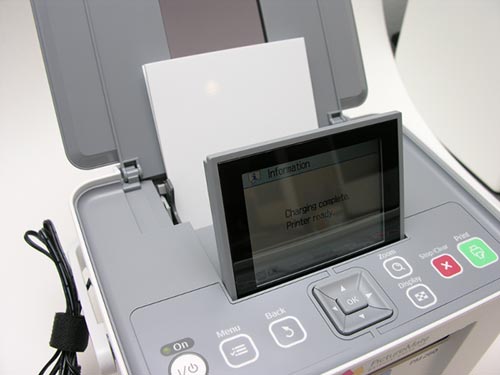 The display pivots up for easy viewing. Located behind it is the paper slot which can hold up to 20 sheets of photo paper.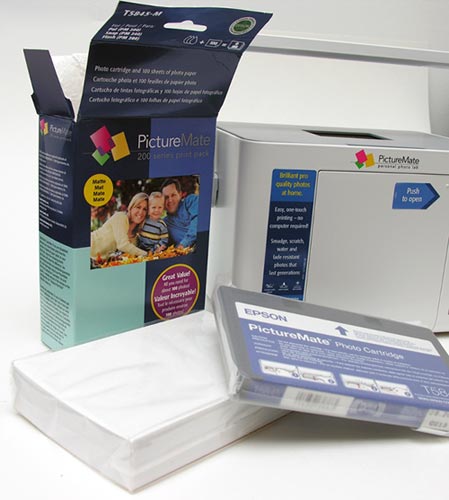 The PictureMate comes with an ink cartridge and 20 sheets of glossy 4×6 inch photo paper. Additional print packs are available with either glossy or matte type paper. The glossy print pack comes with 150 sheets and an ink cartridge for $37.99. The matte print pack comes with 100 sheets and ink cartridge for $32.29. I'm a little confused why the matte print pack only has 100 sheets, but oh well. Regardless, it's really convenient to buy the print packs as they contain everything you need to print your pictures.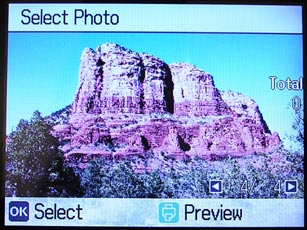 When you power on the printer, it will check to see if you have a memory card in one of the card readers. I noticed that the PictureMate would not recognize my USB flash drive unless I plugged it in while the printer was powered on. It will load the images and display the first image on the LCD display. The user interface is very easy to use. Pressing the 4-way navigation button allows you to cycle through your images.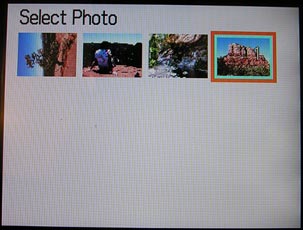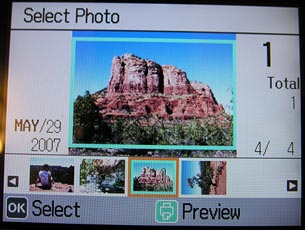 Pressing the Display button will allow you to change the way you view your images. The default is to view them one at a time, but you can also view them by thumbnail or in filmstrip mode.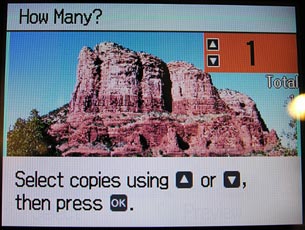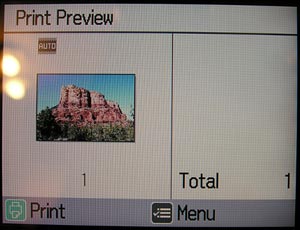 When you see an image that you want to print, you can click the OK button to specify how many prints you would like to make of that image, or you can just press the Print button to preview the print.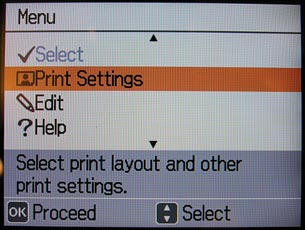 The Menu button gives you quite a few options and tools to change and / or modify your prints.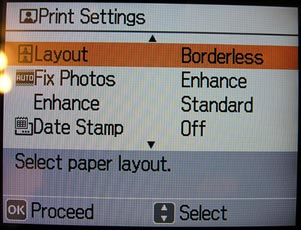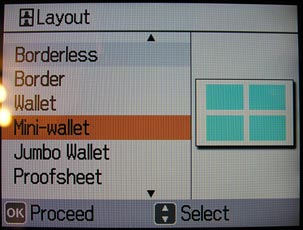 Some of the things you can do include choosing the print style. Prints can be borderless, with borders, wallet (prints two images per 4×6 sheet), mini-wallet (4 images per sheet), passport photo, and quite a few other layouts.
Photo modifications include cropping, red eye removal, sharpening, color effects and even decoration. Decorations are little images that you can stamp over your photo. Things like speech bubbles and caption boxes. When you're satisfied with your photo, press the Print button.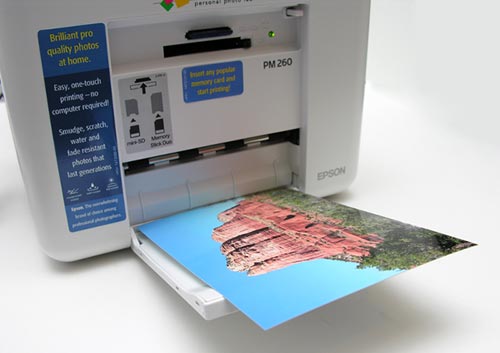 Less than 40 seconds later your color print is ready for viewing (B&W and Sepia pictures take a little longer. There's a 10-15 second pause before the image starts to print). Photos from PictureMate are smudge, scratch, water and fade resistant. According to Epson:
"Using the PictureMate cartridge and PictureMate paper, prints can last over 200 years in archival sleeves in album storage and up to 96 years in a glass frame in indoor display conditions. See Wilhelm-research.com for test conditions. Actual print stability will vary according to image and storage or display conditions. Epson does not guarantee the longevity of prints."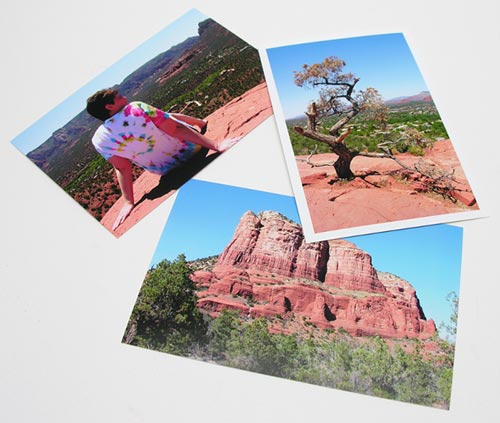 I'll have to say that the prints from the PictureMate PM 260 look every bit as good as prints I've received from other photo print places. They are sharp, and have vibrant colors. I tested both the glossy and matte paper and was impressed with prints on both. The paper is thick and the print quality is top notch. I didn't notice any banding or other defects in the prints.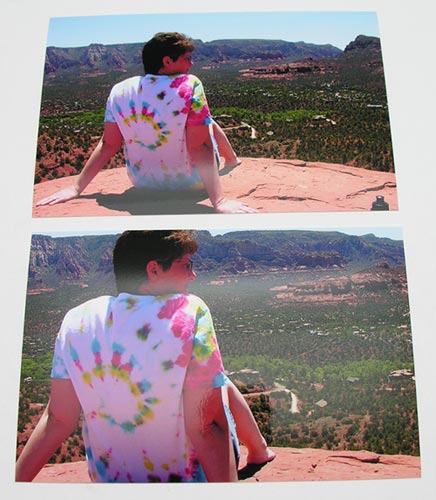 Here's an example of a cropped image. If you look at the top picture, you'll notice the top of a water bottle in the lower right corner. Using the zoom buttons, it allows you to cut that part of the image out. The only problem is that it also cuts the top of my subject's head off. I would rather see a true cropping tool that would let me do a rubber-band selection.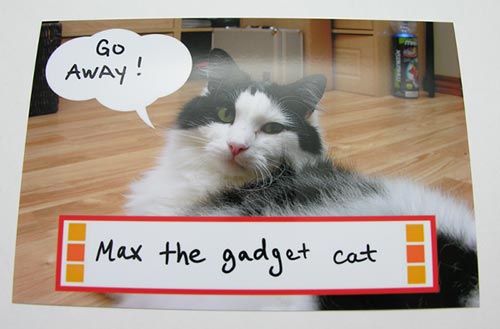 Here's an example of two decorations that you can add to your pictures. In this one, I added a speech bubble and a caption box. I then added the text with a sharpie marker. It's a cute feature that kids will enjoy :o)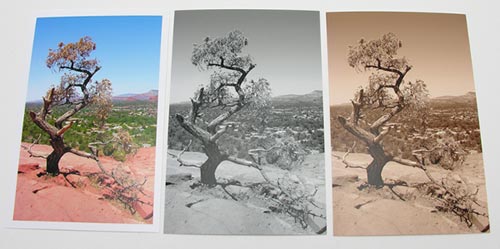 And here's an example of the same image printed in color, B&W and sepia. I snapped this shot while on vacation this summer. It's an old gnarly tree at the top of a vortex in Sedona, Arizona.
This is one of those reviews that I write and have problems trying to find something to complain about. I guess if I had to find something to nitpick, I would say that I wished this printer came with a case so that it were truly portable. As is, it might be awkward to carry the printer, the AC adapter and extra ink and paper, without some type of case. (* see update below)
I've been very impressed by this portable photo lab. The Epson PictureMate PM 260 is dirt simple to use, prints excellent photos, prints them fast and costs less than $100. The ability to print photos without the need for a computer makes this a great gift for a friend or relative that either doesn't have a computer, or isn't very tech savvy. It's even great for those of us that are tech savvy! I know that whenever I need to print a 4×6 inch shot, I'm going to do it with the PictureMate.
11/21/07 Update
The folks at Epson sent me their optional carrying bag that is available for this portable printer.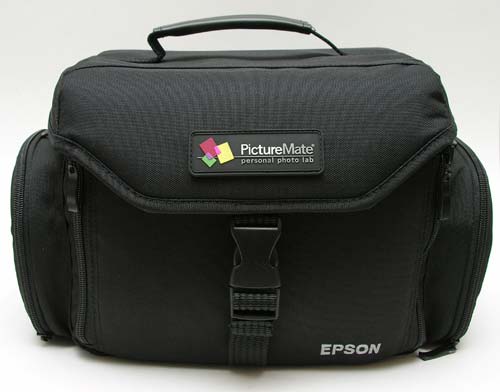 This bag is made specifically for any of the 200 series PicturMate Dash printers and is available directly from Epson for $34.99. It is made of nylon and comes with a shoulder strap.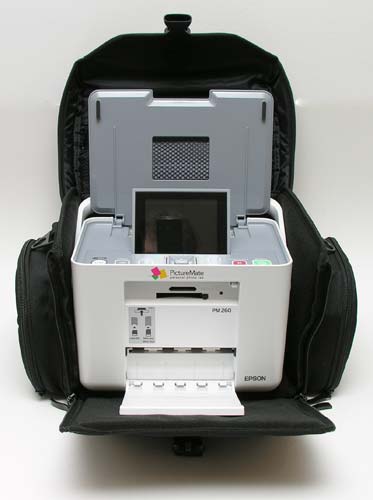 What I like best about this case is that it is play-through. It also has zippered side pouches that are large enough for the AC adapter and a printer pack (paper and ink).