We use affiliate links. If you buy something through the links on this page, we may earn a commission at no cost to you. Learn more.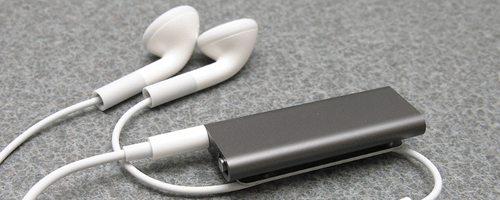 Whenever Apple updates one of their products, it always seems to create a lot of buzz. When the third generation iPod Shuffle was announced a couple of weeks ago, the buzz was almost as audible as a hive of bees. Why so much attention for a sub $100 MP3 player that doesn't even have a display? Well, we are talking about an Apple product, aren't we? Buzz doesn't always mean that a product is a good one though, so let's take a closer look at this little digital audio player.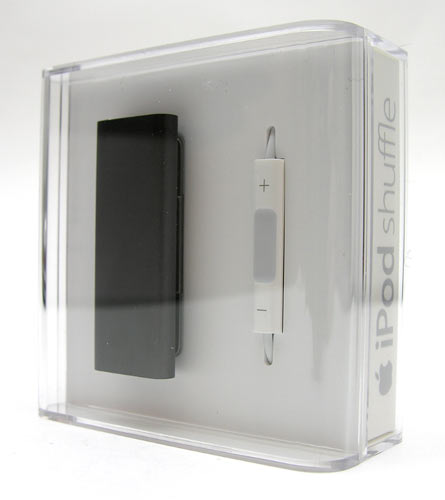 Hardware Specifications
Capacity: 4GB
Audio formats: AAC (16 to 320 Kbps), Protected AAC (from iTunes Store), MP3 (16 to 320 Kbps), MP3 VBR, Audible (formats 2, 3, and 4), Apple Lossless, AIFF, and WAV
Size and Weight: 1.8 inches (45.2 mm) x 0.7 inch (17.5 mm) x 0.3 inch (7.8 mm), 0.38 ounce (10.7 grams)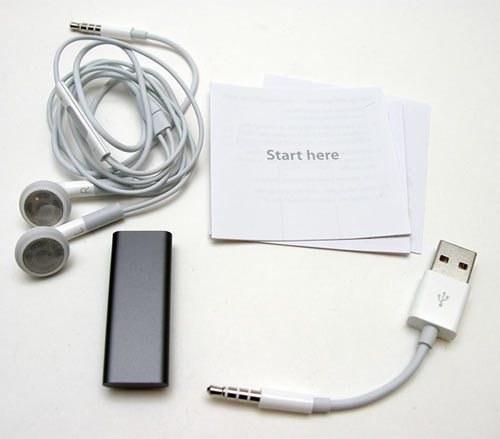 Package Contents
iPod shuffle
Earbuds
USB charge cable
Quick start guide
Mini Apple stickers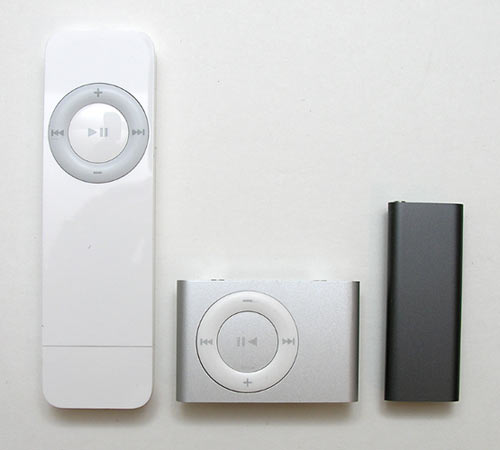 It's fun to see how the shuffle has evolved over the years. If I'm being honest (wow, I sound like Simon Cowell from American Idol), I think I'd pick the 4 year old original shuffle as my favorite. If only because it has a built in USB connector for charging. I also liked the second gen shuffle because of the metal case. The latest iPod shuffle seems to almost be a merging of the two. It retained the metal body, but has reverted back to a vertical form. No USB connector though. Darn…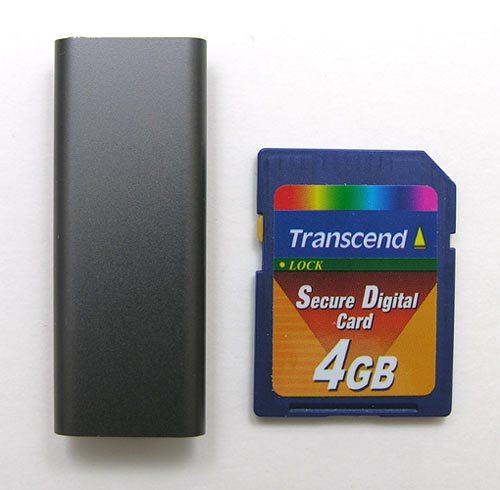 Available in Black or Silver, the anodized aluminum shell has a brushed finish, with a completely plain front. The sides are rounded and the whole device feels like a solid metal bar.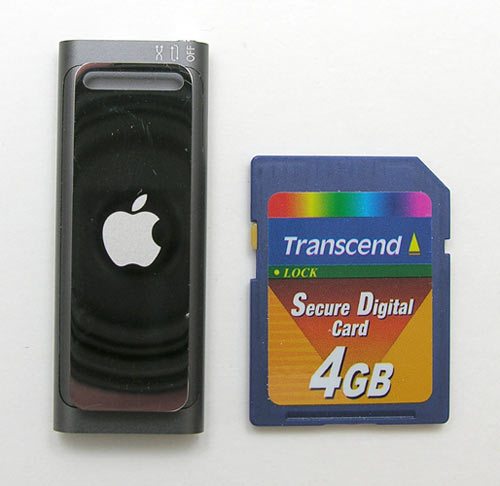 Flip the shuffle over and you'll see the chrome pocket clip with a frosted Apple logo. Gah, I really wish Apple would fire the person / people that are responsible for using chrome accents on their products. Yeah, I have a personal issue with chrome…  Excuse me for a moment while I polish my smeary fingerprints off the clip for the billionth time.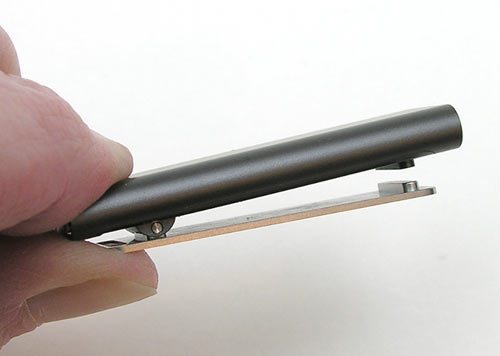 Ok, I'm back. The clip is a strong one. It should have no problems staying attached to whatever you decide to attach it to.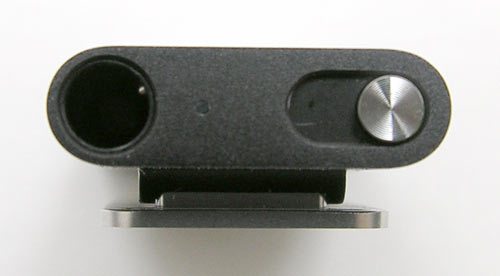 There is only one switch and one connector on this player, and both are located along the top edge. The stereo earphone jack is a standard 3.5mm size, but you won't be able to use any old earbuds with this shuffle. More about that in a minute.
The switch has three settings. Off, On with sequential playback and On with shuffled playback. Although you can't see it in the image above, there is a tiny battery status LED between the earphone jack and switch.
How do you charge the shuffle? The same way that you charge the previous version, through the 3.5mm headphone jack. This time there isn't a small dock included though.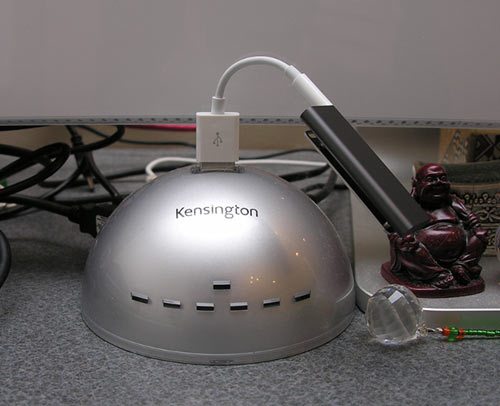 Instead, you get a short USB cable. One end has a USB connector and the other end has a 3.5mm plug.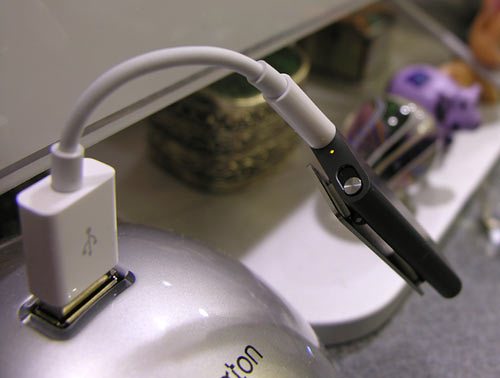 Plug it in and it charges the internal battery and syncs content with iTunes. On a full charge, you can expect up to 10hrs of play time. The short USB cable won't take up much space in your gear bag, but the fact that you have to carry around a proprietary charge cable when you travel, is a bit annoying.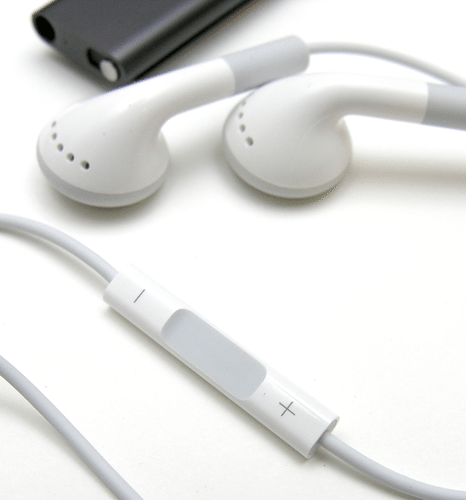 If the charge / sync cable annoys you, then the fact that you can't use your own fave earbuds with the shuffle will probably really put you in a bad mood. Let me back up though… You CAN use any old earbuds / earphones / headphones that you like with this new iPod shuffle.  But (and this is a big but), if you do, you won't be able to adjust the volume, pause, skip songs, use the VoiceOver feature or pretty much do anything except listen to music. Why? Because all the user controls are built into a small inline controller on the included earbuds.
The controller is a 1.125 inch long plastic piece that hangs about 4.5 inches from the end of the Right earbud. It has 3 switches built into it, one on each end and one in the middle. Each switch is activated by squeezing it. The end switches adjust the volume, and the center switch allows navigation between songs and playlists. The center switch also provides pausing and the VoiceOver feature.
If you opt to use the VoiceOver feature (it is an optional download during the initial setup and has to be downloaded through iTunes), it will announce the name and artist of the currently playing track. To activate it, you just hold down the center switch on the  controller for a couple of seconds. If you continue to squeeze the center switch, you'll hear a male voice speak the names of the playlists, which will allow you to switch to the desired list. It's kind of a neat feature, but I'd rather just have a small LCD display…
Out of the box, the shuffle has 3.77GB of available space, with no option for storage expansion. Audio quality is not unlike other digital audio players that I've tested. They all start to sound alike after awhile – especially with stock earbuds. I don't have any complaints about the sound quality and find listening to music through this player to be enjoyable. I clip the player to my jeans pocket while I'm sitting at my desk or walking around and have not have any problems with the shuffle in the time that I've been testing it. The switches all worked as indicated. Dave Rees has had a different experience though…
I use my Shuffle solely for running and working out. I have used a 2nd Gen Shuffle since they came out; its form factor, lightweight, and controls are ideal for running. That said, the sleek design of Apple's latest Shuffle tempted me so much I bought one the first day they were available at my local Apple Store. I got it home, charged it, and loaded it with my favorite running tunes. Since it was dumping down rain (Seattle), I did my first few runs on my treadmill/running machine….a very controlled environment.

During these runs, after a while, the volume progressively maxed-out. Additionally, the remote would fail to respond (aka, I attempted to lower the volume but to no avail) to any input at all. I used my first 3rd generation Shuffle 3-4 times (each time with the volume maxing out and the remote becoming unresponsive) before returning it back to the Apple Store. The Genius Bar person very nicely gave me a brand new Shuffle, earbuds, and sync cable. So, my hope was that my first Shuffle was defective and the issue was not how the new design of the Shuffle interacted with my running.

I got my second Shuffle all charged & good to go. I was 5 minutes into my run when the volume went to max and the remote failed to respond…. I tried it several times and the same thing happened each time. My theory is that since the remote control bumps against my neck as I run, it caused the + volume to continuously be activated. Thus not allowing other input to be given because the + has been hit so many times that other inputs are not accepted.

This was so frustrating, I returned my second 3rd generation with no regret at all. And was glad to be done with it and extremely happy to go back to my 2nd generation shuffle, which has better controls with none of the hassles.
It would be interesting to hear from other people that have purchased this latest shuffle and also run with it. Have you noticed the same problems that Dave has?
Although I'm a big fan of Apple products, this is one that I'm going to suggest skipping unless you love Apple's stock earbuds and don't plan on running with it. I wonder what we'll see next year with next gen player…
Product Information
Price:
$79.00
Manufacturer:
Apple
Pros:

VoiceOver feature
Very small
Cool Apple style

Cons:

Can't use third party earbuds to control player
Running with this player can cause involuntary volume activation
No display
Proprietary charge / sync cable